War in Ukraine shocks higher education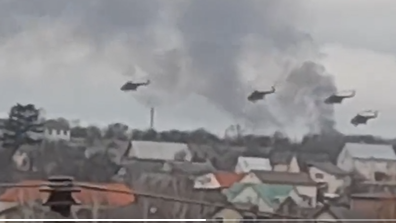 Screenshot of a video posted on Twitter
"We are getting appalling pictures from Ukraine", stated Maurice Limmen, chair of the Association of Universities of Applied Sciences. "What is happening there is horrendous." Research universities are anxious as well, according to umbrella organisation Universities of the Netherlands (UNL).
The number of exchange programmes with Ukraine is limited. "These past few weeks, as tensions escalated, we checked whether there were any university staff or students in Ukraine by virtue of their job or study programme", informed a UNL spokesperson. "To the best of our knowledge, there are none."
Government action
Is there anything Dutch academia could do to help? The universities of applied sciences decided to leave it up to the politicians. "With regard to the consequences for our international collaboration in education and research, we are waiting to see how the government is going to take action".
"An attack like this hasn't happened on such a scale in our part of the world since 1945", Prime Minister Mark Rutte lamented at a press conference, adding that Western countries must be vehement in their condemnation of the invasion. "If it were to become normal to invade another country, the long-term security of the Netherlands would be at risk."
In consultation with other countries, the Dutch Prime Minister is keen on imposing maximum sanctions on Putin and his government, but he was unwilling to give any further details at this time. Therefore, it is not yet clear whether these sanctions would have an effect on higher education and research.
"The universities will stay in close contact with their counterparts in Ukraine", guarantees UNL. "We cannot yet say what consequences these geopolitical developments will have on existing partnerships." The Royal Netherlands Academy of Arts and Sciences (Dutch acronym: KNAW) and the European University Association have not issued any comment.
To the front
Universities' news platforms are devoting their attention to the threatening situation. The U-Krant, from the University of Groningen, interviewed a Ukrainian PhD student who is afraid he will soon be conscripted to the front, while Folia, from the University of Amsterdam, talked to a Ucranian student who is best friends with a Russian student. The University of Nijmegen and the Utrecht University of Applied Sciences have both organised lectures on the current situation in Ukraine. 
The Netherlands Refugee Foundation has opened a special bank account for donations and is immediately making 500,000 euros available to provide assistance to "the potentially high number of Ukrainian refugees". Where and how the money can be best used will be decided in the hours and days to come. 
Advertisement