'Integration is a two-sided coin,' say the first international students in the Council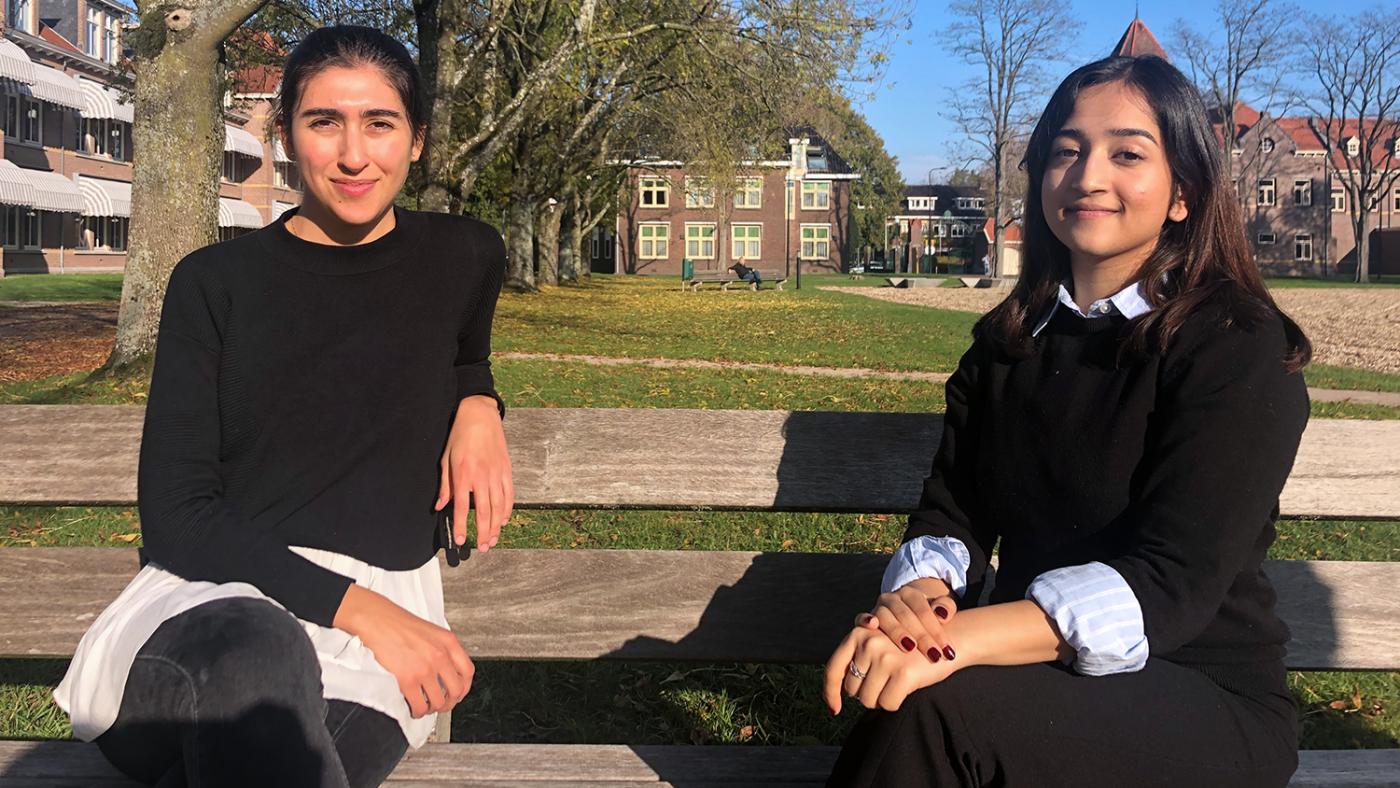 Both part of Lijst Vuur, Mogha and Duque come from India and Portugal, respectively. Mogha studies Liberal Arts and Sciences at University College Utrecht while Duque pursues a Master's in Economic Policy. Comprising twelve students and twelve employees, the Council has a say in university-wide policies concerning teaching, research, finances, and human resources.
Although the two students are the first English-speaking internationals to occupy their seats, they certainly don't want to be the last. Mogha and Duque want to ensure that all essential official policy documents are bilingual, as well as increasing access to Dutch and English courses to build a bridge between nationals and internationals in the university.
Their goals are in line with the goals of UU itself: increasing diversity within the UU population is one of the objectives expressed in the University's Strategic Plan 2016-2020. With 9.3 percent of its students coming from other countries, UU was the least international Dutch university in 2019, according to Nuffic, the Dutch organisation for internationalisation in education.
UU's co-participation bodies have been struggling for years with the question of how to get a growing group of international students and staff to become more involved in university democracy. The university wants to be inclusive, but full participation in the discussion is difficult for council members who do not have a good command of the Dutch language.
A year ago, the Council ruled out making English its only language. It was decided that Dutch councilors can speak Dutch during meetings, and the international members can speak English. All participants should be able to call on a translator if needed. International councilors who do not speak Dutch are expected to take a Dutch course, which is offered free of charge by the university. This means that Mogha and Duque are encouraged to ask their questions in English, but they are answered in Dutch, which requires them to have a certain level of understanding of the language.
You may be wondering why it took so long for international students to run for positions in the Council. Well, that's because, until January, students from outside of Europe were only allowed to work a maximum of 16 hours a week next to their studies. The measure intended to prevent people from working in the Netherlands with a student visa. The limitations also applied to extracurricular activities such as membership in a co-determination council.
International students with a European passport or another type of visa have run for a position in the Council in the past but, until last September, they were never elected.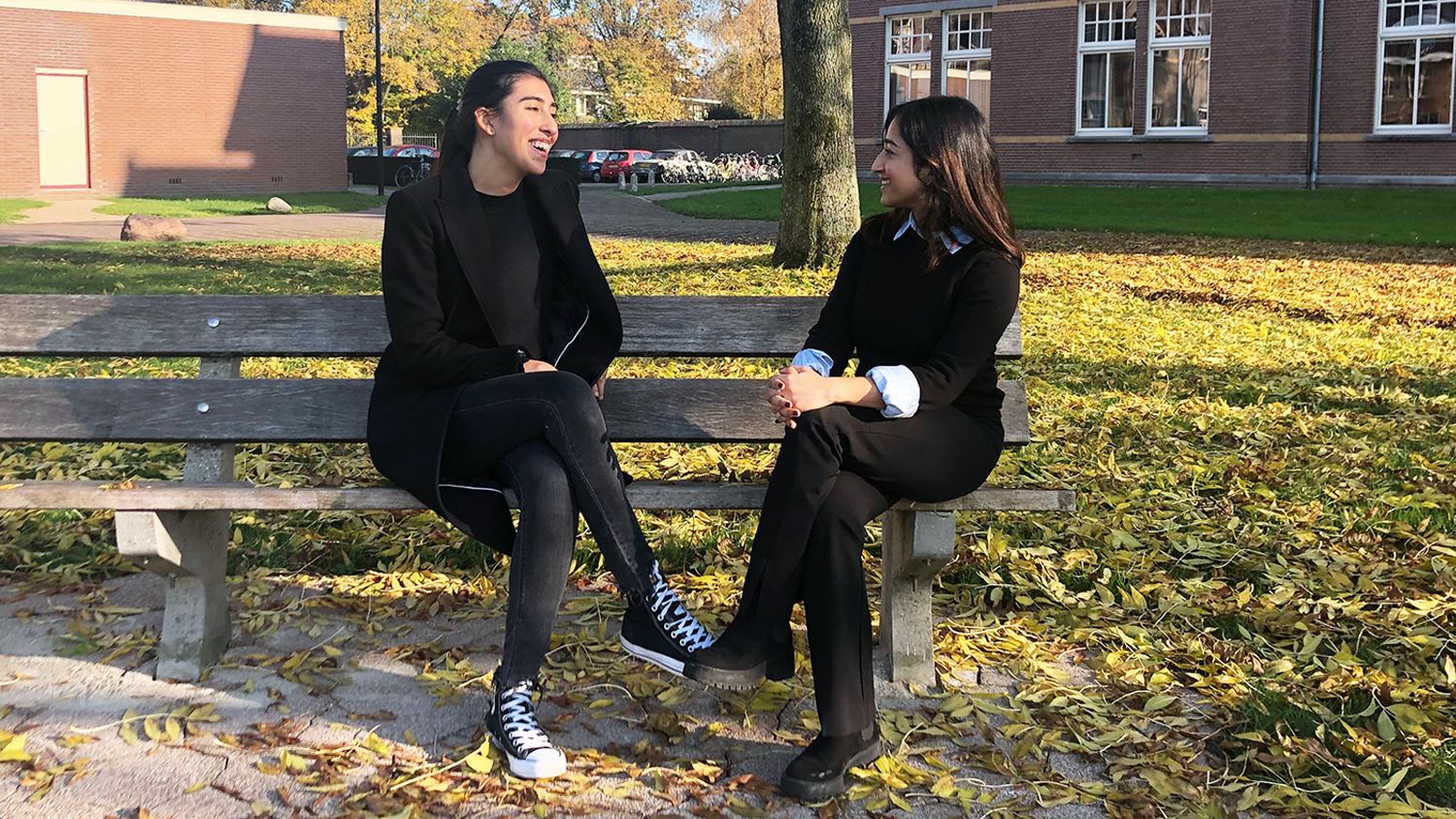 Why did you want to join the council?
Andreia: "I've always been interested in politics and policy, so I engaged in a political party in Portugal. I believe education is the perfect tool to bridge the gaps between social inequalities. Therefore, accepting this challenge in the University Council matches my interests and the changes I would like to see in the world."
Nandika: " I have always been interested in student participation. I wanted to participate in the development of sustainability and student entrepreneurship and I was looking for the right outlet to achieve that. So, when we received an email about selections for the University Council, it felt like the right amalgamation of challenge, learning, and networking for me."
Were you scared of the language barrier at any point?
Andreia: "What scares me the most is the social part, not really the Council part, because we always fall a little bit behind. I've accepted the fact that it takes a little longer for us to catch up with what's happening in the Council, but the social part remains scary because I don't understand things straight away: our Whatsapp group, our Slack group, inside jokes and comments… I feel like this whole experience would be better if I could engage 100 percent socially. But it's a matter of time, because we're both putting a lot of effort into learning Dutch."
Nandika: "When I first joined Lijst Vuur I didn't realise right away that Dutch would be the main language. It seemed like a huge obstacle as, at that point, my Dutch began at 'Hallo' (hello) and ended at 'bonnetje mee?' (do you want a receipt?). But, as soon as I accepted that I would have to learn it, it became a fun challenge."
Do you think international students are discouraged to join student associations, parties and the Council because they can't speak Dutch?
Nandika: "I think it's more a cultural barrier than a language barrier. Internationals just aren't aware of the Dutch culture of student councils and associations. I study at an international campus, UCU, and I see little awareness of it here."
Andreia: "When you go abroad, co-determination is not really what you have in mind. People want to have new experiences, but not experiences like this – unless they're the type of person who likes this world. But the language certainly plays a role, too. I often hear people say 'I'm not even going to try, I don't speak the language".
What do you think should be improved in the communication toward internationals so that they're more encouraged to take part in the Council?
Nandika: "Most Election Programmes or relevant links and documents are not available in English. That's one of the reasons why internationals may feel excluded from the target audience. However, a lot of parties are already working on improving this, including our party Lijst VUUR.
As an International student myself, I want to emphasise that 'internationalisation and diversity' does not mean that everyone speaks English or that every representative is an international. It means bursting the bubble on both sides to create a meaningful system which facilitates an exchange of ideas. It is as quintessential for internationals to make efforts to integrate, as it is for nationals to be open and accepting.
Andreia is also pushing for a policy establishing that all the documents we receive as council members have to be bilingual. When we were transitioning into the Council, we would first get the documents in Dutch and the English version would arrive two weeks later, right before the meeting. Now we're starting to get them simultaneously."
Andreia: "Integration is always a two-sided coin. Learning about the Dutch language and culture definitely boosts internationals' integration process. At the same time, the more Dutch students recognise the benefits of internationalisation, the more they can learn about different cultures and perspectives. I do find Dutch people very tolerant and understanding, although it takes a while before they open up about their private lives, family etc."
Can you tell me a little more about the efforts to engage internationals?
Andreia: "One of my ideas is to integrate a course about Dutch language and culture to all the programmes that are being taught in English. This course would be mandatory, but it wouldn't have a grade. That would be a great way to inspire internationals to integrate into Dutch culture. But it would also be necessary to work on the English proficiency of students and staff. I admire how everyone speaks English here, but a high level of proficiency should be prioritized for more academic success and in order to avoid deterioration of the quality of education."
Many international students don't bother learning Dutch because they only plan on staying in the Netherlands for a few years. What would you say to them?
Nandika: "That's a hugely wasted opportunity. They're missing out on so much more than they realise. Learning a new language is, first of all, a life-changing experience. It changes the way you approach things and makes you more resourceful intellectually. Besides, it opens so many social and professional doors."
Andreia: "Like Nandika, I also think they're missing out on a lot. To them, I would say: 'aren't you interested in learning more about the culture, since you're already here?' Although it's unfortunate, we just have to accept the fact that some of them are here to get a degree, a job, raise some savings, and then leave."
And what would you say to Dutch students living in a Dutch bubble?
Andreia: "You're not 'living la vida'. You too are missing out on so much of your student life. They might not be thinking about staying here for longer than a couple years, but it is still worth it to get to know them and maybe, who knows, make them change their mind and stay!"
Nandika: "See the humour and nuance in two people from completely different places coming together to live, study, and work together. You'll appreciate the exchange and take something positive away from it."
Do you have any tips for fellow students learning Dutch?
Andreia: "I listen to a lot of Dutch music. Social media helps, too. On Pinterest, for example, instead of looking for clothes or make up, I look for 'beautiful sentences in Dutch' or 'Dutch bloggers'."
Nandika: "I think it's all about finding that one thing that makes learning fun for you. I'm a big fan of hip hop, and Dutch rap is just… Fantastic. I may not be able to have a full conversation in Dutch yet, but I might just spit a whole Dutch rap!" [laughs]
Advertisement