With all this competition, it's hard to find a Dutch person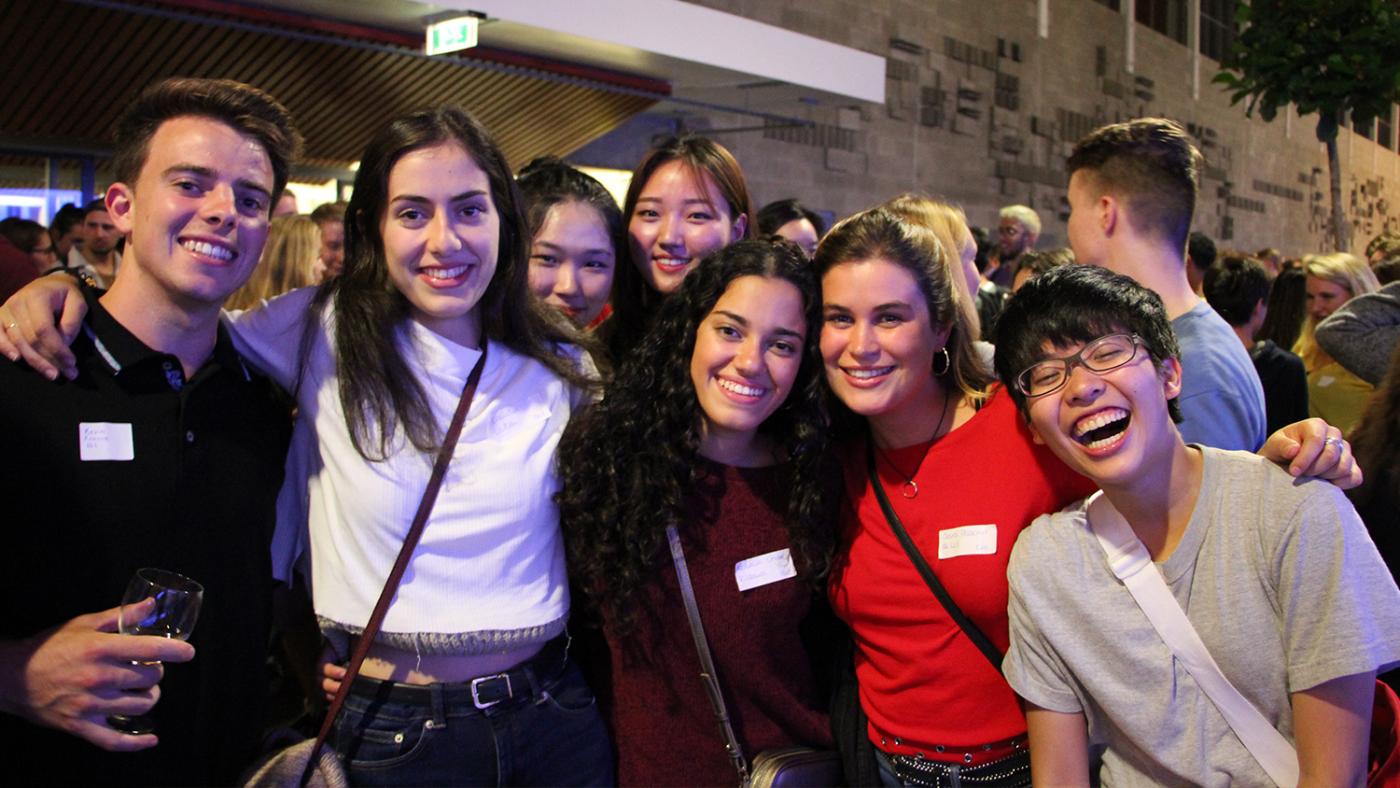 Fortunately, the internationals manage to have fun together. Photos: DUB
A student is printing some pages on a Thursday night in the Educatorium. He looks around in confusion. Usually, at this time, the place is deserted, but the bare hall is now filled with a hodgepodge of German, Chinese, English, and many other languages. The source of the chatting is a long queue of international students from 64 different countries. This spontaneous rush hour is caused by the promise of a brand-new Dutch friend, to be found at the matching day organised by BuddyGoDutch.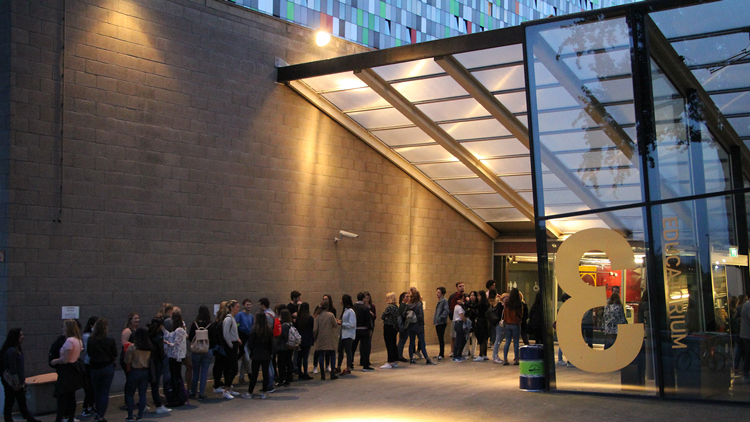 Despite the shrill fluorescent lights and the all-grey decor of the building, two French students manage to work up an animated conversation with another international in the queue. Behind them, a Japanese girl looks at her phone impatiently. The internationals form a long queue that continues outside the Educatorium. "I'm glad we're not standing there," a Dutch student says. We're inside the building, in the queue meant for the Dutch students. Our queue is less than ten metres long. Of the three hundred or so visitors of the evening, only a third are Dutch. Sanna joins the queue and eyes the internationals. "It'd be great if I could find a French student, so I can improve my French and show them the city at the same time." The student of French, German and History cheerfully tells us about her earlier buddies. "When I studied in Münster for six months, I had a buddy, too. We went into town together, had picknicks, went out."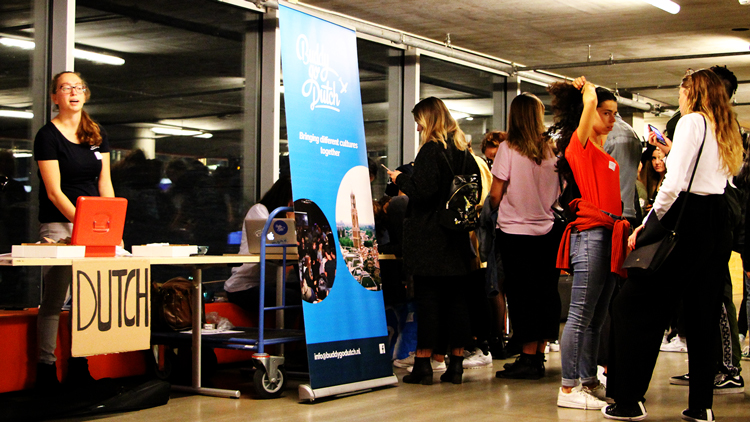 ​​​​​​
After paying five euros for a name tag, we meekly continue onwards to the hallway of the Marinus Ruppert building. Cheap beers are sold by the dozens and many of the high tables see enthusiastic 'borrels' already. Neither the alcohol nor the laminated cards with Pickwick-like questions – 'What is your favourite holiday destination?' – that cover the tables can prevent the fact that the Dutch and international students aren't mingling. A final international walks in, and the speeddating starts. A BuddyGoDutch board member climbs on top of the bar, and calls for the students to mingle. Within three rounds, those present are to have found a buddy who's willing to hang out with them for the coming semester.
It's hard to find a Dutch student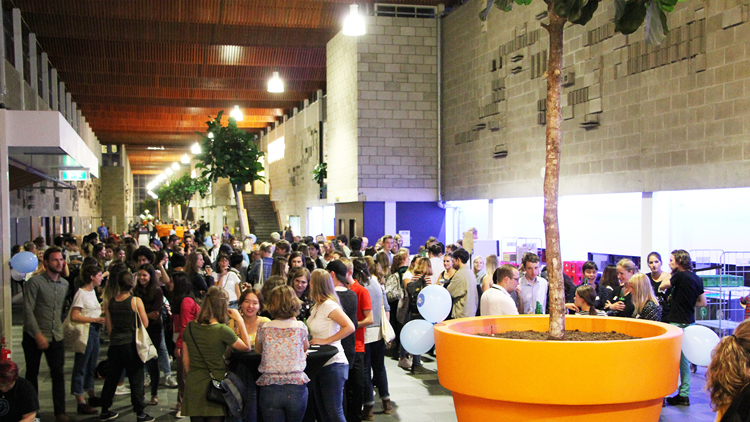 ​​​​​​Chinese biology student Jeremy is actively trying to find a potential buddy. With his spotless trainers and hiphop cap, he looks every bit the urban student. "Yes! I'm from Guangzhou," he says when I save him from his search. He came to the matching on a mission. "Getting to know the foreign culture, because yeah, I'm here anyway. Oh, and going out, of course." After a beer and a fascinating conversation on Chinese media, the second round is announced. He hastily jots down his name and we go our separate ways, now potential buddies.
At one of the high tables, Sanna has started a conversation with Japanese student Maho. She's got her hair done up, with bangs, and she's barely taller than the table. She whirls around to face me in confusion. "So this is where all the Dutch people are! I searched everywhere in the previous round, but only managed to find someone near the end of the round. With all this competition, it's quite hard to find a Dutch student. I go to UCU (University College Utrecht, ed.) and I haven't really been able to chat with any Dutch people there, either." During our talk, the high table is gradually filled with empty beer bottles and wine glasses. Maho doesn't contribute to this. "A lot of alcohol is drunk here, but I prefer coffee. I'm not really one for partying either. I'd be far more interested in going to coffee places with someone from Utrecht."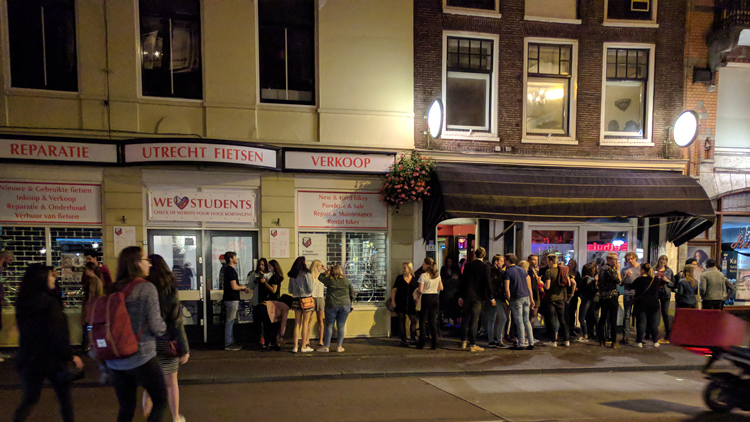 At the afterparty in Café Otje, Maho is understandably absent. The students show up, biking together in small groups. The difference between Dutch and foreign students becomes clear when they try to park their bicycles. Whereas the Dutch throw their crappy bicycles against the many other equally crappy ones out of habit, many internationals can be seen trying to find a proper parking spot. "Just park it in between there," a board member says as she points at the wall of bikes. Without too much traffic hindering them, they cross the Nobelstraat and join the party.
Party cultureOr, well, at least they thought they would. Instead of entering the festive ground floor, where the music thumps loudly and continously, we're redirected to a narrow space upstairs. In the corner of the second floor, there's a bar where free drinks are given out. A Californian student has chosen a tactical position right next to the bar, enjoying his third free glass of wine. "You Dutch people sure drink slowly," he says in response to my question of how our party cultures differ from each other. I swallow my pride and change the subject to the housing shortage, a subject that doesn't exactly make him happy. "I'm currently renting an Airbnb room for 850 euros a month. I'm looking for something else, but I've sort of given up the idea of finding something better. I'm only here for half a year anyway."
The cold, white wine doesn't seem to cool the American. Sweat drips down his face. The room is filled to the brink with students, and the closed windows don't let any of the searing heat escape. At a certain point, a tipping point is reached, and students start leaving. Most have drinks in hand, and opt to visit the ground floor, or end up in front of the café.
Daan's buddies are there as well. Aside from her new friends, she's also managed to lose her name tag, but she did score two of the last free beers. "What am I still doing here?" she sighs. "I'm learning Spanish, and I kind of hoped to find a Spanish student, so I could practice. Now, I have a Thai and a Lithuanian buddy, but I'm not sure I'll ever meet them again." An hour and a half and several beers later, Daan is found chatting with her buddies in the café. Perhaps there's hope for their new friendship after all.
The Dutch people who participate in BuddyGoDutch are obviously interested in foreign cultures and often in foreign languages, too, says chairman of the board Jules Lousberg. We're on the café's ground floor, beers in hand, and I can only just hear him speak over the loud tones of Mamma Mia. "Many of the Dutch people have studied abroad themselves, which leads to their interest. The internationals, on the other hand, come to find their way around the local environment and to experience the culture from the inside."
As only a third of those present are Dutch, the Dutch people are given up to three buddies to meet with, says board member Saskia Ijpema. They use the names on the cards that were filled out by the participants back in the Ruppert building. "With this matching activity, we're trying to encourage the integration of international students in Utrecht. By forming these intercultural friendships, both parties can grow as people, and develop insight into the other's culture. To bring the buddies together, we organise bi-weekly activities such as drinks, parties, celebrating Sinterklaas, and going ice skating." Aside from the attendees of the matchin day, BuddyGoDutch also matches four hundred students who signed up online.
Around midnight, the party at Café Otje starts to die down. The partygoers on the ground floor slowly disperse, and the sidewalk is occupied by fewer and fewer students. With her jacket in her hand, Sanna looks up the bus schedule. "One third was Dutch? I thought it was a lot less than that, it seemed more like a tenth. But oh well, I don't mind too much. I did manage to find a French buddy, whom I'll hopefully meet up with soon."