Annetje Ottow: 'I want to have an eye for the underdog'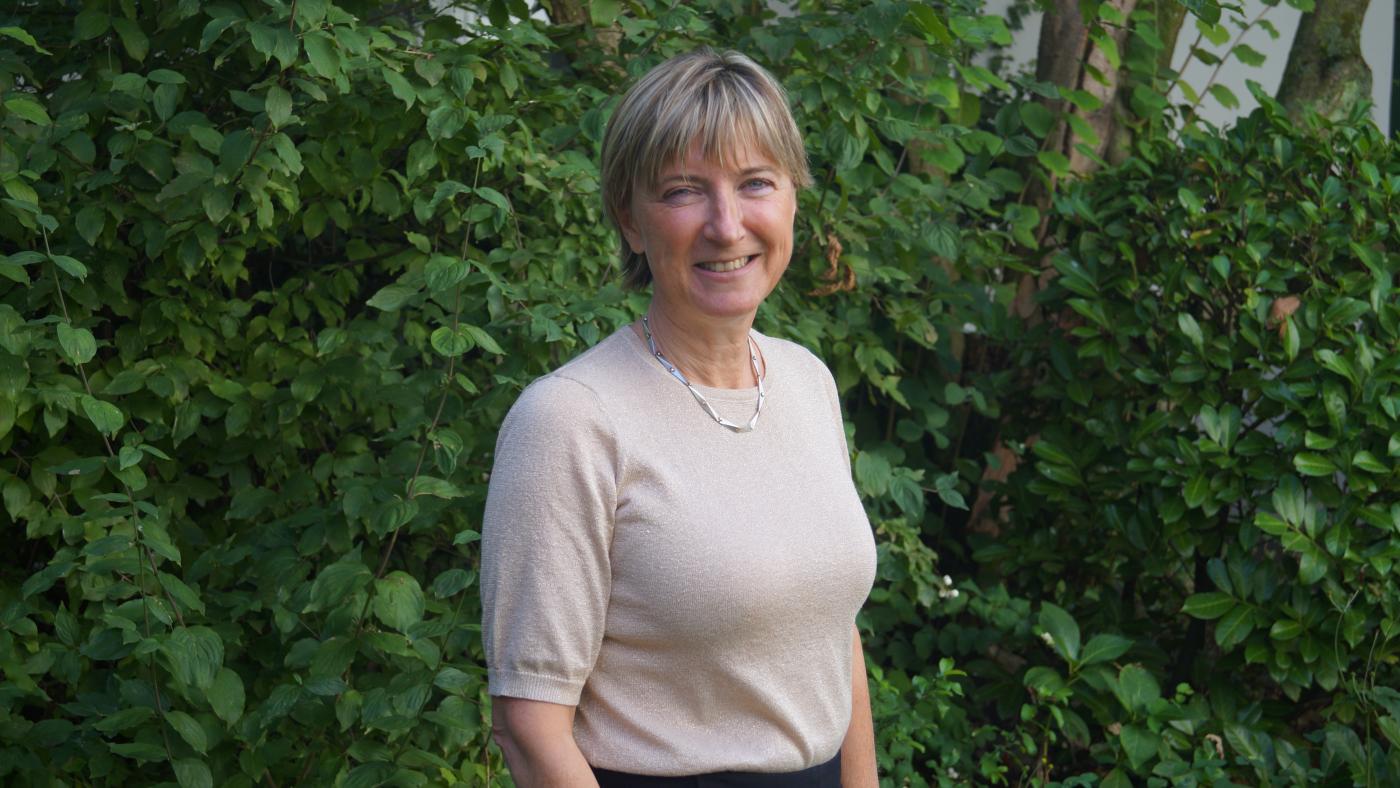 Annetje Ottow: young women need to keep their faith in their own capabilities. Photo DUB
We're sitting in the lounge of the sunny Faculty Club in the University Hall. It's Annetje Ottow's last week at Utrecht University. She was vice-president of the Executive Board for almost three years, and before that, she was dean of the Faculty of Law for three years. Ottow is on the phone, discussing how to handle a possible conflict. "You want to make sure all loose ends are tied up," she says apologetically as she hangs up.
Ottow will soon leave for Leiden, where she will become the first female university president. For her, it's a return to her alma mater: she studied Law in Leiden in the 1980s.
What type of student were you?
"I was a diligent student who enjoyed studying. My father had said that Leiden was a good university that would suit me. Despite financial limitations, he made it possible for me to go to college, and that felt like a privilege to me. So I really wanted to go for it. I lived in a large student house, where we did a lot of things together. Next to my studies, I was a member of student sailing association De Blauwe Schuit, and I was active for the Rechtswinkel ('Law shop', a law clinic, ed.). I had a lot of fun doing that. The nice thing is that I'm now a member of the Supervisory Board for the Juridisch Loket (Legal Clinic), sort of a national association of law clinics."
After your studies, you didn't choose science, but instead went to work for large law firms like De Blauw Blackstone Westbroek, and later Houthoff Buruma. Why?
"During my studies, I became very interested in science, especially in the European relations. My professor, Schermers, did ask me whether I wanted a career in science. Still, I wanted to practice law. But I did continue writing scientific articles for the bureau, and I did teach as well. To be honest, the combination of practice and science was always my leitmotiv. It's very inspiring to use scientific insights for societal issues, and the other way around.
The combination of practice and science was always my leitmotiv
"When I got pregnant, I experienced complications, and pelvic girdle pain meant I was out of the running for some time. I used my rehabilitation period to obtain my PhD. That was a blessing in disguise. After obtaining my PhD, I ended up in the world of supervision, the OPTA: the Netherlands Telecoms Operator (College van de Onafhankelijke Post en Telecommunicatie Autoriteit, ed.)."
In 2007, you came to Utrecht as professor of Economic Public Law. Can you describe the cultural difference?
"Such a huge difference. In a company, you're in a pressure cooker. The customer is the most important thing, they're the income, and you have to work for that 200 percent. You constantly feel the pressure to perform. It's a tough, competitive world. On the other hand, a company like that does realise that as employee, you function better when you're happy. They invested in that a lot. Money was less important.
At the university, that money isn't available, but you have more rest and autonomy, relatively speaking. That's necessary, because you need time to think, create courses, and write articles. Although I do feel that the two worlds are growing closer to each other. There's more pressure on scientists, including about providing education. At the same time, we don't have the means that the corporate world has. Financing from the government really has to improve. Moreover, in academia, we need to have an eye for the human dimension."
You became dean in 2014. Why did you choose to work in administration?
"From my time in – among others – the OPTA, I knew that I was good at administration. It's one of my talents. When I said so during a performance review, the professor almost fell off his chair. In academia, administration was more a duty you had to fulfil rather than a talent you'd want to use. 'Do you want to be a second Yvonne van Rooy?' he asked sharply. At the time, Van Rooy was Utrecht University's president. Well, I did want that, but an ambition like that wasn't appreciated in academia.
I ended up in a conversation with an international student, and it hit me how lonely she was
"The good thing about the recognising & assessing programme that we're developing now, is that we'll pay more attention to various talents. This programme will be used for both supporting staff and scientific staff. Are you good at teaching? Then you can build a career in education. If you're talented at administration, then that needs to be supported. And others may be better at setting up a research project in a team.
"By the way, it's very important, as an administrator, to stay in touch with practice. Recently, despite corona, I taught an in-person class. I ended up in a conversation with an international student, and it hit me how lonely she was. She was really craving contact. It's good to hear things like this personally, being able to look someone in the eye."
Women at the top. It's one of the subjects you've worked on for the past few years. Has the glass ceiling been a hindrance to you personally?
"I've received a lot of support from my environment. Even at home, I was always encouraged to go for what I wanted. I want to tell young women that above anything else, they need to keep their faith in their own capabilities. I also think it's important to have enough examples, role models. Women can support each other. I, for instance, received a lot of support from the previous president Marjan Oudeman. Within the university, a culture shift is happening, but it's still going slowly.
'Yeah, Annetje, with high heels like that, you'll manage just fine'
It's not easy. Personally, the way people sometimes responded did bother me. When I was appointed dean, I ran into a colleague at the Janskerkhof. He shouted at me: 'Yeah, Annetje, with high heels like that, you'll manage just fine'. That kind of treatment is really unpleasant. We have to dare to point out the things that aren't okay, and then do something about it."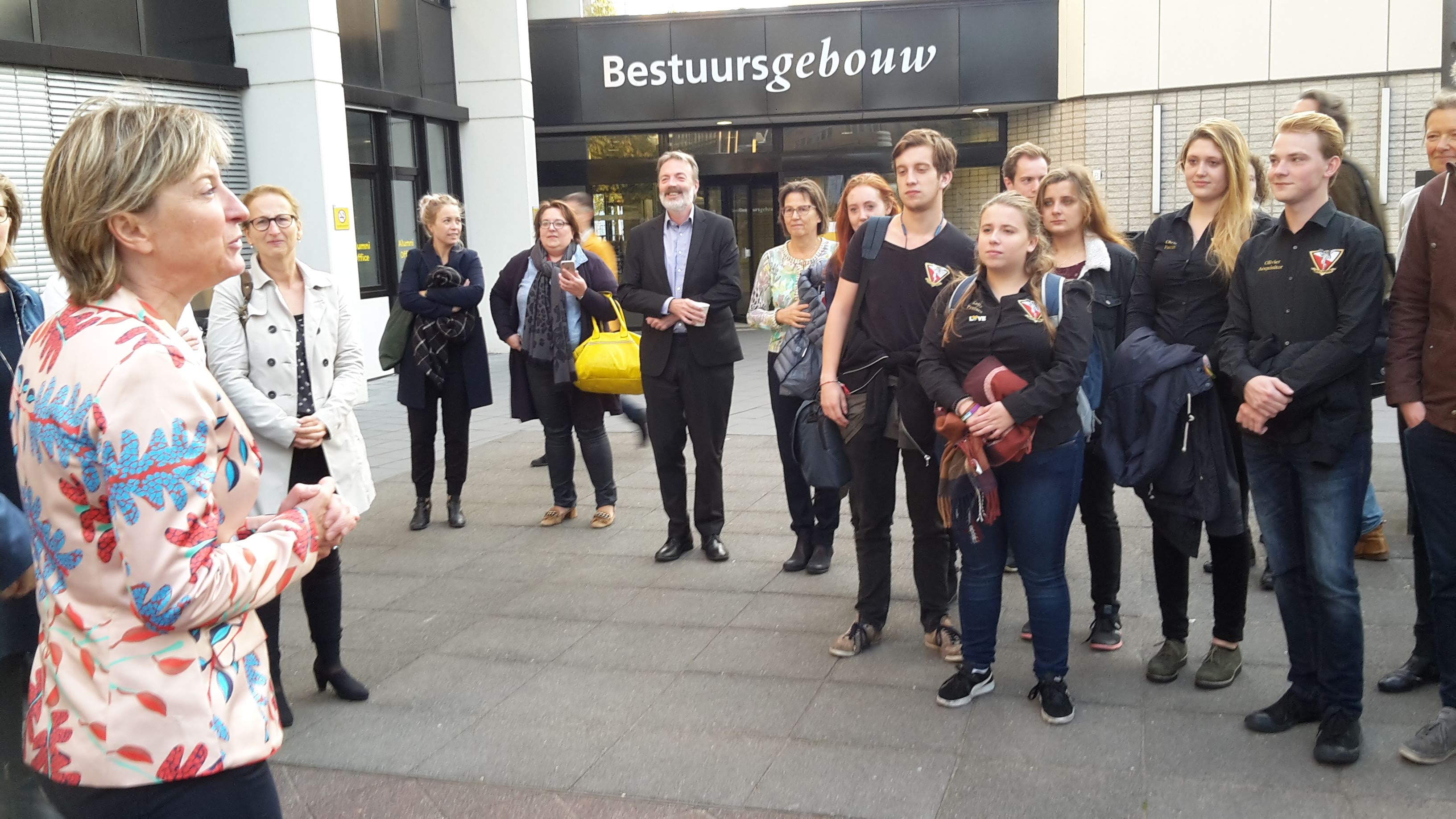 Annetje Ottow addresses the attendees at Coming Out Day in 2016 after hoisting the LHTB+ flag at the Administrative Building - Photo DUB
In your time as dean and vice-president, you've worked hard for diversity and inclusivity. You were president of the first Taskforce Diversity, and you fought to implement a buddy system to help talented students who aren't familiar with academia. Where does the drive to work for that come from?
"I've always had a strong feeling for the underdog. That's something else I was raised with. My grandfather and father survived the Japanese concentration camps in the war, and after all that misery, they managed to build a good life. My grandfather became the mayor of a small town, where he's always worked hard for people with problems. That was my example.
The Afghan man loved my offer so much that the next morning, there were freshly-baked goods hanging on my door
"You help out where you can. One time, I came back from travelling, and at Schiphol, I ended up in conversation with a taxi driver from Afghanistan. He was worried about his daughters' education, and didn't understand all the letters school was sending him. It turned out that he lived very close to my home, so I offered to take a look at the letters. The man loved that offer so much that the next morning, there were freshly-baked goods hanging on my door.
"Another example is the way the buddy system started. For Meet the Professor, I went to a primary school in Overvecht. I explained that I went to the gymnasium (vwo) secondary school and then to university, because I was good at learning and studying. The entire class then looked at Princess, the only girl in the class who'd received the advice to go to vwo secondary school. She's from a family who are unfamiliar with the university. So what are the chances of her actually succeeding in getting there? That's when I thought we needed to set up a system to help people bridge the divide between their world and the university. We started with a buddy system, which makes us hope they'll have an easier time choosing to go to university, and that they'll feel more at home there."
In your portfolio, there's also the subject of how to deal with people who are sick, or those who have a disability. You yourself were out of the running for a while as well, because of illness. How do the two touch each other?
"As I've said, I feel that at the university, we need to keep an eye out for the people who are ill, and offer the space for people with a disability. Not because I was sick myself, but I do know from experience how important attention is. I have a dust allergy. The bad air quality in Utrecht and the dust floating around old buildings meant that there were some buildings I couldn't work in. That's something you need to deal with as a person. But it's a blessing to have colleagues who help you function as well as you can. I'd want everyone at the UU to have the same. It's something that constantly requires attention."
The university is a complex organisation. How did you experience the collaboration?
"In Utrecht, we work together from a sense of solidarity. That's something we should cherish. I think that sometimes, we regard is as self-evident too much. What we're trying to do with the current board is to reach a decision from a foundation of conversations. We want to know what others think about something, and then we reach a joint decision. All board members were once deans, and that helps. But I also see a real sense of solidarity between the faculties. Look at the national Van Rijn committee, which wanted more money to flow to the Science faculty. The minister followed that advice, but at the UU, we didn't do that.
In Utrecht, we work together from a sense of solidarity. That's something we should cherish
"Sometimes, it can be hard to realise a joint decision at all the faculties and departments. For example, the decision to hire all temporary staff for a minimum of four years. That's not working perfectly at all faculties yet. I don't believe it's because they're unwilling, but sometimes these types of things take a lot of different steps. Or you see faculties being reluctant to spend money, so that at the end of the year, we end up with a surplus again. I get very impatient then.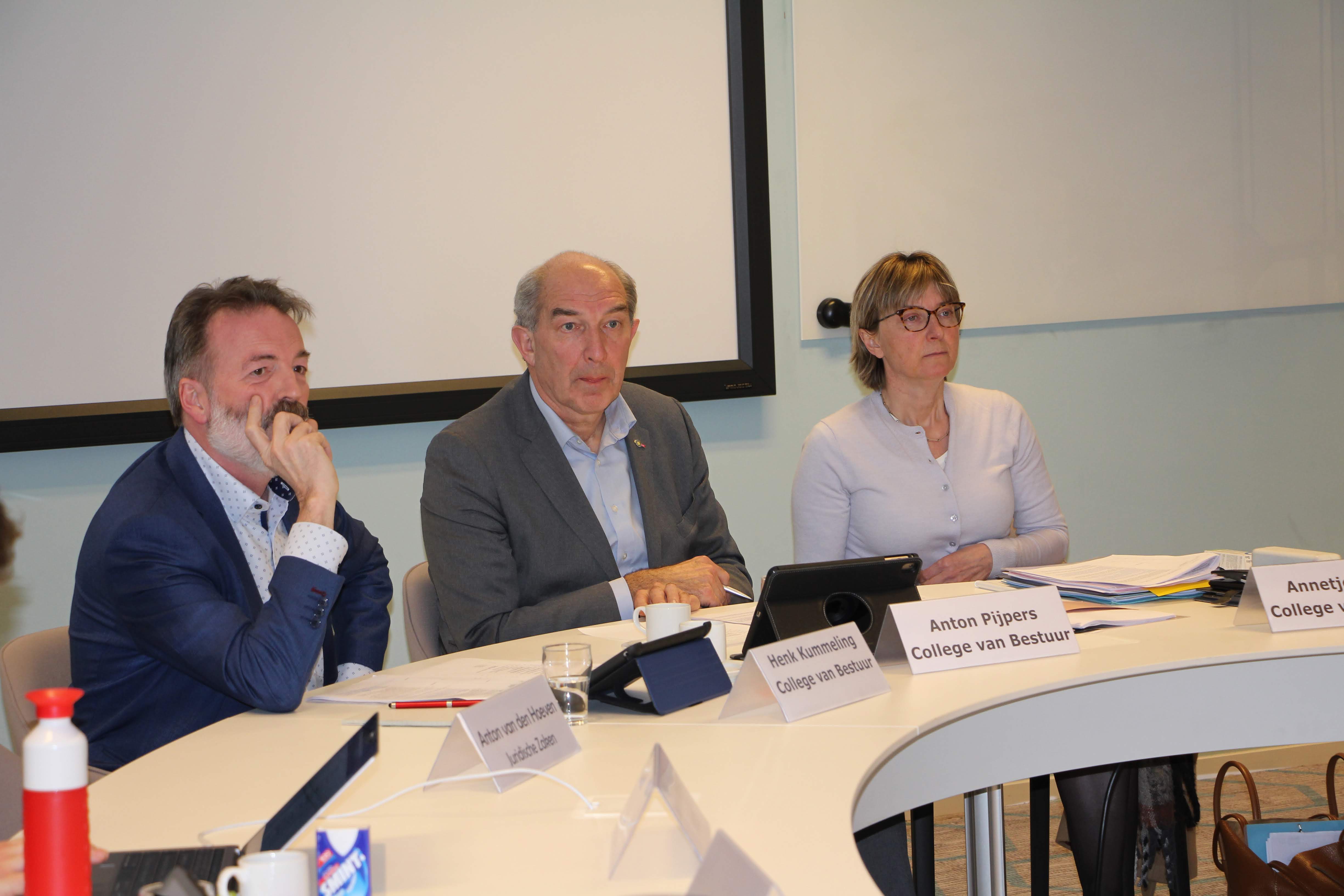 A meeting of the University Council with the Executive Board, Rector Henk Kummeling, Chairman Anton Pijpers and Vice Chairman Annetje Ottow. Photo DUB
"Now, for instance, Law is seeing an incredible increase in the number of first years, so they need to hire more people. And yeah, that means hiring for four years, but those students are going to be there for at least three. So come on, it's our duty to do this. And if we can't get the financial picture right within the faculty, we need to discuss that together and we'll find a solution."
What role do you think co-determination has in all this?
"I think co-determination is incredibly important. It's good to have a mirror held up to our actions as administrators. What's remarkable to me is the young generation of students who spend one year in the council, and at times voice their criticism very clearly and sharply. That's good, too. Criticism and spirited feedback make our decisions better.
"One thing that does get me, is the undercurrent of distrust that sometimes floats to the surface. As administrators, we try our best. There are some measures that you can disagree with, and the interests don't always line up either. And as vice-president, with finances in my portfolio, there were some decisions that had to be made that weren't pleasant. But it gets me when things are made personal. The passion for the university, and the wellbeing of colleagues and students, is something all of us share, in my view."
How do you look back on your time in Utrecht?
"I have to be honest: I'm saying goodbye with a heavy heart. I had a really good time, and the contact I've had with people at all levels – from scientists to students and supporting staff – was heart-warming. I'm happy that as administrator, I was able to contribute to making the organisation better.
Last year, when we were planting the Tiny Forest at the initiative of the Green Office, a Canadian student came to me. He said: Ms. Ottow, it's so great that we can plant this forest here. Thank you for that. The fact that this is possible here, really is a reason for me to choose Utrecht." When I hear something like that, I think: that's what makes this all worthwhile."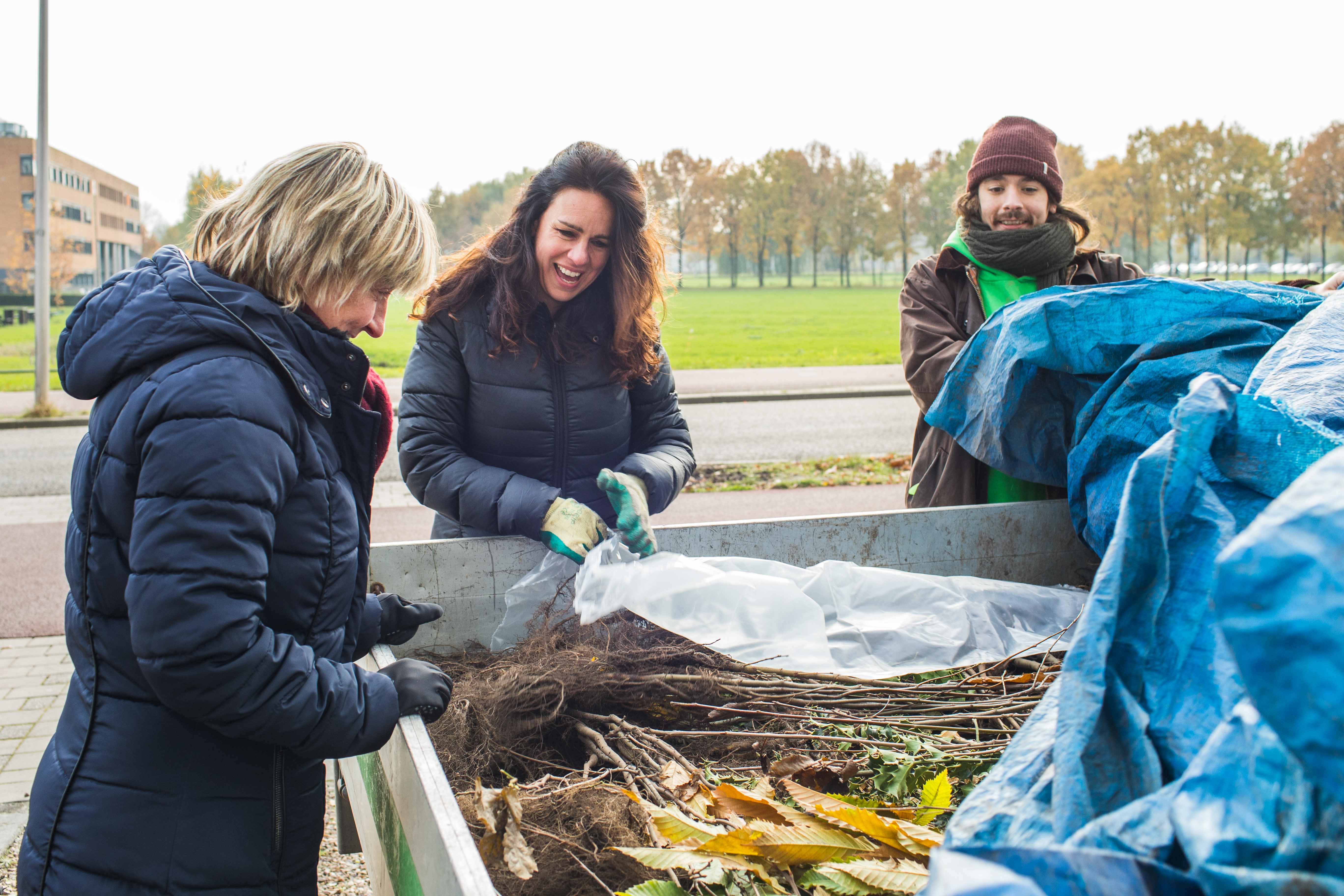 Annetje Ottow at the planting of Tiny Forest - Photo: Maartje ter Horst/ Green Office
Advertisement