In the award-winning Mixed Classroom course, students' brains are 'stretched'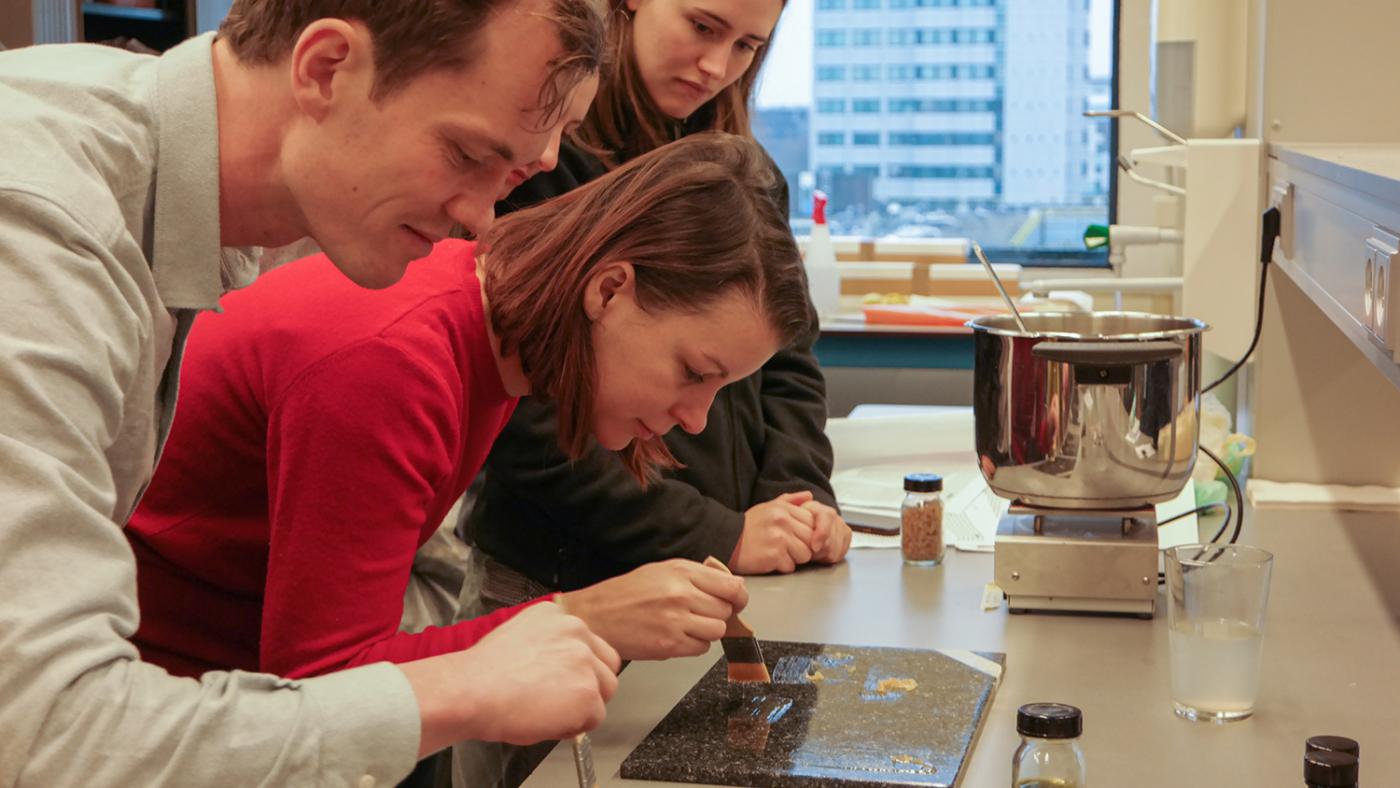 Mixed Classroom 2019. Photo: Mark Damen
Virtual reality glasses that allow people to travel to Paris without leaving their living room, a refrigerator in which plants grow, and a national holiday that's all about returning goods rather than buying new ones. If these ideas sound futuristic to you, it's because they are: they were proposed by participants in the course Mixed Classroom, an experimental educational project that focuses on the society of the future.
What's remarkable about Mixed Classroom is that it's not just aimed at students: policy makers from anywhere in the Netherlands are also welcome to join. The programme began in 2016 within the Urban Futures Studio, an institute at the Faculty of Geosciences at Utrecht University, which studies the future of urban development.
The course was recently selected as one of the three winners of the Dutch Higher Education Award, organised by the Ministry of Education. The first place will receive 1.2 million euros, the second place 800,000 euros, and the third place 500,000 euros. On March 1st, the Minister of Education, Ingrid van Engelshoven, will announce which prize each of the winners will receive.
"We wanted to create an educational form in which policy makers and students learn together", explains Assistant Professor of Urban Planning Peter Pelzer. He came up with this idea in collaboration with Professor Maarten Hajer and Post-doctoral researcher Jesse Hoffman. In the Mixed Classroom, students learn from the policy makers' hands-on experience, while the policy makers benefit from the topical knowledge and fresh outlook of the young students. Each year, the course focuses on a given theme – for example, they have delved into circular economy (2019-2020), mobility (2018-2019), and climate adaptation.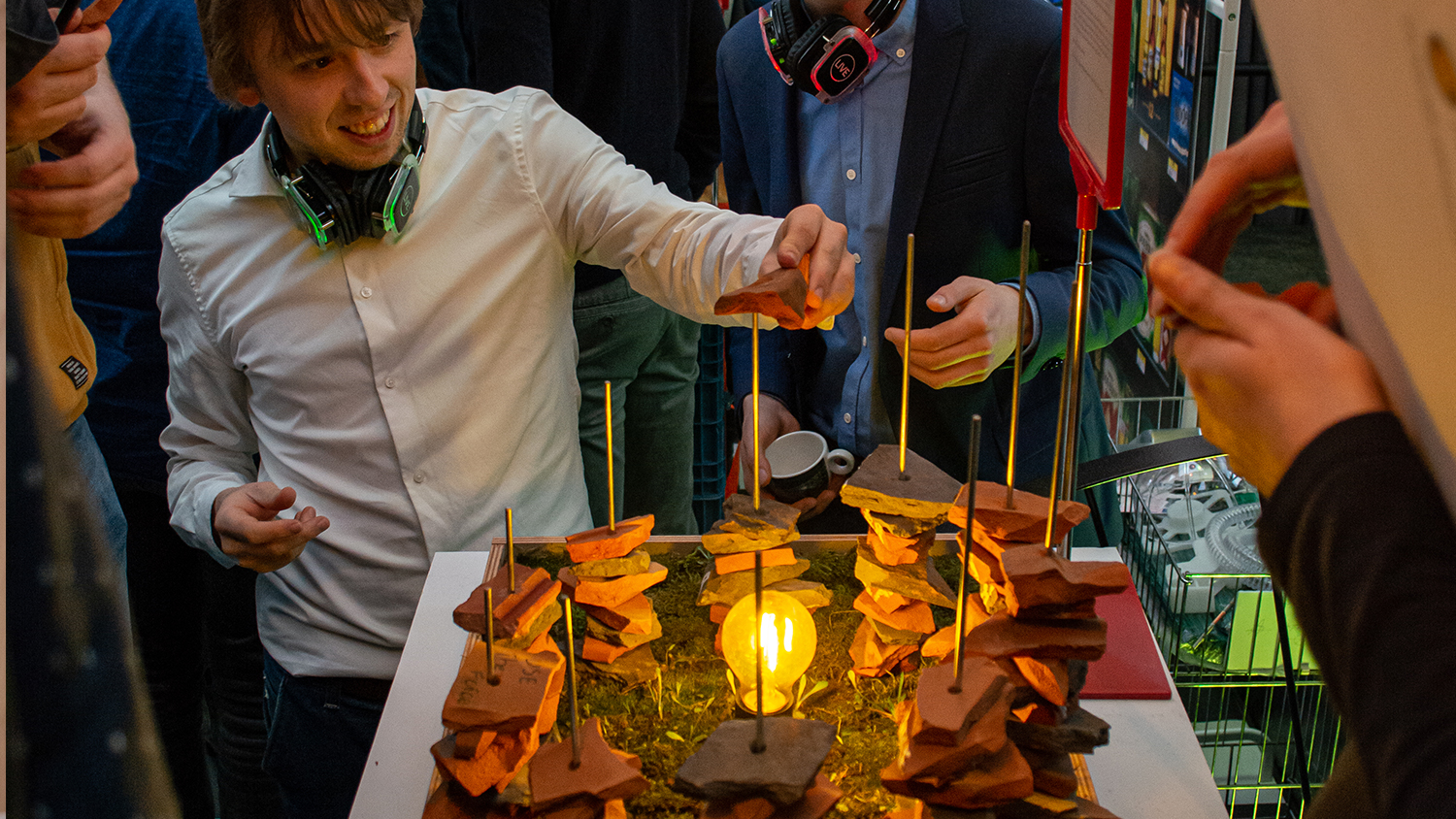 Mobility Museum at RAUM. Photo: Hilde Segond von Banchet
Thatcher once said: "there's no alternative". We say "maybe there is"
What does such a mixed classroom look like? Teachers and guest speakers stimulate the discussion, but it's mainly the participants themselves who work in groups. That doesn't just mean philosophising. It's also about designing, creative writing, debating, and presenting. Just so you have an idea, here are a few of the issues they have tackled over the years: the sea level is rising, so how should the Netherlands restructure its Delta, the series of dams, sluices, and storm surge barriers protecting the Dutch coastline from floods? How should we build houses in the future, considering the raw materials and energy sources we'll have in fifty years? "The former British prime minister Margaret Thatcher once said: 'there's no alternative'. Our principle is the opposite: maybe there is."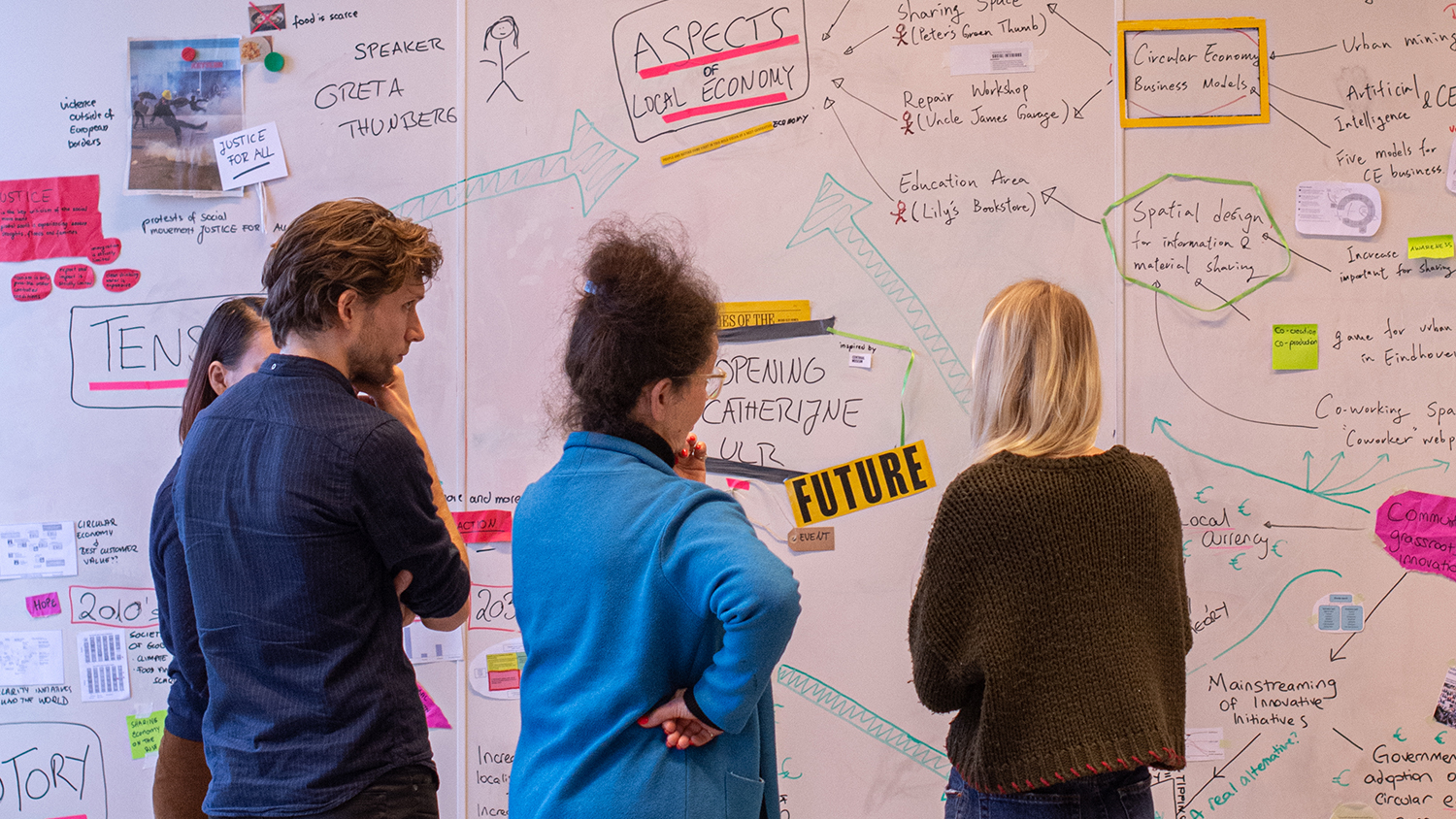 Mixed Classroom in the Teaching and Learning Lab 2019. Photo: Hilde Segond von Banchet
This way of thinking, called "futuring", is a core element of Mixed Classroom. Students present their results – including the VR glasses and the green refrigerator – in the "museum of the future", an exhibition for which the Urban Futures Studio finds a new space each year to set up as a museum. "This concept forces them to completely think through the logic of a future society", Pelzer explains. "We pretend it really is 2050. You can think that's silly or playful, but coming up with good, conclusive scenarios isn't as easy as it sounds".
A broad group of policy officers has joined the course, including professionals from the Dutch government, the province of Utrecht, Dutch municipalities, and water authorities. Most of the students come from Master's programmes in social geography, sustainable development, development studies, planning, and governance. Pelzer: "We want to drag policy makers out of their daily routines. We ask them how they bring the future to their own work, and what they're doing now to get there. We let students actively search for knowledge. In the museum, I consistently call them 'curators', as they're the ones making the decisions".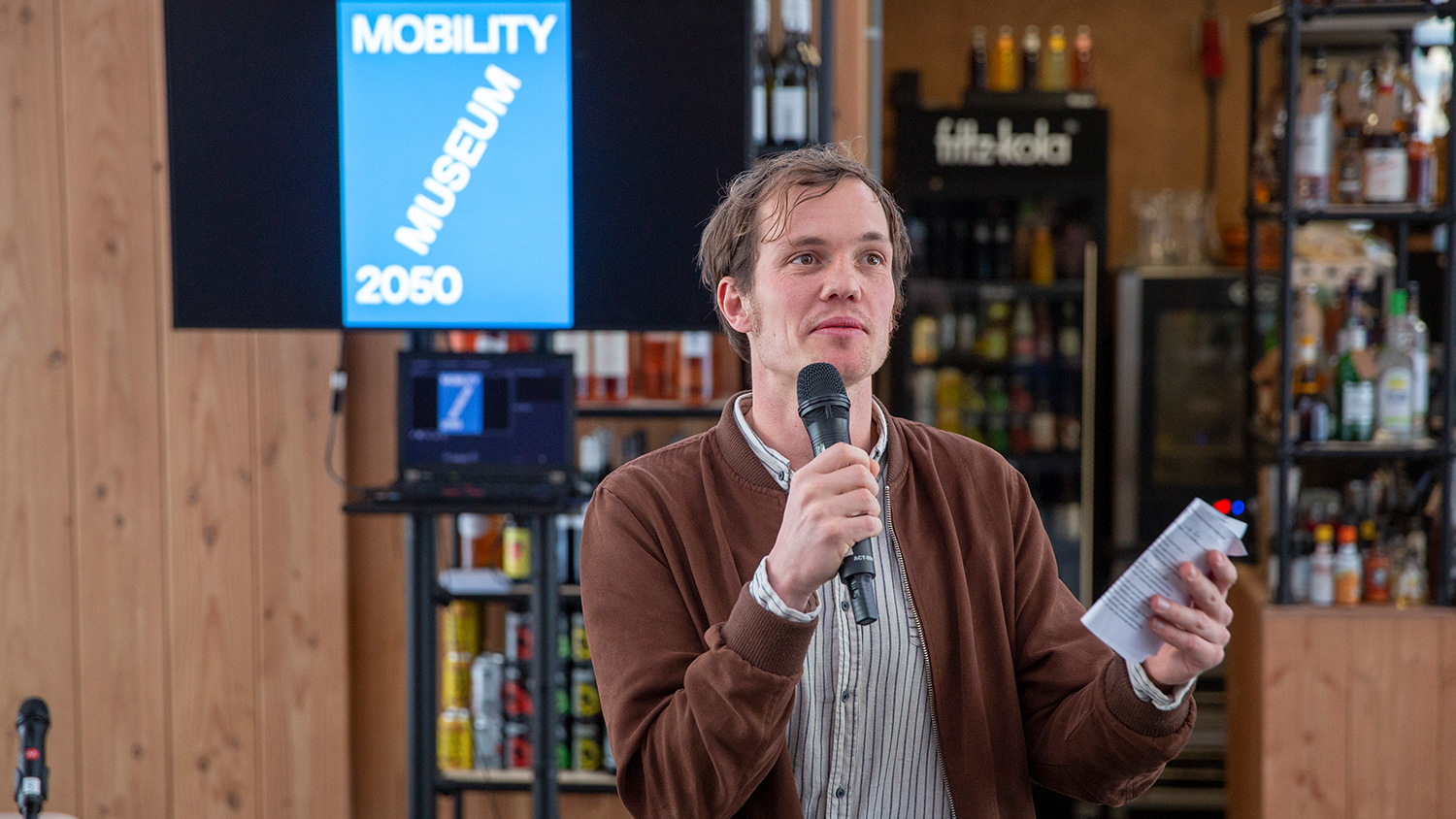 Peter Peltzer in the opening of the Mobility Museum at RAUM. Photo: Jikke de Gruijter
As soon as you start thinking from the viewpoint of the world you want to see in 2050, all sorts of doors suddenly open in your mind
Former student Loes Albert was a curator in 2019. For her, Mixed Classroom was a true eye opener. "During my studies, I was already focusing on circular economy, but it was always about issues that companies struggle with now. As soon as you start thinking from the viewpoint of the world you want to see in 2050, all sorts of doors suddenly open in your mind. I almost literally felt my brain getting stretched – like you're using a completely new part of your mental capacity. Quite intense, but it was incredibly inspiring".
Han de Haas, policy officer for environment at the province of Utrecht, enthusiastically reflects on his participation as well. "Students asked me questions about things I hadn't considered for a long time. That creates so much energy! Our projects run for one to three years, and you rarely look beyond that. Now, it was about broadening that horizon considerably. Gee, I realised, creating concrete or cement requires more energy than we'll have available in the future. That means we'll need to learn to build differently".
We stand for a new vision on education
Although it may be popular (the thirty spots are always filled in no time), Mixed Classroom is more than just an unorthodox course, Pelzer emphasises. "We stand for a new vision on education. Everyone's talking about life long learning and this is a concrete way to realise that. The formula, by the way, isn't set in stone. We're always thinking about what can be done differently, how we can improve".
Are there things that, in hindsight, Pelzer would have done differently? "Oh, definitely", he laughs. "At first, we thought that students and policy makers would team up to work on a final product, but we have sort of stepped away from that idea, as not all policy makers had enough time for that. Now, they provide the groups with input based on their expertise, but they're not co-creators of the exhibition. That was simply too much for them".
After all, no matter how educational Mixed Classroom may be, the way it's taught is definitely intense. "It's tricky to offer this as an integral programme at the university", Pelzer admits. "We don't want the group of students to become too large compared to the policy makers, that would shift the balance. At the same time, the idea of a mixed group, with good guest speakers and strong methods, can of course be set up elsewhere as well – especially at Master's level."
It's nice to be recognised, of course
The nomination for the Dutch Higher Education Award means that Mixed Classroom will win a cash prize of at least 500,000 euros. What will they do with the money? "We want to look at how we can deepen and broaden this educational method. For instance, by training a new generation of teachers or setting up a digital summer school allowing students from all over the world to participate. We tried something like that for the first time last summer and we'd love to expand that programme".
The founders are also working to publish their recorded classes, work methods, and other documentation online, as a means to share their knowledge with other educational institutions. "It's not just open science, it's open education as well. We've already started doing this, but we're speeding it up now. It's a relatively easy way to help a lot of people out really quickly".
Last, but not least, how does it feel to be "chosen" by the Minister of Education? "It was a happy surprise", Pelzer replies. "It's great to be recognised, of course. But let's not forget there are also a lot of professionals working in education who are doing remarkable things outside of the spotlight".
Mixed Classroom and the coronavirus
A programme that's all about meeting in small groups and organising a museum exhibition: how are they managing to keep going during the pandemic? "In order to properly transfer our classes to an online environment, we basically had to start over from scratch, although the principles and learning goals remained the same. We're working with Miro, an online whiteboard, and made the guest lectures more interactive. Thankfully, the response was very positive, but I must admit we do lose something: the energy that comes from an exhibition, how proud the students are of the final results. But the online setup does offer opportunities for the future, too: think, for instance, of an international summer school that's separate from the yearly offline programme".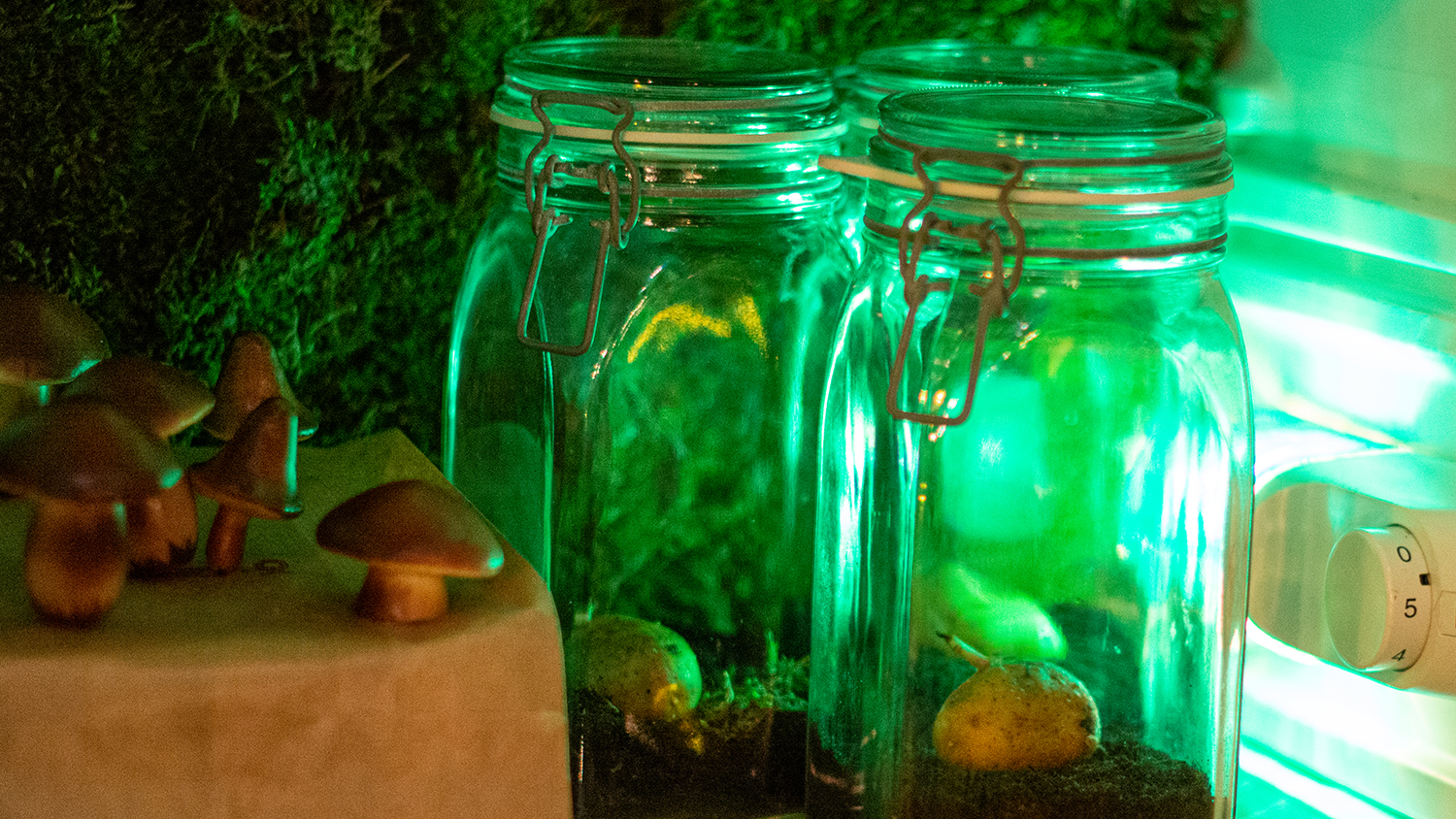 Mixed Classroom, the green fridge. Photo: Hilde Segond von Banchet
Advertisement