'Being a campus columnist made me feel like the university was mine, too'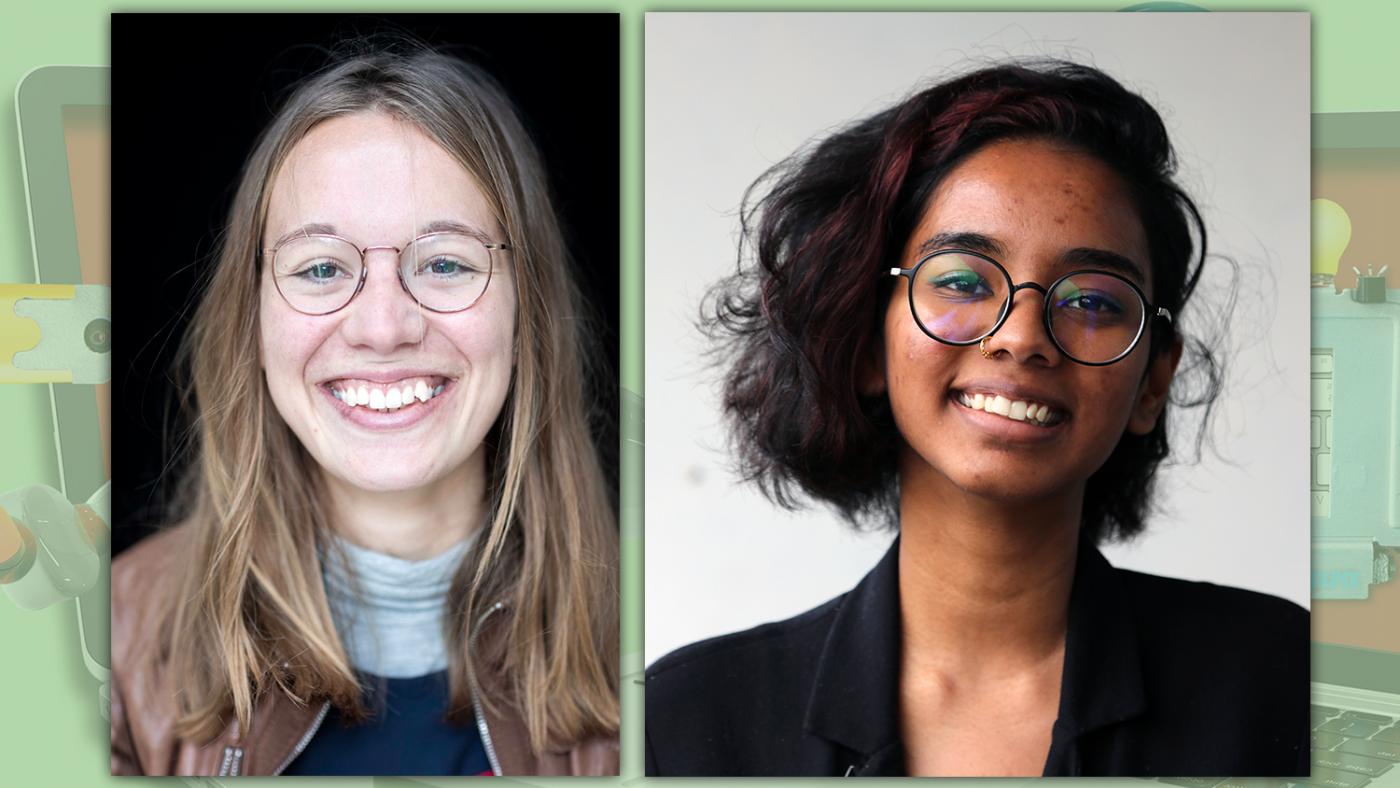 Francis van den Brink and Keerthi Sridharan. Photos: personal archive
It's that time of the year again: DUB is looking for a campus columnist, someone who will write about university life every two weeks in 2021. The competition is open to students and employees. Those interested in the role must submit two original columns before December 1. In addition to getting a platform to share their views with the UU community, the winner will receive a stipend of 1,000 euros.
The new columnist will succeed Francis van den Brink and Keerthi Sridharan, who share the position in 2020. This is the first time DUB has two campus columnists. The stipend was then doubled and Keerthi was assigned to write for the English website, while Francis got the Dutch one.
Keerthi is pursuing a Research Master's degree in Linguistics after graduating in Linguistics and Media Studies at University College Utrecht. She's a true citizen of the world, having studied in six countries including China, Hong Kong, India, and the United States. She had never visited the Netherlands before deciding to study in Utrecht, but having lived in so many places, the move didn't scare her at all. "I didn't get to the point where I was throwing a dart at a map and deciding to go there, but it was kind of what it looked like in my mind," she says.
Her winning column 'Room and Board' caught the jury's eye thanks to its beautiful portrayal of what it's like for an international student to stay behind on the UCU campus at weekends, while the Dutch students go visit their parents. As the first person of color to become campus columnist, Keerthi is not one to shy away from themes like racism, sexism, and xenophobia. But she's also passionate about food, having shared a couple of her favourite recipes with us. 
Francis has caught the jury's eye for bringing a literary flavour to her columns. A student of Literature and Culture, she is an absorbed observer who dreams of becoming a professional writer in the future – she just doesn't know which genre to focus on yet. Novels? Short stories? Poems? Theater plays? It all seems exciting to her. Francis' winning column, "Escalation", describes her relationship with her laptop, simultaneously her most hated and most precious possession. Throughout this year, she has written about Utrecht's cycling culture, the importance of studying the Dutch language (her department is in danger of extinction), and pigeons.
In addition to being the first campus columnists sharing the baton, Keerthi and Francis were also in the atypical situation of writing about student life while locked up in their room amidst a pandemic.
Why did you apply to be campus columnists?
Francis: "I like literature and I like to write, I just don't know what I want to write yet. I don't know whether I want to write books, plays or poems. When I saw the call for a new campus columnist, I thought "let's just try it" and I sent something that I had written a couple of months before. I wasn't expecting to win at all, it came as a big surprise because I entered the competition just for fun."
Keerthi: "This isn't my first time being a columnist. I did a lot of freelance journalism work during my undergrad and high school. I've always had a soft spot for journalism and investigative writing. When I came to Utrecht, I didn't have an outlet for that, because I immediately latched on to my linguistics and media studies, which don't leave a lot of room for writing outside the academic sphere. When I saw the call for submissions for the role of campus columnist, I thought "hey, this is something I know how to do!". I also thought the DUB English page was lacking a distinctive international perspective and if there's one thing I'm good at is having strong opinions about everything all the time [laughs].
I wasn't expecting to win either, especially considering the contest was open to every single student and staff member in the entirety of the UU! So I thought "let's just send this and hope for the best" – and, well, the best happened."
How has your passion for writing begun?
Francis: "I'd always wanted to be a doctor at school, but I had a secret passion for literature. My essays in Dutch class always got good grades, which made me realize that writing was one of my talents. So, I started to write for myself in diaries and such until I felt comfortable enough to write for other people."
Being a campus columnist was a really good way to make friends in my new programme
Keerthi: "I would definitely attribute my passion for writing to my mom. As a kid, I needed to let my energy out somehow, so I would make up pretend stories in my head. Then my mom gave me the tools to write those down. They were really shitty stories, but hey, I was writing! That's the good thing!"
How do you feel about your experience as a campus columnist?
Francis: "I liked it because it made me feel like the university was mine, too. I started to walk around and observe how people act, which made me feel more engaged with the university. I'm not someone who is just following courses, I am an active part of the university by writing columns for it. But it was really challenging when Corona came and I had to write columns from my room. I mean, how can I write about the university when I'm stuck in my own world? That was really hard."
Keerthi: "When I first started writing I felt like "okay, I'm a legitimate member of this institution, I'm not just some random student who's going to attend classes and then leave, I'm going to leave an impact here, my voice is going to be heard and voices like mine will continue to be heard". But then COVID-19 came and I thought "what's the point of having a voice here if I have nothing to say?" [laughs]
Now that I'm a master's student, it's gotten even more difficult. My master's programme is not bimodal, it's completely online, so I'm not interacting with people much. I've been staying safer than some, I'm not really going out and meeting people."
Where did you find inspiration to write, then?
Francis: "To be honest, it was really hard for me to find topics to write about. Sometimes I would just look at my family [Francis still lives with her parents] and write about them because that was the only thing I could write about, I was with them 24/7. I observed how they act and just tried to make something out of that. But those were not my best columns, I must confess. They didn't really work: there wasn't much of a link with university life, it wasn't that relevant. After that, I started to get inspiration from the articles I read at DUB. I would just pick one and react to that. Basically, I've come to realize that I shouldn't just look at my own world, because that doesn't work for a campus columnist."
Writing a column regularly may seem like an easy task, but it's not
Keerthi: "There are two main approaches that I take when I'm facing a blank page. The one I almost always go to is looking inwards: how do I feel right now? What am I going through? Is this something other people are going through, too? What is my perspective on something that's happening right now? That was my default for the first half of these columns, but then COVID happened and it was really, really hard to look inwards because I had no idea how I was feeling. I mean, I don't think any of us does, we're all in this collective state of shock.
That's when I came across the second approach, which is to look outwards. Being on the international UCU campus, I started looking at the way all these different people were coping -- some of them better than me, some of them worse than me -- and the sense of community they were trying to foster. 'Look, these are people in your shoes, within your age group. This is what they are doing to cope'. That was my first article post-lockdown and I think having that lens was really helpful not only to me as a columnist but to me as a writer."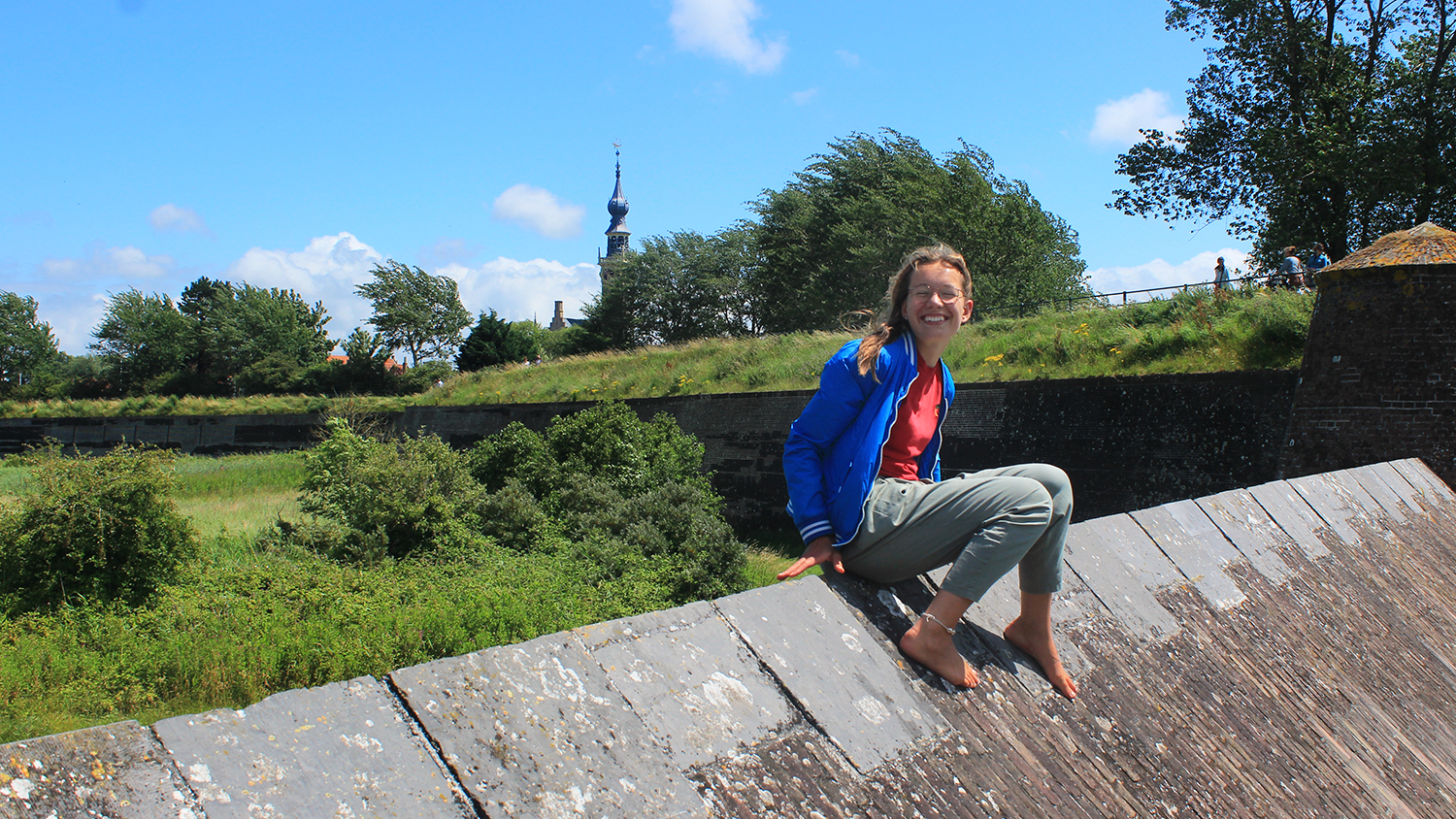 Francis van den Brink
What do you think about the comments you got?
Francis: There were rarely comments on my columns. It's hard for me to say things that may be controversial. I'm more of an observer, someone who refrains from drawing conclusions and saying something that would be hard to hear or that would raise critique from others. So, for me, the hardest aspect of the job was putting myself out there."
Keerthi: "Honestly, the comments that stayed with me are the positive ones. When I wrote about the pandemic on the UCU campus, there were very positive responses from people who I had never talked to before, some of them saying "this made me cry. Thank you" or "hey, that thing you mentioned about socially distanced yoga, I do it all the time and I'm touched that that was a source of inspiration for you".
Being a campus columnist was actually a really good way to make friends in my new programme. When I published "What Type of Teams Classmate Are You?", people who I had never talked to messaged me asking: "is this X?" and I was like: "yeah, but don't tell anyone!", and we ended up making friends that way.
There have obviously been negative comments. I'm not going to pretend that there haven't. But I would like to believe that most of them are coming from a place of ignorance rather than malice – and the ones coming from a place of malice are from people that don't matter to me."
Keerthi Sridharan
Speaking of negative comments, Keerthi, you're the first campus columnist writing in English and also the first person of color in the role. Your quote in the article 'Racism at the University isn't a System, it's a Climate' ignited a huge debate in the comment section and on social media, with some people attacking you as a person or questioning whether you deserved to be a campus columnist in the first place. How was it for you to experience that?
Keerthi: The quote didn't seem incendiary to me at the time. I was just answering a question. I was asked to talk about the difference between American and Dutch racism, and I said that, in the [United] States, I was in a very progressive college where it was widely recognised that, if you're white, you're racist. It doesn't mean that, if you're white, you use the N word all the time, or that you think that all Indians smell like curry. It just means that, if you're white, you have certain privileges and benefits for your whiteness, which are perpetuated by unconscious bias. That's it. People understand that in Ohio [laughs] but they don't understand it here. That was my point, and then Dutch people proceeded to prove my point by… not understanding it.
The thing that really bothered me was that every incendiary comment, including Job van den Broek's blog post, didn't target the white author of the article, even though he was the one who picked the theme and the quotes. I don't want anyone defaming the author's character, of course, but when the character of everyone in an article is being defamed, except the person who wrote it… That's a hole for me, a question mark.
I am not bothered by Job's critique because it was badly written, badly formulated, you can tell it started out as a rant in the comments. There was no data, no substantiation. The people in the comments of his article are disagreeing with him 90% of the time. He didn't get a lot of support. But the thing is: people don't write such things for support, they do it for attention: 'I'm right and I know that I'm right, so everyone has to listen to me now.'
The issue I have is that DUB decided to say yes to his request to turn his comment into a blog post. Like 'yeah, you're right, everybody has to listen to you now.' That editorial choice was made under the principle that both sides should be represented, but there isn't a single soul who doesn't know that viewpoint exists. That is not a viewpoint that needs amplification, that is not a viewpoint that's fighting to be heard. We hear that viewpoint every single day.
"I considered not writing for DUB anymore as I was quite upset about its decision to publish Job's rant. But then I remembered that silence is what they want from you. I didn't want to give Job what he wanted. So, instead, I wrote about cinnamon rolls. That was the most passive aggressive article I've ever written in my life! [laughs]"
What is your favourite column? And is there anything you regret writing?
Keerthi: "I love everything that I published, otherwise I wouldn't ask for it to be published, but there's no feeling more universal than looking at something that you made and thinking: 'damn, that could have been better'". [laughs]
All of the 'Recipe Week' ones hold a special place in my heart because I'm obsessed with food journalism and I think that cooking, baking and writing are extremely therapeutic processes. I just really like the idea that I'd be helping someone in a way that would be more substantial than just 'hey, here, read this column'. Instead, it's 'hey, learn how to make this thing that will keep you warm, fed, and full'.
Francis: When I look back at my columns from the beginning of this year, I think 'aw man, I was so inexperienced!'. They weren't great columns, but it's okay, it's a learning process. I don't regret them as they have brought me where I am now. I like the last one that I wrote. It's a poem. I wasn't sure whether I was allowed to submit a poem, but the editorial team accepted it and I'm so glad it's been published. It was so much fun to write it."
What tips would you give to someone who's considering applying for the role of campus columnist 2021, but is still doubting?
Keerthi: "Don't try to make yourself seem like the most interesting candidate. Your perspective is valid by itself. You don't have to be the funniest or the angriest or the pettiest or the most cynical. You don't have to be superlative, you just have to be a writer."
Francis: "Also, write with your heart. Write about what matters to you, not what you think other people would like -- otherwise it's never going to be a good column."