Five students to form emergency board
Cambridgebar feels like a little family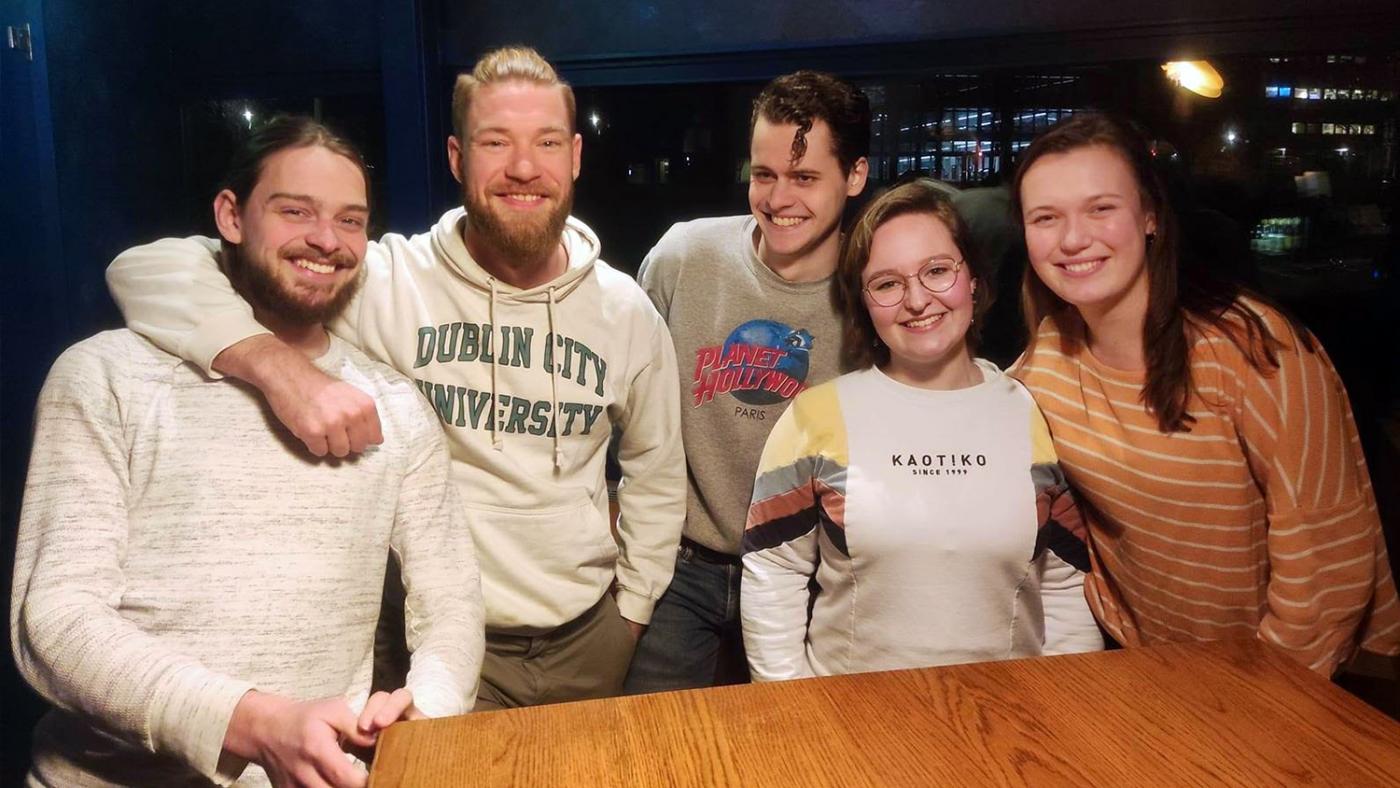 New board of the Cambridgebar. Photo Sera van Vreumingen
Cambridge resident Wijnand was a regular at the Cambridge bar, so one can imagine his shock when he heard that the bar would have to close its doors if no people could be found to join its board. In his view, the bar is a valuable place for the residents. "There's a completely different ambience compared to other bars and restaurants. It's easy to approach people and get to know them, you can get cheap drinks and then roll your way home."
He signed up to join the board but, by the end of the month, he was still the only candidate. In the end, they succeeded in finding five board members after all so the bar's closing is a scenario that did not come to pass. From February 3 on, President Eva (Medical Assistance), secretary Fabian (Journalism), treasurer Wijnand (Maths), bar commissioner Tim (Educational Sciences), and buyer Yorine (Youth Education and Society) will run the beloved bar beneath the student housing complex Cambridgelaan. The love for the bar, the volunteers, and the unique location made the decision a no-brainer for them.
Great atmosphere
The new board consists of regulars and curious newcomers. Tim, Fabian and Wijnand already worked at the bar as volunteers but the emergency meeting on October 24 was but the third time president Eva had set foot inside: "I hadn't lived here for very long but I read in an email from SSH that the bar would have to close otherwise. That's why I wanted to take a look, I had some spare time. The atmosphere was great: Wijnand, Tim and Fabian were there that night and we got along so well that I announced that same night that I was interested in joining the board."
Although Eva isn't too familiar with the bar yet, it's clear to her that it is an important spot in the Utrecht Science Park. Eva says the power of the bar lies in its relaxed atmosphere. "It really is a place where many people come together. Everyone can talk to everyone. So, I think many people find the relaxation they're looking for here, with the advantage that it's close to home." Yorine agrees: "It's an accessible meeting point where students can let off some steam."
International students
Volunteers play an important role in making the atmosphere so nice. Eva: "The presentation told me that there's a tight-knit group of volunteers who would really hate to see the bar close." Therefore, the number of volunteers was not the issue: there are 30 to 40 people scheduled as bartenders right now, according to Tim, who calls them "a little family". Eva and Fabian also mention the international students, for whom the Cambridge bar is often a place to meet new people. Eva: "We see them return with an increasingly large group of people each time, and I love seeing that!"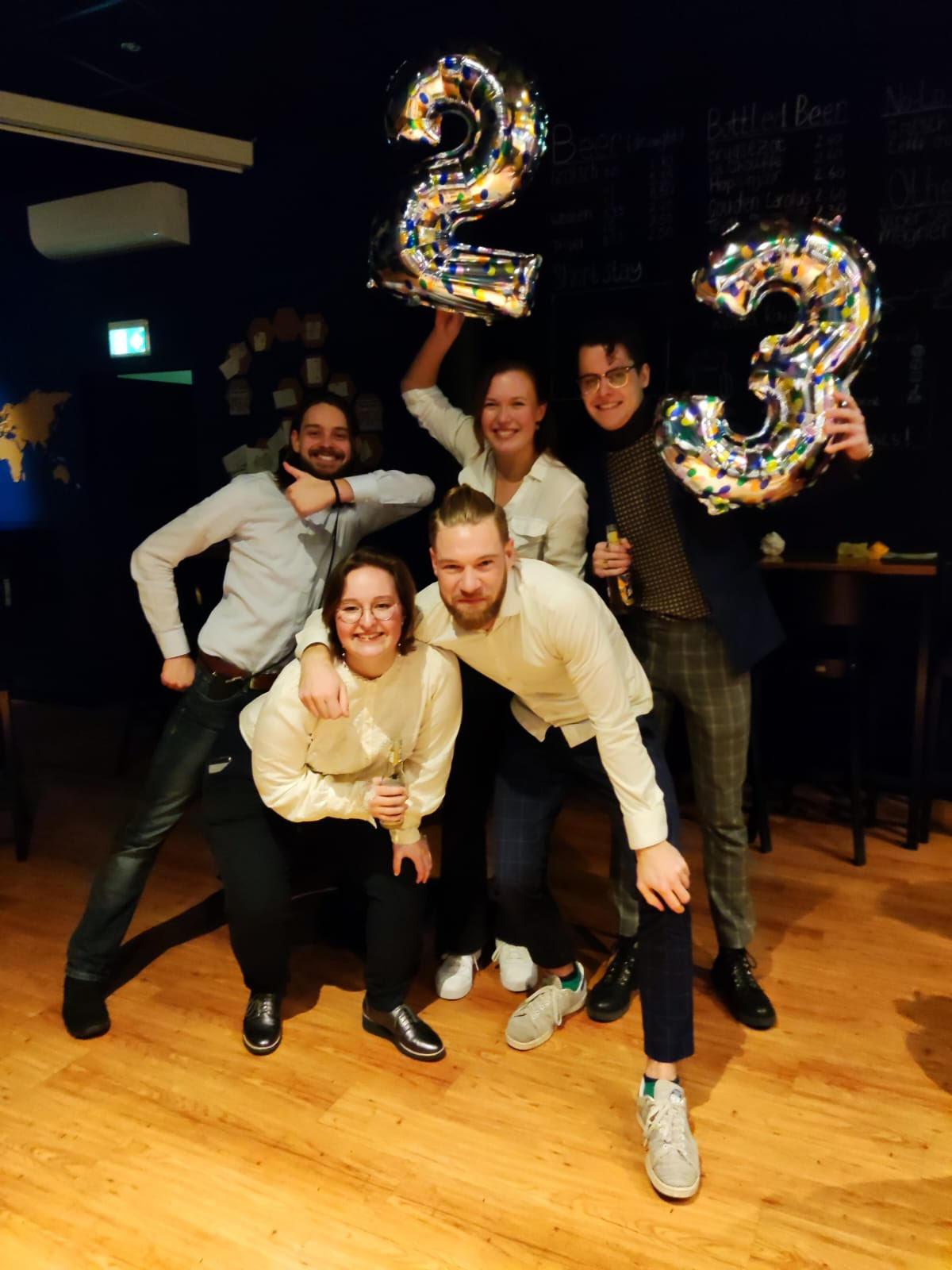 Photo Ting Ting Breemhaar
Karaoke nights
The plans for the upcoming term are, by design, not very innovative. We can expect regular karaoke nights and beer-tasting evenings, as usual. The power of the Cambridge bar also lies in its well-known cheap drinks. Fabian: "Where else can you get a beer for 1.70 euros?" They also have an attractive cocktail menu. Eva's personal favourite is Cranberry Kiss, although she also enjoys specials like craft beers and whiskey. Yorine is proud of her latest acquisition: they will soon serve the IPA Fuut Fieuw.
First, they want to focus on maintenance and working efficiently. There are some improvements on the schedule, like a new music system, new locks, and a new cash register system. In addition, several documents and budgets need to be revised and finding enough bartenders is an ever-present task. By focusing on these things first, they can be an efficient board, which means having time for their own tasks, too. Tim often wonders how much time working on the board is going to take and whether it will be possible to combine it with his studies. He's happy, though: "I'm working alongside four amazing people."
Return of the basic student grant
One of the most important tasks for the new board is to ensure continuity. It would be a shame if this "emergency board" didn't get any successors in September. The new board doesn't have time to turn their work into a lifelong project as several of them combine it with sports, work, studies, and hobbies, for which they now have less time. That's why they hope the return of the basic student grant will free up time in people's schedules, as well as some money in their wallets. After all, most people get to know the bar as patrons. And if they like that, there's a good chance they'll want to put in some work for the bar too. Tim stresses the importance of looking for successors in time.
The large group of bartenders who signed up after the pandemic will help keep the bar open. Now, what the bar needs are enough students to come in and have a drink. The importance of PR was emphasised in the emergency held in October. Although they didn't manage to find a special PR officer, the board members will share that task, as they will the maintenance of the spot (previously the responsibility of a facility management commissioner). The board hopes that, by working efficiently, they will manage to build the foundations for a new board to join after the summer break.
The Cambridge bar opens at 9:00 pm on weekdays. Everyone is welcome. If you live in the Utrecht Science Park, you can also vote in the sessions.
Advertisement