Read in Dutch
Stress – for most students, it's a well-known companion. Aside from studying, students are busy with jobs, exercise, and other social engagements. It's no wonder that one in three students has a higher risk of getting a burnout, according to national student union LSVb.
Utrecht University is also giving more and more attention to students' wellbeing. An example is the recently-organised Wellbeing Week, or the discussion about lowering the threshold of binding study advice. Additionally, from May 6 to May 17, a group of 14 students and alumni focused on a similar issue. They were tasked with coming up with solutions that could combat stress and mental pressure amongst students.
Develop an idea that would relieve stress
Michèle Gerbrands, initiator and coordinator of the course, felt the university needed to pay more attention to professional and personal development. For this reason she and her team, led by professor Harold van Rijen, developed the course Co-create: life's professional challenges, an elective for students and alumni of Utrecht University and Utrecht University of Applied Sciences (HU). The course is offered by the Graduate School of Life Sciences.
The course takes two weeks, is taught in English, and is worth 3 credits. Participants receive an assignment from the municipality of Utrecht, which they'll work on in groups. At the end of the course, there's a final presentation, where the best idea is chosen. Half of the course time is spent on working in groups on developing their ideas. The other half is filled with inspiration sessions and workshops about, for instance, giving feedback, but there's also room for reflection and mindfulness. The final presentation was held on May 17.
The task students received was broad: develop an idea that would relieve stress amongst students. A topic Gerbrands herself conducts research on. 23-year-old Anna (fourth-year student Creative Business at the HU) and 26-year-old Juliete (first-year Master's student Toxicology and Environmental Health) and their group came up with Offcloud, an app that temporarily blocks social media. When asked whether they experience stress, both respond with a resounding 'yes'. Juliete, for instance, is taking a Dutch course, and Anna is working on writing her Bachelor's thesis. Phones, and especially social media, are often great causes of distraction.
No apps breaking your concentration; resting rooms; and good, cheap food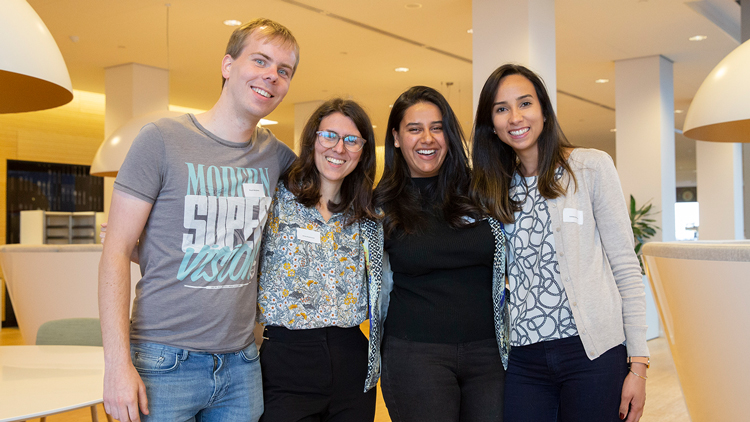 Offcloud helps students concentrate better, by temporarily blocking apps like Facebook. The app also includes a reward system: every hour that you don't use your phone gives you coins. You can then exchange these coins for stress-relieving activities like yoga, but also for a cup of coffee in De Uithof. They also studied the option of doing volunteer work in exchange for the accrued coins, because this type of labour gives satisfaction and breeds positive feelings. In this way, the app accomplishes two goals at once, Anna and Juliete say. First of all, stress reduces because students aren't as distracted and are therefore a lot more productive and there's a bigger chance of them making their deadlines; and secondly, offline time is rewarded with activities that also help relieve stress.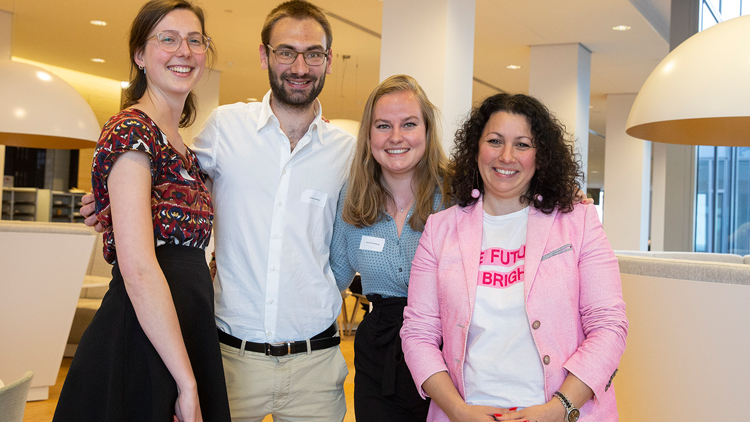 Another idea came from Veerle (21, third-year student Social Geography & Planning) and her group. They came up with S.P.A.C.E., a concept in which students take short breaks (15-30 minutes) to take their minds off things. To accomplish this, they want to build soundproof pods on campus, in which students can retreat. In the pod, students can listen to calming sounds, sit comfortably, and do relaxing games like sudoku. The light and sound inside the pod can be adjusted to one's wishes. This entices students to take a break sometimes, which then helps reduce mental pressure. For Veerle, getting rest is one of the most important ways to deal with pressure. Especially in exam weeks, she notices she's often short on time, which then causes stress.
Skander (24, second-year Master's student History and Philosophy of Science) also recognises this stress, but acknowledges it's just a part of student life. Together with his group, he came up with the idea for Tranqwhale during this course. The students had noticed that there's no real nice environment for students and staff to take a break at the university. Tranqwhale caters to this need by calling for adjustments to the large canteens like the one in the Educatorium and the one in the Minnaert building. Canteens should be pleasant places where people come together to relax. One of the ways this can be achieved is by serving cheap (2 to 3 euros), decent meals. They also wish to break with the 'clinical environment' by placing plants, dividing the spaces into smaller areas, and comfortable chairs. Skander: "We want to create a living room atmosphere." The students say good nutrition is essential, because it contributes to the ability to concentrate. Their hope is that, by structurally tackling break rooms, students might be encouraged to relax.
And the winner is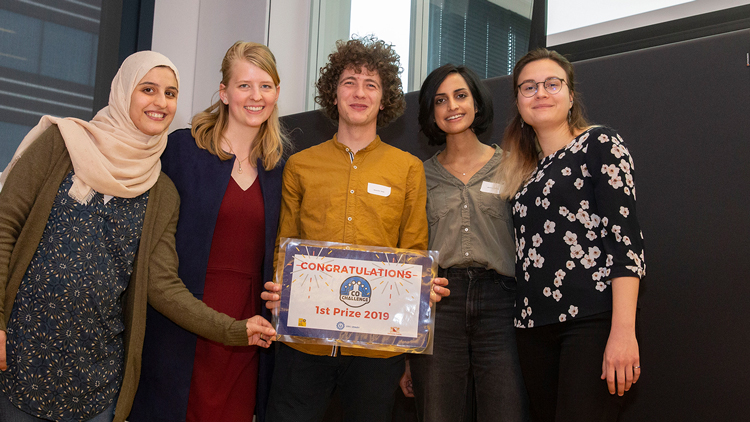 In the end, Tranqwhale was crowned the winner of the project. Still, Gerbrands emphasises that it wasn't a competition, and that all ideas are valuable. Now, it's up to the students to further develop their ideas if they wish to do so; the teachers of the course offer up their own networks for use of the students for this goal. The creators of Tranqwhale will soon meet with the student wellbeing network, a partnership consisting of most of the Dutch universities and universities of applied sciences. They hope to further promote their idea with them.
Interested in this course? The course will be offered again next academic year, with a new challenge to tackle. For more information, visit www.co-challenge.com.