No more 'sink or swim'
UP Community: looking to eliminate barriers faced by first-generation students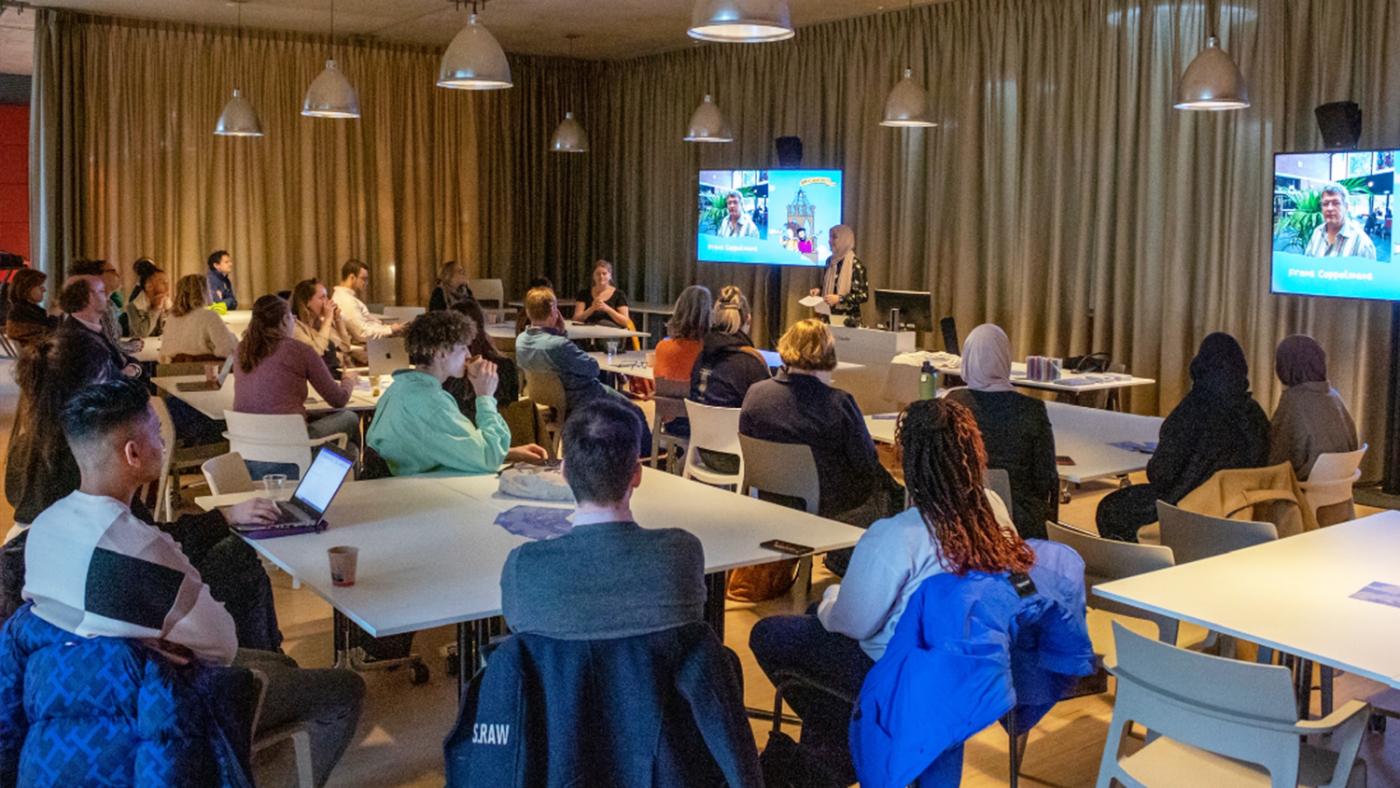 Photo: University Pioneers
UP was officially launched on February 9. The presentation was led by Project Manager Chahida Bouhamou (35), with the English teacher Ismail Aghzanay (30) as a guest speaker. Both of them were once first-generation students. The community aims to offer a helping hand to students in this situation, to avoid them from having to figure everything out "as they go". After all, the university and other students often forget that first-generation students usually lack social and cultural baggage, which can impact their studies negatively. 
Chahida Bouhamou: "Just like many other first-generation students, I think I've missed out on a lot during my studies. I really had the feeling that other students were soaking in a warm bath, while to me things were pretty different. Other students seemed well aware of all the other things they could do on the side: they joined a political party or the board of an association, for example. As for me, I couldn't see what the added value of those things would be. To me, being a university student felt like a 'sink or swim' situation."
The UP community wants to act like a student association, with members and social events. Bouhamou knows the importance of such an association all too well. "Personally, I was never part of an association, unlike many of my classmates. I had the wrong image of study and student associations because I had no idea what happened there. I thought there was a lack of diversity and I wouldn't fit in," recollects Bouhamou. "Later on, I realised that students were getting a ton of experiences and networking thanks to those associations."
There are plenty of other initiatives to help first-generation students, but this is the first time that there is a club for them. Bouhamou: "Other initiatives for first-generation students tend to perceive them as 'a group that needs help', so they come up with a programme to 'support them in the things they need help with.' Many first-generation students don't need a mentor at all. This is simply a student association, only with people you can relate to."
Just like a student association
UP originates from Eerste Generatie Fonds (First-Generation Fund, Ed.), an initiative founded in 2021 by Charisma Hehakaya to help first-generation students like herself buy resources such as laptops, courses and trips abroad. At some point, Hehakaya realised that these things weren't enough to eliminate the barriers this group tends to face — they also needed social support. She then turned to Bouhamou, who was already leading a project for future first-generation students still in high school. Bouhamou: "I investigated what students really needed. That's how we came up with the idea for the UP Community."
To reach that goal, UP community has a broad offer. They organise gatherings such as workshops, drinks and symposia, where they lay bare the unspoken rules of the university, which are possibly foreign to first-generation students. The members can be matched with mentors, though: this role can be fulfilled by senior students and graduates. This broad offer is very much needed, considering a significant slice of the new students arriving at the university are first-generation students. In the 2020-2021 academic year, 33 percent of all students who graduated across the country were the first ones in their families to attend a higher education institution. Due to privacy regulations, it is not possible to know how many of them got their diploma from UU.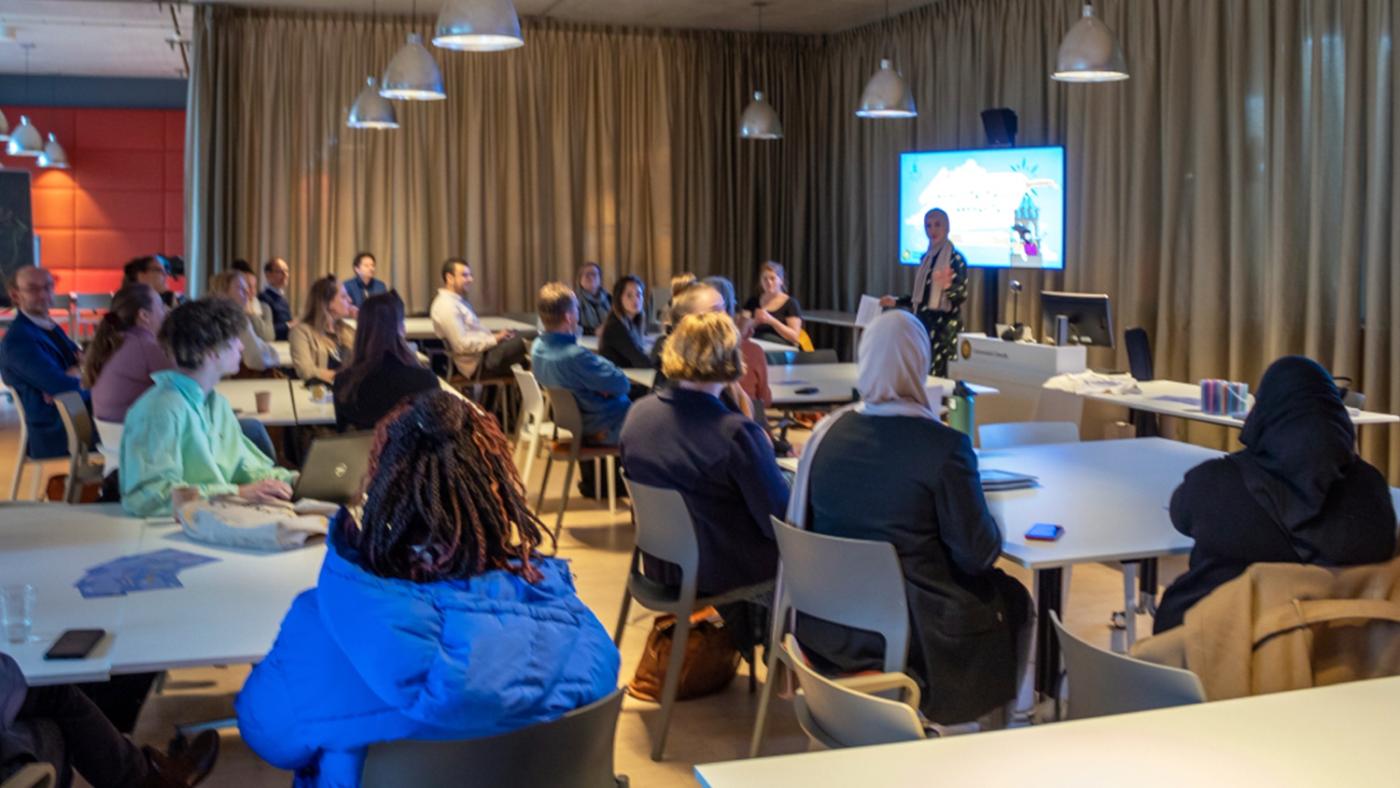 Not exactly the same background, but the problems are the same
The diversity that Bouhamou missed in the fraternities and sororities her classmates were joining was actually the red thread connecting the ideals of the UP Community. "We consciously choose not to focus on students with a migration background, but rather on first-generation students in general. The thing they have in common is the fact that they are the first ones in their families to go to college, but that actually says it all."
English teacher Ismail, who was advised to attend special education when he was in kindergarten and graduated from a university of applied sciences after completing a series of MBO levels, explains. "Not all first-generation students have the same background, but they do come across the same problems when at the university. That can be explained by the fact that our parents were not so well-off due to the colour of their skin or their religion." In 2018, Ismail was chosen as Teacher of the Year in Rotterdam, moving on to win the national edition of the prize three years later.
Thus, not all first-generation students are created equal. So, how can you cater to all of their needs? Bouhamou acknowledges that's a hard task. "I get why you're asking this question, as I think that's pretty hard to do myself. The problems vary, indeed. If you're talking about people who have the feeling that they're being treated unfairly because of their bicultural background, for example, that's a problem not all first-generation students have to deal with. Since our community is so diverse, we need to find a way to help everybody. I do believe we can do that, though."
Bouhamou does have a few points of criticism, however. "Right now, we're dependent on temporary financing from the university. I know there are people in the university's central management who are excited about this initiative, but the fact that it's temporary is revealing. I want the problems of first-generation students to take centre stage in the organisation, I want them to be seen as something that will always remain important."
Advertisement