Read in Dutch
The Netherlands has become increasingly popular among international students in recent years. According to Nuffic, the Dutch organisation for internationalisation in education, no less than 10 percent of the students in the Netherlands come from abroad. In Utrecht, the number of international students increased in 2020 from about 3,500 to 4,100. The amount of EEA students at Bachelor's level grew by 22 percent, while the number of non-EEA students rose by 25 percent. As for the Master's programmes, Utrecht now has 19 percent more EEA students.
When the corona crisis hit last year, many international students left Utrecht and continued their courses online, back in their home country. But some of them decided to stay here. DUB spoke with two of them about their experience in the Netherlands during the lockdown.
---
Giancarlo Marini (24): 'Because of the lockdown, I've grown closer to Dutch students'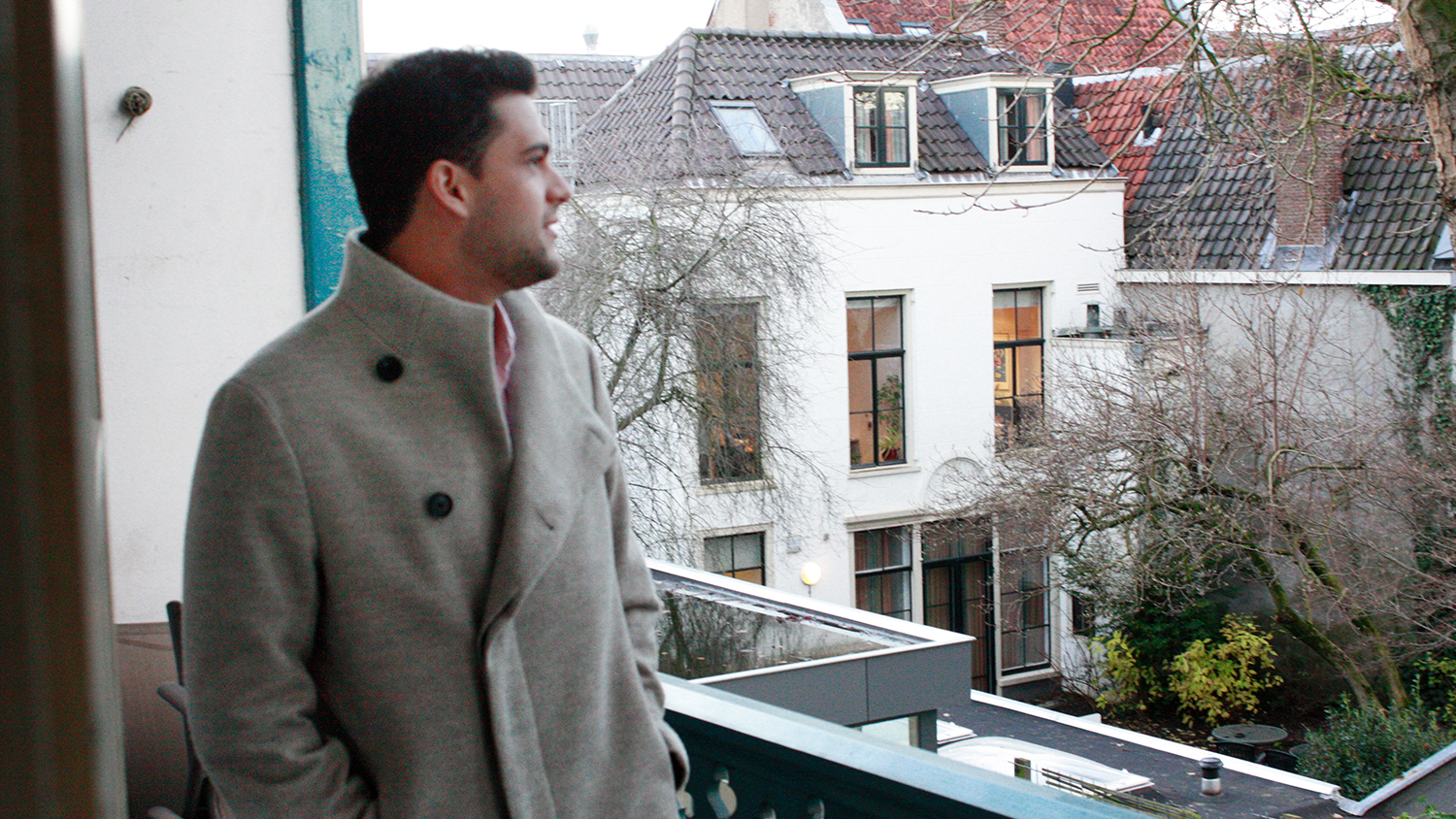 Big parties, the 'orange army', the best DJs, smoking weed: that's the image Dutch students have for many international students. "What better way to experience that up close than to study here?", thought American-Brazilian student Giancarlo Marini, who's now in the second and final year of his Master's in Energy Science.
Who is Giancarlo?
Giancarlo has been living in Utrecht for almost a year and a half. He is one of the lucky ones to get a room among the Dutchies. "Forty percent of the classmates I have in my Master's come from abroad. It was hard in the beginning to get to know the Dutch students, because they tended to hang out with each other. But, eventually, we have all become closer and I find the Dutch very funny. The Dutch students in the Engineering Master's are less nerdy than the internationals, although that's kind of hypocrite to say so myself!" says Giancarlo, laughing.
"Most of my international friends went back to their parents' place, but I decided to stay, so the first phase of the lockdown, in March, was really difficult. I was lucky to have Dutch friends. I also work at a restaurant, so I have friends there too. It makes a difference that two of my fellow students have asked me to live with them. As an international,  I never thought I would get into a Dutch student house so easily, because many of them advertise rooms online with the following message: NO INTERNATIONALS, in capitals. As a result, many international students miss out on the cheaper  rooms, which makes it even more expensive to study in the Netherlands, as the living costs are so high. So, I was happy with that. Nevertheless, I definitely feel more lonely since the pandemic broke out."
Google Translate is a hero
International students can always read the news in English on websites like Dutchnews.nl, but when the Dutch Prime Minister holds a sudden press conference to announce new restrictions to contain the spread of the virus, the news in English often lags behind, according to Giancarlo.
"I often have to wait for the translation from Dutch to English. It takes about thirty minutes for the NOS to summarize everything in English. Sometimes I have to google the new restrictions, but even if I type it in English on Google, I still get the Dutch source. That's really annoying because I want to stay up to date about the rules regarding traveling abroad. The page about these rules is completely in Dutch, so I had to copy-paste the entire website on Google Translate. Google Translate is a big hero in this day and age," says Giancarlo.
(Editor's note: the Dutch government does have an English website with information regarding the coronavirus. Their page about travel restrictions has been translated to English, German, and French. See it here.)
"I haven't seen my parents as often as I would like to, now that I am living in Europe. They live in Portugal, so it's always been difficult for me to visit them. That hasn't changed, even though I live in the Netherlands now, instead of the United States. My parents wanted me to live with them during the first lockdown, but I don't want to live with my parents anymore! I really like my social life here. I wouldn't have friends in Portugal".
Corona brought us together
Part of Giancarlo's family lives in Brazil, where the infections went sky-high in the summer and a new strain of the virus has been found. "My parents are now in their sixties, so me and my brothers were extremely worried at first. Fortunately, they never got Covid, but my grandparents got infected in Brazil. That was a whole month of stress. My grandpa had to be on a ventilator in the ICU, he spent a month there in isolation. None of us thought he would make it. Everyone called him every day as though it was the last time we'd speak with him".
Giancarlo's grandmother went to the ICU two weeks after his grandfather got out of it. But she was all alone in isolation. "She was so weak she couldn't even feed herself. My family travelled to Brazil, but they could do just as little as me, sitting here waiting in Utrecht. It wouldn't have made any difference if I'd been able to go there".
Fortunately, his grandparents are doing well now. Giancarlo flew to Paris to see his parents and two brothers at Christmas. "It's been seven years since the last time we got together with the whole family. Corona has actually brought us together now."
Now that Giancarlo takes all of his courses online, he misses the freedom he once had. "I really liked all the parties and the small clubs here in Utrecht. The Dutch are very gezellig, as they say it, and I find it hard not to experience that while I'm still there. I miss the gezelligheid so much!"
---
Nicoletta Cirlig (26): 'All my roommates stood with their suitcases in the hallway, I was the only one staying'
Nicoletta Cirlig has also been living in Utrecht for a year and a half. After working as a journalist in Moldova for two years, she wanted to expand her CV by pursuing a second Master's degree in English, this time in art and culture. She found the best fit for her in Utrecht.
She has been very careful not to get infected with the virus. She only goes to the supermarket twice a week and avoids crowded places.
Who is Nicoletta? 
As a former journalism student, Nicolette couldn't help but do a lot of research about student life in Utrecht before deciding to move here. "Dutch students turned out to be very warm and social, even though I had read in advance that they can be on the reserved side", she recollects.
Nicoletta first lived in a student house for international students near the Utrecht Science Park. "When the pandemic broke out, I felt very lonely because many of my roommates left their rooms. But I've overcome that feeling ever since. Eventually, I became friends with fellow students from my Master's, so I can say that the pandemic has actually brought me closer to people I didn't know well at first. I also have a side job, so I don't have much time to feel lonely anymore."
Having the "feeling" of studying abroad and experiencing the local culture was among her biggest reasons to move to Utrecht. Despite the pandemic, Nicoletta doesn't regret having left her home for the Netherlands. "I really wanted to experience the atmosphere. Even though classes are online now, I think it's still nice to be in the city where the university is. You feel more attached to what you study. And you can still meet people: corona doesn't mean the end of all encounters. It's really the international experience that I stayed for. I can still meet other students who give me more perspective in my research. I would have come to Utrecht anyway".
"I do have a friend who felt so lonely she went to Germany to pursue her UU Master's from there. She is Korean, but many of her friends study in Germany. Corona makes us international students even more international".
Although Nicoletta is happy that she stayed, life isn't a bed of roses, of course. "I don't like that I won't be able to visit my family anytime soon. I also can't travel around as often as I was planning to do. When I came to the Netherlands, I wanted to see the country and also travel to Belgium and Germany, so it's a shame that I can't".
The Dutch and corona restrictions
Additionally, Nicoletta is frustrated that the Dutch don't seem to follow the rules as strictly as she does. 
"I always keep distance from people. I actually become more careful every day. Especially at the bus stop. I also shop differently: I make a grocery list in advance, so I only have to go to the supermarket twice a week. I notice that other students don't care about this at all, and go to the supermarket every study break they have, while they're in the library".
She was quite surprised that rules were so lenient in the summer. "In the summer, I went to Berlin for four days. It was mandatory to wear a mask there, while here it wasn't required at all. I must say that made me frustrated in the beginning. People in the Netherlands remained close to each other on the street, students were partying, I saw them going to bars again. I can't see my family because of the pandemic and I strongly believe that, if we follow the rules, the ICU numbers will decrease".