'I'm the only international in a Dutch student house'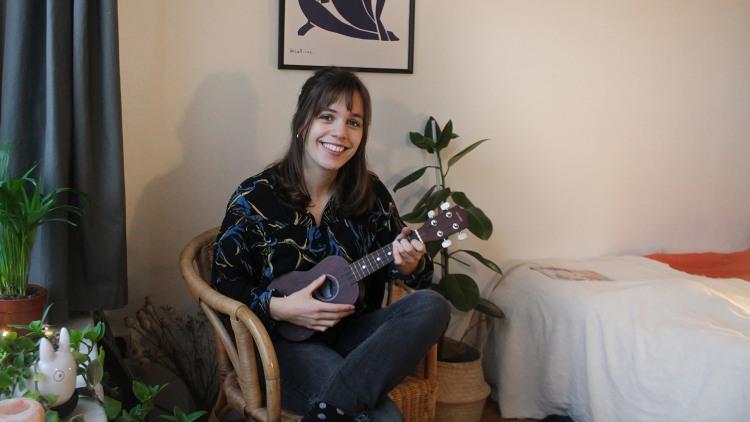 The student Adèle Guinaudie in her room. Photo: Mila Bertens.
"I was shocked to see so many posts on Facebook saying 'Dutch students only' or 'no internationals'. As a white European woman, that was the first instance of discrimination I'd ever felt. It even made me question whether I wanted to come to Utrecht in the first place", she recollects. But Adèle was just too excited about UU's Master's programme, which doesn't exist in Berlin, where she moved to in 2018 for an internship. Besides, having also lived in France and the UK, moving abroad was a no-brainer for her.
One of her housemates, Emma Kooijman (24), currently following a traineeship at Leiden University, has seen two roommates come and go since moving to the house in the Ondiep neighbourhood. "The first time we recruited a new roommate, the biggest reason for not wanting internationals was because people were not keen on speaking English at home after a long day of study and work. It takes more effort", she explains. "In addition, most Erasmus students only stay for four to six months, so you have to look for someone all over again. Nobody likes the hospiteeravond (hospitality night, when everyone gets together to interview potential roommates, Ed.)"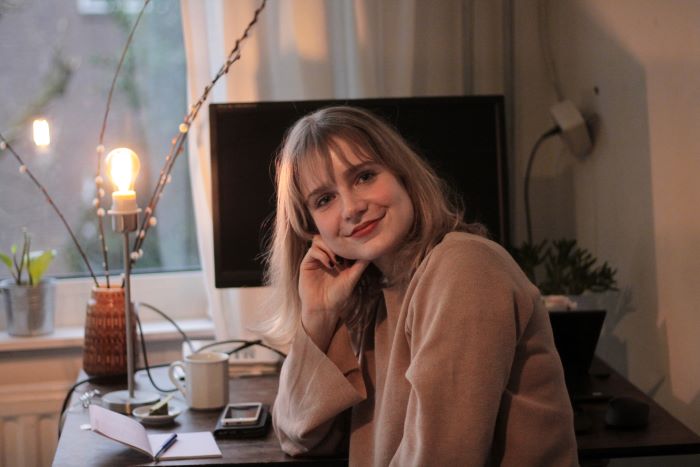 Emma Kooijman in her room.
But an exchange semester in Finland and an Italian boyfriend have opened Emma's eyes to the advantages of sharing a home with someone with a different nationality and how hard it is for foreign students to find a room, especially in Utrecht. So, when the girls were tasked with a second hospiteeravond, she encouraged them to consider the many e-mails from internationals as well.
Adèle's interview took place on Skype, as she was still in Berlin, but the distance didn't keep the girls from clicking instantly. "There was just a really nice atmosphere. They were all laughing, and I could see how well they get along", she recalls. Still, being picked took her by surprise: "When they chose me, I was like 'whoa, incredible!' I felt so lucky".
Adèle had never been to Utrecht prior to her studies, so she met her housemates for the first time on her moving day. "That was a bit nerve-wrecking, but fortunately they were exactly what I was expecting. We got along really really well from the start". Lucky for her: considering her Master's had to be taught entirely online because of Covid-19 (except for a socially-distanced get-together on campus every two weeks), getting along with her roommates was more important than ever.
Make it work
What about the fears concerning the mental effort of speaking a second language? "Oh, we just make it work", says Emma. "One of our housemates struggles with it a little bit when she's tired, saying 'I can't think of this word in English!', but that's not a problem because I can always translate it for her and Adèle is also very understanding. The fact she speaks German helps too."
Even so, the language differences can make for some funny situations, like when Adèle guesses the subject her housemates are talking about when hearing a word that reminds her of a term in German, but it turns out to be something completely different. 
Although she doesn't intend to learn it ("three languages are enough"), Adèle has been able to pick up some Dutch and her appreciation of the language has grown thanks to her housemates. "To be honest, when I first got here, I found the language rather ugly, a lot of gggg (imitating the sound of the Dutch guttural G, Ed.) But, maybe because I've met so many Dutch people I really like, including my housemates, I now think it sounds nice when they're speaking."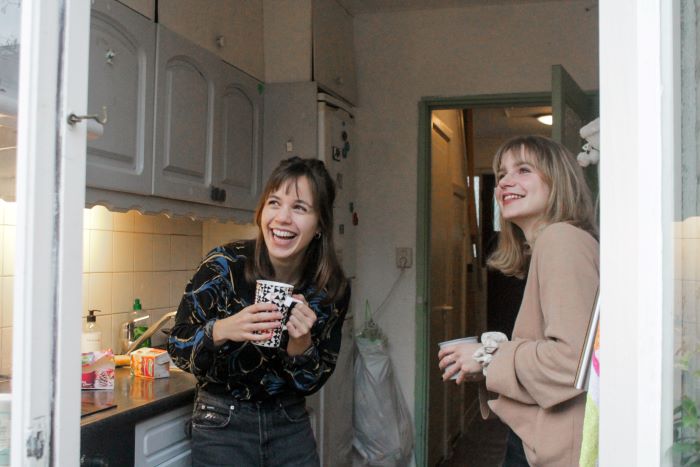 More activities together
Adèle's presence has also caused the girls to get together more often. Emma recalls there were a lot less activities in the house before the international student came in. "Dutch students already have a life outside the university or in another city, so they have a much busier schedule. Because Adèle didn't know many people yet, she came up with a lot of good ideas of things to do together, such as watching the Netflix series Emily in Paris, jogging or having game nights. She also loves cooking and, being half English, half French, she has so many good recipes we didn't know!"
Coming up with all those activities was a means for Adèle to get her housemates out of their rooms. "We don't have a common area in this house. There's just a long kitchen, so everyone eats in their room, which was so weird to me in the beginning, coming from France where it's important to eat together and take your time. They start at 6 o'clock and they're done at 6:30! Now we eat together in one of our rooms from time to time". Still, she stresses that the gatherings rarely happen spontaneously. "We do things together, but they have to be planned. That's one of the cultural traits I have perceived about the Dutch: they're very planned people. You need to fit their schedule."
The girls have recently celebrated Sinterklaas together. "Adèle had already heard about the racist part of Sinterklaas in her Master's, but my housemates and I wanted to show her the other side of the holiday, all the happy, heartwarming memories we have from our childhood. So we all put our shoes outside our rooms, bought little presents and wrote poems for each other. She found it super cute!" reminisces Emma.
Little did she know that they had already successfully managed to convey that feeling. "It was gezellig", says the international student, noting that the concept is one of the things she will take with her when she moves back to Berlin in September. "My housemates often light candles, put on some music, or have a glass of wine when they get home. They really cherish cosiness. I love that."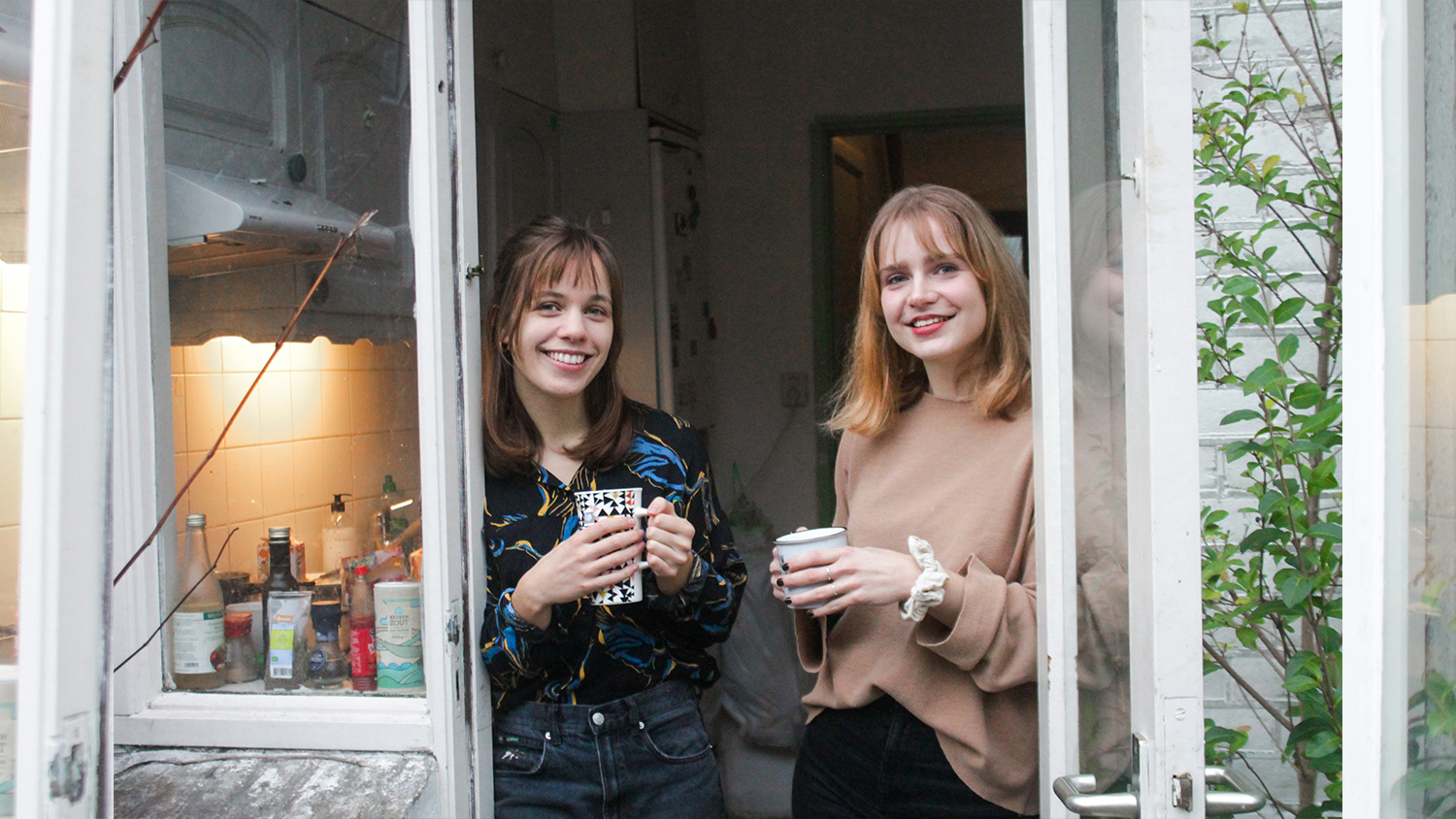 The future
Although her experience in Utrecht has been positive, Berlin will always have a special place in Adèle's heart, which is why she intends to return to the German capital. Luckily, Ondiep reminds her of her favourite city while she's away. "I definitely wasn't expecting my neighbourhood to be so multicultural, so diverse. I can find anything I want here… It's like living in Berlin."
Only time will tell whether another foreign student will replace Adèle when she leaves the house, but Emma is keen on doing it again. "I would recommend living with an international student because you get a different point of view on life. They add something to the house that a Dutch roommate wouldn't necessarily add."
Photos: Mila Bertens