Dating service Tuindorp-West: an unexpected success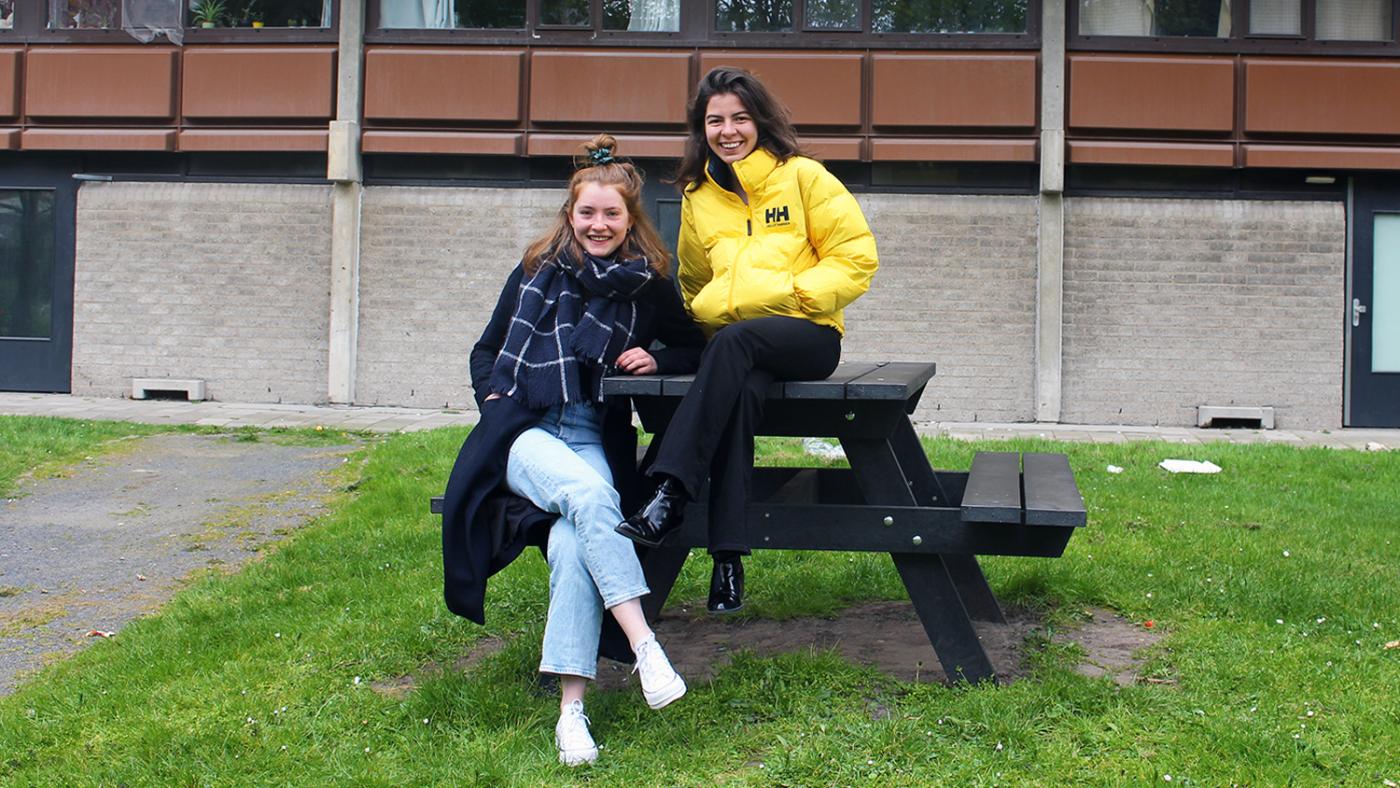 Renée and Roos didn't expect so many TWC residents to be interested in their dating service. Photos: Noortje van Bentum
At first, Roos and Renée wanted to create a dating platform to find love matches for their own friends. "Our roommates and friends spent so much time on Tinder, but weren't very successful," recollects Law student Roos. "We noticed that many people were struggling with dating, especially after the curfew. Meeting up at night became a lot more difficult as a result from that measure. We figured they were probably not the only single people living here, there were probably others looking for love or human interaction as well."
The idea came to life during a quarantine. Renée, who doesn't live at the TWC complex herself but was staying as a guest in Roos' house, created an online form and published it online. "Forty people signed up on the first day", celebrates the student of French Language & Culture. "We thought that would be it, but the registrations just kept on coming. After 135 of them, we thought that was enough, so we closed the form, as we just couldn't keep up with the registrations anymore."
Ten-minute matches
The residents were a lot more enthusiastic than anticipated, but Roos and Renée don't regret a thing. "It's great to get messages from people who have gone out on dates and had a great time," Renée says. "Some matches are so good I expect to receive a thank-you note when they get married!"
To ensure everyone is paired with the best possible option, the matching is a careful process. "We made summaries of all participants, based on their registration forms," Renée explains. "They could write a little bit about themselves. Then, we check Facebook to see whether there's additional information that's relevant to the match, like their study programme or student association. Then, we check which people have the most in common. I estimate it takes us about ten minutes per match."
Great idea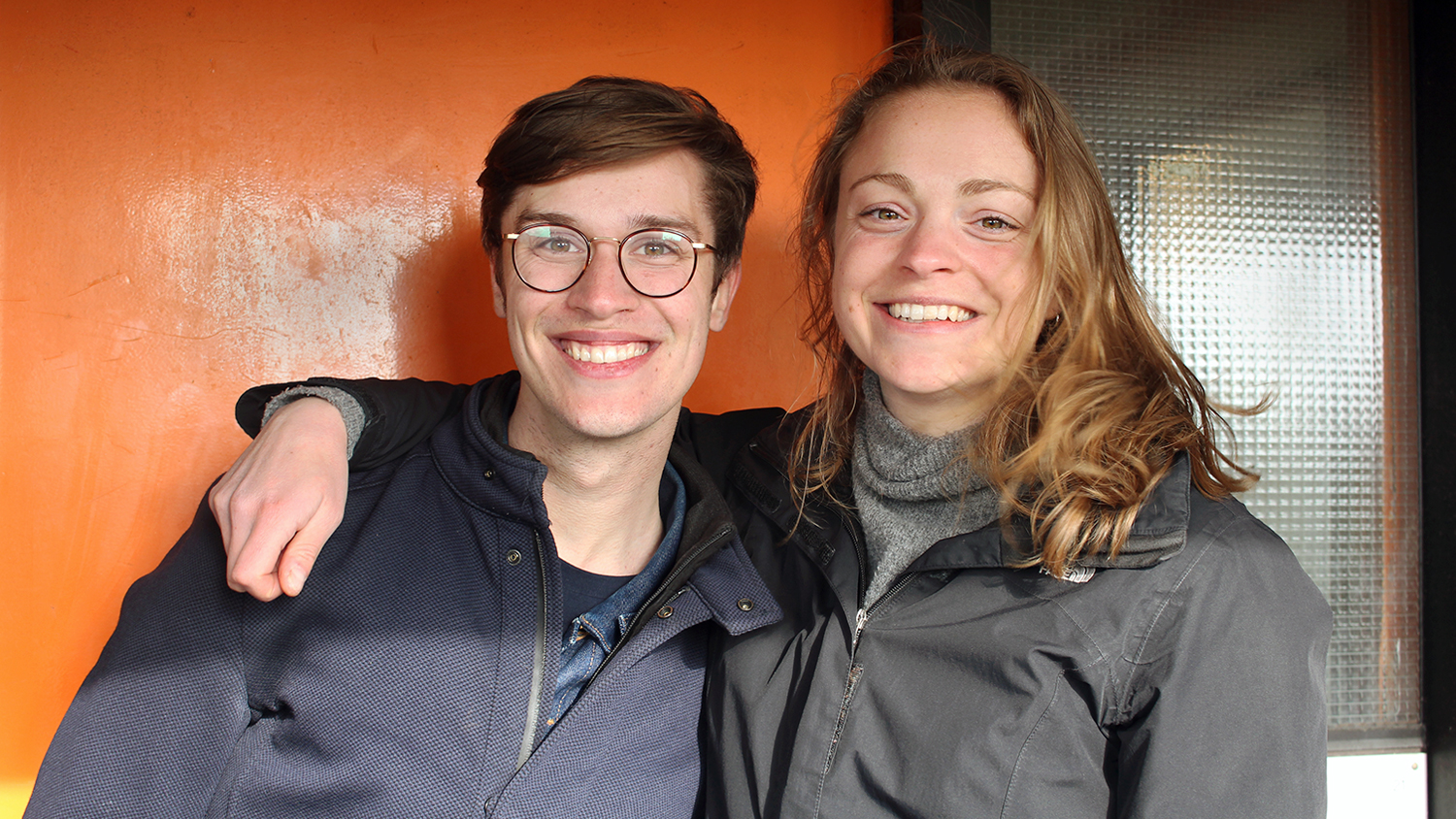 Daan went on a date looking for love, while his roommate Sanne wanted to make a new friend
Roommates Daan (21) and Sanne (23) have both gone on dates thanks to the new service. Daan was looking for a romantic date, while Sanne wanted to find a new friend. For one of them, there won't be a second time, but the other succeeded. Both feel that the dating service is a great idea.
"I like meeting new people spontaneously, but that isn't so easy to do now," says Sanne, student of Social Geography and Planning. "This dating platform makes it possible to meet people again. I missed having that here, even before the pandemic. This way, you can get to know other people in your neighbourhood."
Friendship or love
Daan agrees. The Artificial Intelligence student likes finding new social connections even in these times. His date was, unfortunately, a one-time thing, but he would still like to join the service if there is a second round. "I'm curious whether there's anyone fun among the participants. This way, at least things are less based on than the matches made through Tinder. And you get to know your neighbours."
Sanne's date was more successful. "I had a match with a neighbour a few doors down. I'd seen him walk around, but never talked to him. We went for a long walk and had great, philosophical conversations," Sanne says jokingly. For them, at least, a friendship is in the cards.
Sanne and Daan say the dating platform is a nudge towards more contact among the residents. "You don't necessarily have to go on a date, as long as you establish contact," says Sanne. "They could also offer the option of finding cycling or hiking buddies." Daan adds: "Or, once some things are allowed again, organising date dinners for student houses!"
Plans for the future
Sanne and Daan have plenty of ideas for possible next steps, but Roos and Renée have already spent a lot of time and effort on the current batch of participants. In the end, they managed to make sixty matches, and some were so good that they've received messages from couples who have already scheduled a second or even a third date. "If enough people are interested, we're willing to organise a second round before the summer", announces Roos. "But, for now, we're all matched out, and busy focusing on our studies."
Advertisement