Unprecedented luxury for Humanities
Dean Vaessens: 'This is our chance to become stronger and more stable'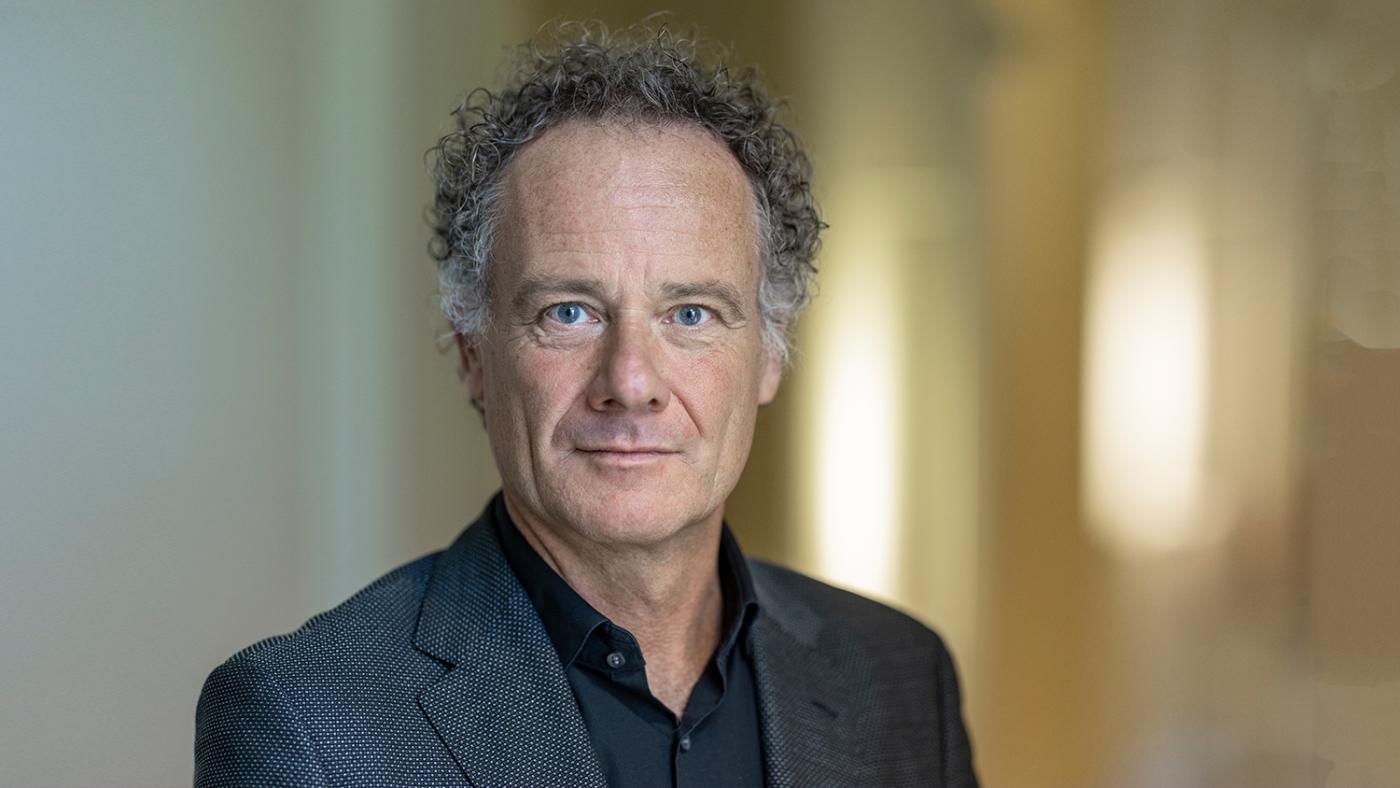 Thomas Vaessens. Photo: Ed van Rijswijk, Utrecht University
There are few Deans who had a more glorious welcome situation at their start at Humanities than Thomas Vaessens – and that's probably a huge understatement.
Shortly before Vaessens moved into the Trans building in April of last year, there was a fierce discussion about cutting back on an 'unaffordable' system with which scientists could earn research time. There was also the regular discussion about workloads and temporary contracts.
How different the world looks in February 2023! Last week, the faculty posted an unprecedented number of vacancies – 44 of them – all of them for permanent contracts.
Moreover, all humanities scientists in Utrecht have gotten a 10 percent raise in research time. And if that's not enough, there's also room to invest in a PostDoc and PhD programme, as well as in the expansion of the support staff.
Unexpectedly high investment
It's an unprecedented wealth. Vaessens acknowledges that he was surprised by the size of the investments in the past year, especially the unexpectedly large part of them that will be spent on humanities.
"Thanks to years of lobbying by universities, but also thanks to protest groups like WOinAction, everyone has seemingly started to realise how dire the situation was. That's a blessing. But we really needed it, too."
To be truthful, Vaessens already knew when he was appointed that the UU Humanities faculty would receive nearly a quarter of the 50 million euros of 'impulse means' from the UU board. The funds are meant to lower workloads in the next five years and to realise more permanent contracts.
But this year saw additional millions piled on top of that, from the Governance Agreement ('Bestuursakkoord') between universities and minister Dijkgraaf. A sector plan with national agreements about four shared research themes will yield at least 3.2 million euros a year for the faculty in the next few years. Moreover, a new national system was introduced for research grants for starting and experienced researchers, of which over 4 million euros a year will go to Humanities.
📢 Good morning! Last Monday, we published no fewer than 44 vacancies for new assistant professors, all with the prospect of a permanent contract 🥳 37 are also open for external responses. You can apply until 26 February 📝⤵️ https://t.co/yIZ4UawmZt

— Humanities Utrecht (@HumanitiesUU) February 2, 2023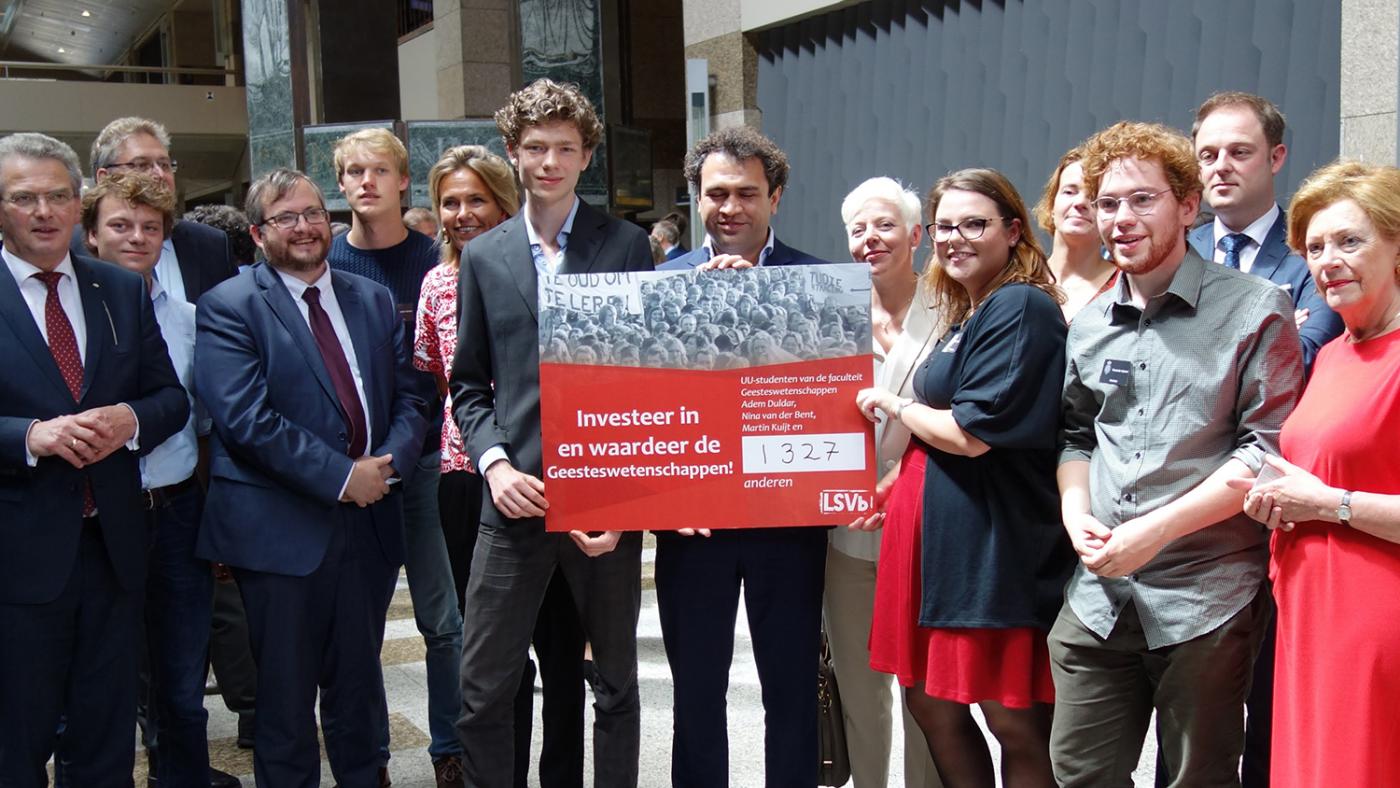 In 2018, Utrecht Humanities students presented members of the House of Representatives with a petition asking for more support for their faculty. Own picture.
Lowering expectations
But with this sudden prosperity also come concerns and questions about the division of funds, Vaessens has noticed. "We're not used to this situation at all. Everyone wanted to know what we were going to do with those funds, and everyone had their own ideas about it. But those are wonderful concerns to have, and a lot more fun than having to wonder where you can get some money from every time."
To lower some of the high expectations, Vaessens mentioned a 'big fat profit warning' in his New Year's speech. Vaessens says the extra funds should not be seen as multifunctional cleaning wipes, used to dust off all forgotten and dirty corners.
In other words, the investments aren't 'reparations' for a previously under-financed faculty, "they are meant for us to innovate and make ourselves more sustainable." "So we're not going to divide the funds equally among all staff and all disciplines, because everyone's had a tough few years," the dean explains.
"If we were to do that, we'd be right back where we started in five or ten years' time. We have the opportunity now to make our faculty more stable, stronger, in a sustainable way. And we need to use that opportunity. We want to treat this as a comprehensive project in which we'll have to make some choices, too."
Interdisciplinary and thematic research
The budget plan that was sent to the faculty council late last year states the principles Vaessens wants to use in those choices.
Perhaps the most important one is that the UU Humanities researchers mainly want to focus on interdisciplinary collaboration. That will have to be done within themes listed in the sector plan, like 'humane artificial intelligence' and 'cultural heritage and identity'. Also on themes from the UU's strategic plan, especially 'institutions for open societies'.
The vacancy texts for the prospective assistant professors already point to this plan. The new staff will have to prove that they want to, and are able to, work together in an interdisciplinary way. That immediately makes clear that it won't be the case that all current temporary lecturers will automatically receive permanent contracts.
Vaessens, expert in Dutch, says that interdisciplinary approach is necessary in order to keep the broad pallet of Humanities specialisations afloat. "We're a very broad faculty, and we want to stay that way. That broad character is needed if we want our research and education to answer complex societal questions. So it's our shared responsibility to ensure that we can maintain that entire spectrum of disciplines."
Bigger shop window
This development, Vaessens says, would mean for the education that education in smaller disciplines would get 'a larger shop window' within other programmes. "There are, for instance, History students who are interested in Germany, in the relationship between Germany and other European countries, or in the aftermath of World War II in Germany. If we make the expertise of our Germanic programme more visible, then we keep that alive too."
The dean says this doesn't mean the faculty wants to stop offering programmes that aren't interdisciplinary. "I'm not announcing here that we're scrapping programmes, on the contrary. First and foremost, we're working on maintaining the expertise. We don't want to lock that down in one single programme; we want to use it in multiple programmes. That's why we've got to open all windows."
Vaessens also hopes that researchers from several disciplines will be able to find each other in teams that will start innovative research within the established themes. Less fragmentation, and a stronger profile of research, will also have to lead to UU Humanities becoming an attractive partner for external contacts.
Vaessens: "If we truly want to give a sustainable effect to all our efforts, we will, simply put, also have to make money. The so-called first money stream generally doesn't yield much money for us. And projects from the NWO or Europe tend to cost more than they yield. We're already fearful of the negotiations for the collective labour agreements, because rising cost of staff is not compensated by the NWO. So research projects that deal with societal impact or public engagement are becoming more and more important, financially.
"Our Utrecht Data School, for example, along with the National Inspection Digital Infrastructure, helps companies with monitoring the use of artificial intelligence. And in our new project "Ter Info" ('for your information'), UU Humanities and Social Sciences scientists help schools in how to talk about terrorism or political violence. In a very short period of time, we've already got 300 schools signed up."
"That exchange of knowledge with partners who are fully immersed in the field, can also be very fruitful in terms of content. So we have to improve on that, and the new assistant professors will have to help us with this as well."
These are developments that, Vaessens say, cause concern among some employees. "Some people wonder whether there will still be room for their expertise, for instance because they don't necessarily see a connection to one of the themes, or with a societal field. As faculty board, we want to show that we're serious when we say we want to maintain our broad character. That we're not cutting back, but investing. I'm convinced we'll ease those worries."
Stuck our necks out
Vaessens says that otherwise, he receives a lot of support within the faculty for these principles. He's also incredibly happy that the faculty council was so enthusiastic about the plans. "It is, of course, easier to ask something of your employees when you've got something to offer them, too," Vaessens realises. "Everyone can see that things are happening that were never possible before: we're hiring people on permanent contracts, there's more research time, new PhD candidates. That all helps."
The council members mainly appreciated and complimented the way the UU faculty board, in consultation with the UU board, dealt with the 'starter grants' and encouragement funds from The Hague. "We really stuck our necks out here. Those grants are meant for individual employees. But in our faculty, it won't do us any good if we have to make our lecturers battle for the booty like it's a competition. Especially in Humanities, we have to move towards teamwork."
In the end, a large part of the funds is now used to increase the research time of all employees, and there will be eight new lecturer-PhD candidates each year. "The lack of time to really work on research has always been a sore point for our employees."
Lower workloads
The faculty hopes that thanks to these measures, the Humanities staff will notice their workloads will decrease. Not everyone is fully convinced of this yet, as became clear during the faculty council meeting in December.
Vaessens acknowledges that this might be a disappointment in the near future. The effects on workloads won't be felt until later, he thinks. "Hiring people, instructing them, and thinking about new ways to organise your education and research all take time, of course. But hopefully this is mainly inspiring, and as a result, less taxing."
The faculty council fears that it will be difficult to find the right people for the new positions, but Vaessens disagrees. Other universities are also posting vacancies thanks to new funds, but Vaessens thinks the UU has "a great proposition". "You'll work in a faculty, at a university, where you can collaborate with a myriad of other disciplines. And you're not getting 40 percent research time everywhere."
The final calculations for the long term are simple to him: "We're adding over 40 new people, and we're definitely not teaching more classes. Add to that the additional research time that people are getting. In the long term, that should lead to lower workloads."
Eventually, if you ask him, something could be done about the oft-hated 'dcu model', which shows many hours lecturers receive for several educational tasks. Vaessens doesn't want to spend any energy on discussions about that model now. "But hopefully we can make it less constricting thanks to the changes we're implementing now."
Impatient
The dean is happy that the faculty board's plans are so well-received. Now, he hopes to prevent situations where employees become unhappy and complain they're not seeing any changes yet.  "I would understand that. In our organisation, things don't move fast. I see it as my job to inform our people about each step, and remind them of the end goal.
"But it would be much worse if people didn't want anything to change, and want to keep everything as is. Thankfully, that isn't the case."