Made by students for students
DUB launches magazine about students' mental health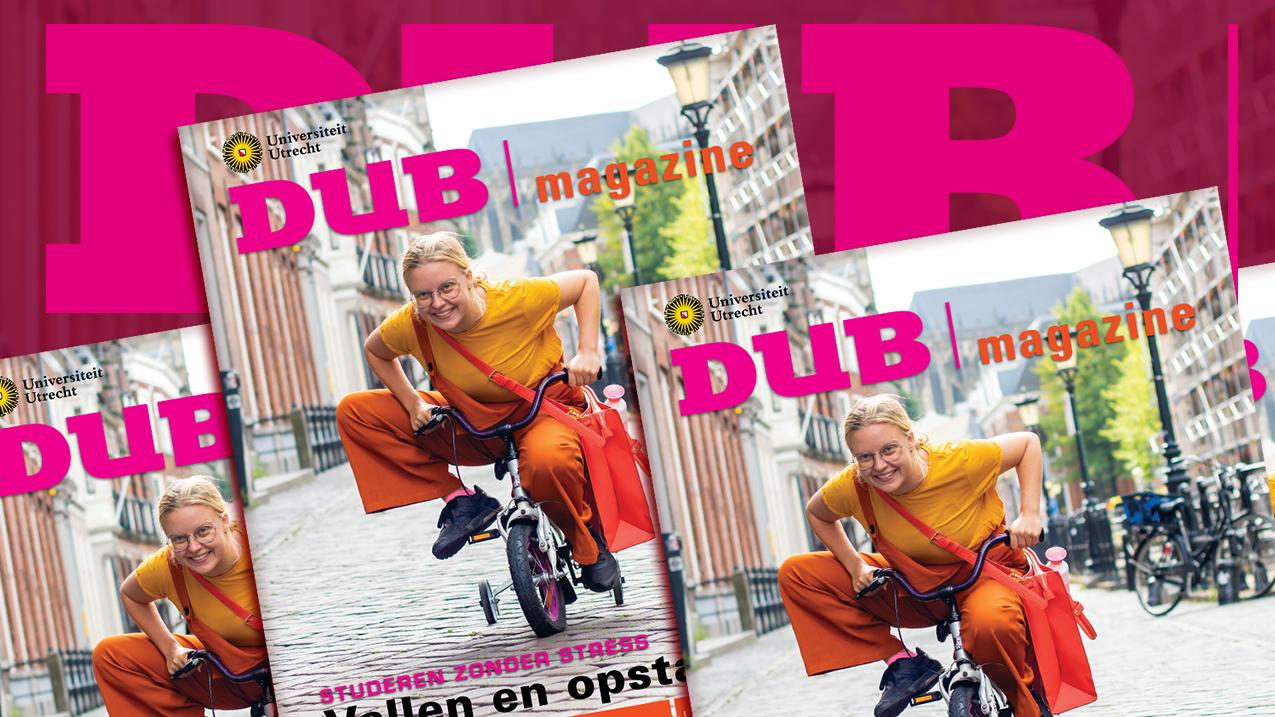 Illustration: DUB
Perhaps you used to dream about it when you were in high school: fewer hours in class, living with your friends, coming back home as late as you wish. When you become a university student and you go live by yourself, all these dreams suddenly come true. But, before you know it, there it is again: exam week. After getting a taste of freedom (i.e: cheap beer), you suddenly find yourself drowning in study-related stress. Then you're turned down by that prestigious internship, your bank account is practically empty and, as you're refraining from calling your mom for the hundredth time this week, you stumble upon a trash bag in the kitchen. "Are you OK?" a roommate asks when seeing you flat on the ground. "Yeah", you reply, panting. "I'm fine."
That's what being a university student is all about: falling down and then getting back up. These ups and downs are simply part of the life stage you're going through. It is not surprising that students aren't always doing alright. Yet many of them are scared or ashamed of falling down, while others have trouble getting back up. But truth be told, lately, students have been reporting more and more problems on top of the typical ones mentioned above.
The pandemic has definitely been a significant factor. Students felt pretty lonely during Covid and many of them find it hard to get back on track now. The National Education Programme (Dutch acronym: NPO) is trying to repair some of the damages caused by the pandemic by means of several projects — one of which is DUB's magazine on students' mental health.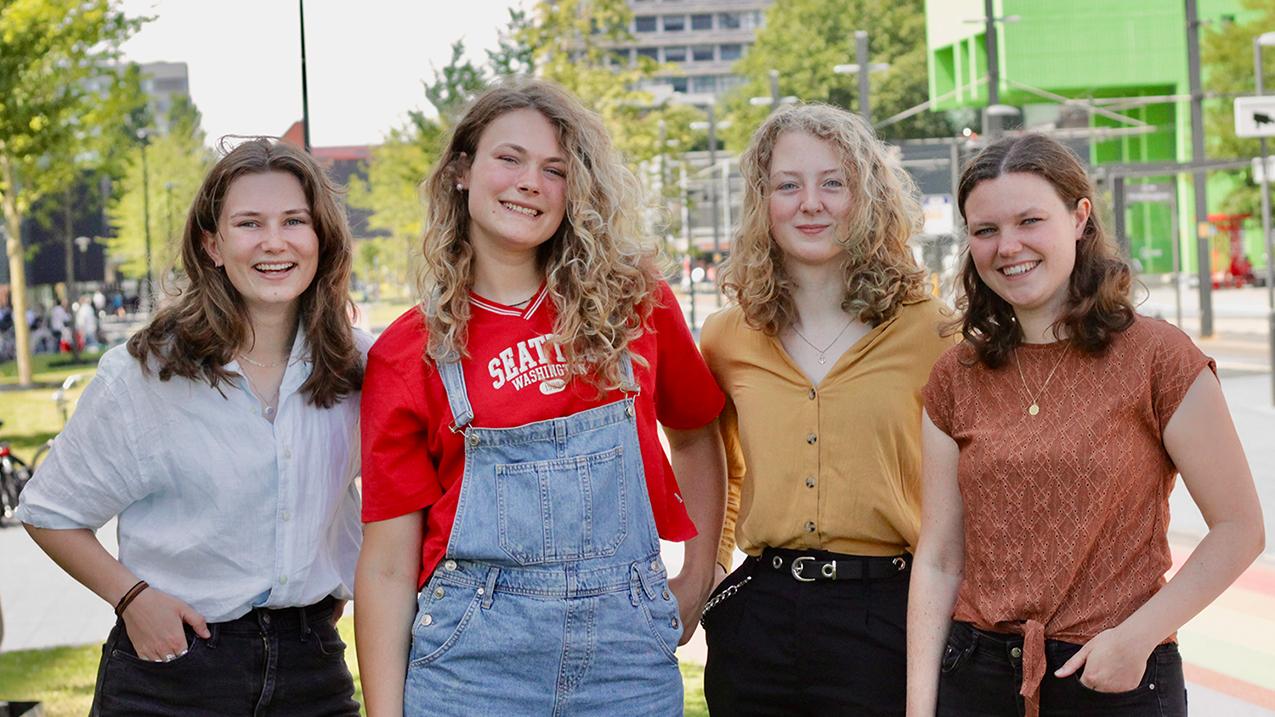 Student editors Femke, Renske, Chamee, and Manouk. Photo by Mila Bertens.  
Made by students
In the magazine, DUB delves into issues students usually struggle with. For example, student psychologists were interviewed about what students think about the university's results-oriented approach.
Most of the articles were actually written by students. After all, who would be better versed in what students struggle with than students themselves? Four students formed our "student newsroom": Femke, Renske, Manouk and Chamee.
Manouk wrote an article about expectations, in which we learn that students often expect way too much of themselves. The expectations of others (such as their parents and society) affect them as well. The stress that comes from dealing with all these expectations can have negative consequences in terms of mental health.
Because of all these expectations (some of them only perceived), sometimes students even forget why they do the things they do: is it because of intrinsic motivation or are they only trying to live up to an image of what they're supposed to be? As a college student, you're always going to have ups and downs, but if you're aware of the reason why you're doing things, it becomes easier to get yourself back up after a fall.  
Chamee devised the so-called "Perfection Meter", a test to discover how much of a perfectionist you are and how much you feel pressured to live up to unrealistic expectations, whether they're set by yourself or by others.
You can do it your way
The thing is, you don't have to be perfect to be successful, as shown by Femke in the three interviews she conducted with people who managed to graduate despite some big challenges. You can read the interviews here, here, and here.
Femke: "It was amazing to see how strong they were. Thanks to their stories, I've learned that we don't have to chase a standard: you can do things your own way."
Another thing that caught Femke's eye is the fact that all three of her interviewees benefited a lot from talking to others about their problems. "The core of their message was: surround yourself with nice people and talk to each other." An important piece of advice for all students.
As for me, I wrote an article about sex and relationships. I've come to realise that perfectionism and high expectations can impact our sexual and love lives too. Many students are searching for the perfect relationship, the most adventurous single life, or the best sex.
But you can't have it all, which is why I was struck by a quote by the pedagogue and sociologist Daphne van der Bongardt, whom I interviewed for my article. She told me: "We should get over the pursuit of perfection. Sometimes good relationships and good sex demand a bit of work." I think these words are going to resonate with a lot of students, not only when it comes to their relationships, but to everything else in their lives.
Add it to your to-do list
Curious about the magazine? From October 18 you'll be able to get your hands on an issue as the magazine is going to be distributed at several places in the Utrecht Science Park and the university's buildings in the city centre. You can also read all the articles in Dutch and English on DUB's website, which will feature several additional articles such as columns about the struggle to find a room and the inner debates between "short-term me" and "long-term me".
Some of you may be wondering whether you'll even have the time to read such a thing. After all, you've got three classes to attend, sixteen room ads to reply to, and a greasy pan to scrub (finding the meaning of life will have to be postponed to next week's to-do list). But hey, if you are feeling pressed for time, you're exactly the person this magazine is meant for!

So, next time you're drunk and fall off your bike, stumble upon a trashbag or find yourself on the ground in a more metaphorical way, remember that falling down is okay and there's no problem at all in asking others to help you get back up. This magazine aims to kindly remind you of that.
Advertisement