UU canteens no longer offering evening meals
DUB panel: where can one get dinner around here?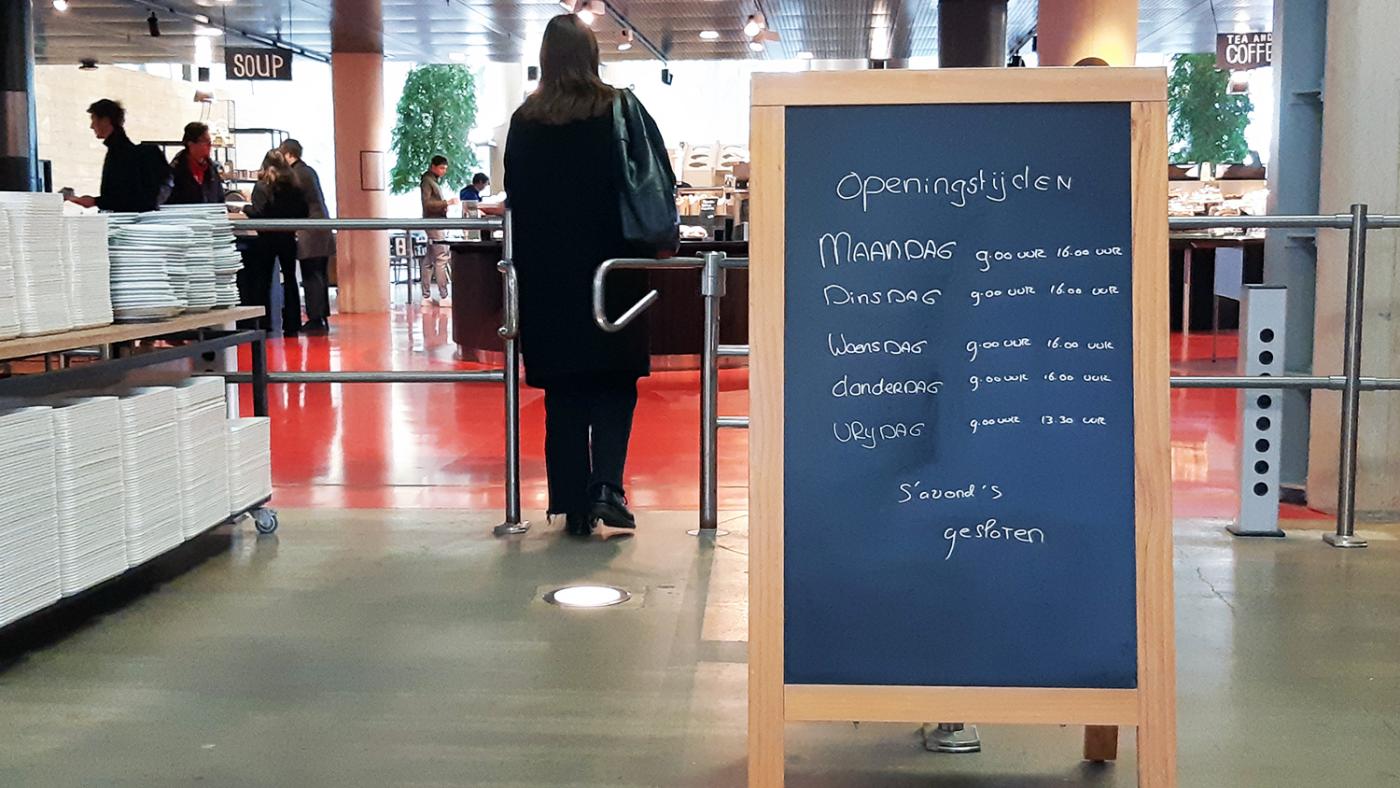 A sign informing opening times at the entrance of the canteen in the Educatorium building. Photo: DUB
Imagine you're a student and you'd like to grab a quick bite between a class and working out. Or you're an employee that has to work overtime in the evening. These people used to be able to buy dinner at one of the university's canteens, also known as "mensa" by some. But, since September, that is no longer the case as the Educatorium building, in the Utrecht Science Park, closes its doors at the end of the afternoon. 
For the students and staff members in the city centre, there are plenty of places where they can find a cheap meal. Those at the Utrecht Science Park have a pizza place, the restaurant The Basket, and numerous food trucks — all of them privately owned. But isn't it the university's responsibility to provide students and employees with cheap, nutritious, and healthy meals?
---
We asked the DUB panel whether they lament the fact that the university no longer has a place where students and staff can have dinner. These are the responses we received via e-mail:
Loes van der Woerdt, a student in Human Geography & Spacial Planning 
"I surely do think it's a shame that there's no canteen anymore. When I was a first-year student, it was still possible to get a cheap, vegetarian meal in the Minnaert canteen, which was great if you were studying until late or had a late meeting.
"That canteen has since been replaced by the expensive Spar supermarket (a pleonasm in and of itself) in the Koningsberger building, which closes at 2:00 pm. 
"It's also inconvenient to walk all the way to the food trucks at Heidelberglaan avenue if you're studying in the Koningsberger building. So we either have to prep our own meals or have something delivered.
"Of course, I understand there was no demand for canteens during the Covid-19 lockdowns but I think they can definitely be of value now. In my view, the university should reconsider the decision to close them."
"The food trucks are a great addition to the culinary options available"
Innovation scientist Frank van Rijnsoever:
"I would rather have a few more food trucks as they're a great addition to the culinary facilities available on campus in the afternoon. The queues in front of the food trucks show that students and employees would prefer to pay a little extra for a freshly-made sandwich than go to a canteen. But there are almost no food trucks in the evening.
"The university expects us to be on campus in the evening more and more. There are more and more evening classes, for example. So, the least you can do is provide students and staff with a decent meal. The north-western corner near the Koningsberger building is getting busier and busier but the canteens are closed. I'd put a few food trucks there and let them operate in the evening too."
Research analyst Mies van Steenbergen:
"For me personally, it doesn't matter whether there is a canteen open on campus in the evening or not. I have dinner at home with my wife every day. But, for the students and doctors in training working and living in the Utrecht Science Park,  I think this is a terrible missed opportunity. Thankfully, there is still De Brink in the Utrecht Medical Centre."
"Maybe a canteen will contribute to restoring social connections"
Sterre van Wierst, Master's student in Life Sciences:
"As a Medicine student, I spend a lot of time in or near the Utrecht Medical Centre. Their canteen offers warm, fresh meals for a decent price. So, it is possible to have dinner on campus.
"Even so, I do think that canteens in other locations can be beneficial. It's always great to have affordable options if you're a student. It's also nice to dine with other students or colleagues sometimes. There are a lot of takeaway options in the city centre, but they aren't always the healthiest.
"Besides, since Covid, students don't come to campus as often. If it isn't absolutely necessary to come, they simply stay home. Perhaps a canteen can help restore social connections on campus."
Educational researcher Casper Hulshof:
"People can ask for the dining hall to return all they want, but that isn't going to happen. Ideally, UU would have a canteen serving cheap, nutritious meals (like a daily special) for, let's say, 2.50 euros. But that's not doable given the principles of the restaurants we currently have (or are they UU's principles?) that everything should be healthy and sustainable. Not only is it not doable, but it also is not commercially interesting for the restaurateurs either.
"A better idea would be to replace the far-too-expensive and limited-in-everything Spar with a supermarket that would be cheaper and have a wider assortment. But that is not going to happen either because Spar is all too happy to stay in this location."
Philosopher Floris van den Berg:
"In theory, it's a great idea for the university to provide healthy, affordable meals for its students and employees (as well as other people). A dining hall could also contribute to community building. Perhaps we should have tables where everyone would be welcome to sit. A "come join us" table, if you will.
"I do think that meal should be both healthy and morally responsible — therefore, vegan. It should be possible to cook cheap, healthy, vegan and sustainable (and preferably local) food for a large group of people. Food trucks that offer junk food, fast food, and non-sustainable trash should be banned from campus (but the same holds true for the supermarket)."
"This discussion offers us the possibility to think about the role of the university and how seriously the university takes health, sustainability and ethics."
Advertisement