Two UU students stand as candidates for the Provincial Council
'Everything we deem a crisis now are issues the province focuses on'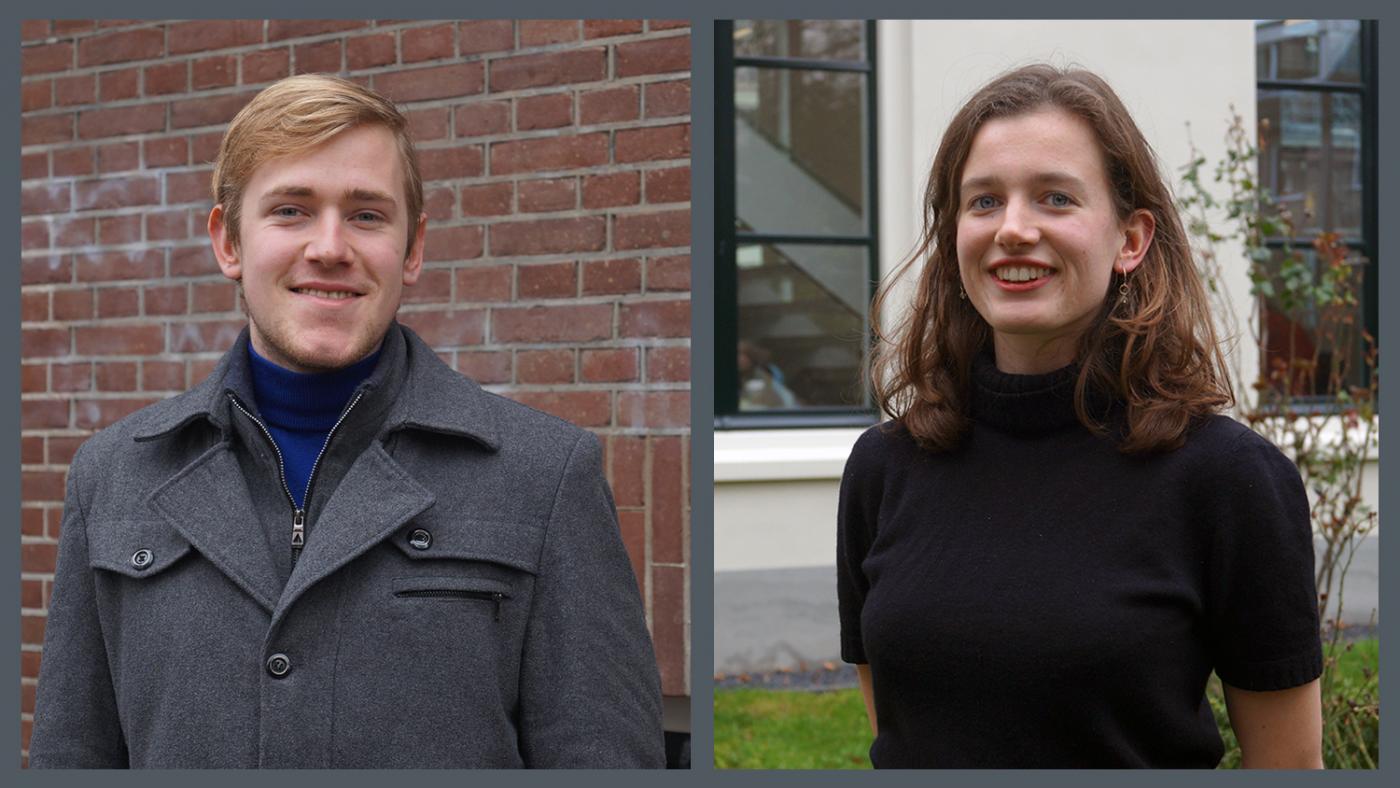 Frank van Breukelen and Noortje Flink. Photo: DUB
Noortje Flink, third on PvdA's list: 'I want my party to become even greener'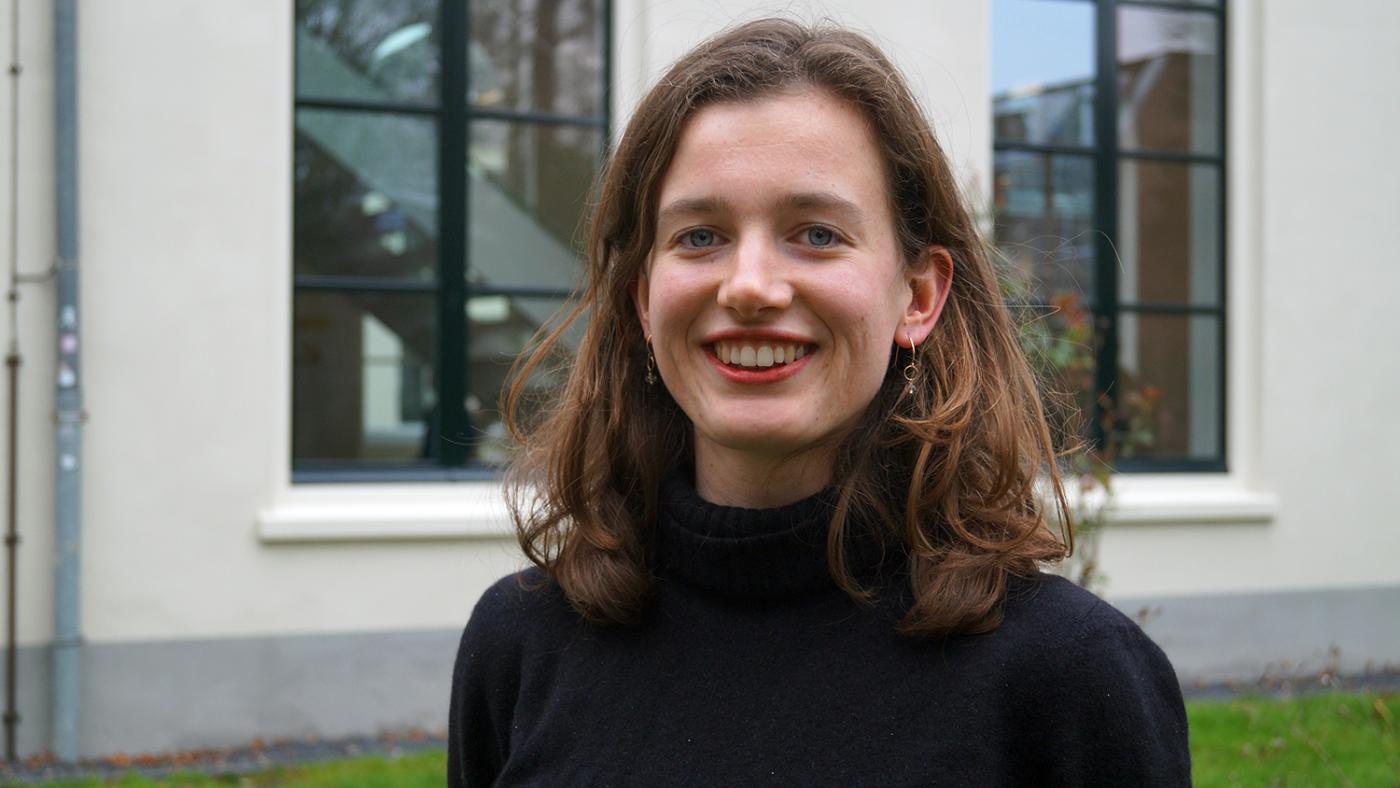 Handing out croissants at the IBB was one of the first campaign actions Noortje Flink, a Liberal Arts & Sciences student who is in third place on the PvdA candidate list, took. The PvdA now has 4 seats in the Provincial Council. "It was interesting to hear what students are worried about. They mainly mentioned the climate and the housing crisis. Many students fear that they will not stand a chance in the housing market after they graduate. I was able to explain that these topics will be my main themes in the Provincial Councils. Transport is also an important theme for me, and a subject for the Provincial Council. Public transport from the surrounding regions to the city or the Utrecht Science Park could be much improved."
Noortje has had a special interest in sustainability since secondary school. "It started with an interest in the unsustainable clothing industry and was reinforced by a part-time job in a sustainable supermarket. When I started studying Liberal Arts & Sciences, I chose sustainable development as my major. When I finish my Bachelor's degree this Summer, I will start the Master's in Law & Sustainability in Europe."
During her studies, Noortje became an active member of Atlas, a study association. "It is very interesting to be part of a study association. You get involved with everything. At a certain point, I wanted to continue to work on realizing my passion for sustainability. I ended up at the Utrecht branch of the Young Socialists, the political youth organization of the PvdA. They are both green and social, and I hoped to get the main party to become even greener."
Noortje is now standing as a candidate for the Provincial Council. Combining her political side job with her study will be challenging. "I want to start my Master's after the Summer. It would have been nice to have been able to do that part-time, but the flexible studying pilot will likely be cancelled. I will have to speak with the study program to figure out a solution."
The work for the Provincial Council mainly takes place on Wednesdays. As a member of the council, Noortje would have to read through many policy documents. She hopes to achieve many things in the Provincial Council. "The province seems to be an abstract layer of government. But they are concerned with very important issues, especially now. Everything we currently deem a crisis is discussed in the Provincial Council. The nitrogen policy, making our energy supplies more sustainable, dealing with nature and farmers, building houses and the transport policy."
Noortje has already shadowed a Provincial Council member a few times. "That was enjoyable. The discussions were nuanced. People from different parties were willing to talk to each other in order to come to a shared conclusion. For example, about the history of slavery."
The polls indicate that about 30 percent of the vote will go to conservative-right parties, such as JA21, BBB, PVV and Forum voor Democratie. That worries Noortje. "Of course, I hope that the constructive way of working together will continue. After all, everyone wants the world to be a better place. But there is a different view of how you should approach that between the parties and there is more polarization in politics. A fierce debate on substance is not a bad thing, but I really hope that we will also work on solutions."
She recently participated in a debate in Overvecht at the neighbourhood platform. "You had to respond to statements, and I enjoyed participating in that political game. I of course want to realize as many ideals as possible. The trick is to express your ideas as clearly as possible."
---
Frank van Breukelen, first on the list for FvD: 'I believe in Forum's ideas'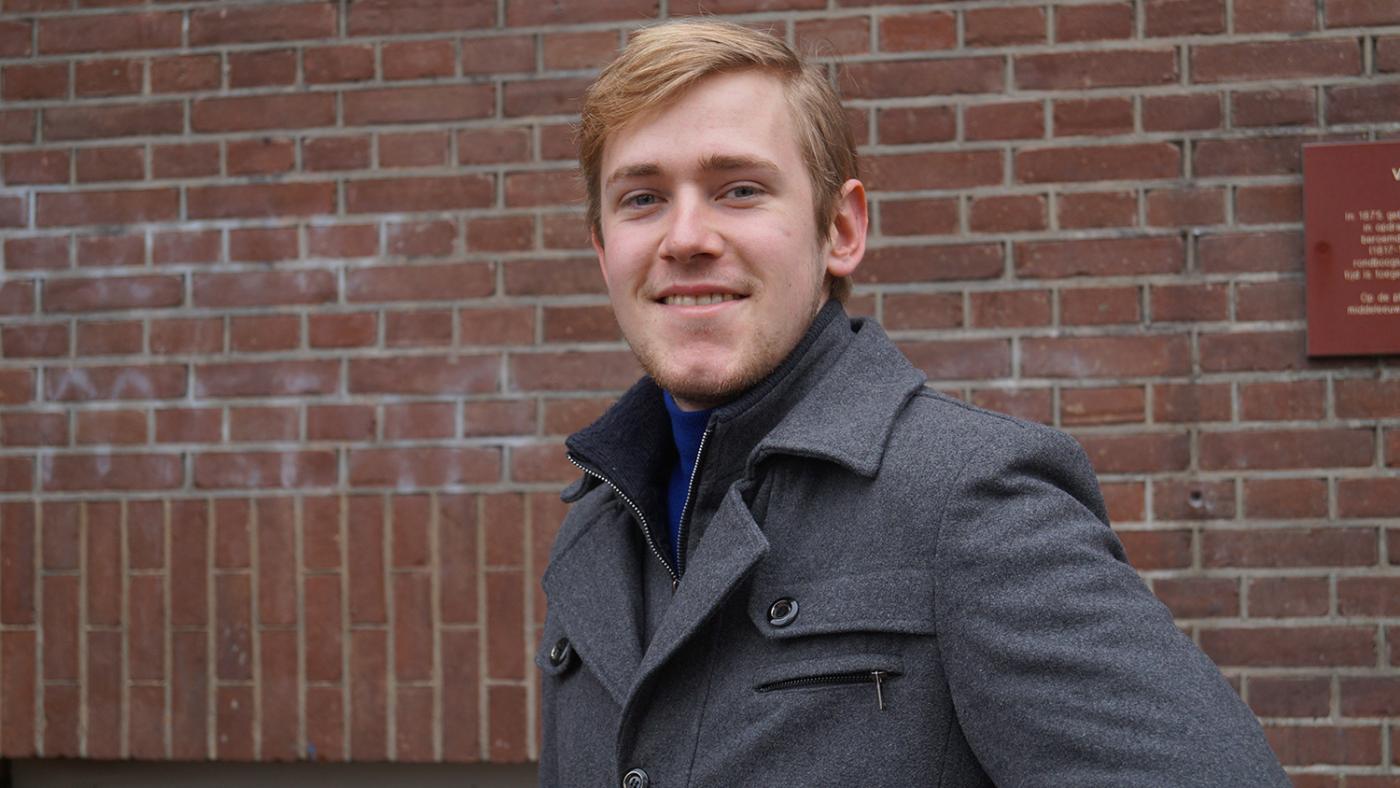 Frank van Breukelen, who studies Public Administration & Organisational Science, has been active at Forum voor Democratie since 2017. When they asked him to stand as a candidate for the Provincial Council this year, he thought it was an interesting task. "To my great surprise, it turned out that I was even put first on the candidate list," he says.
The campaign for the elections of the Provincial Council started with a party meeting at which Member of Parliament Pepijn van Houwelingen was also present. "In Utrecht, we will be fighting for the right-wing vote. There is a lot of competition with JA21, BBB, the PVV and Forum. But I do see a difference between Forum and the other parties. Those other parties are policy opposition parties, while we oppose the system. We are not going to negotiate about percentages, we want a bad proposal to be completely off the table."
In the previous elections, Forum received six seats in the province of Utrecht. At the moment, there are none left. The members have switched to other parties, such as JA21. They did not agree with the party line and the internal conflicts. "At the time, we didn't expect to perform so well at the election. That was also a disadvantage, as we didn't have enough time to put together a good list. I'm hoping for two seats now, three would be great."
He is attracted to the party by its ideals: a smaller government, less interference from Europe and a reduction of migration. In the Provincial Council, he will propagate Forum's main causes. "I've already gone to a meeting. The atmosphere is friendly and light-hearted, which is nice. But I also see that the province can be a little too compliant. For example, when it comes to nitrogen. I think the province should take matters into its own hands more often. If they do not want windmills in Leusden, then there should be no windmills. I myself am not in favour of broadening the A27, and I appreciated the province's clear objection to the broadening. At least it stood up to The Hague."
Why should students vote for Forum voor Democratie? "I've noticed that our party is not very popular with most students. One reason to vote for us is that we want to get rid of the enormous increase of international students. Dutch universities are primarily for Dutch students and due to the arrival of international students there is enormous pressure on the housing market. Students are being housed in container homes."
He says that other students do not criticise him or his party much. "It's a close-knit group here and most of them know I'm active at Forum. That's not a problem. I also know several fellow students who vote Forum. I'm also in touch with people who vote for completely different parties, ranging from PvdA, D66, GroenLinks to Bij1. That makes sense. Everyone should be able to have their opinion. I did take courses elsewhere at the UU, where I noticed that some teachers made their political opinions very clear. Then I became a little more cautious."
On Twitter, people expressed surprise that Frank had chosen Forum as a B&O student. "No chance" and "Bad for your career", were their comments. Frank finds them funny. "I'm not much of a job hunter, like some other candidates. I believe in Forum's ideas, such as striving for direct democracy with, for example, elected mayors and referendums." Can he then agree with the more radical line of recent years? For example, when it comes to the resistance to the Covid vaccine and the support for Russia in the war against Ukraine? "A lot has happened in recent years. I admire that Baudet dares to admit that he sees vaccines differently now. I don't agree with everything, but I don't have to. You develop alongside the discussions. What I certainly like is that debating is very prevalent within the party."   
Provincial council
Each province has Provincial Councils where they discuss widespread policies, for example, nature management, agricultural policy, housing policy and environmental legislation. The province often implements the policy adopted in the House of Representatives. The elected members elect the Provincial Executive, the elected board of the province. In addition, the members of the Provincial Council elect the Senate. The Provincial Council in Utrecht consists of forty seats. GroenLinks is currently the largest party with eight seats. JA21, CDA and D66 each have five seats. The PvdA four, as does the Christen Unie. This is followed by the Partij voor de Dieren en Belang van Nederland with two seats each. The SGP, Denk, SP, 50Plus and the Socialisten Utrecht each have 1 seat.