Finding a room in Utrecht: How do students market themselves?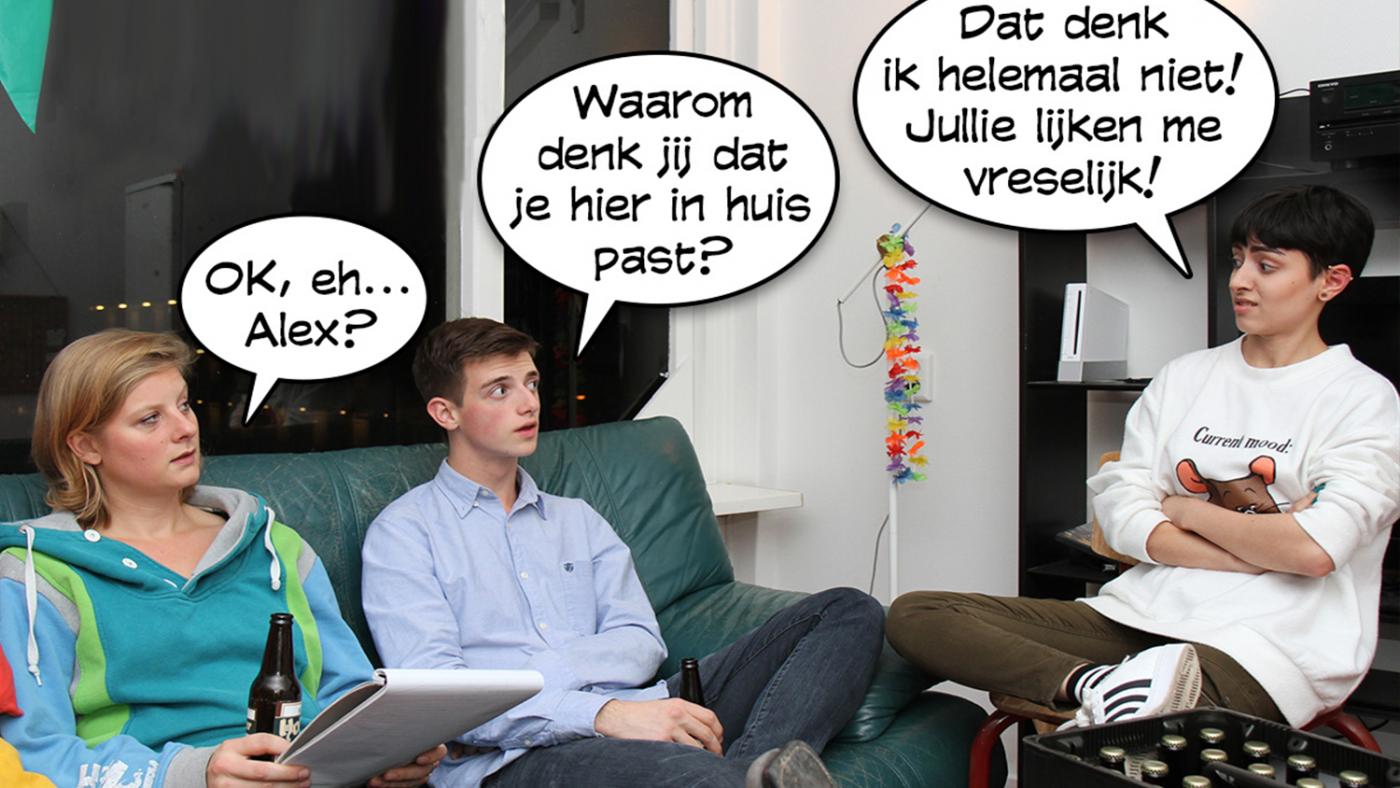 Ok eh... Alex? Why do you you fit in this house? That's not what Im 'thinking. You seem awful to me. Photo: Ype Driessen
Hospiteren is the process through which most students find housing in the Netherlands. It demands a lot of persistence and charisma to become the chosen one. It's part of the reason why Dutch student culture is like no other. With extreme hazing practices, strict hierarchies within fraternities and hospiteer evenings, a survival of the fittest mentality is promoted. It's an extraordinary phenomenon, and its unique.
I grew up in Germany, where I attended an international school in Berlin. I sometimes tell my friends from there about the absurd practices that take place in Dutch student culture. They are often left in disbelief when they hear that a country that they know for its endless flowerbeds and tolerant drug policy, is home to such an unrelenting student culture.
I've been in Utrecht for 3.5 years now, and have been living in my student house for over 2 years, together with three other Dutch guys: one who has seen the inside of many student associations, another who is a fanatic rower at Triton and the third who is not a member of any association, just like me. The non-member has recently been offered a room in Amsterdam, opening the floodgates to his soon-to-be vacated room in Utrecht. In line with Dutch student tradition, we start preparing for a hospiteer evening!
Yo Boys
We posted an advertisement on the Kamer in Utrecht Facebook group as well as Kamernet. We added a photo of us at a festival and wrote a story about us and our house. If people would like to live in Penthouse Adelaar (eagle) we asked. It could be interpreted as somewhat misleading, as our house is everything but a penthouse. The promising description is based on the fact that our rooms are mainly on the top floor of an old apartment in the Adelaarstraat. We added an email address and asked people who are interested to write a little bit about themselves and email it together with a photo of them.
The emails start flooding in: "Yo boys", writes the first guy. His name is Melle and comes from Hilversum. He's a "relatively calm but also social guy", and is "always in to just chill for a bit". In his last sentence he lets us know that he would like to be invited to the hospiteer evening. When I first read his email I thought: 'yeah, we'll probably invite him'. However a day later we already have another fifty emails, and two days later its more than a hundred.
My housemates and I read the emails one by one, and share the odd one out in our Whatsapp group. "Koalas always have chlamydia", writes Tim, a guy who states he loves animal facts. Another one writes that he just returned from his exchange in Wuhan and would like to join the hospiteer evening and "share a corona". In total 28 guys state that they like drinking beer. One of them preferably at a pub, another in the Griftpark and someone else rather at home.
While I scan through all the emails, I get the impression that a lot of people write the same, and only frame it differently. 26 guys write that they like to chill, 30 enjoy festivals, 26 start about cooking, 19 like to travel and 11 even start about cleaning. "I don't shy away from a little cleaning", writes one student, followed directly by "and I make a delicious risotto".
Who do you pick the right guy?
The madness of the hospiteer process slowly starts to set in. Everyone writes their messages based on our advertisement, and we have to choose from messages that all resemble each other in one way or another. Regardless, we have to find our new flat mate somewhere in these 107 emails. We scan all messages and mark the best with a green checkmark. The million dollar question: what are the best messages? I couldn't tell you exactly, but emails that passed the selection criteria were usually written with a healthy mix of self-awareness, spontaneity and sociability. The standard sales pitch in e-mails wasn't a decisive factor, because who doesn't like travelling and festivals? And cleaning and cooking has to happen anyways in a student house (although their definitions vary among students).
After a first selection we're left with 30 potential housemates that we all want to invite to the hospiteer evening. 30 guys that all want to come for the same room? It's a butchering. Before my housemates and I send out the invitations, we take eight people of the list. Even now, the chance of someone getting the room is only 1 to 22.
"We'd like to invite you to the hospiteer evening!" Saturday evening they're welcome, in four rounds of half an hour each. The first round start at 19.30, but a few boys already arrive at 19.15.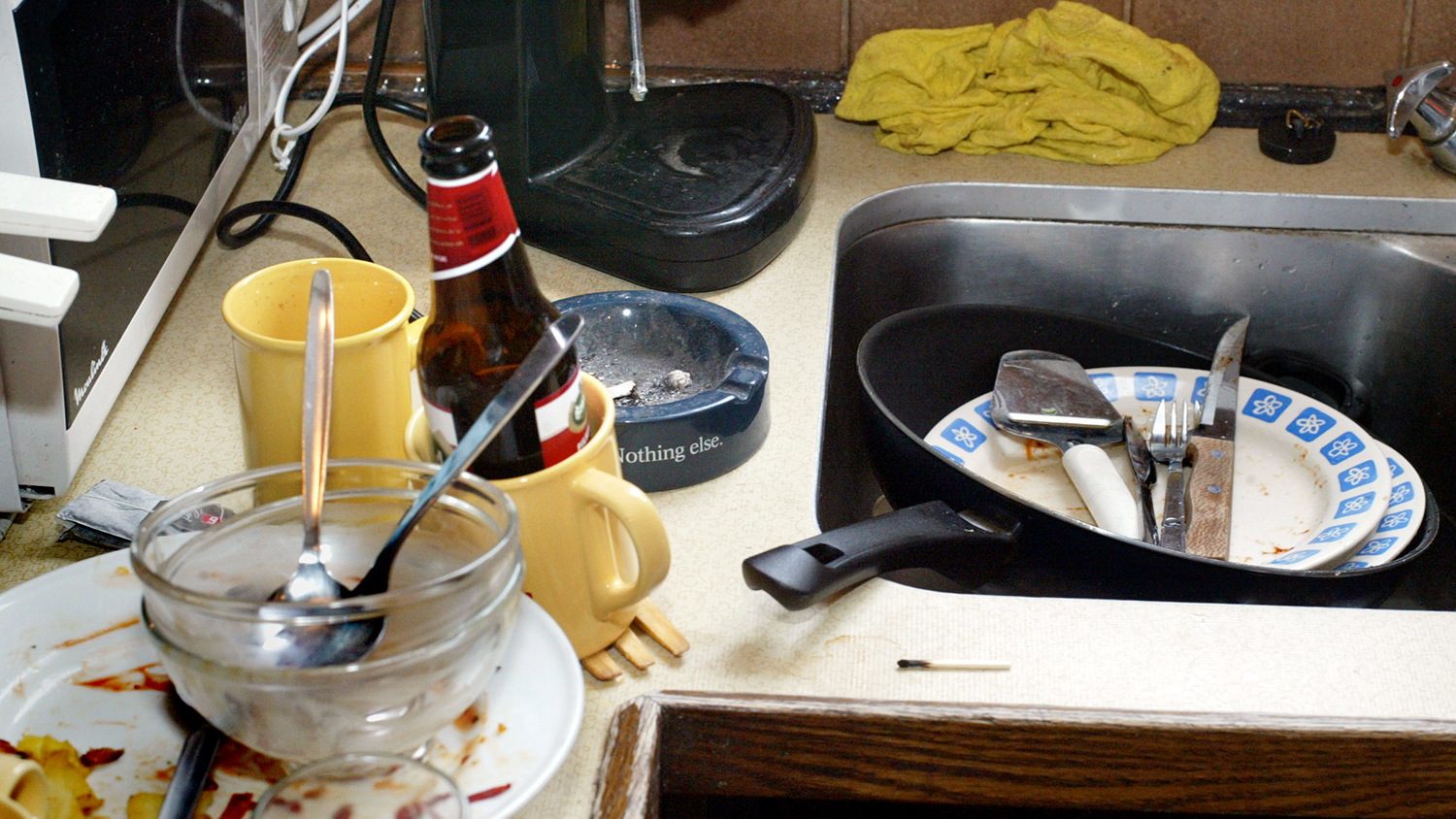 Chaos
When they do, one of my housemates is still in the shower, while another housemate and I are still trying to do the dishes in record speed. "Can I offer you a beer already?", I ask while my hands are still covered in soap. We bought three crates in the afternoon, so I'll probably keep asking that as the night progresses.
The first round goes exactly as we hadn't hoped. The Triton member comes back from a tournament far later than expected, we don't have enough chairs and the showering housemate still has to get dressed. It looks like it'll be a hectic night, and the three crates of beer might not have been enough preparation.
In the end however, it all works out. The Triton member still manages to talk to the people from the first round, chairs are retrieved from all corners of the house and my housemate getting dressed also happens faster than expected.
"Can everyone introduce themselves a bit?" That's how my housemate starts the first round. Everyone tells their version of the same story: I am (name), come from (place), study (study) and in my free time I like to do (hobbies). After the round there is still time for some individual conversations, and before I know it the next round is already waiting at the front door.
The moment of truth
The three rounds after this also progress in this manner, and shortly after 22:30 we thank the last group for coming. The evening has turned out alright, which can be partially attributed to the beer, which is by now almost empty. Then the moment of truth, who is the last one standing and will become our new housemate?
We discuss the candidates, our opinions based on their emails and the half hour that we talked to them that night. "What did you think of Julius?" I ask. They liked Julius as well, but he was a bit fake according to them. "What about Leander?" asks my housemate. "I found him to slick." And so we all have opinions about guys we barely know, but think to understand thoroughly. Ultimately one of us asks "and Willem?" We study him from all angles, trying our best to find something to hold against him. We don't however, and so he's the last one standing. We have our new housemate!
Due to privacy reasons all names in this article are pseudonyms. The hospiteeravond was held before the corona lockdown.