Former LAS student now works with Peruvian master chef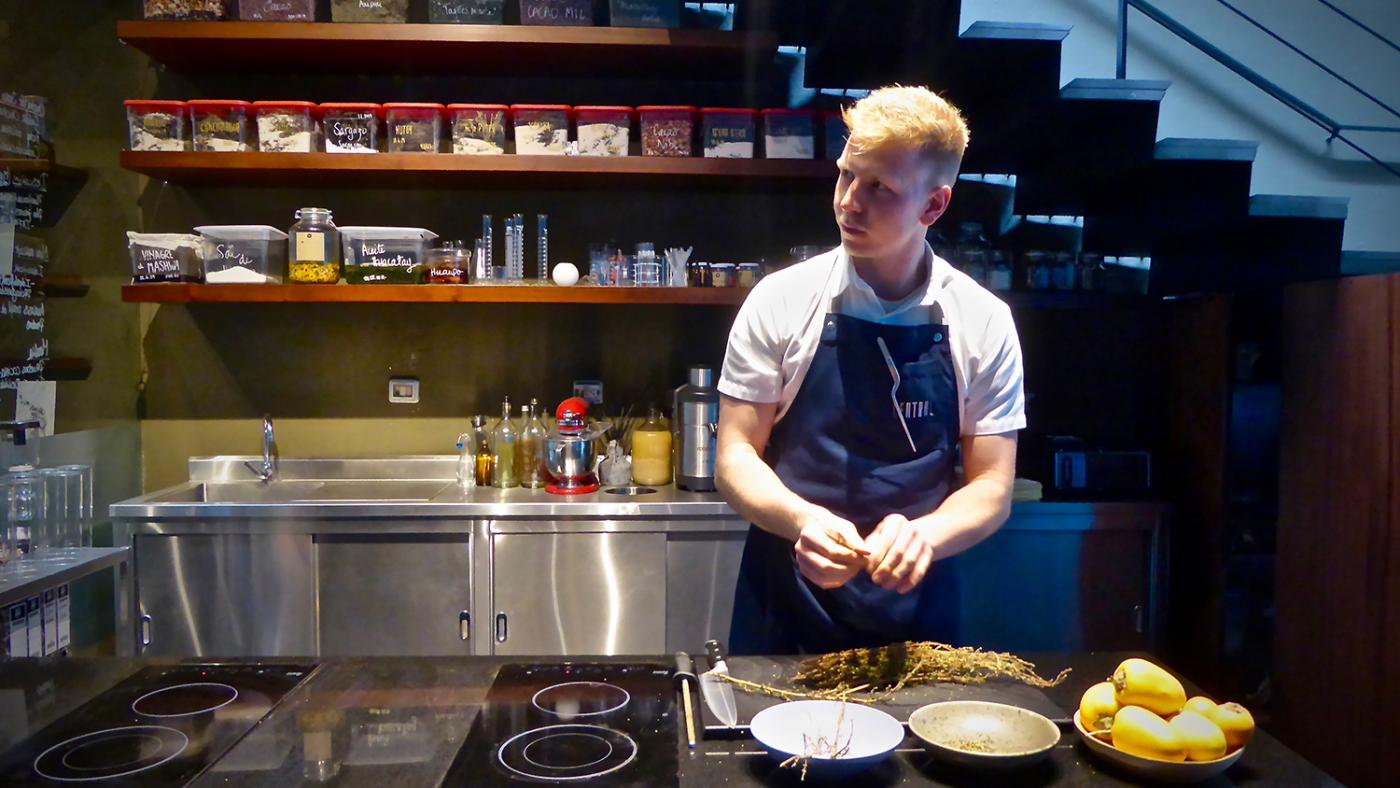 Daan in the kitchen of restaurant Central, the sixth-best restaurant in the world, foto's Noah Moeys
A year ago, Daan Overgaag (23) graduated from his study programme, Liberal Arts and Sciences, at Utrecht University. Now, he's an anthropological researcher and a cook for the sixth-best restaurant in the world: Central, in Peru. On this cloudy Saturday morning, the tall, blonde man shows us the restaurant of master chef Virgilio Martinez, where lunch preparations are taking place at dazzling speed. "We've got half an hour for the interview, because when the guests arrive, it's game time," Daan says as we walk towards the lively kitchen. Hurrying it is.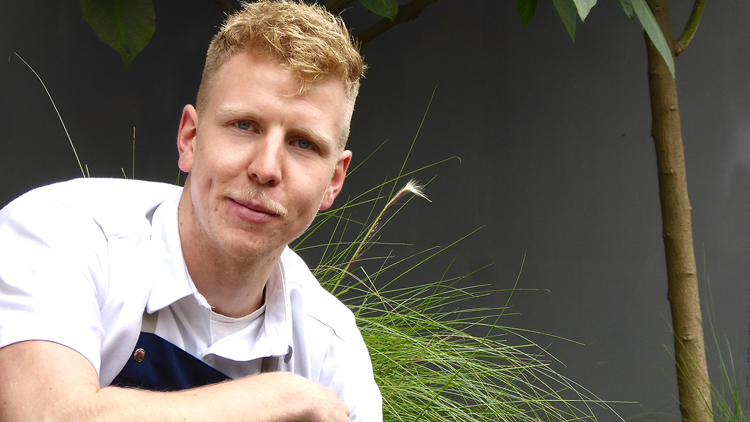 At his height, Daan is at least a head taller than most of his colleagues.
When Daan went on a backpacking trip after high school, he became interested in different cultures. Because he wanted to choose his own study path, he chose LAS, with Cultural Anthropology as his main subject. In his third year, he went to Peru, where he first became acquainted with the Central restaurant. Along with thesis partner Jesper Nass, he spent three months studying 'the role of gastronomy in Peruvian society'.
How did he get into such a special, professional place for his thesis? "Just being bold, but with humour," Daan says with a grin. His smooth talk and blue eyes doubtlessly helped him. Aside from being highly ambitious, Daan realises he's been incredibly lucky, and knocked on the door at exactly the right time.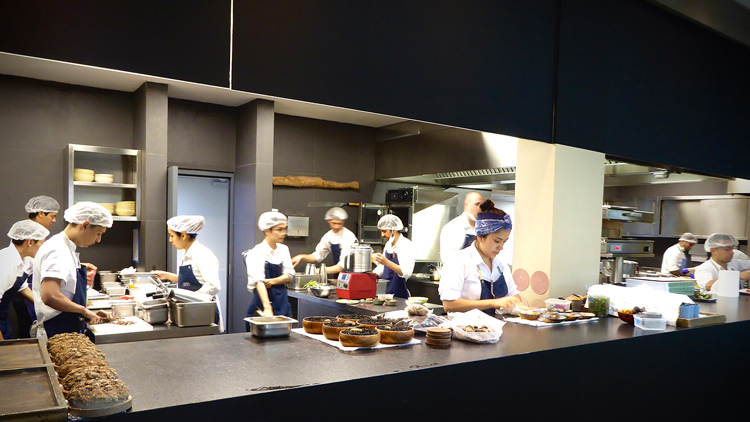 The cooks hail from all over, and it's remarkable how young the average cook is
The restaurant is an immensely popular hot spot for celebrities and filming of Netflix series. Gordon Ramsey is one of the people who've visited. "And a while back, John de Mol was here. I asked him how he liked his dinner." One of the reasons for Central's fame is its celebration of Peruvian diversity. The sixteen dishes on the menu are each ecosystems from the Peruvian landscape, which is very diverse – parts of Peru are below sea level, while the Andes mountains has peaks of 5,000 metres. The country has a great variety of plants and trees.
After submitting his thesis in the Netherlands, and formally graduated from Utrecht University, Daan wrote a proposal for Mater Iniciativa – the research group of the restaurants Central and Mil. To his surprise, he was hired as anthropologist, and he started work a little while later. Now, he's been living there for nine months. "It's super exciting. Before I left for Peru, things were heating up so much," Daan says as we take our seats in the glass Sala de Reuniones. The dried Kjolle flower (the flower of a tree that grows at great heights, ed.) on the wall spreads fresh scent and piles of anthropological books are spread out across the table.
Coworker Ines Castañeda (24) enters. "Buenas días!" she calls happily, before she and Daan quickly run through the latest adjustments to their presentation. Tomorrow is an important day. They'll be presenting their vision on Central to their three bosses. Isn't he constantly amazed at the responsibilities he's given? "I'm getting used to it," Daan admits, "otherwise, it'd be endlessly tiring." He remembers his first day well, hiding behind the freezer jumping for joy before re-entering the kitchen with a poker face.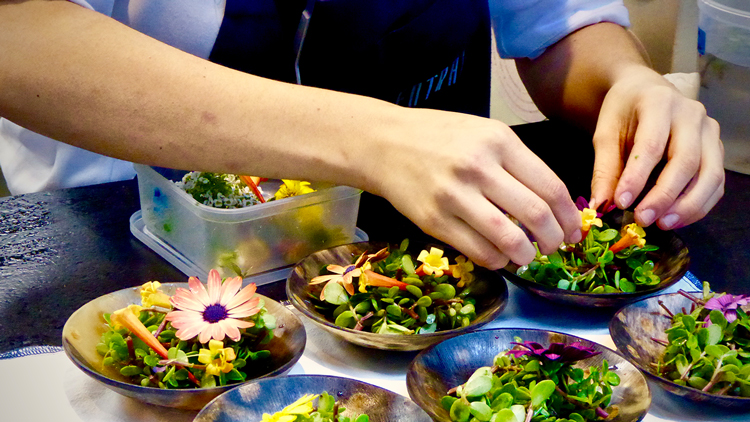 The esthetic base for the Costa Desertica dish, an ecosystem that's 110 metres above sea level
Daan spends much of his sixty-hour workweek on research on the different products that are used in the restaurant. For this work, he's a part of the research division of the restaurant, Mater Iniciativa. He's currently working a lot on the Traceability Project, in which he visits every single producer to study the origins of all the ingredients used in the kitchen. Among other things, he wants to know what goes on in the production, and what the effects of the production are on the farmer and the environment. As an example, Daan tells about a certain type of potato that needs a year before it can be used in a dish. He wants to show that value in the food. He also studies how employees are paid, and whether an honest price is paid for the product. That means a lot of travelling: from cocoa producers in the Andes to a coffee farmer in the north of the country.
In the kitchen, I hear the chefs laugh. Chef Malena Martínez cheerfully introduces herself to me, and I'm allowed to walk around everywhere and take pictures. How is it possible that it's so relaxed here, when the restaurant is one of the world's best? "That's the great thing about working here. It's super accessible!"
Along with four other cooks, he stays in a small Peruvian home a few blocks away from the restaurant in Lima. It's hard work: six days a week, they work long hours. On Saturday night, despite fatigue, there are often some 'heavy' parties. "Letting go, doing fun things. We're young, aren't we?"
Isn't it inhumane, working this much? Daan thinks yes – and no. As he leans back and takes a sip of his water (filtered by Central), he says: "If you clean the exact same type of fish every day, six days a week, for three months, then you'll really be able to do it well. So that's when you become the best." And you have to, if you're in the kitchen next to Virgilio Martínez. He is, however, absolutely certain that this isn't a rhythm he wants to keep up with for the next ten years. "I also want to have some time for friends, family, love, and spontaneity."
Thankfully, his studies help him: within Central, he's the connection between the kitchen and the product context. Interdisciplinary – typical LAS, he grins. From Cultural Anthropology, he mostly uses the way of thinking. "Being able to analyse social relationships, that comes in handy at Mater Iniciativa."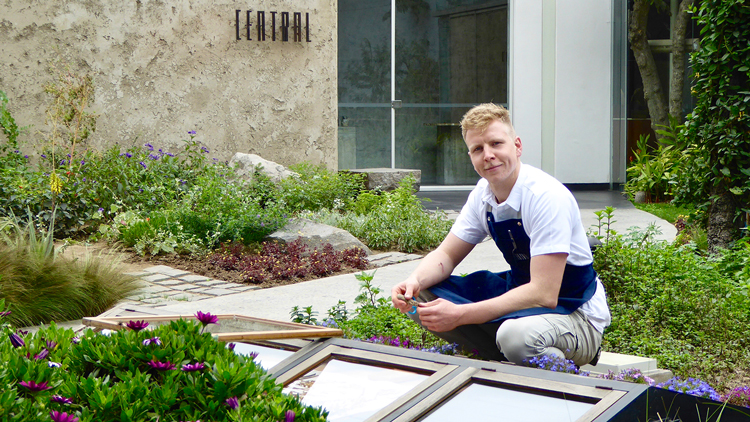 Daan Overgaag in the Central garden
Are there also things that aren't great? I ask, while we're looking around the garden to pick some herbs for lunch. Daan bends over a mint plant, and says: "I genuinely have one of the greatest jobs in the world." So it's not a horror kitchen where you're yelled at when you do something wrong? He laughs, no, definitely not. "I see it as a collective endeavour to get the best out of everyone. We're working our arses off and if there's something you could improve upon, they'll tell you, but it's nothing personal." Lately, by the way, he's spent less time in the kitchen, focusing mostly on Mater Iniciativa.
In the meantime, the first guests are entering the lush, green garden. Daan puts on his chef's uniform. "The theatre starts again!" he says, with a light in his eyes. In January, he's taking some time off, as he'll take Malena's place at a gastronomical university in Italy to teach about the use of diversity in the kitchen. A month in Europe, he's looking forward to it. Seeing his family again, friends, just being back for a little while. But not for too long. "I want to keep growing, and perhaps one day, one day… open my own restaurant."
Filipo (24) and Gustavo (22) both work in the kitchen, and have since become good friends with Daan