How do we get rid of boring lectures?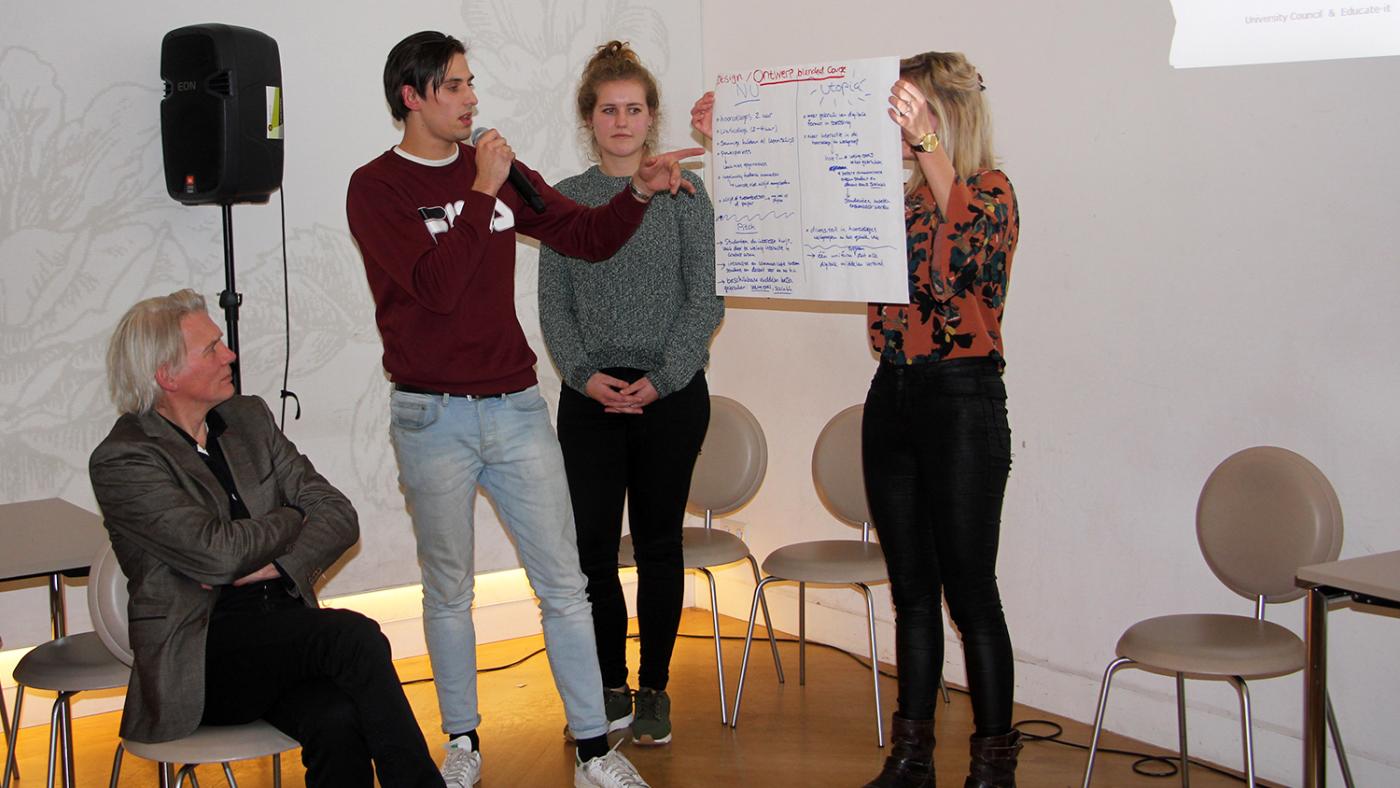 A lecture in which the teacher repeats what you've already read. Students are less than eager about the prospect of sitting in a lecture like that – it's a waste of time. But how can you make education more attractive? What are the tools you need? What does the teacher of the future look like?
These and more topics were discussed by more than thirty students of all faculties in a meeting last Wednesday at the University Library in the city center. The night was organized by Educate-it, a university taskforce that aims to help students and teachers innovate education with digital tools. Students and teachers can present their ideas about education to receive help from Educate-it. The central theme at Educate-it is blended learning, a.k.a. the combination of face to face and digital education. A video for the course content, followed by a discussion about the material in a work group, for example.
A new project at Educate-it aims to let students have an active role in thinking about the future of education. What do the students think needs to happen to keep academic education attractive and interesting? This particular meeting was organized in collaboration with university council students with the express goal of getting a clearer image of ideas about this topic.
So many tools you can't see the forest for the trees
Students first get acquainted with several tools already in existence. One of them is Traintool, a way to train online skills through videos and assignments. Another is  Xerte, in which course material is offered digitally and in an interactive way. Other tools discussed include Scalable and Revisely, which offer teachers the possibility of giving students direct feedback.
Students immediately voice their objections. There are so many tools you can't see the forest for the trees. Couldn't they all be combined in one big learning environment, so users get a clear overview of what's available, what's for teachers and what's for students? Jan Haarhuis of Educate-it understands the criticism. "But you also want to experiment, and you can't immediately put everything in a digital learning environment."
Our teacher stands in front of the blackboard with a piece of chalk in his hand and tells his story
So how can you change education in such a way that it becomes more interesting to students? One of the issues is that current education is very uniform. All students enrolled in a course get the same material and the presentation is generally less than innovative. "Our teacher stands in front of the class with a piece of chalk and a blackboard and tells his story. He's never heard of any of these tools," one student notes. Another student tells about a teacher who wants students to submit their papers via snail mail.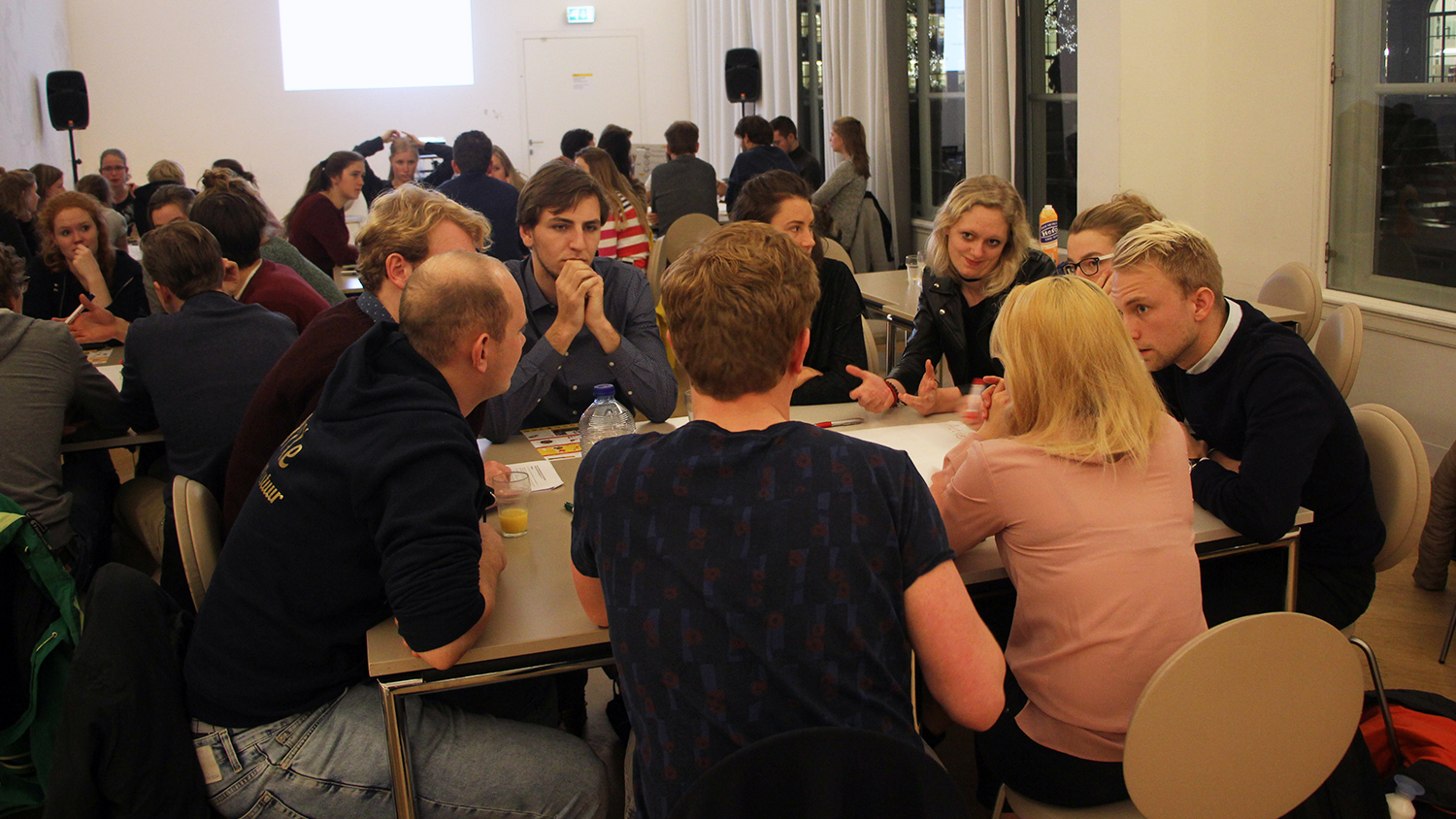 Still, there are teachers who choose to employ more interesting ways of teaching. Many students at University College Utrecht say the way they work on a subject intensively should set the example for the entire university. The question is whether that way of teaching and learning can be translated to an study program with a lot more students.
Most students agree they want more variation in their education. Maybe through videos with specific information that you can rewatch at a later time, or by using voting boxes or other online tools. Another idea is to fine-tune the material to the students, so they can follow a tailored education track. Teachers should have the opportunity to provide this kind of education, and be trained in it.
How can you have a quality discussion in a work group when only a few students have prepared for class?
It's not just the teachers that need to change. Student participation can also do with improvement. How can you have a quality discussion in a work group when only a few students have prepared for class?
The rector says, after listening to one of the pitches: "It shouldn't be the case that education for students is always 'fun'. It's about how successful you are. That engagement goes both ways, it should come from both teachers and students." He also says it's necessary to look at the labor market. "Students of the future will switch jobs far more often. Education should anticipate that."
Give students more responsibility in education
More interaction between teacher and student is needed. If a teacher discusses with students what the best way is to get his message and material across, you get the students more involved, is one of the conclusions. You can also get a higher level of engagement by giving students more responsibility in education. A good example of this is peer grading, letting students have a role in grading their fellow students. "You can only do this well if you're very familiar with the material yourself," a student says during his pitch for the rector.
There are tools that show a teacher exactly which student worked on an assignment
The discussion leads to the question in how far you should give a teacher information about a student's activity. There are tools that show a teacher exactly which student worked on an assignment, or who watched a provided video. The teacher can make his classes fit the conclusions of that activity. That's a good thing. You could even give grades for participation in class. But how susceptible to fraud is this system? And how far should you go to follow every step a student takes in their preparation? It's a little patronizing, and could even lead to more stress.