How English can your Dutch Bachelor's programme be?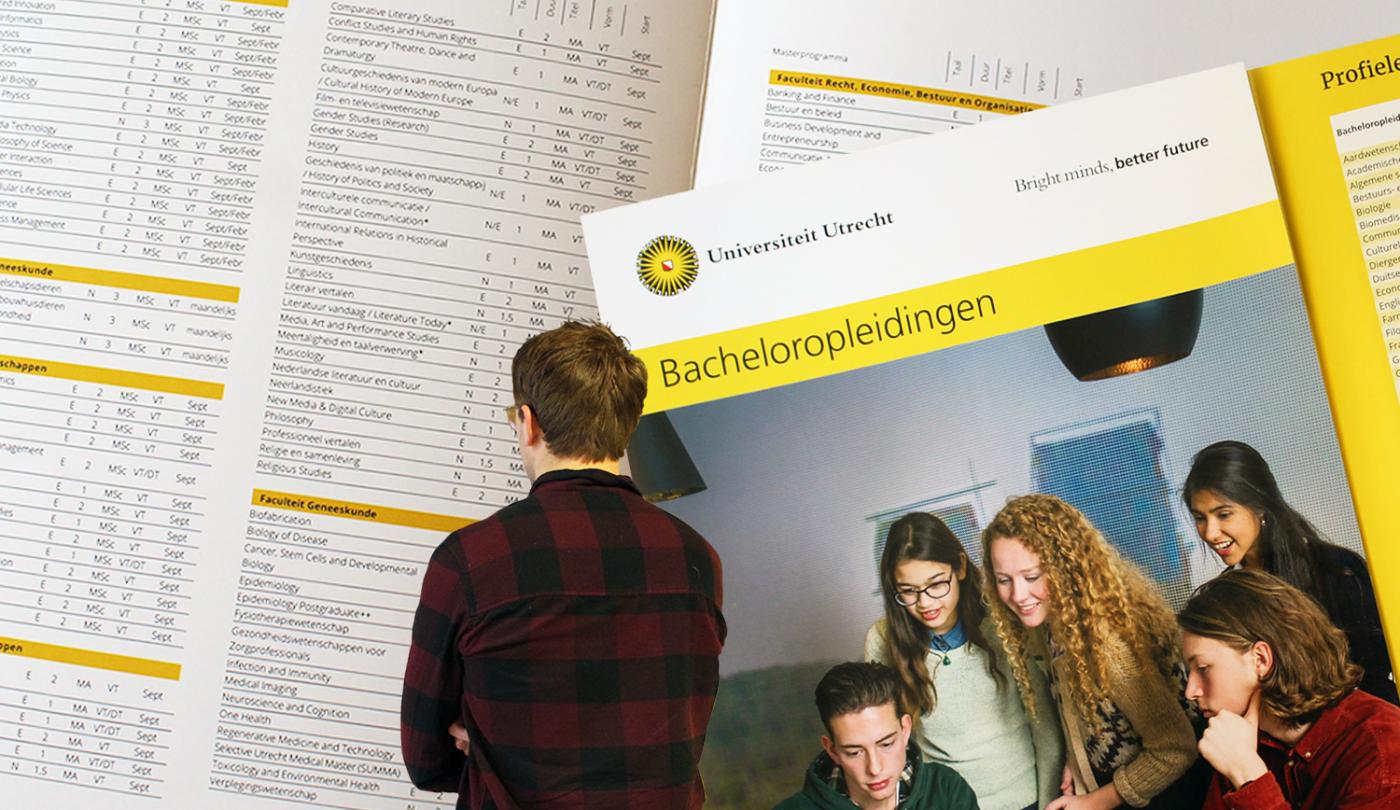 "If you start a Dutch-taught programme, you expect to be able to do the largest part of that programme in Dutch." Lindi, a Social Sciences student, received an email last summer that stated all the courses she wanted to take in her third year would be taught in English. "That gave me a bit of a shock. I also feel it's weird that that can just happen like that. I myself much prefer Dutch-taught education."
The Social Sciences programme decided that starting this academic year, the three paths students could choose from in their second year would all be taught in English. Whereas before, the programme had four to five English-taught courses, there are now twelve.
That change, programme director Ter Bogt says, was done to make the Bachelor's programmes accessible to international students, and to prepare students for English-taught Master's programmes. Ter Bogt: "We're not afraid of English education, and we're trying to offer this in a well-structured way with these course packages with related content."
We're not afraid of English education
Study association Versatile heard 'rumours of Englification' but refers to the Social Sciences room of the programme committee. The committee tells us in an email that "some students feel it's unpleasant that they started a Dutch-taught programme, and now have to take many courses that are taught in English," but also says that they have "received very few complaints."
Although she knows her Social Sciences friends share her discontent, Lindi can't say to what extent her fellow students agree with her. She says there are many students who aren't as unhappy. "Some students are happy there's more English. Others give me the impression that they're just accepting the entire UU is becoming more and more English-centred. They feel there's nothing we can do about it anyway."
University council member Floris Boudens, who as history student also took a number of Social Sciences courses, complained to the university board earlier this year about the programme that now offers nearly all of its advanced courses in English. "Many students struggle with having to switch to English in everything all of a sudden," Boudens says. "They're also seeing some teachers who can't keep up. And you can't just change the rules of the game midway through. These students started a Dutch-taught programme."
Programme director Ter Bogt has become rather annoyed in the past few months. "I keep hearing that people are asking questions about our programme and I keep having to defend myself against rumours, but no one's come to me with complaints or to ask for explanations. That's odd. We've become more international, to be able to realise international classrooms, among other reasons. Students now take four English-taught classes, and possibly a number of additional electives. But the first year will still be taught in Dutch, and students can still write their theses in Dutch as well. All other things were approved by the relevant authorities. I don't understand the commotion."
Ter Bogt can sympathise with students' worries about the level of English of teachers and fellow students. "We take this seriously. You won't hear me say everything is 100 percent all right. But we're working hard on training, and the learning effect among teachers and students is great."
The faculty board is supporting Ter Bogt. The changes in the Social Sciences programme reflect the faculty's policies of letting students get used to English by offering Minors with English-taught electives. These Minors are also accessible to foreign students, which helps create the desired international classroom. For the purpose of the quality agreements, the faculty is investing even more in improving English education and teachers' intercultural capabilities, the board says.
It's annoying to have to learn concepts or jargon in two languages
The increased use of English in study programmes is something that's being discussed among many students of the Faculty of Social Sciences. An evaluation meeting with involved students of the Social Sciences faculty showed that many students don't have negative feelings about English courses. One prerequisite is that the change from Dutch to English within the Bachelor is done gradually. There was a shared feeling that, lacking international students, it's more about 'Englification' of courses than truly making the content of the education more international. Social Sciences was mentioned as a programme in which the use of English was implemented at high speed compared to other programmes.
For the codetermination of the faculty, the feedback from Social Sciences students was one of the reasons it decided to conduct a survey among all students of the faculty. Derk te Veldhuis, coordinator of parliamentary discussion ('PoCo'): "We're hearing students say they're struggling with speaking English in workgroups, or who feel some teachers aren't good enough at teaching in English." Te Veldhuis immediately adds that he doesn't know any students who have actually filed formal complaints. "But the image remains unclear, so we want to know what students truly feel about the increased number of English-taught courses."
University council member Floris Boudens talked to a number of people and noticed that students of the various programmes at the Faculty of Social Sciences feel very differently about the use of English. He thinks it's mostly the students doing theoretical programmes that see the added value of English. Students of programmes that are more applied to Dutch practice struggle with it more. "One student at the Educational Science programme told me that she went to a Dutch school for a case but had to write about it in English. It's annoying to have to learn concepts or jargon in two languages, and to constantly have to switch between two languages. I feel these aspects should be leading when asking the question of which language is used for any given course."
Chemistry and Biology seem to be becoming more English more or less by accident
The faculty council of the Faculty of Science has also discussed worries about the expansion of English-taught education at the UU. Cause is the launch of a new English-taught Bachelor's programme called Molecular and Biophysical Life Sciences (MBLS), which will start in September 2020. There had already been a lot of discussion about the choice to use English in this new programme, but there are also concerns that the new programme will make the currently existing Dutch programmes in Chemistry and Biology 'more English'.
Faculty council member Ties Bakker: "There will be electives that could fit in both the Chemistry and Biology programmes as well as in the MBLS curriculum. For practical reasons, I fear teachers or programmes will decide to offer these courses in English."
Bakker emphasises he's not against the new English-taught Bachelor's programme, or against English-taught education as a whole. He understands the current language policy for Dutch programmes at the Science faculty. The policy assumes students will start off with a fully Dutch first year, then take a number of English electives, giving them a 'soft landing' in the second year. The third year is mostly taught in English, to ease students' way to the Master's programmes.
Bakker: "But I fear for the quality of education if students have to do the majority of courses in English from their second year on. They won't be ready for it yet, and I fear neither will the teachers. And had it been a well-thought-out and well-argued decision, I might be able to live with it. But this way, Chemistry and Biology seem to be becoming more English more or less by accident."
We're still servicing students who prefer a Dutch-taught programme
Vice-dean Gerard Barkema says Bakker's objections are premature. The MBLS curriculum has not been established yet. He says it's not certain at all that there will be shared courses between MBLS and the Chemistry and Biology programmes. Barkema does acknowledge the possibility that for reasons relating to content, logistics or pragmatism, the choice might be made to offer courses in English for both groups.
Barkema: "But if that's going to happen, I feel that will still fit within our current policies, which assume students will receive more and more courses in English as their studies progress. I think that's going well at the moment, too. And we're still servicing those students who prefer a Dutch-taught programme. The first year is taught in Dutch, and then you'll have more English. You could also think of scenarios in which we have courses with workgroups in English and in Dutch."
It's up to the programme committees whether English-taught education is desired
The discussion about English at universities is a sensitive one. Political parties are critical about the fast increase of the use of English, and even from within the university's own ranks, the media are sought out with negative judgments of the university's internationalisation policies – only recently, an open letter was published. The Education Inspection is currently studying the codes of conduct in which universities explain their language policies. Minister Van Engelshoven will include the results in a proposal for a law about language in higher education.
Compared to other universities, the UU is restrained with introducing English in the Bachelor phase. There are six Bachelor's programmes at the UU that are taught entirely in English, four programmes have an English and a Dutch track. In other cities, a much larger share of study programmes is taught in English. The UU code of conduct does say its Bachelor's programmes are, by default, taught in Dutch.
In a University Council meeting held in February, the university board said it doesn't see any major problems with the developments at Social Sciences and Sciences. The code of conduct says, after all, that programmes have a responsibility of preparing students for their English Master's programmes. In what way Bachelor's programmes do this, and how far they go, is up to them. "It's up to the programme committees to assess whether English-taught education is desired or not," said rector Kummeling.