How important is the voice of students in the municipal elections?
Photos: DUB
Fewer young voters
This month, all residents of Utrecht who are legally allowed to vote have received a voting pass for the municipal elections in the mail. This includes European students 18 and older who are registered with the municipality. The municipal council decides on local matters, such as roads, bicycle paths, theatres and libraries, not to mention social services and housing, topics that matter to students.
Students are a large part of Utrecht's population. According to the Utrecht Monitor, most people living in the city are aged between 20 and 30. Currently, 33.290 of the city's 350.000 inhabitants are students. Whether students also form a significant group in the elections is unclear, as there are no public data about this.
To be able to vote, students must be registered with the municipality. In 2020, research showed that there are some 2000 "ghost students" in town: students who are living in the city without being registered with the municipality. Since the student loan system was implemented in 2015, the incentive to register in the city where you attend university has decreased as it no longer influences student grants. This not only causes the municipality to miss out on a lot of money (as the government grants cities 1,200 Euros per student), but it also means that these students are not allowed to vote for the municipal council. Ghost students concern seven percent of the total student population.
In light of these research results, the municipality decided to inform students and raise awareness about the need to register. Two months ago, Student & Starter, a local party established in 2013 to represent the younger generation, started a campaign to call on students to register themselves, says Jeffrey Koppelaar, a current council member and number 49 on their party list. Aside from clarifying the importance of registering, the party has pleaded to make municipal registration more attractive for students. "For instance, by giving them a welcome package with small products made in Utrecht. Something that shows them: 'this is Utrecht'". So far, the party has not received enough support for this idea.
A different campaign
There are many students in their twenties in Utrecht, and the students with voting rights are numerous. Therefore, parties view students as an important voter group. GroenLinks, currently the largest party in the council, is reaching out to students in the Utrecht Science Park, according to Melody Deldjou Fard. She has been a member of the council throughout the past four years. Now, she is number 9 on GroenLinks' list. "Last week, I visited the Utrecht Science Park. I talked to a lot of employees on the street who didn't plan on voting because they had lost their faith in politics. I noticed that their disappointment was often due to national politics. But some of them decided to go vote after talking to me on the streets, which was wonderful". 
The second-largest party, D66, hopes to get a lot of votes from students, confides number 15 on their list, Daniël Nuijten. "Of course, young people often vote for progressive candidates. We are aware of those trends. We appreciate when students vote for D66, but students are a particularly important group for us because we believe in the future of their generation." To reach students, they are handing out flyers at student housing complexes. "We talk to students when we go door to door or through social media. There's been a lot of interaction. On Saturday, Jan Paternotte (the current national party leader of D66) is coming to Utrecht and we will go and talk to people at IBB."
Student & Starter also approaches students in other places where they tend to hang out, which means they have been campaigning in the evening, near bars, using beer mats. But that is not their only weapon: "We've also handed out candy necklaces for a while", tells Koppelaar. "We attached a card with information about the party to the necklaces".
The international students are a special group to be targeted. If you're registered in Utrecht and you come from an EU country, you also have the right to vote in the municipal elections. Four years ago, European students told DUB that they did not get enough information about the participating candidates.
GroenLinks, D66 and Student & Starter all say that they try to reach international students by offering them their election program in English and participating in English-language debates. "It's a growing target group", says Jeffrey Koppelaar, of Student & Starter. "They are Utrecht inhabitants and it matters to them that they are represented. Whether you have lived here for 30 years or just one, you have the same right to representation in the municipal council."
D66 wants to create more awareness among this group. Daniël Nuijten: "Few international students realise they are allowed to vote in municipal elections, so we are investing a lot of time in this. International students are being targeted on social media. We mostly try to get the message out that they should vote. That message is more important to us than 'vote for us'."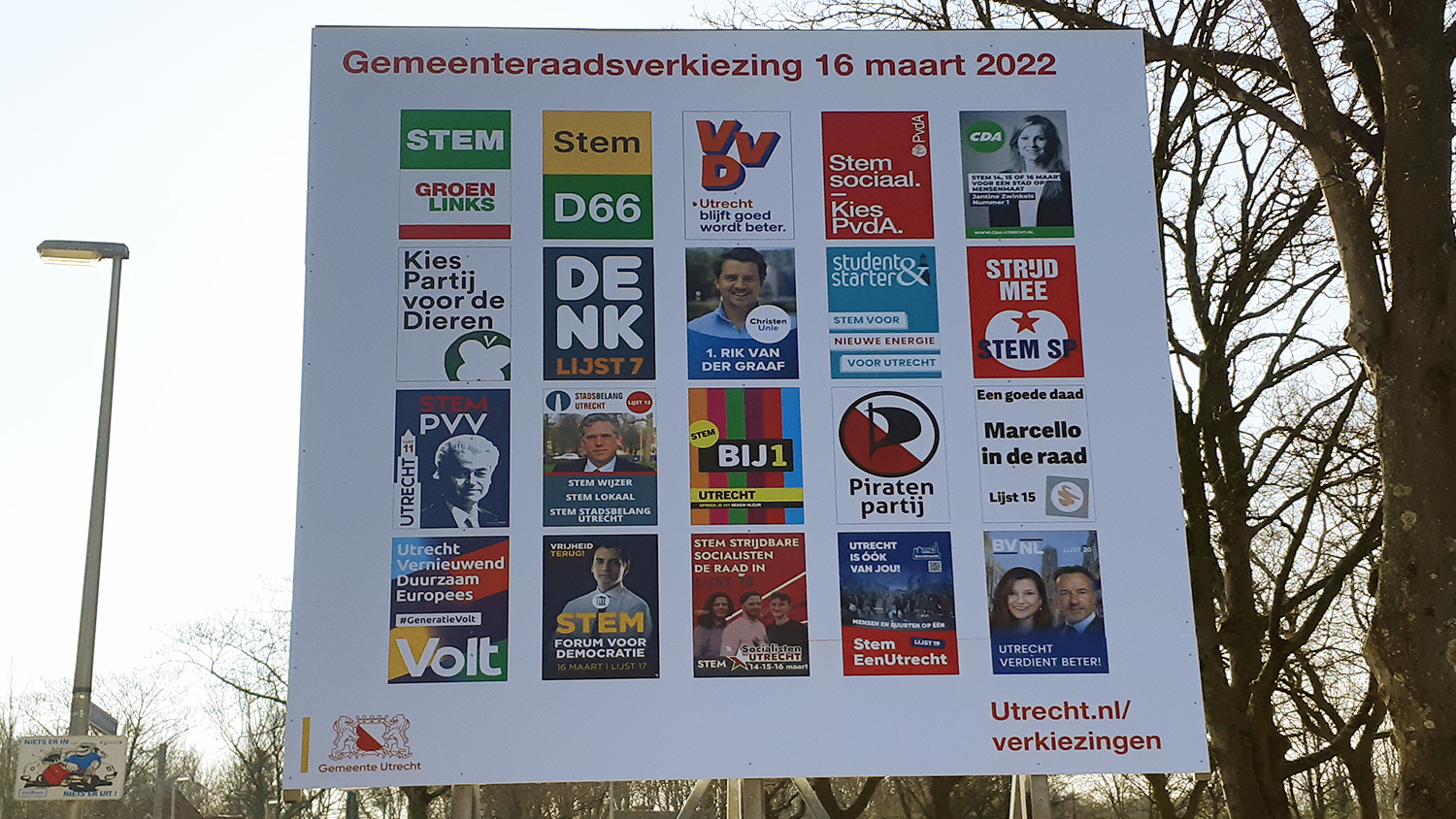 Different election results
A record number of twenty parties is participating in this year's municipal elections in Utrecht. According to a recent poll by Maurice de Hond, D66 will become the largest party (with 17 percent of the votes), followed by GroenLinks (14 per cent), and VVD (12 per cent). But the differences between them are small.
D66 spends a good deal of its election programme addressing students: the term 'student' is mentioned 38 times. In GroenLinks' programme, the word is mentioned 12 times. VVD mentions 'student' 24 times, while Volt does it twice, PvdA does it 10 times, and PvdD only once. CDA uses the term a lot, comparatively: 42 times. But of course, Student & Starter takes the lead: 69 mentions, excluding their party name.
Harmen Binnema, lecturer in Government & Policy in Utrecht, is specialised in local and regional policy. In his view, without its student population, Utrecht's election results would be very different. "There are municipalities with a lot of old inhabitants, which influences the results, with a lot of votes for CDA, for instance. If few or no students take part, the parties that are the largest now will be overtaken by others. It would be very questionable, for instance, if Student & Starter would get many votes. D66, GroenLinks and Student & Starter would feel these effects most keenly."
Binnema has identified low voter turnout in the age group of 18- to 24-year-olds, in comparison to other age groups. "But within that, there are differences between high and low education", he explains. "More than in other age groups, highly educated 18- to 24-year-olds vote."
"We expect Volt to score reasonably well. In Utrecht, at least, that will largely be due to the votes of young, highly educated people. Without their internal party struggles, their results would be even better."
A different, older municipal council
At the moment, the municipal council has no members who are also students. The odds are in their favour, however. Student & Starter has two seats at the moment, and this year, their list is headed by a student: Esma Kendis, a Master's student at the Vrije Universiteit who did a pre-Master's in Information science at UU. Binnema has seen that experience within the university can sometimes lead to a seat in the council. "On the candidate list of Student & Starter, there are a lot of students. Among them are quite a few that I've met when they were student members of the University council. So that is a very organic progression. Parties such as D66 and GroenLinks, that attract a lot of students votes, or highly educated voters, have students or recent graduates on their candidate lists."
D66 has three students on their list, at numbers 10, 13 and 14. At GroenLinks there are two: at number 7 and 19. But most of the other parties have at least one student on their list. The number of students that end up in the municipal council depends on the number of seats they win.
Different party programmes
Lastly, the election programmes themselves would differ if parties did not have to take students into account. Student housing, for instance, is among the topics to which parties are paying the most attention. But a city without students? The parties think that doesn't bear thinking about. Koppelaar, from Student & Starter: "Utrecht would be a boring city. It would suddenly become quiet, and not in the right way. Students are very important for Utrecht's identity. They must be cherished." Nuijten from D66: "I think that the city would lose some of its liveliness. We want to live in a vibrant city with tons to offer: pavement cafés, nightlife, festivals. A city should be alive and students contribute a lot to that."