Incluusion: 5 years of providing refugees and asylum seekers with access to UU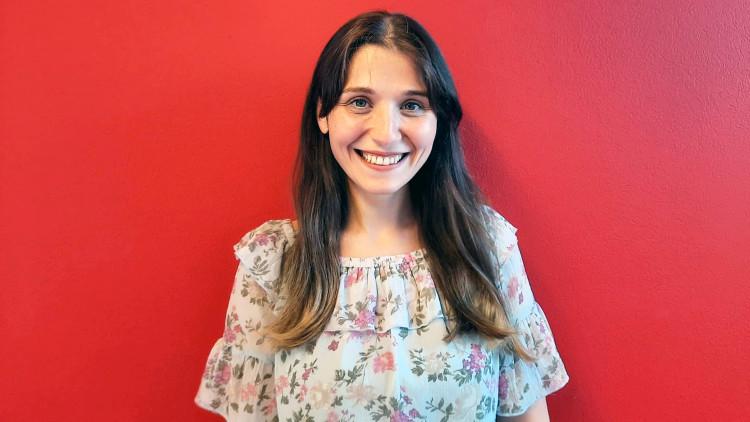 "The golden child of Incluusion." Photo: courtesy of Nour Alhalbouni
Nour Alhalbouni (31), from Syria, who has been both a student and a trainee through Incluusion, has been hired to help develop the course. "I think I must be the golden child of Incluusion," she says with a laugh. Alhalbouni studied Business Administration at Damascus University and moved to the Netherlands in 2017 with her then two-year old son.
After taking the courses Coaching and Training at UU and Introduction to Sociology at UCU, Alhalbouni was recommended to an eight-month internship in Social Research, in which she translated interviews from Arabic to English. Then, in 2020, she applied to the then just-launched Incluusion traineeship programme, which pairs refugees with suitable UU departments for an unpaid work placement lasting six to eight months. Thanks to her previous experience in marketing, Alhalbouni ended up in the Marketing and Communication team for the programme that took her to UU in the first place.
Today, she is under a one-year employment contract to help Incluusion define the content and format of the new preparatory course, which she is also going to teach. "I wish there was such a course before I started. Then I would have known what to expect."
Figuring out what the university is all about
Open to both asylum seekers and those already with a refugee status, Incluusion allows them to follow individual courses at UU, provided that they have an academic background that fits the content of the chosen course and that they speak a sufficient level of English.
Now funded partly by UU with a project-based budget, Incluusion also receives some funding from the municipality and foundations.
The idea for a preparatory course stemmed from a survey of past participants. Asked to make suggestions for further improvement, most respondents stated that they would like to get better acquainted with the Dutch university culture and what teachers expect from them. They also expressed a desire for more support regarding research skills and academic writing, as well as help with collaborating with fellow students. Not all of them are used to the work groups that are so common in the Netherlands.
"We really think it's going to help if participants come to UU before they actually get started with the courses to figure out what the university is all about, what teachers are like, and how to find their way around all the technical stuff. For instance, Blackboard and Teams are quite complex if you're not used to these programmes," explains Incluusion Project Manager Ragna Senf. "We also think that it will create a sense of community among Incluusion students. It's a first step towards a network of Incluusion members. We want to use this training to encourage them to keep in touch with each other and with the Incluusion team."
"I know it from experience," adds Alhalbouni. "In the beginning, I felt a bit like a stranger. Even though we were in an international course, most students were European. This kind of training will address the stress they might have before the course and the challenges they might face during it."
Senf: "People may wonder: what's the difference between an international student and a refugee student? They both have to get acquainted with the Dutch educational system and university culture, but international students come prepared. They chose Utrecht, they did their research about the country, and they usually share a flat with other students. It's much easier for them to integrate. Compare it to someone who's just arrived in the Netherlands and they're staying at an asylum seekers centre, sharing the same room with many other people. Imagine studying with all the chatter in different languages around you."
Their status can also make for a more hesitant attitude in class, Senf notes. "There's a lot of gratefulness , but we don't do this programme for the gratefulness. We do it because it's valuable for the university that they join our courses and because we believe in the value of education. The problem with gratefulness is that sometimes students get shy. If they don't understand something, they refrain from asking questions, because they don't want to bother anyone. They feel like it's a privilege to be allowed to be in that class in the first place."
Last but not least, the Dutch style of teaching can differ greatly from what they are used to. Alhalbouni was utterly surprised when her UU teacher let students sit on the ground to have a discussion. "I was like: 'what is this?' You could say whatever came to your mind!" Back in Syria, she used to share lecture halls with about 2,000 other students. "I really like this difference, because the discussions helped me understand the subject instead of just memorising it."
The content of the preparatory course is still under construction, but it is set to include a Blackboard training session and workshops on Intercultural Awareness. The launch date hasn't been defined yet, but Senf reveals they're planning on working on it module by module, in order to get started as soon as possible. "We'll try out a pilot of at least two modules in block 2."
Warning
Julie Fraser, Assistant Professor in the Faculty of Law, Economics and Governance, has had about a dozen Incluusion students in her Bachelor course Mass Atrocities, Human Rights and Law, and the summer school programme Introduction to Human Rights. She, too, thinks that the participation of students with a refugee background enriches the course experience for everyone.
"I really value having their perspectives, if they're willing to talk about their own experiences. I find that a huge benefit to the class. We had a student from Iraq recently and they spoke about the Iraqi government, corruption, and how they tried to shift from the Saddam regime to this new government, and then ISIS came in the picture. It was incredible to have this student speak about their own experiences and not just reading an article in class and then discussing it theoretically."
Another thing that Fraser likes about having Incluusion students in her courses is how it confronts the perception other students usually have of refugees. "My classes are typically very diverse to begin with, so Incluusion students don't automatically stand out. That's great because it shows to local students that refugees are not necessarily poor, uneducated, disadvantaged people. They can be very experienced and articulate, people you have a lot to learn from."
The only differential treatment Incluusion students get from her is a trigger warning ahead of the Mass Atrocities course. "I usually check with them because that course can be very confronting. But, so far, no one has ever given up because of the warning," says Fraser.
Senf explains that teachers are advised not to "out" a student as a refugee, but only do this with their explicit permission. "Some students don't want to be known as the 'refugee student', they're just happy to be a regular student again."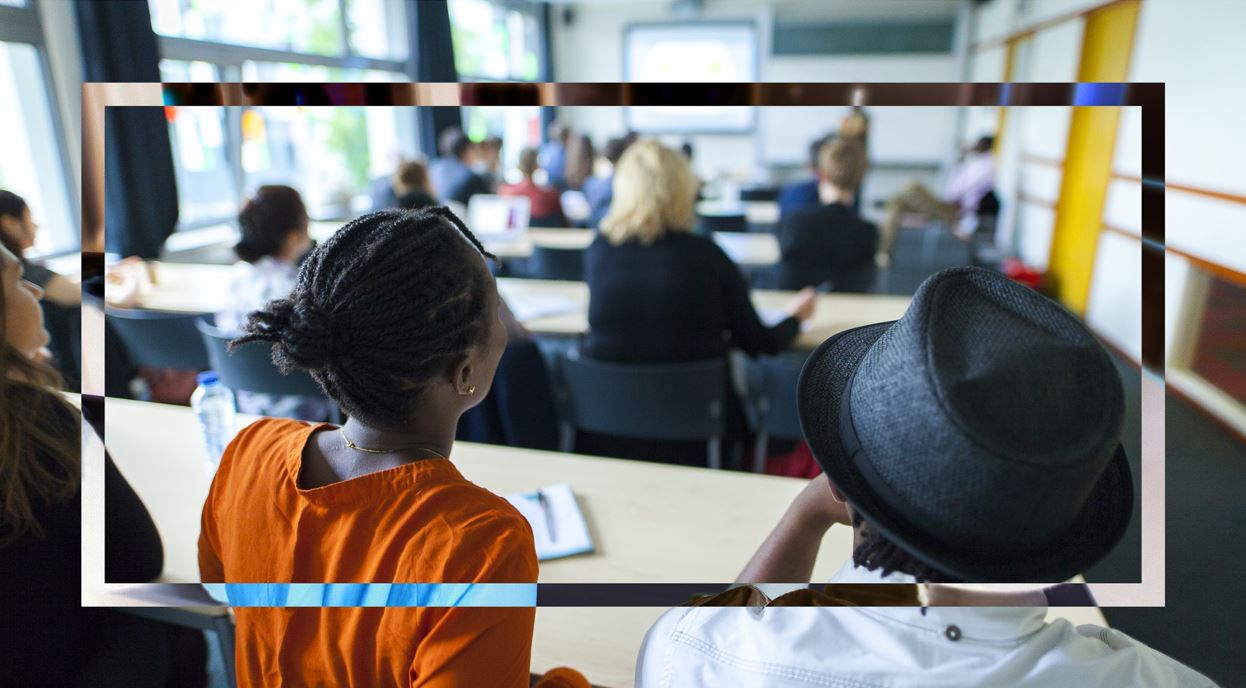 Complicated
Speaking of giving up, one of the goals of the new preparatory course is to reduce the drop-out rate of Incluusion students: around 29 percent of Incluusion participants did not finish their chosen course in the academic year 2020-2021. Among Dutch first-year students, the drop-out rate is twenty percent. "But, even if it doesn't alter the drop-out rate, it will still be valuable because it will impact the ease with which they join the courses. Besides, there are other factors influencing the drop-out rate. It has more to do with their asylum procedure than with the courses: many of the drop-outs do so because they are suddenly caught up in their procedure with lawyers, or because they are unexpectedly transferred to another asylum seeker centre," explains Senf.
The bureaucracy surrounding the lives of those "on hold" in emergency shelters, refugee centres or their new houses is also to blame for the discrepancy between the amount of Incluusion participants interested in pursuing a full study programme compared to the number of participants who actually get to do it. In the survey, 70 percent of the respondents stated that they wanted to seek a higher level of education, of whom 48.5 percent would like to do it at UU and 21.5 percent at another Dutch university. Of the 34 students that applied at the UU, only eight got accepted. Five students were declined and the majority (21) said that the procedure was so unclear or complicated that they gave up.
Senf: "as a refugee, you're not just dealing with the UU, but also with the municipality, the Central Body for the Reception of Refugees (COA in the Dutch acronym, Ed), and sometimes the Organisation for Refugee Students (UAF in the Dutch acronym). This bureaucracy can be quite confusing and hard to navigate. Other demotivating factors can play a part, too. I've heard some nasty stories, such as someone who heard from an employee of a municipality that they shouldn't be studying right now, because they don't have a job yet and they're on benefits."
The Admissions Office is working on a EU project to develop tools that allow the assessment of qualifications and experiences of refugee students. Incluusion will be working them on this project.
Eleven trainees in 2022
But not every refugee is interested in studying. Some of them would like to get a job instead. The Incluusion Traineeship Programme, launched in 2020 right before the pandemic, is aimed at this group. "Covid made it quite hard to find work placements, since everyone was navigating the first wave," recollects Senf. Even so, the pilot bore fruit: of the five participants taken so far, four now hold a paid position, of whom three work at UU. The fifth trainee has joined a Master's programme.
"The traineeships are still in the development stage. How do we make sure that we look at all the candidates in a fair way? How do we make sure that the matching process works well? Because I think it all starts with a good match in terms of workplace," says Senf, a pile of CVs on her desk. After the pilot, the traineeship is going for its second round. "Today, I'm going to be analysing over 80 applications for the new traineeship. We'll have space for 11 new trainees in 2022. We're looking into some extra budget to also take two or three trainees from Afghanistan, given the sudden rise in the number of refugees from that country."
Trainees are offered a Dutch course focusing on useful vocabulary for the workplace, and suitable trainings depending on where they're placed. "Someone working in communication might get a course about creating content for websites," explains Senf. 
Asked how she goes about selecting the candidates, Senf explains: "They must be on benefits, because we're aiming to be a stepping stone towards sustainable participation in the job market. They must also have enough time to follow the traineeship and speak a certain level of Dutch, otherwise the placement becomes too difficult. After that, we have an interview and it is really about figuring out the perfect workplace for them."
Alhalbouni, the golden child of Incluusion, remembers this process well. "What I like about the programme is that they invest in people. Senf set a plan for my traineeship, she was more of a mentor than a manager. She told me to do what I love. My first thought was 'I want to get a contract! I'll work with anything!' but she was like 'no. You have to do something you enjoy. Something you want to do in the future."
They seem to have found what makes her tick after all. "I definitely would like to keep teaching in the future. I'm really enjoying working on the contents of this course and can't wait to teach it. As a UU employee, I'm definitely going to take advantage of the possibility to follow courses and workshops. I've been reading a lot, I'm doing my best to improve myself. Even if I don't stay with Incluusion, I'll find a way to continue on this path."
Donate
Incluusion is still quite dependent on donations. If you would like to contribute to the project, you can do so
here
. The donations are used to cover travel expenses for refugee students (when the municipality doesn't do so), buying the textbooks they need to follow the courses, and funding the Incluusion buddy programme, in which UU students support Incluusion students in their studies and integration.
Advertisement