Two-thirds of board members mentally exhausted
'It's normal for everyone on study association boards to be overworked'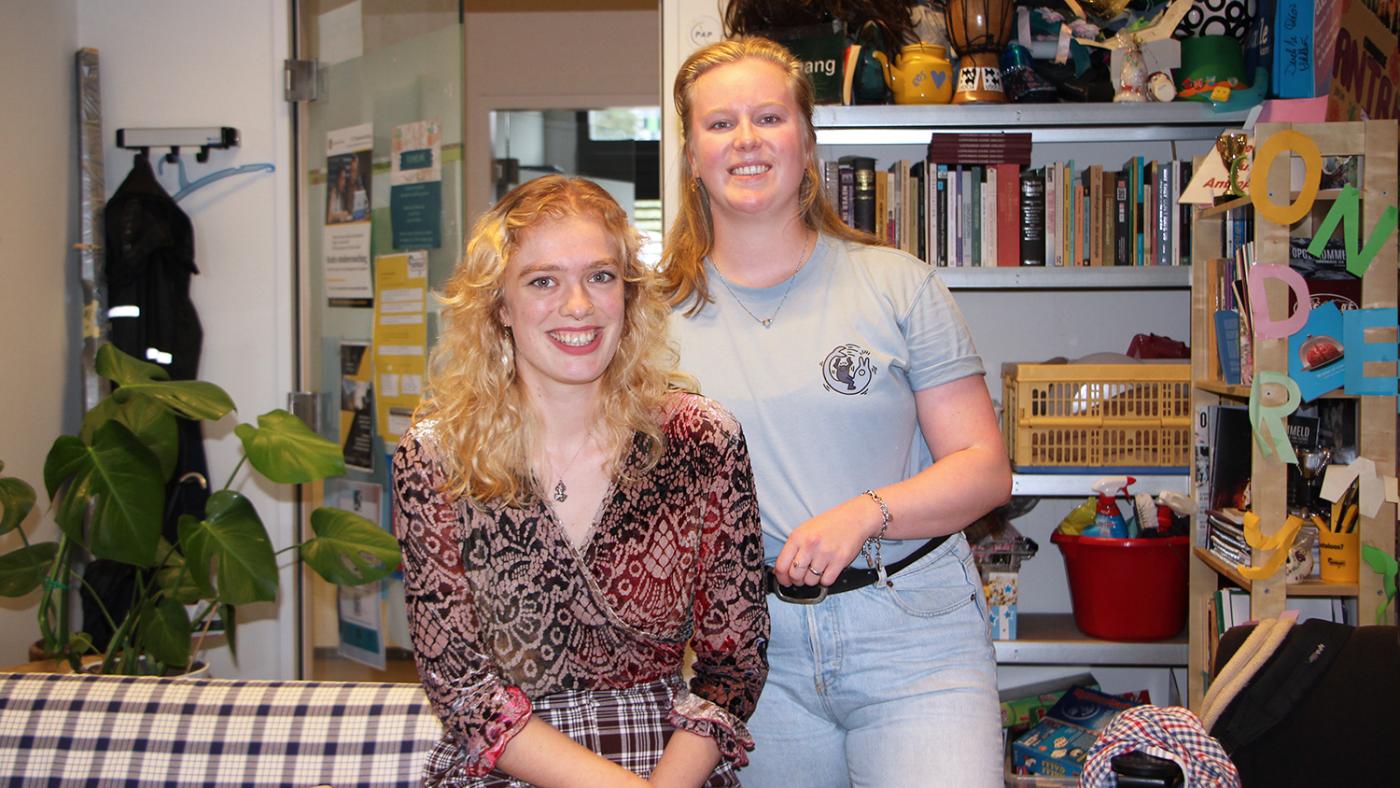 Fiona Holdinga and Emma Kroon. Photos: DUB
Students who serve on the boards of study associations are under extreme time pressure and a high level of stress, not to mention they are dissatisfied with the financial compensation they receive and the support they get from the university. In practice, they end up investing considerably more time in the position than what is agreed upon on paper. They also feel that they aren't appreciated enough and that other board members (former and current) expect a lot from them.
These are the most important findings of a survey conducted by Fiona Holdinga and Emma Kroon, student members of the council of the Faculty of Social Sciences in 2022-2023. They used their positions as members of the faculty council to analyse how much work pressure board members of study associations are under, and make recommendations to both study associations and the faculty.
Jampacked schedule
They are speaking from experience as they both served for a year as board members for Djembé, the study association of Cultural Anthropology. They started the year expecting to spend about 20 hours a week on the job, pursuing a course on the side. But it only took a few weeks for Fiona, who was the chairperson, to notice that her schedule was becoming ever more packed. "Sometimes there was so much to do that we came home at two in the morning and had to attend a meeting again at nine in the morning the next day," she recollects.
Fiona and Emma's experiences as board members prompted them to get involved with the topic whilst serving on the council of the Faculty of Social Sciences. They were helped by Toon Taris, the independent chair of the faculty council and a professor with a lot of knowledge about burnout syndrome. Together, they distributed a questionnaire to the students joining the boards of the six study associations of the Faculty of Social Sciences in 2021-2022 and 2022-2023. A total of 33 students filled it in.
Flipside
The research shows that students decide to join the boards for a year because they want to learn new things or because of how good it looks on their resume. They describe it as a valuable experience that offers plenty of opportunities for socialising. They are enthusiastic and motivated, even though the role is pretty demanding physically and emotionally.
As it turns out, half of the students who filled in the questionnaire report they are almost always physically exhausted. When it comes to mental exhaustion, two out of three respondents say they always or almost always feel that way. Roughly 50 percent of the students indicate feeling exhausted every week, while the other half feels like that multiple times a month. One out of three never feels as though they are able to find a proper work-life balance, while fifty percent report struggling with that often. 
Headaches, exhaustion, irritability, loss of appetite and insomnia are frequent among respondents, with 75 percent of them getting these symptoms always or almost always. Even when they're not performing board-related tasks on weekends, they are still stressed out about them. A little over 50 percent of respondents say they constantly felt tense or nervous while serving on the board.
Little appreciation
A significant part of respondents spend considerably more hours in the position than what was agreed upon in writing. Almost 30 percent of them spend between 50 and 65 hours a week on activities for the study association, while another third spend between 35 and 45 hours on it. Only four people pointed said they dedicated roughly as many hours to the study association as had been agreed upon. Most board members serving on study associations are supposed to work twenty hours a week. The only full-time position is to be found on the board of Psychology.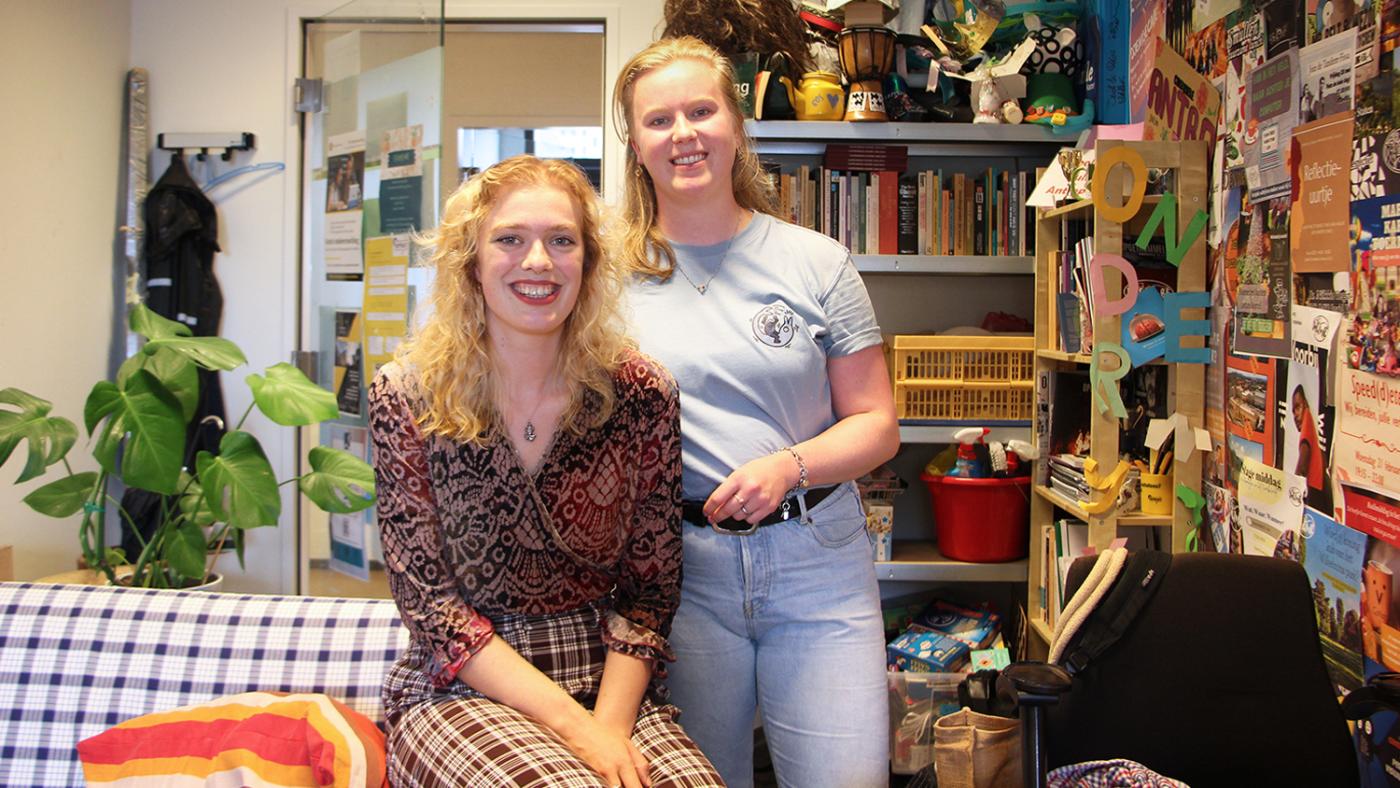 In addition, board members feel that they are not appreciated enough by other members, who, in their view, have all sorts of expectations of them. This pressure comes from regular members as well as former and current board members. But it should be noted that they also put a lot of pressure on themselves, Emma and Fiona stress. Respondents want to be successful in the position, contribute positively to the association, develop themselves personally and professionally, and have fun in social activities. Emma: "Students are hoping to get a lot out of this experience. They want to have a fun year. They are students, after all, so they want to attend all the activities and parties they're organising. That's how they quickly end up with a lot of overtime."
Own tasks
The two students explain that every board member has to make time for regular tasks that are part of the position. For example, the treasurer is responsible for bookkeeping, while the commissioner takes care of external affairs such as sponsoring. "Student board members already spend about 25 hours a week on their own tasks." In addition, they have to attend board meetings, meetings with the study programme and meetings with the committees of the study association. This means that there is a study and social events at least one night a week.
What's more, there are trips and drinks to attend with other boards. "Those aren't mandatory but board members are actually expected to attend," says Emma. Last but not least, board members are responsible for finding and inducting their successors near the end of the year.
Part of the job
Alongside their three fellow board members, Fiona and Emma tried to manage their study association as well as possible, trying to tackle the work pressure and stress at the same time. "We've been pretty strict and sometimes decided against doing something to give ourselves some air", says Fiona. "At some point, we would repeat to ourselves, like a mantra, that we're 'just' a study association. We had to do that to get through the year as well as possible."
According to Emma and Fiona, it's not uncommon for board members to drop out halfway through the year. But the worst thing is there are so many board members suffering from physical and mental exhaustion that students think it comes with the job. "It's common knowledge that everyone is overworked. It's considered normal, while really, it's not", Emma says. "You just don't notice that when you're in the middle of it."
Traditions
Emma and Fiona have a few hypotheses as to how things have gotten this far but they also have a number of suggestions on how to reduce the pressure. According to Fiona, boards tend to compare themselves to others. "You do want to know how many members attended a certain activity, compared to another association. Are we doing well? We are affected when other boards organise three study trips a year, while we're organising just one. It's so difficult to know how much is good enough."
In addition, study associations often have their own culture, with traditions that date back to dozens of years. The course of action within is passed on time and again with the induction of new board members.
Vicious circle
"Because of this, work activities seem fixed and board members feel as though they can't change much about the work pressure themselves. "They are terribly overworked but it's a vicious cycle because they induct each other," explains Emma. Things could be done differently, seeing as the university doesn't have guidelines about what kind of activities should or should not be organised, adds Fiona. "Board members really don't have to organise all this. The university just wants the study association to offer a fun ambience with some study-related activities. So, for the large part, board members are free to decide for themselves how to arrange things. But you have to be confident not to offer a study trip for the first time in thirty years."
Scrapping
To Emma and Fiona, the best way to combat work pressure is to ignite a culture change. The expectations of what a study association should be and what it should offer need to be adjusted. Moreover, students should be more realistic about what board members can organise, given that they are students too.
Furthermore, Fiona and Emma think that certain activities and committees should be simply scrapped as board members already have too much on their plates for a part-time position and the idea is for them to be able to combine the board with their studies. In their view, making the position full-time or expanding the board so that work can be delegated to more people are not good ideas.
In the report, Fiona and Emma also make a number of recommendations to the faculty board. They write that the problem needs to be analysed further, in addition to getting more recognition and appreciation. Board members should also be taught practical skills like how to better handle stress and how to recognise burnout symptoms.
One level down
Reacting to the report, the council of the Faculty of Social Sciences states that it attributes "immense value" to study associations and qualifies the work pressure experienced by board members as "a worrying development". Throughout the past year, the council has "tried to reduce their workload in many ways, working alongside the boards".
Moreover, board members should be aware of the university instances where they can go to talk about their problems. Up until now, the first point of contact was the faculty council itself but this will be done "one level down" from now on, says the Interim Dean Leoniek Wijngaards-de Meij during the council meeting that took place on September 12.
Wijngaards-de Meij also "asked department heads to take action and education directors to stay in touch with board members", talking to these students about their duties and workload. Associations already have a contact person at the Student & Academic Affairs Office, as well as a student advisor.
In addition, the issue of board members' workloads was raised when the covenant was signed at the beginning of the academic year — that's the code of conduct for study associations. Last year's student assessor Maud Lamain organised a number of training sessions looking to teach boards to cope with work pressure a little better. The current student assessor, Nienke Luijkx, will continue working on this.
Advertisement