It's time to have drinks again!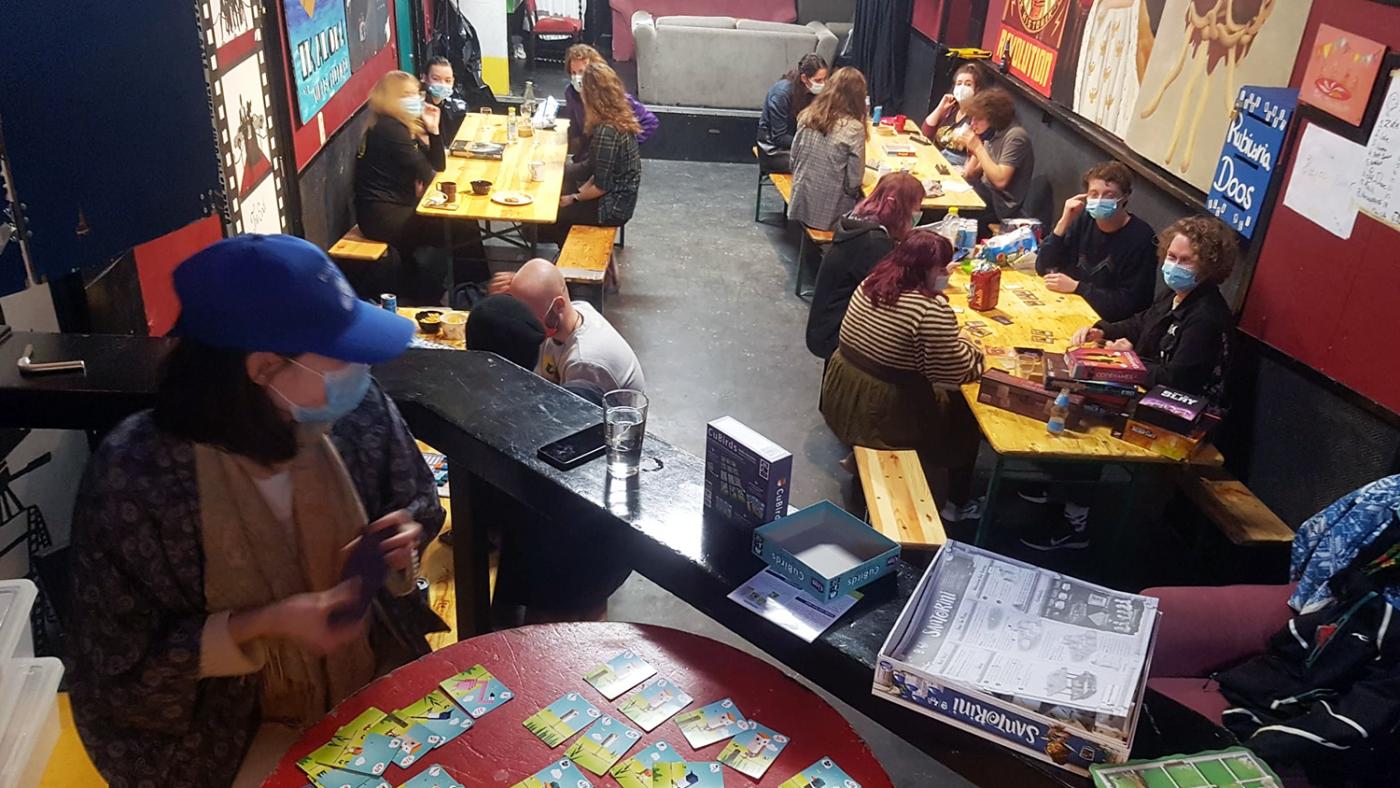 Students visited Biton during the open month activities
Student associations are relieved that they are allowed to open their doors again. Particularly in times like these, when many students don't feel comfortable in their own skin, student associations can help them feel that they belong. The associations are not pleased that the government considers them as part of the service industry, since they offer so much more than that. Their representative, the National Chamber of Associations, wrote as much in an urgent letter last week. 
---
Biton: It's important that students are able to be at the club in person
With restrictions having been eased last Tuesday, Biton was able to organize their usual drinks sessions. They were already used to keeping their distance and proceeded with their booking system of timeslots that  had already been implemented before the lockdown. Scanning QR-codes and wearing face masks when walking through the building are required. 
They have heard that members mostly socialize with other members they already knew before the pandemic. "A student association is a wonderful place to broaden your social network and get to know people with all kinds of backgrounds. Because of that reason we are especially glad that we can open up again. Before, all members knew each other. Now, it's of the greatest importance that students are able to be at the club in person."
The association has organized several different activities throughout lockdown. On New Year's Eve, they handed out food packages, which their cooking team had worked hard on for three days. Members got to chose from a drinks, dinner or New Year's celebration package. 
They added spoom (a mixture of ice cream and white wine) to the food packages, so the members could toast together at an 8:30 pm online meeting after one of their chair's gave a speech.
In January Biton used to have an Open Month, where they spent two weeks hosting activities so that prospective members could stop by and get to know the association. After an online start, Biton was able to organize in-person activities after January 14th's press conference. 
Biton doesn't have any association student housing, but they do have committees and fraternities and sororities, which also helped organize activities in the Open Month. The cultural committee organized a knitting and crocheting workshop only last week. 
---
UMTC hopes to travel to Prague
"We're really glad we get to open our doors again, but we would really like some more freedom", writes the UMTC association's board. Social connections are incredibly important. "We've noticed that students' tolerance for living digitally is running low."
Previously, members tried to stay in though by making walks or meeting up in small groups at members' homes. "Luckily, first years were able to do association stuff in September and October. That meant that they felt connected to the association and its members. Not only the other first years, but older members too. Particularly because of that time, they've gotten to know each other well and they still seek each other out often."
There are activities, such as the parties before the pandemic, that they are still not able to organize. Even with the easing of restrictions, parties are not feasible for the association to put together with the remaining rules still in place. That is mainly due to the amount of people who want to or are required to be present. The association hopes their trip to Prague later this year is able to go through, as last year's travels to Leipzig had to be cancelled.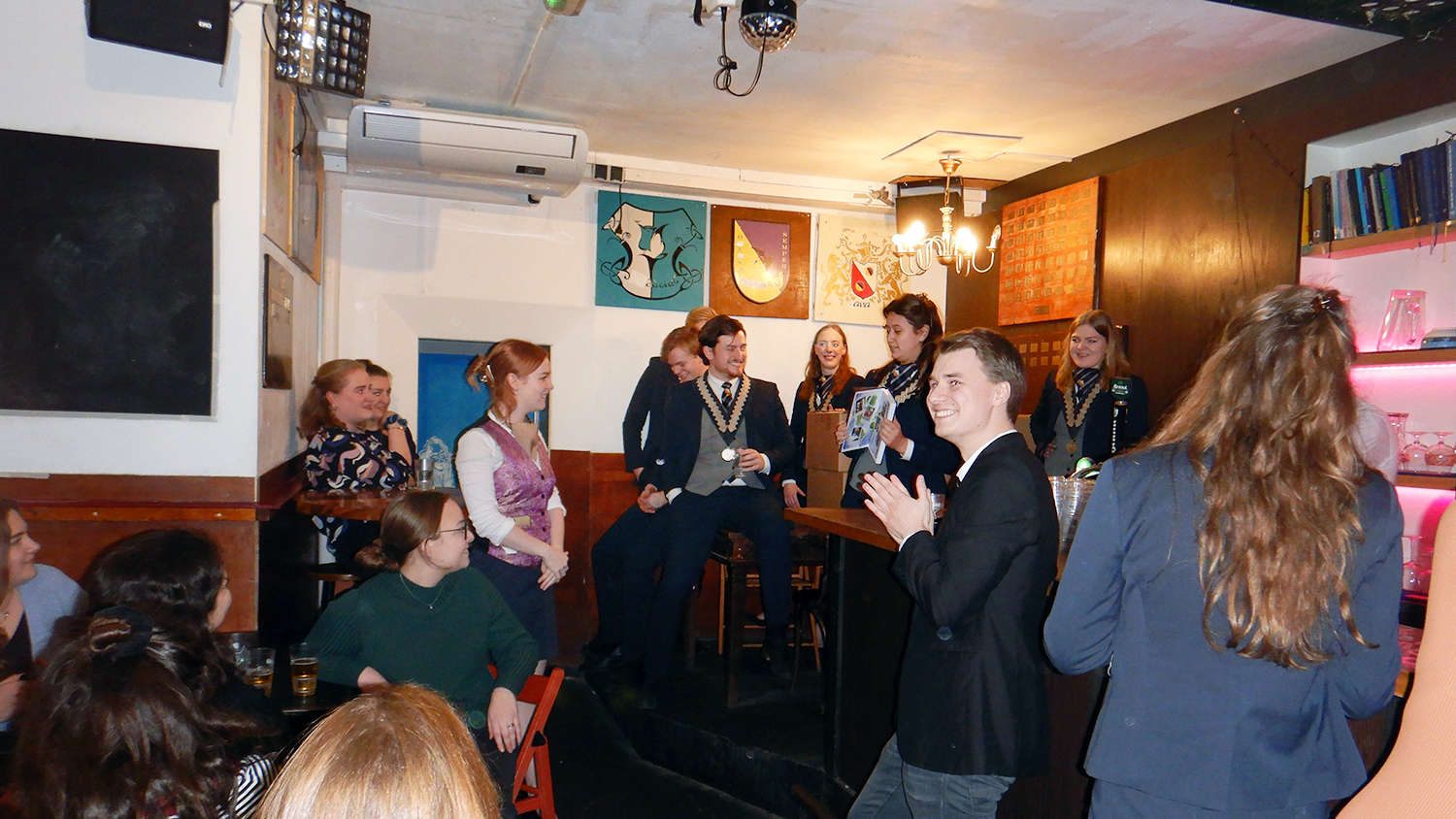 ---
SSR-NU is working on giving members a 'homey' space
SSR-NU is busy creating places to study at the club that are distanced but cannot be booked. "We want to make our place feel homey, like a living room where members always feel welcome." The board hopes that the association's lustrum celebrations this year can go ahead as planned. For many newer association members, the lustrum activities are a nice place to listen to former members' experiences at the association. 
SSR-NU's board noticed a feeling of distance with its members due to their closing, and struggled with not knowing what was going on. "We tried organizing an online activity every two weeks, but after some time we noticed that members were done with those after having had to be in front of their laptop for lectures as well: lessons and drinks from the same place." The board then organized smaller groups that went for drinks, in accordance with the restrictions that were in place at any time. 
"We noticed that the first and second years did not feel as strong a connection to the association. Many students still live at home, because moving into student housing doesn't make sense when education takes places online. It has caused them to be a lot less involved, while the association especially wants to be there for the mindset of students that are starting out." SSR-NU now wants to offer students a place they can feel at home. That is necessary in these times, with students experiencing mental health complaints due to the pandemic's restrictions on their social life.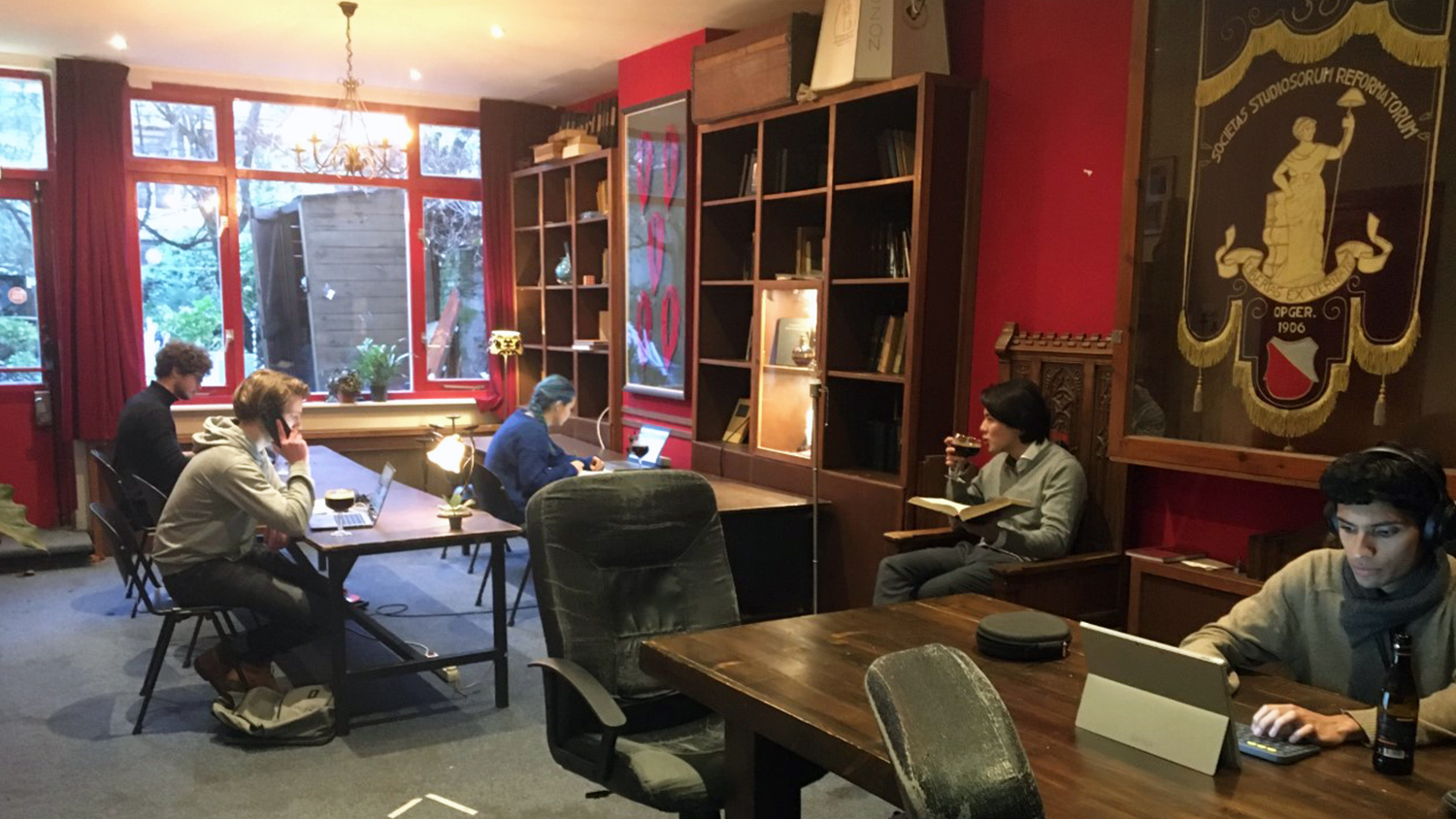 SSR-NU created study spaces at the club
---
Veritas: Silent disco and socially distanced drinks 
Veritas hasn't stopped organizing activities for members. In the past months there were three hikes that all paused at Veritas' back door, where members were able to get a drink and have pea soup and smoked sausage sandwiches. At their stop, they received a walking route that led them past some of Utrecht's main attractions. At Christmas, they received mise en place packages that the association's chef had prepared that allowed members to cook a three course meal.
The only in-person event the association allowed to go ahead was the new members' inauguration in September, though the event was set up differently than normal. This time, the year clubs were inaugurated separately, and the usual gala afterwards was dispensed with. Aside from this, there were no in person events. Now that those are back on the table, the association is organizing a silent disco, a pub quiz, movie nights and socially distanced drinks sessions at their club.
"Students are in a crucial age category for building social bonds and meeting up in person is essential. A student association fulfills these needs," the board says. Due to the restrictions that are still up, Veritas still needs to cancel or move some events because they lack the capacity for  socially distancing all of their members.  
Soon, they hope to organize events for the now-second years that missed them in their inaugural year. Those events are essential for keeping up the connections within the association. 2021's first years had a relatively normal introductory and drinks period, and where able to form their year clubs the usual way. Veritas thinks this has certainly helped with the first years' feeling of involvement.     
---
Unitas S.R. took up running to combat depression 
Unitas S.R.'s schedule is full with catch-up events to make up for the cancelled activities. Big parties are out of the question with the regulations still in place, so a gala can't happen.
The association has recently participated in the Blue Monday Run. Mind, the organization that enables sponsored activities for mental health, has organized this run for years. This year, four Unitas S.R. members participated. The association has collected 594 Euros by running ten kilometers. This is more than they had expected beforehand. "We participated in the run because we think mental health is very timely and relevant for students in general. We collected money to combat depression, mainly among young people. That way, we also tried to create awareness about the problem." The association now has an inhouse coach available every Thursday from 12:00 until 2:00 PM, with whom members can have repeat sessions to help their mental health. 
For online activities, such as pub quizzes, there is not much enthusiasm. They've mainly been helping charities through digital actions, such as the national movement to recycle beer caps to raise money for the disabled child Rayèn. 
In November they had their lustrum month. The first years were able to participate in the activities, which fostered their connection to the association. The association has asked the first years to do things with their year club, and they are called up to come have drinks in the pub. Whenever they gather there, the atmosphere feels like it always used to and the group spirit is restored.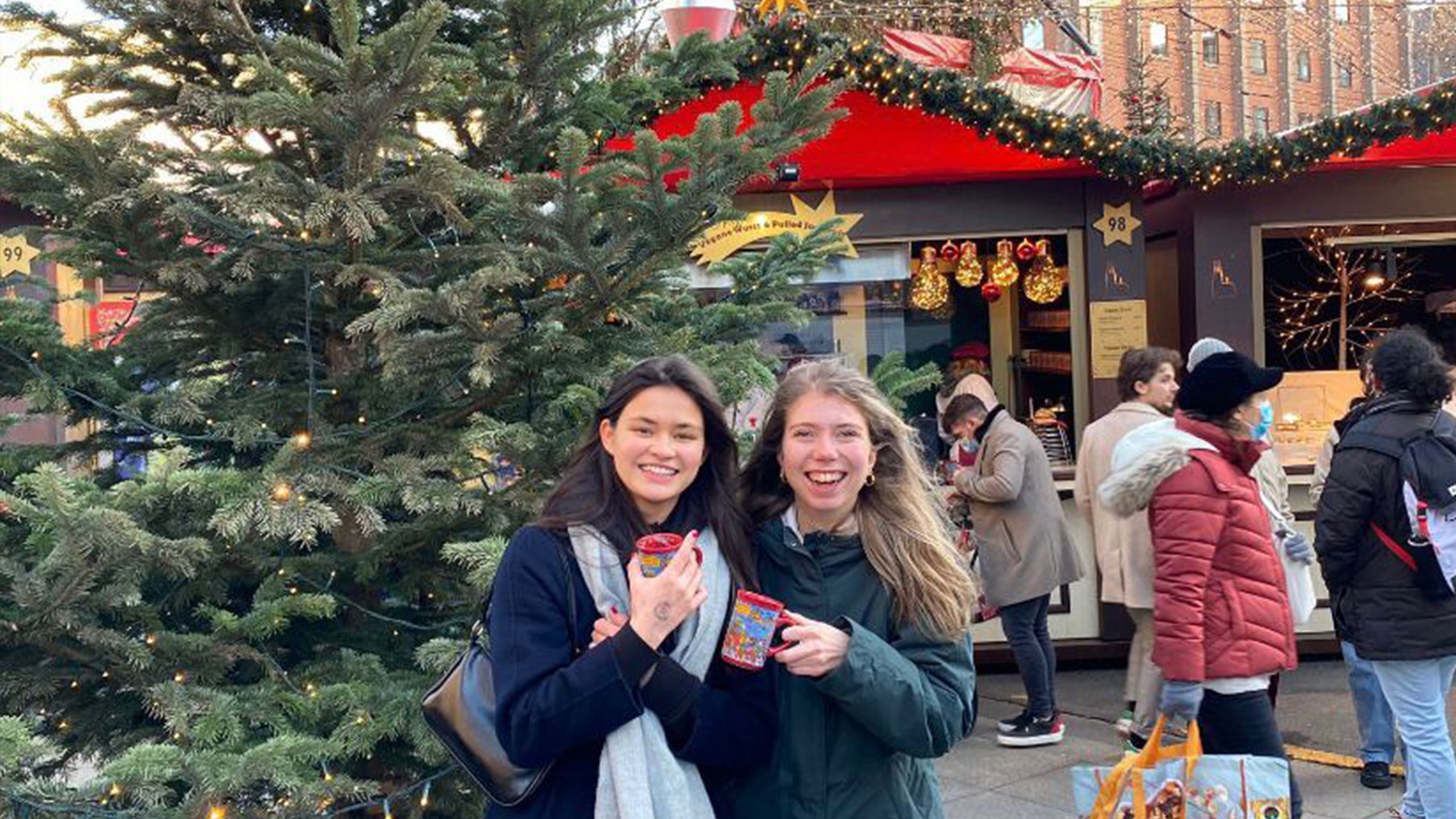 Unitas participated with the Blue Monday Run
---
UVSV is turning to charity
The members of UVSV have not been resting. Even though they have had to cancel many events, they've thought of many great alternative initiatives. For instance, they are busy committing themselves to help several charities within and apart from the association. In March, they have dedicated a week to the charity 'Free A Girl', that combats the sexual exploitation of young girls all over the world. They will organize several activities to raise money. They also want to start a campaign against excessive drug use among students, a rally against cancer together with the USC association, and a weekly city run to improve mental health among the members. Aside from that, the board hopes that the ski trip the association takes with USC in March can go ahead as planned. "Despite the recent forced closing of the Club, it's good to keep in mind how special these still free and carefree years are, and how unique the combination of studying, personal development and this much fun is."
The UVSV has invested in trying to have their first years connect with the association: when it had to close its doors, they went on organizing weekend activities for first years. And with good results: sixteen new year clubs have been established.
---
USC is doing things as usual, only sedentary
The past months it was quite and cold at the PHRM club, the central meeting place for the USC association. The board is glad the pub can open again for drinks. "The reopening of the 'Kroeg' has given membership to USC new panache. It also coincided greatly with the end of the exam period, which increased the interest in a spot to above the number of places we could offer – always a good sign."
Due to the restrictions, it's not possible to organize standing drinks, but since the association has a lot of space, considering, it is possible to give members a place to sit for a drink or dinner. "We really do everything as we used to, only sitting."
Looking back on the past few months, the board thinks there were several memorable moments, despite the Covid restrictions. The highlight was 'Movember': the month where members traditionally keep their mustaches and raise money for charity. This year they, like the Unitas association, chose Mind, the foundation that wants to improve mental health and help anyone who suffers from mental health complaints. They chose Mind because its theme fits well in these pandemic times. 
It's still uncertain what the future will hold, though the board has scheduled several big events, such as the catch-up of the annual  events that were cancelled last year. The board has warned members for a busy spring and summer, though doesn't think that will be a problem after the 1.5 years of silence. They are especially looking forward to the ski trip together with the UVSV association in March, the first time such a project has been organized. "Hopefully the ski trip will be a symbolic and celebratory end to a difficult period for all students everywhere."
Advertisement