Laura Hendricx and Samir Aynan: 'It's about making things open for discussion'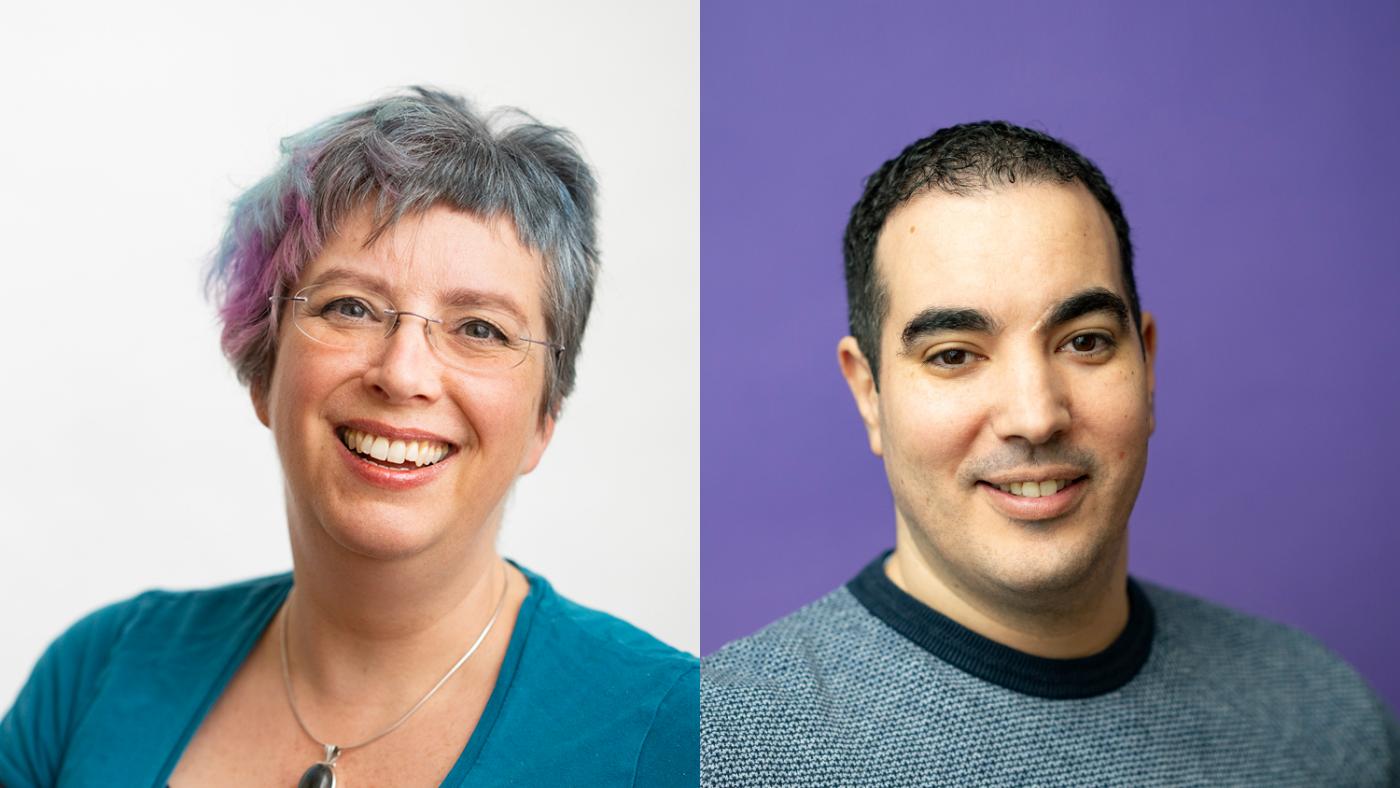 Photos: Ivar Pel
Why we're having this dialogue
Everyone should feel at home at the university: students, teachers, and support staff. There are regular discussions about keeping the support team as small as possible (20 percent of all staff at most) so that UU is able to spend as much money as possible on "the real work" (i.e. education and research). On the other hand, the support staff is necessary to make education and research possible. Their roles are broad and varied, including security, cleaning, administration, communication, and IT. In this dialogue, Aynan and Hendricx talk about how the support staff views the debate about diversity, internationalisation, and racism currently taking place at the University. Do they notice a difference between teachers, students, and support staff when it comes to how welcome they feel at UU?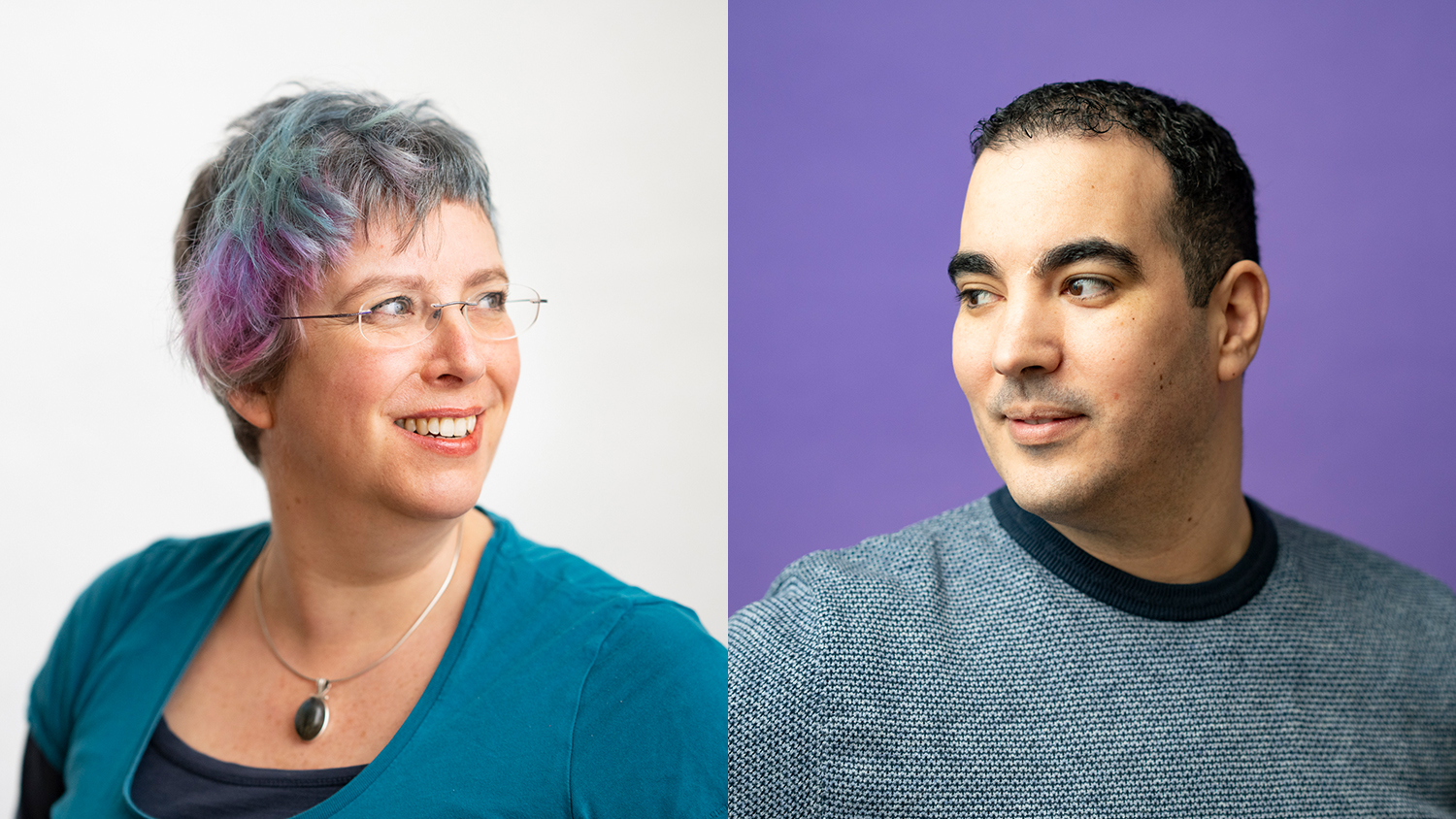 Laura Hendricx and Samir Aynan are both born and raised in (the vicinity of) Utrecht and have never felt the need to live elsewhere. They prefer to stay close to home, and like it. For Samir, the University was an unfamiliar world: his parents encouraged him to study, but he didn't go to UU. Rather, he took a Bachelor's degree in Business Economics at the Utrecht University of Applied Sciences (Hogeschool). The only time he had been at UU before getting a job there was for his sister's graduation. Before ending up at UU's credit department in 2015, he had already worked at several companies, including PriceWaterhouseCoopers, one of the "big four" consultancy firms. 
Laura is the complete opposite: UU has been part of her life since she was young. Her parents worked there, so she read the University magazine (called U-blad at the time) when she wasn't even a student yet. After secondary school, she first chose to study General Social Sciences, later switching to Philosophy. She didn't graduate from either programme, but managed to work for the university without an academic degree, starting as a secretary. Today, she's an asset manager for software applications at the IT department.
Aynan: "It's only now, as project controller at the Faculty of Sciences, that I've gained some insight into what actually happens at the University. When I first started at the credit department of the Corporate Office, I didn't get to see much of what was happening. I regarded the University as some type of big school that was mainly focused on education. As project controller, I supervise research projects, so I meet a lot of scientists who invest so much time and attention in their research. For some of them, I feel like education is something they do on the side, and their research is the most important thing".
Hendricx: "I have the same impression. I see the researcher as a type of artist: people who have turned their hobbies into their jobs, and who are completely dedicated to it. I'm rather jealous of that. We're busy too, but it's different. In my work, I handle applications for both students and teachers, trying to consider each group's specific preferences. Our department prefers to take care of these applications using fixed standards, but in practice there's a lot of need for exceptions. That doesn't fit into the method, of course, but scientists appreciate it if they're able to work better".
Aynan: "I've also noticed that I can assist scientists with certain requests, and I like doing it. But I do sometimes think it's odd that they have no idea about what kind of support services there are at the University. I'll tell them they can order something at the procurement department, and they don't even know it exists".
Hendricx: "I would also like to be more in touch with students and teachers. What do they need, really? I only speak with these groups incidentally. They often have no idea what we do, but we're still making these products for them. We'd rather make supporting services redundant, so education and research can have more space but that's not possible now".
Aynan: "My experience is that there's a nice atmosphere at the University, where I do feel at home. At the faculty, I'm closer to the primary processes. In my first job at the credit department, the distance was greater. There were a lot of people there without a higher education degree. I was one of the first ones who had studied at a university of applied sciences. But then we found ourselves in the midst of a reorganisation and the consequence was that all people who didn't have any experience with higher education had to either go to university or leave. In the end, they were replaced by people from universities of applied sciences, just like me. I thought that was rather sad as many of those employees were people who had been working for the University for quite a long time, they were really experienced. The 'highly-educated' people were in no way better than them. Moreover, most highly-educated people saw those jobs as entry-level positions, so they weren't going to stick around very long".
Hendricx: "That was definitely not good for the University in terms of diversity. These past few years, we've made systems more efficient so that invoices no longer have to be scanned, which also meant that a lot of people who did that kind of job were fired. That's policy made at the expense of the most vulnerable groups. Sometimes it seems as though the University only wants to have highly-educated, ambitious employees. Like, you can only be a good person if you keep wanting more, more, more. Some people don't feel that need, and these are often people with a clearly-defined job. They're happy with what they do, and they're often very important for the organisation because they're at the heart of it all, they're the linchpin".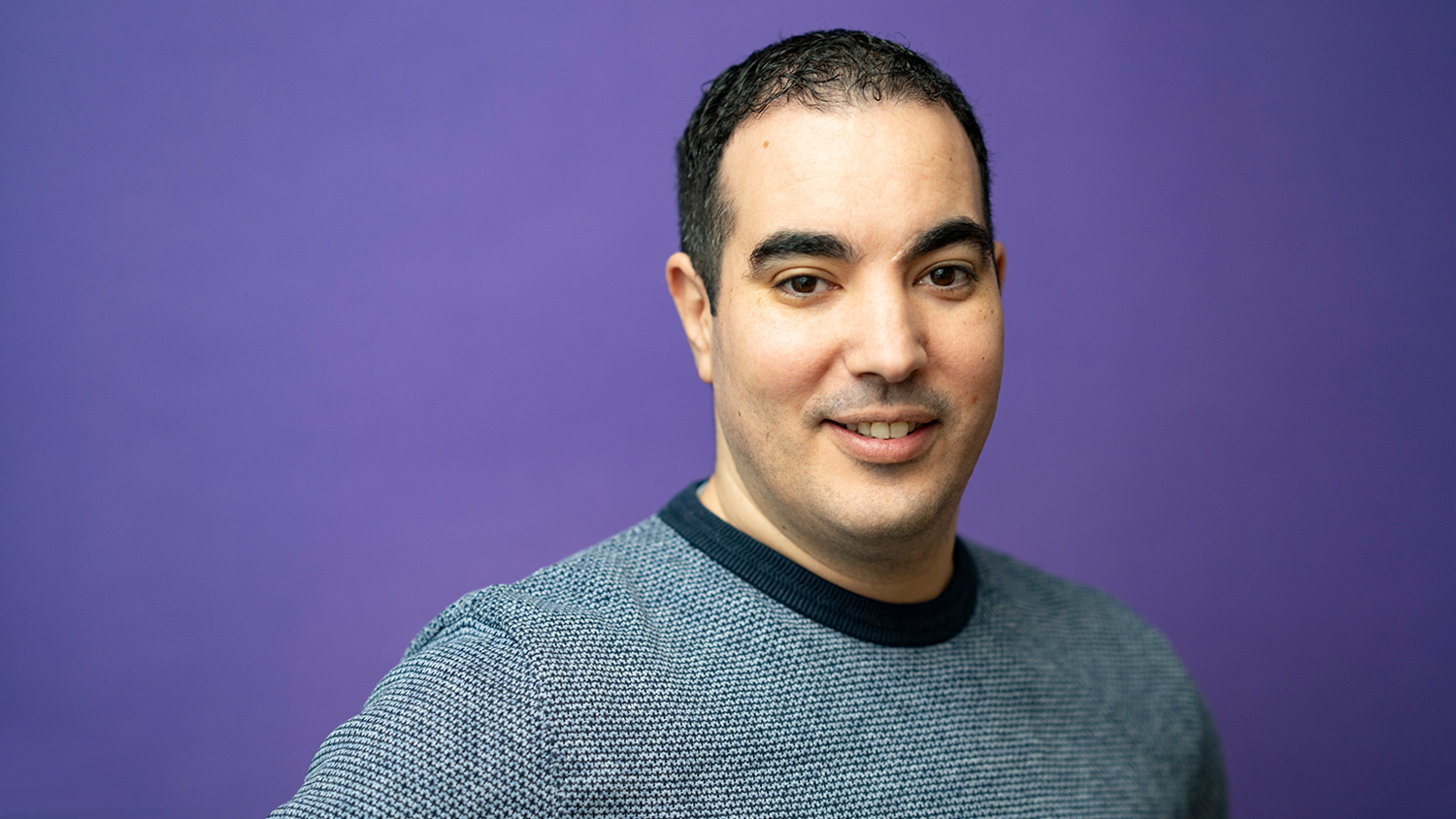 Who is Samir Aynan
Samir (37) is born and bred in Utrecht. He was always encouraged to go to university. "My parents are from Morocco, and had to work hard to build their lives here. My father didn't have the opportunity to go to school. My mother did, but didn't pursue higher education. Therefore, they wanted to offer their children what they didn't get. We were allowed to choose for ourselves what to study. My sister went to university and I chose to go to a university of applied sciences".

Samir studied Business Economics at the Utrecht University of Applied Sciences. He found it hard to decide between studying and working, so he put his studies on hold to install Internet connections at people's homes, then returned to school and later switched to a so-called "dual" programme, one that allows for students to combine work and study. That's when he joined PriceWaterhouseCoopers, attending his Accountancy classes two days a week. But that, too, was not the right fit for him. "In that position, I had to spend each week working for a different company, so I had to play cop all the time".

Because he no longer lived with his parents and had a family, he needed more money, so he went on to work as an independent contractor for a parcel service. Everything was going well when the financial crisis hit and he was no longer able to find a job. "I became more and more conscious of the fact that you've got zero chances without a degree. That's why I wanted to return to my first studies: Business Economics".

In order to make his old credits count after a four-year absence, Aynan had to work at breakneck speed, which went well. He graduated with an honours internship and received the best thesis of the year award. His first job after graduation, which he found through a recruitment agency, was not a good fit. "Then, in 2015, I saw a vacancy at Utrecht University as Financial Officer at the Corporate Office Credit Department. That meant taking a step back, but UU seemed like a nice employer". In 2019, Samir moved to the Faculty of Sciences, where he is now working as project controller, supervising the financial side of research projects.
Aynan: "In my view, it's always positive to have multiple perspectives. I see the same happening at the Faculty of Sciences, where there are a lot more PhD candidates from abroad now. That's a good thing, I see it as an enrichment. I also think it's good that people are thinking more about diversity in general. The best thing would be if diversity grew naturally, of course. I struggle a bit with the idea of consciously hiring people based on diversity. I wouldn't want to get a job because my parents are from a different country. You can call it 'positive discrimination', but it's still discrimination. I want to believe that if I'm successful, it's because I earned it. And part of that is knowing that it's all me when I fail, too. You can't blame anyone else".
Hendricx: "I don't think that's how it works, though. It's usually about deciding which candidate to hire in the case of equal suitability. In those cases, it's preferable to choose the person with a different background rather than the white man in his fifties, who's already overrepresented here. That's not favouring anyone. In English, it's not called 'positive discrimination', it's called 'affirmative action' or 'positive action'. It's action aimed at fixing decades of discrimination.
"Nevertheless, it's tricky. We're looking for new colleagues for the Corporate Office council, and we'd love to have some people there with a migrant background. When we hand out flyers, I do see some people of colour walking around the building. Should I then approach them and ask: 'hey, you're not white, do you want to join our council?' That's simplistic, not to mention 'not being white' doesn't automatically mean that that person has a different perspective.
"But ensuring different perspectives are represented is key. Take the discussion about Black Pete (Zwarte Piet), for example. I made an issue of it in the Corporate Office council, and in a blog post on DUB (in Dutch), because the University refused to take a clear stand. They just sent out invitations for a Sinterklaas celebration with Black Petes on them. There was no clear policy establishing whether that was allowed or not. Topics that deal with the theme of racism are often not open for discussion. That's why I wrote that opinion piece for DUB".
Aynan: "To be honest, I've never felt unsafe. Not at primary school, or secondary school either. I didn't pay any attention to whether or not there were other people of colour in the classroom. I did have to deal with jokes and teasing, but I always tried to be easy-going about that. The issue of Samir A and the Hofstad group [a Dutch Islamist terrorist group and its main suspect, ed.] happened when I was working at PriceWaterhouseCoopers, for example. So, whenever I introduced myself as a new colleague, people would say 'oh, so you're Samir A?' Whenever I'd deliver a package, people would ask me if it was making ticking noises, like a bomb timer, and I'd respond that it had a digital timer. You can make a fuss about that, but the PwC colleagues knew who I was, and the conversations I had with the people I delivered packages for always ended in laughter, too. So you can turn it into something positive. I have a hard time with people who quickly play the victim".
Hendricx: "But racism does exist, of course, even if it's often unconscious. Think about primary schools where children with a migrant background are often given a lower secondary school advice".
Aynan: "That's true, and it's something we have to watch out for. When my children went to kindergarten, they were allowed to go four half days a week rather than the regular two because I have a migrant background and the kindergarten assumed they had a language deficiency".
Hendricx: "I do hear a lot of bad jokes at work. About gay people, or transgender people, or people with a migrant background. There are sexist remarks being made about women, who are seen as lesser humans by some. I'm so done with all of that, so I always say something when I hear this kind of comment. It's not always appreciated but, well, that's fine by me".
Aynan: "I must say that sometimes I think we're taking things too far. When I hear about the discussion on gender neutrality and gender-neutral bathrooms, for example. Why is that necessary? People already have the right to be who they are. I'm sorry if I'm offending anyone, I'm not trying to. These are modern times, but how far should you take these things? There are more important themes to worry about".
Hendricx: "But people should be able to decide for themselves whether or not they deem a certain theme important, right? I was once at a meeting of UU co-determination councils, and someone said they were not allowed to say anything anymore these days. 'Who says you're not allowed?' I asked. He couldn't say. It was 'a feeling'. And how could he tell? From the responses he gets. 'Oh', I replied, 'so you are allowed to say everything you want, you just don't like it when people respond to it. Well, deal with it'".
Aynan: "Yes, it's true that people can decide that for themselves. Just because I don't see it as a problem doesn't mean it's not a problem for other people. But there are some sensitive issues. If you've got an additional gender-neutral bathroom, that's fine. As long as I'm not forced to use it. I don't mind taking it into consideration. It's fine if someone indicates when they don't like something. I don't want to offend anyone, but if I don't know that something hurts someone, I can't take it into consideration either. It's about making things open for discussion, and being considerate of each other without forcing the other person to share your opinion".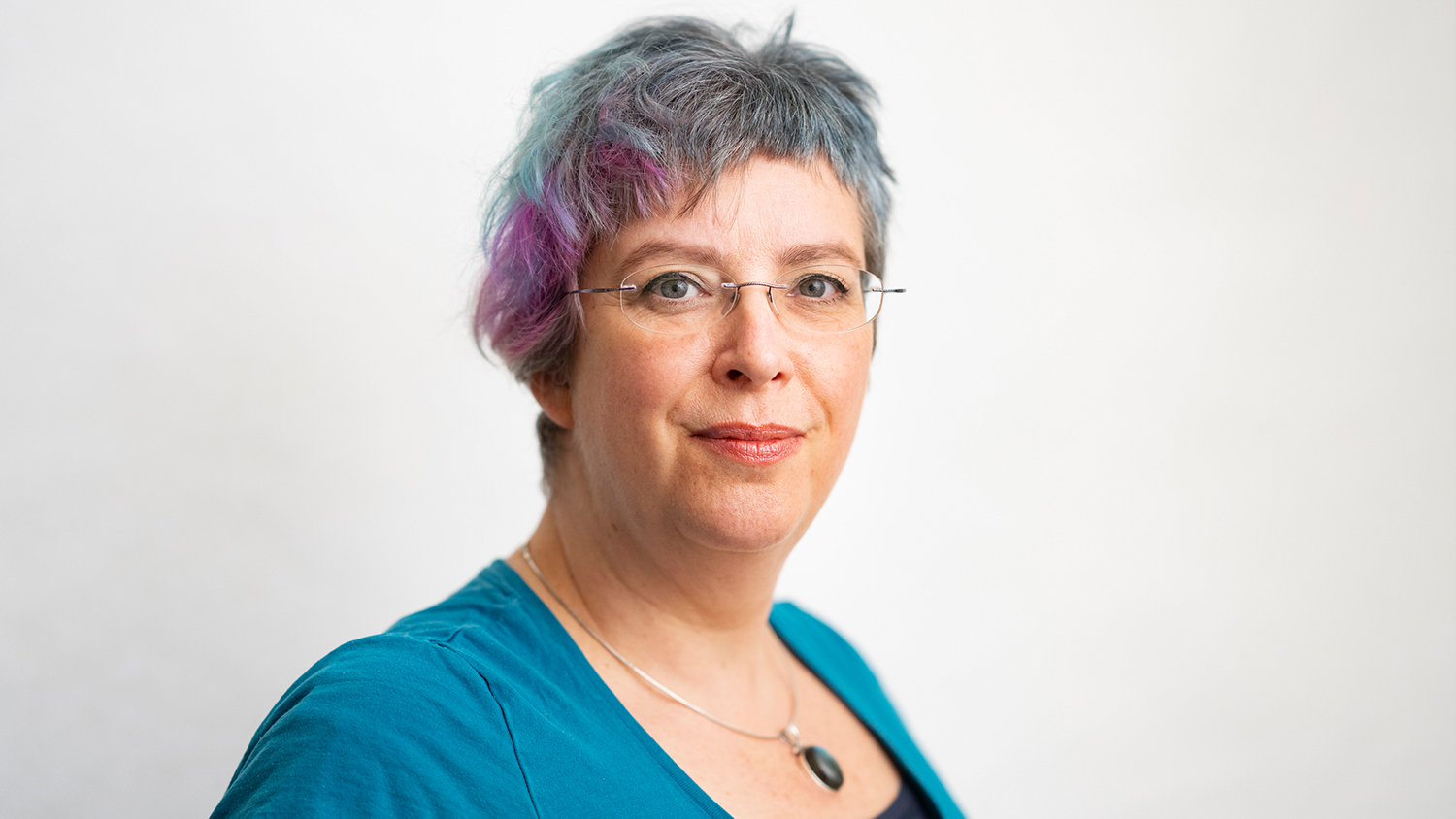 Who is Laura Hendricx
"It was clear to me my whole life that I'd go to university", says Laura Hendricx (48), who was born in Utrecht, but grew up in De Bilt. Both her parents went to university. On her mother's side, going to university had been the norm for several generations; as for her father, he came from a shoemaker's family. The schools Hendricx went to were very 'white': De Werkplaats, in Bilthoven, and the Jordan Lyceum. "The final phase of secondary school wasn't easy. I was kind of a problem case, and did my own thing. But to everyone's surprise (including mine), I did manage to graduate".

She went on to study General Social Sciences at UU – a brand new programme at the time. "I was curious about the psychological side of people, and how that works in groups". But it wasn't a good fit, and she switched to Philosophy, a programme that was housed in the Administration Building back then. "I do remember that we were allowed to use the computers in those rooms, and could send e-mails to the few people who had an e-mail address of their own".

She didn't graduate, however. Hendricx became more and more interested in creating websites, with which she helped other organisations such as the Unemployment Union where, at one point, she worked four days a week.

Hendricx got her first job at UU through her mother, who worked there as a secretary. She started working at Chemistry. "I immediately started to get involved with everything. By starting a secretaries' meeting, for instance, and then establishing a university-wide network for secretaries. I also created a website, so information could be shared more easily".

Her knowledge and interest in IT helped her score a position at the University's IT department. She now works as a software asset manager, meaning she's a policy officer with regards to software applications. She supervises the processes, takes care of the communication, and keeps an eye on the licenses. She's also in the co-determination council for the Corporate Office. In the most recent national elections, Hendricx campaigned for political party BIJ1.
Photos: Ivar Pel