One of the most famous faces of the Utrecht Science Park
Mo Korkmaz, twenty years of being the 'Kebab guy'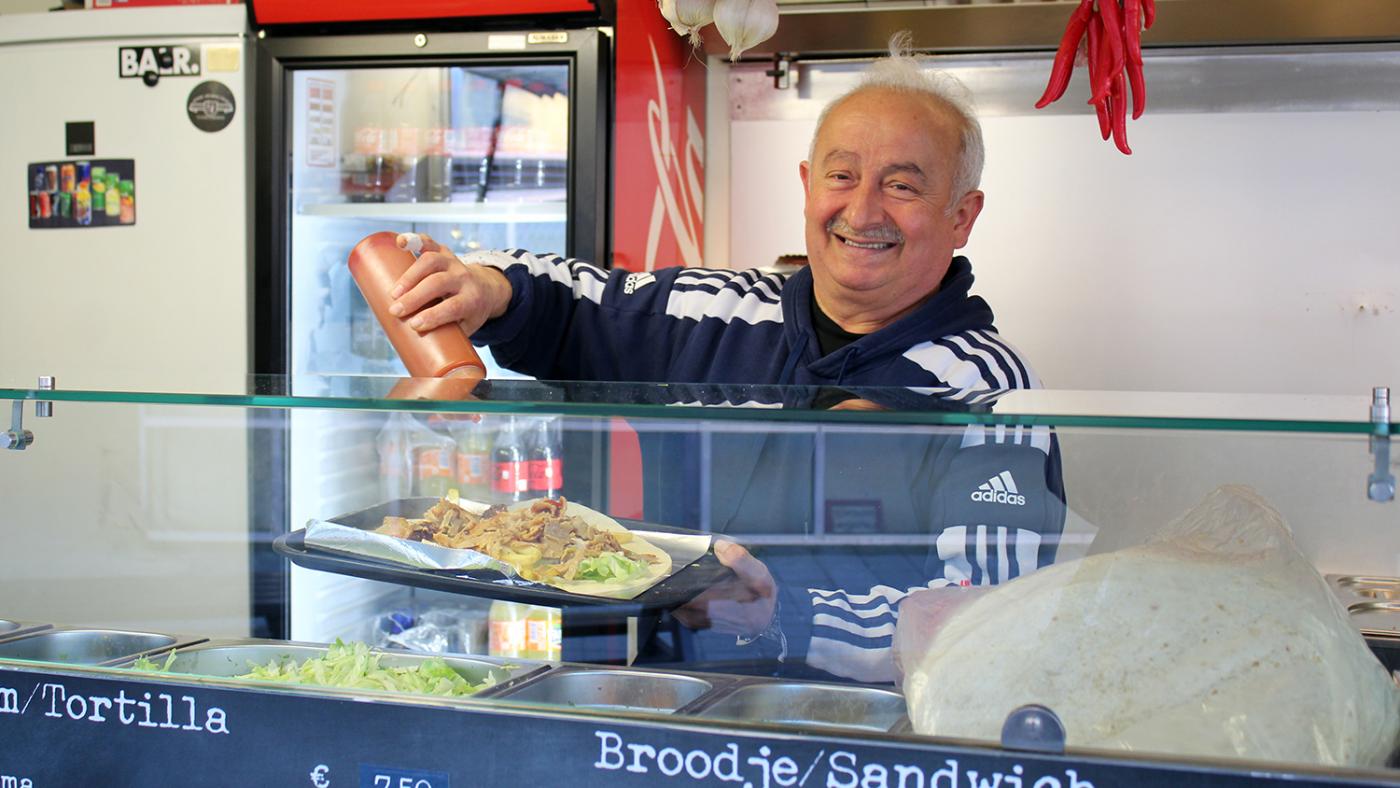 Photos: DUB
The past few weeks have been pretty hectic for Mo Korkmaz. The contracts of the food trucks at Utrecht Science Park (USP) are expiring in March, so it wasn't a given that Mo would be able to keep selling his delicacies in "his dream spot". His future depended on the outcome of a poll of students and employees who frequent the Utrecht Science Park. From the six food trucks on the running, only four would get a spot.
The winners were announced last Tuesday and Mo & Zonen was one of them, which means he will get to stay on campus for the next two years. However, when DUB spoke with him, the results weren't in yet. The poll was still online.
That's a great source of stress, admits Mo. "It's hard. I don't even want to think about what will happen if we don't get chosen. And it would be even harder for my children. They have a great life now but, if we're not chosen, they would suddenly lose their income. That's why I'm telling all my customers to please vote."
As the name suggests, Mo & Zonen is a real family business. One of his sons works in the truck alongside Mo, while the other one takes care of logistics and his wife helps with the daily preparations.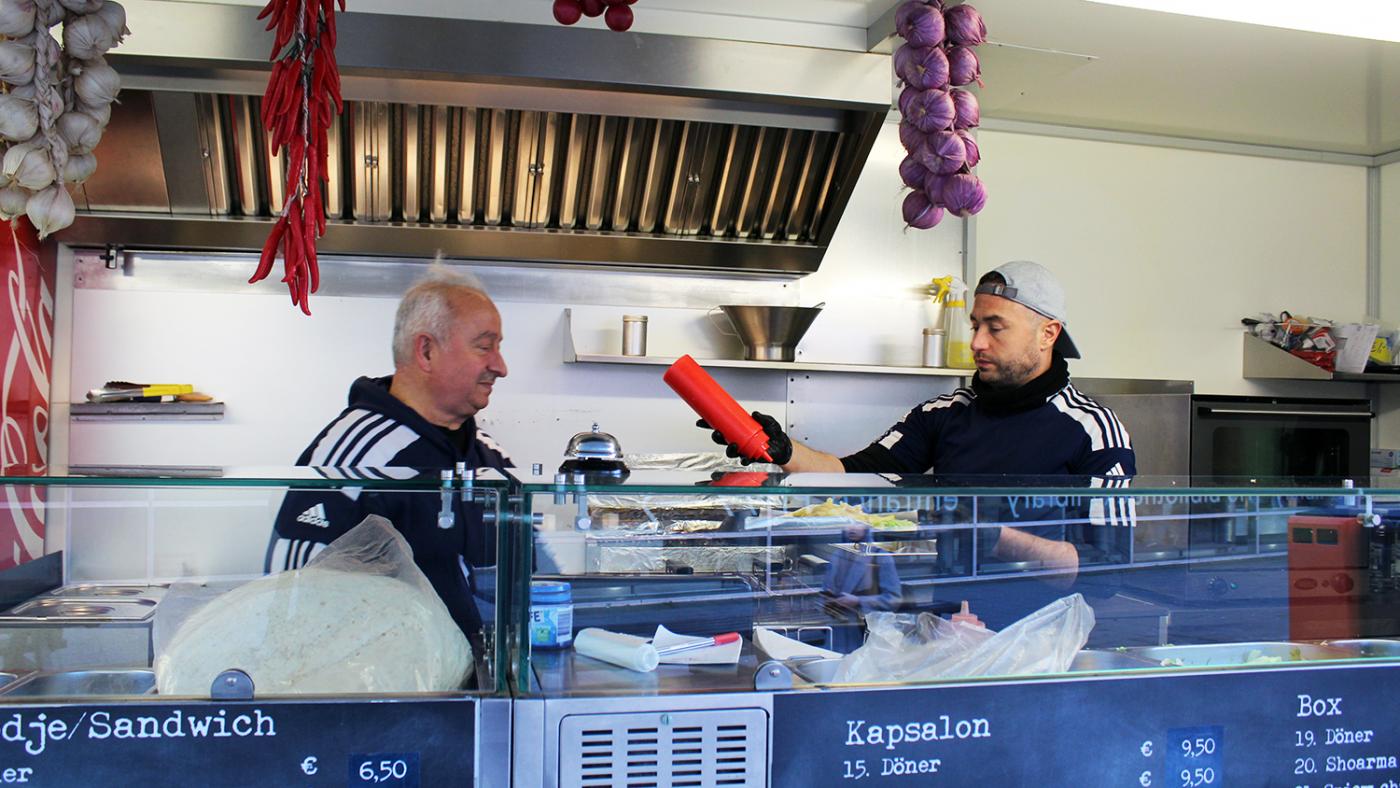 Just Mo
Things were pretty different in the early days. Mo started all by himself, as "just Mo," with a 1.5-meter-long truck. The son of a Turkish migrant worker, he moved to the Netherlands at a young age. He says he comes from a "studious family". He was a good pupil himself: after graduating from secondary school at VWO level, he studied law at the University of Amsterdam for a while.
A few years later, he obtained a Bachelor's degree in Social Legal Services from Utrecht University. With such a background, one wouldn't expect him to become the "Kebab guy" on campus.
Mo disagrees. "People often ask me: 'You're an educated guy, why are you doing this? But I don't care about that. You have to follow your heart. I'd rather look people straight in the eye than only look at the money. I really love this work. Sometimes people arrive here all grumpy and leave with a smile on their faces. I really get a kick out of that."
He discovered his passion a long time ago, at the market. At age thirteen, he was already selling shawarma sandwiches on Queen's Day.  He also had a side job at a greengrocer's stand. When his teachers found out that he was still selling shawarma and kebab next to his Bachelor's studies, "they got the ball rolling." He got a license for a spot on campus under the name Mo's Shoarma. It started out small, with just one day a week.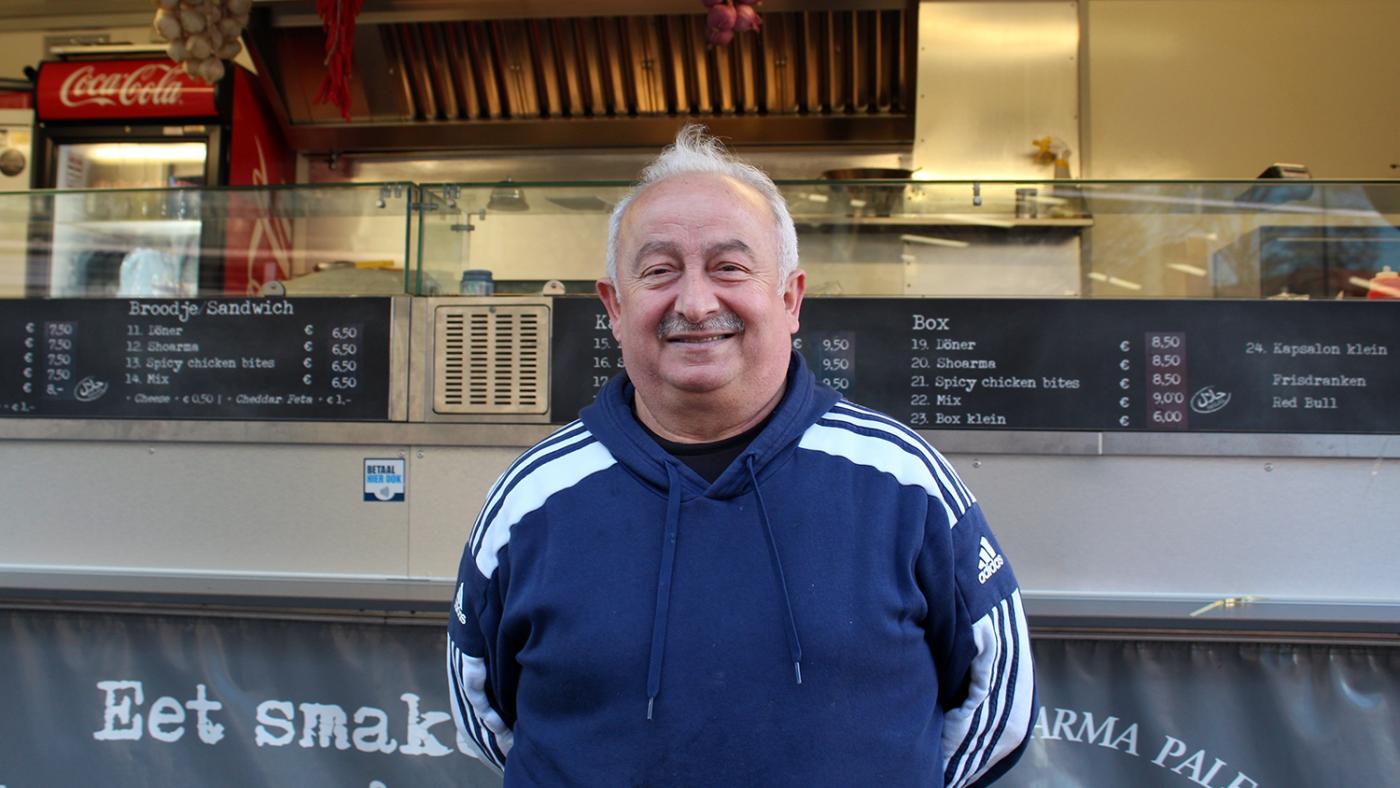 Growing up together
A lot has changed since then. "De Uithof was still a construction site back then. All kinds of entrepreneurs started businesses on campus around that time, and I saw them leave one by one. But I was doing so well it grew into a full-time job. We have been working here with the whole family for more than ten years. The truck got bigger and bigger too. I was able to buy my dream truck four years ago. It looks beautiful and it's also durable, with state-of-the-art appliances. I'm really proud of it."
"De Uithof and I really grew up together. I love that it's so multicultural. Back in the old days, I saw four Muslimas here, it was an exception. Now almost half of the people speak English, so I too am learning," Mo says, grinning. "Meanwhile, we are really making bling-bling. My children and I can all make a good living out of it. Isn't that beautiful?"
One of the things Mo is most proud of is reinventing himself. "I used to wear a t-shirt that read 'Mo's Shoarma' with a little lamb on it. Now I only sell vegan shawarma, from a fantastic supplier. I still think 'wow' when a taste it. Thirty years ago, I could have never imagined that, I really made a complete turn there."
A significant part of his product range is now vegetarian. Mo has developed his own recipe for vegetarian Turkish pizzas, for example. "Few people know this, but Turkish cuisine has so many delicious vegetarian and vegan dishes. One day, if we have to be completely vegetarian, I could make it work. Turkish food doesn't have to be unhealthy either, contrary to what many people often think. It all comes down to the quality of the ingredients and the preparation. Right now, I'm two or three years ahead of the demands set by the USP foundation for food trucks. I think that's bling-bling too."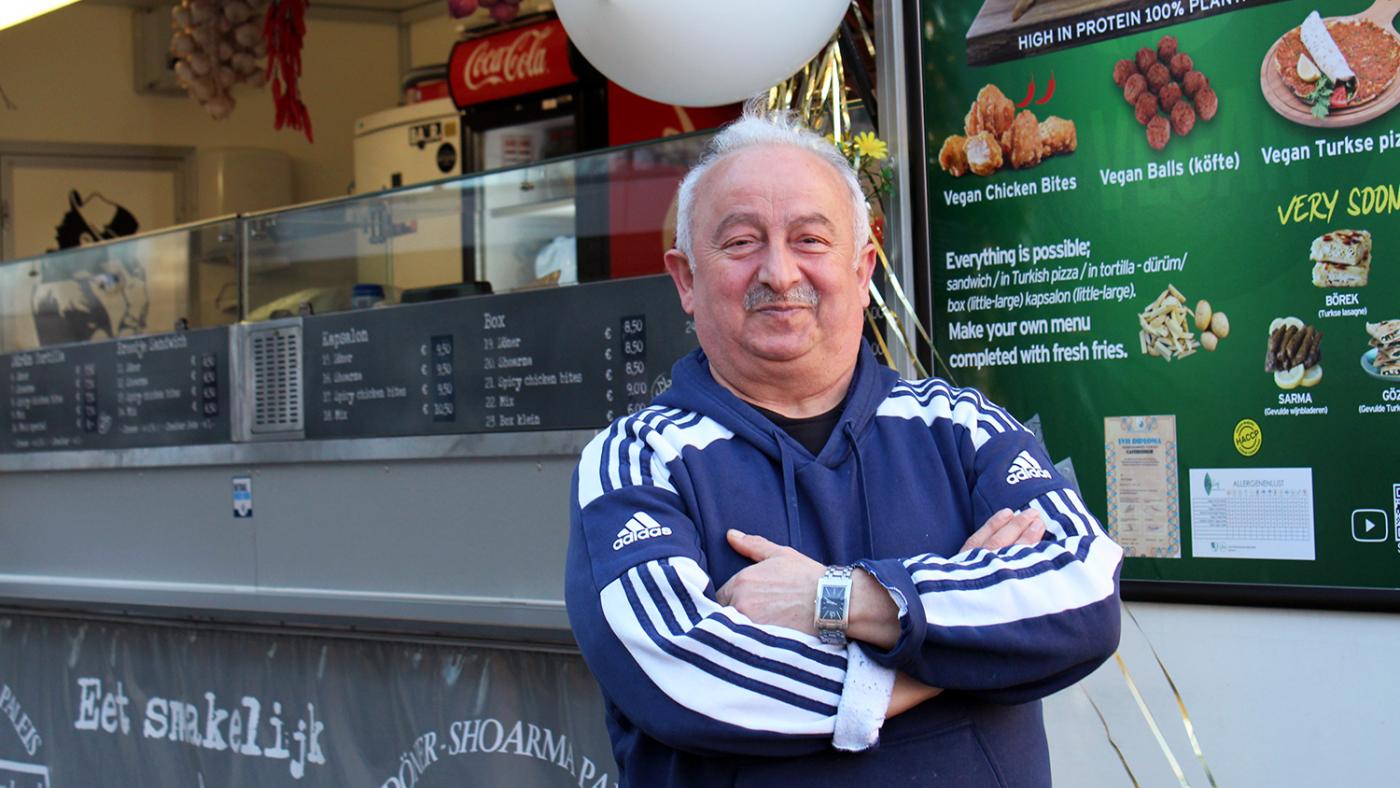 Seven lean years
Even so, the past few years have been tough. In 2016, his youngest son, Feyyaz, died from a heart attack at the age of 22. "This turned my whole world upside down. Luckily, I'm a religious person. I'm convinced that we've been a good family for him, which helps. God created him and God took him away. That's how we say that. But you never forget something like that, of course." When Mo rolls up his sleeve, his underarm reads 'Feyyaz' in cursive letters. He got the tattoo over the Christmas holidays. "My son already had one, a very big one. I wanted something like that too. I actually wanted it for seven years but never got around to it. A week ago, I finally had it tattooed. This will now stay with me forever."
Today, Mo is at peace about Feyyaz's passing. There were other things making the past few years more difficult, something he's very frustrated about. Namely, the fact that the Utrecht Science Park gradually became a popular spot for food entrepreneurs. Since 2015, many other food trucks started operating in the area as well. 
This didn't have to be a problem at all, says Mo. "We're no competitors here, as long as we complete each other. That's also what the USP foundation stated in its plans. But then things went sour. There's been a lot of miscommunication. I used to sell fresh French fries and falafel but, due to the arrival of these new food trucks, I could no longer do that because it was part of their product range too. Something like that is a financial disaster. What hurts me the most is that there was no clear communication about this at all. I'm not the only one, the owner of sandwich store Eat Out was in trouble too as he was selling virtually the same things as Broodje Ben. I don't like working like that. I'm not a difficult person at all but things like that really make me angry."
The future
"But, after seven lean years, come seven fat years," Mo declares with a smile. "I really do believe that." He hopes to get closure from this stressful period after the poll's results. He didn't even have time to celebrate the twentieth anniversary of his food truck as his priorities were elsewhere — he had enough on his mind already. "I have wonderful plans for when this storm has passed. Things are just a little busy right now."
Every weekday, he leaves home at 9:00 am. First, he drives to the greengrocer's and the Turkish bakery, and then he sets off for the Science Park. His food truck starts operating at 11:00 am. Usually, he doesn't finish cleaning up until 8:00 pm. He's back home by nine. Long days, so he agrees. "But who cares. if you love your work, it doesn't matter."
Mo used to be a soccer coach. He even played soccer and handball himself. He also loves to swim and cycle. But, lately, he hasn't gotten around to it. During the weekends, he has to wash his truck and get ready for the rest of the week. He's looking forward to having more time off and exercising more, as soon as he can enjoy the calm after the storm. "I can see the sunshine. The best is yet to come."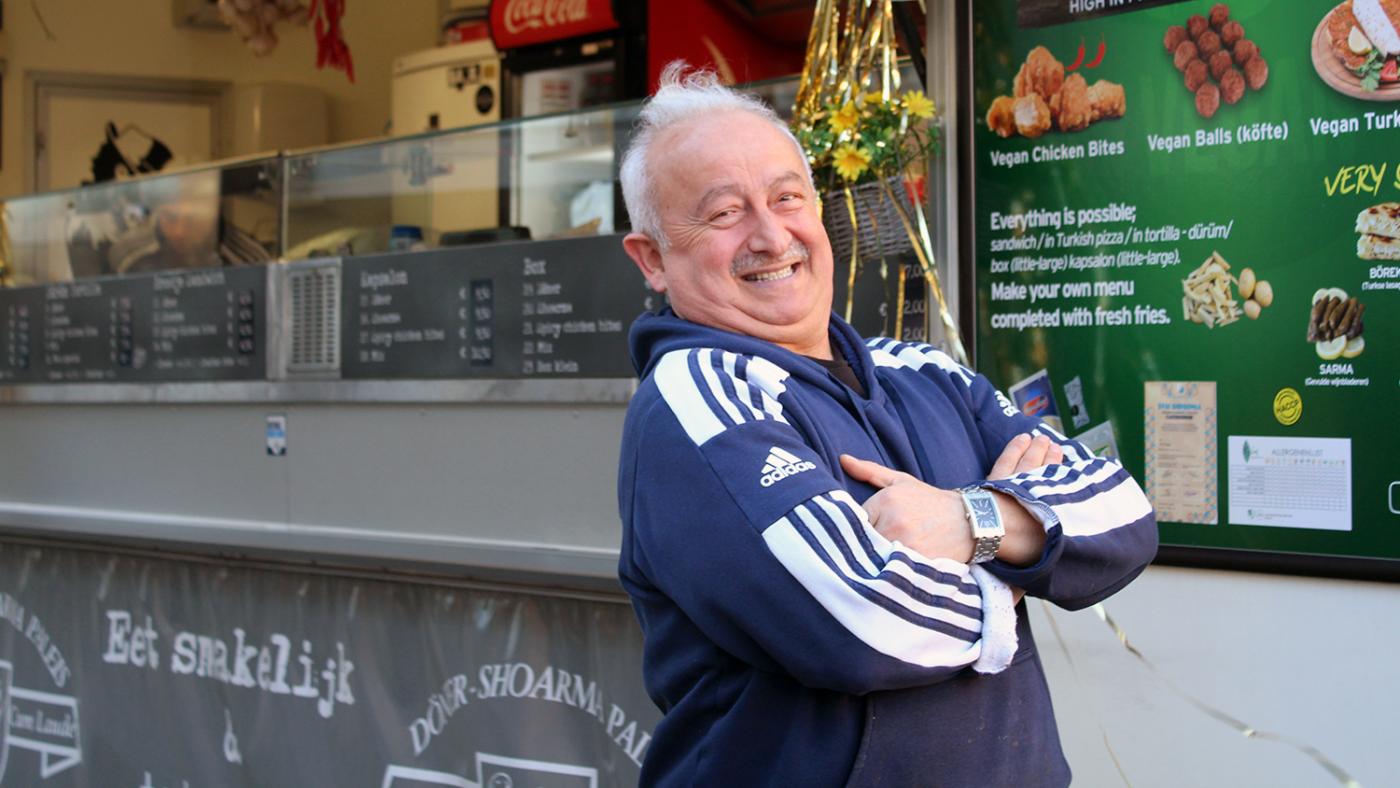 So, Mo sees a sunny future, but that future has to take place at the Science Park. "This place is sacred to me, you know. Or does that sound over the top?"
No, It doesn't. It's clear that Mo really has a passion for his work and the Utrecht Science Park. When I ask him how long he hopes to keep working here, the answer is obvious: "My whole life." Full of enthusiasm, he tells me that he's going to be selling sarma and stuffed vine leaves soon. "Do you know gözleme? Turkish pancakes? Oh, they are so delicious!"