More anonymous testing, but no obligation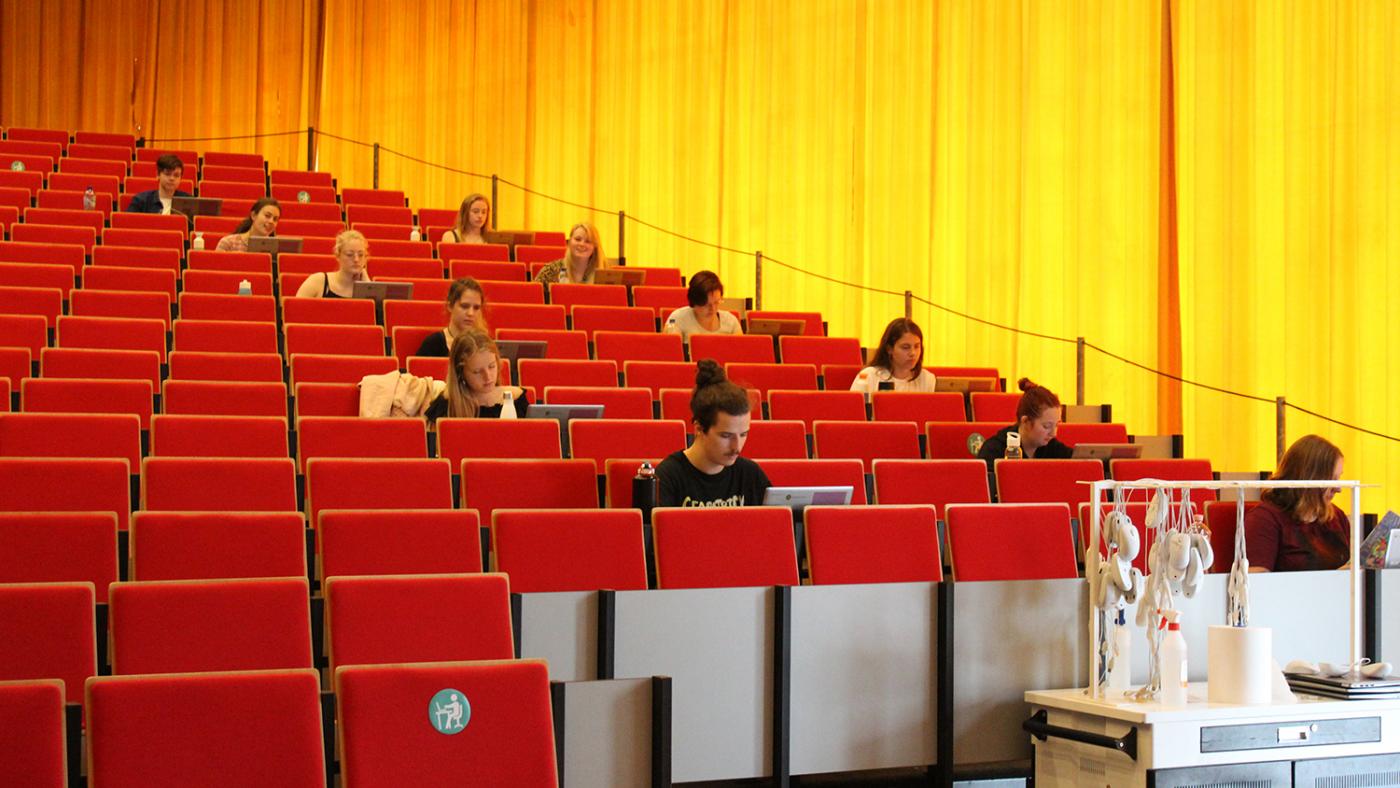 Since last Monday, students have been allowed back into the Educatorium to take their exams. Photo: DUB
Make sure that when teachers are grading exams, they don't know whose exam they're grading. Students in the University Council called for the university board to anonymise tests during one of the last committee meetings of the year.
According to the council members, anonymising exams prevents teachers from being influenced by bias, either positively or negatively. There's a chance, after all, that teachers are influenced by what they already know about the students – for instance from previous test results, gender, or ethnicity.
Surprised
IIn the memo drawn up by two council members of student party De Vrije Student, Eva Klaver and Job van den Broek, the students referred to to a pilot that was held at the faculty of Humanities three years ago, in three different courses. Response from teachers who participated in the pilot was largely positive, and they recommended the university continue with anonymous examinations.
The initiators of the pilot were ethicists Ingrid Robeyns and Sander Werkhoven. In an opinion piece (in Dutch, ed.) for DUB, they wrote that there's a lot of research that supports the value of anonymous exams. They themselves were surprised multiple times during the grading process – students received higher or lower grades than expected.
At the time, a majority of the members of the DUB panel also expressed their support for anonymous testing. Educational scientist Casper Hulshof, for instance, said: "With anonymous grading, you avoid the appearance of bios. So as soon as it's logistically and technologically possible, I'd want to implement this."
UU students also seemed to in favour of the plan, as became clear in a video we created before the start of the pilot. "Sometimes, I feel like the teacher and I don't match very well."
Continue reading below the video. Video is in Dutch.
Anonymity in exams might be fairly easy to set up, but in papers, it'll be much trickier, the pilot at Humanities proved. The council members of De Vrije Student also realise that students often receive feedback on their papers during the writing process, or discuss their subject with their teachers. Teachers will then already know the contents, and which student wrote what. Still, the two would like to see that students who want to submit their paper anonymously can do so, the university board heard.
Hesitating in toss-ups
This week, rector Henk Kummeling showed that he's not opposed to the suggestions made by De Vrije Student. He wants to encourage faculties to implement anonymous testing, where possible. Making it mandatory is a step too far for him, however. Too much is yet unclear at this point.
The rector wonders, for instance, whether the anonymous approach would always mesh with the UU educational model, which after all assumes small-scale education and personal contact between students and teachers. And perhaps sometimes, it's better that teachers do know which student they're assessing – in toss-ups where a student's right on the edge of pass/fail, for instance. Shouldn't the teacher be able to take into account whether a student has performed well in class or not? "We have to be careful not to lose some things, too."
Council member Eva Klaver was not convinced: "Doesn't every student have the right to know what their exam is worth exactly? And then, it's especially important that no other considerations are involved."
Kummeling proposed additional research on the UU study. Not right now, as teachers and researchers are too busy solving the issues created by the corona crisis, but perhaps in the next academic year.
This satisfied Eva Klaver for now. De Vrije Student will keep the item on the agenda, she stated after the meeting had ended. "I'm convinced that further research will show that assessing with biases also happens at our university. Perhaps then the university won't have a choice but to implement anonymous testing everywhere."
Special exam paper
The response from rector Kummeling is similar to that of the Humanities faculty board after the pilot. The faculty board promised to inform students about the benefits of anonymous testing, and to remove practical obstacles. At Humanities, too, there was no obligation. The faculty board said there were also teachers who'd felt offended by the suggestion that they weren't objective.
The faculty board says that at this time, it doesn't have insight into the extent to which teachers are indeed using anonymous testing, three years after the pilot, but apparently the special exam paper that's used for anonymous exams is in high demand.
Senior lecturer of Ethics Sander Werkhoven, one of the initiators of the pilot, had been disappointed with the faculty's decision at the time. He claims that the concerns that had been voiced – such as a higher risk of errors in submitting grades – are easy to avoid. "But the faculty only wanted to encourage instead of just drawing a clear line."
Advertisement