After a successful pilot
New pre-arrival Dutch course for internationals here to stay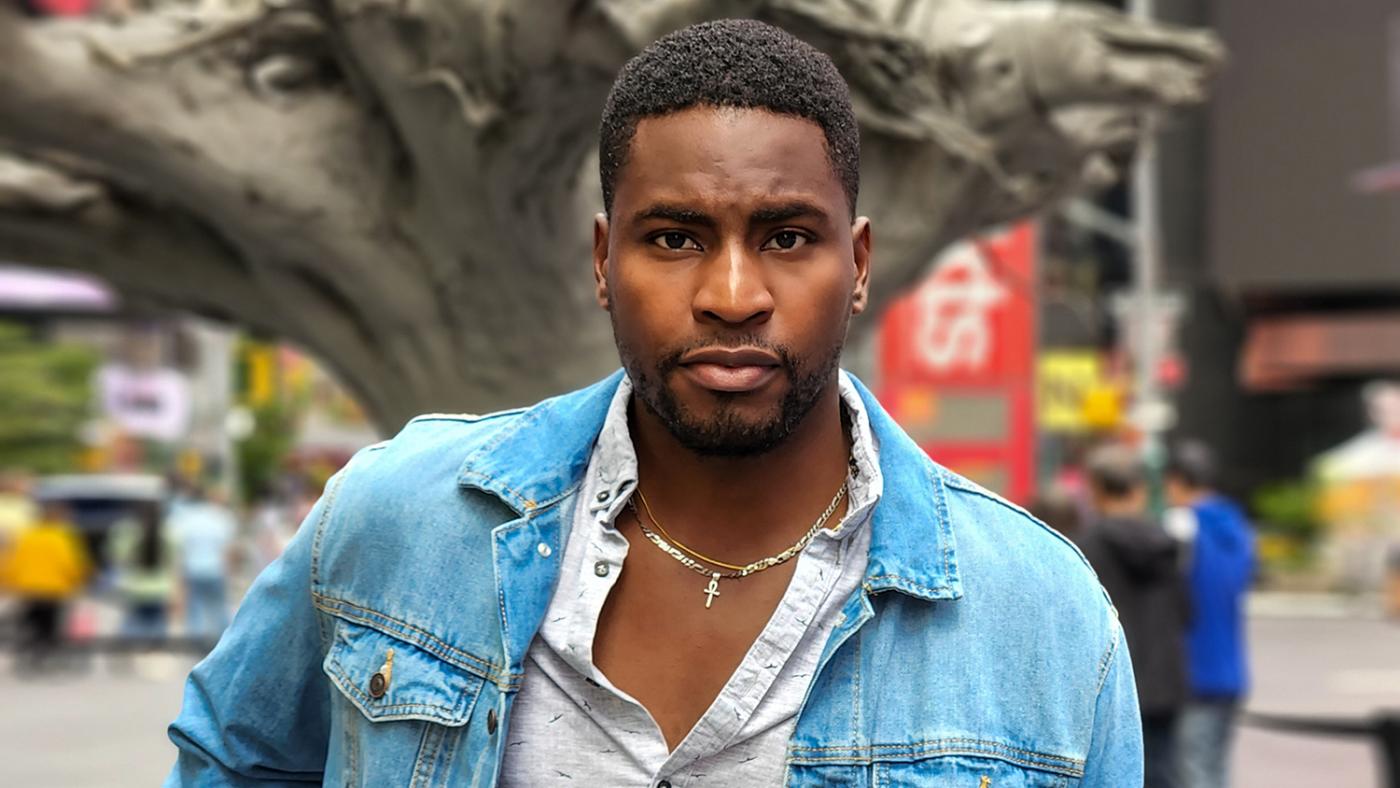 Shamar James. Photo: courtesy of the student
Free of charge, the entry-level course focuses on the typical interactions international students have on their first few days in Utrecht. A total of 584 students participated in the pilot – Shamar James was one of them.
When Shamar, who worked in Jamaica as an engineer in the energy industry, was looking for a Master's programme in Energy Science, choosing Utrecht University was a no-brainer. "There aren't many programmes that take a sustainable approach. Being from the Caribbean, we're susceptible to the most adverse effects of climate change". There was only one issue, though: he didn't speak a single word of Dutch. "I didn't even know how to say hello!" he chuckles. 
Although he knew he would be able to get by with English alone, he figured that learning some Dutch would make his arrival and integration a tad easier. Lucky for him, he was joining UU precisely at the time the university was testing a pre-arrival Dutch course, to be offered online and free of charge for all incoming international students (at Bachelor's, Master's and exchange levels) who could choose between two versions: a self-study one and a moderated one. Shamar went for the second option, as did 183 other students. The remaining 400 chose the self-study one. 
In terms of content, the course was the same for both groups: it had seven weekly modules on themes like how to navigate public transport, how to shop for groceries, and how to ask for directions, as well as other insights into Dutch culture and society. There was a weekly assignment and the students were also encouraged to interact in chat rooms.
The main difference between the self-study version and the moderated one was that the students in the self-study version could take the course at their own pace, while those who opted for the moderated course were invited to advance through the content together, as a group, with the help of a moderator who would answer their questions.
The students following the moderated version were also separated into groups, of which some had the choice of joining a weekly Teams call with the moderator. These calls, which would last about two hours each, were not mandatory but Shamar attended them regularly as they would always contain interactive activities he found useful, such as quizzes or presentations. "It wasn't a huge time investment", he says.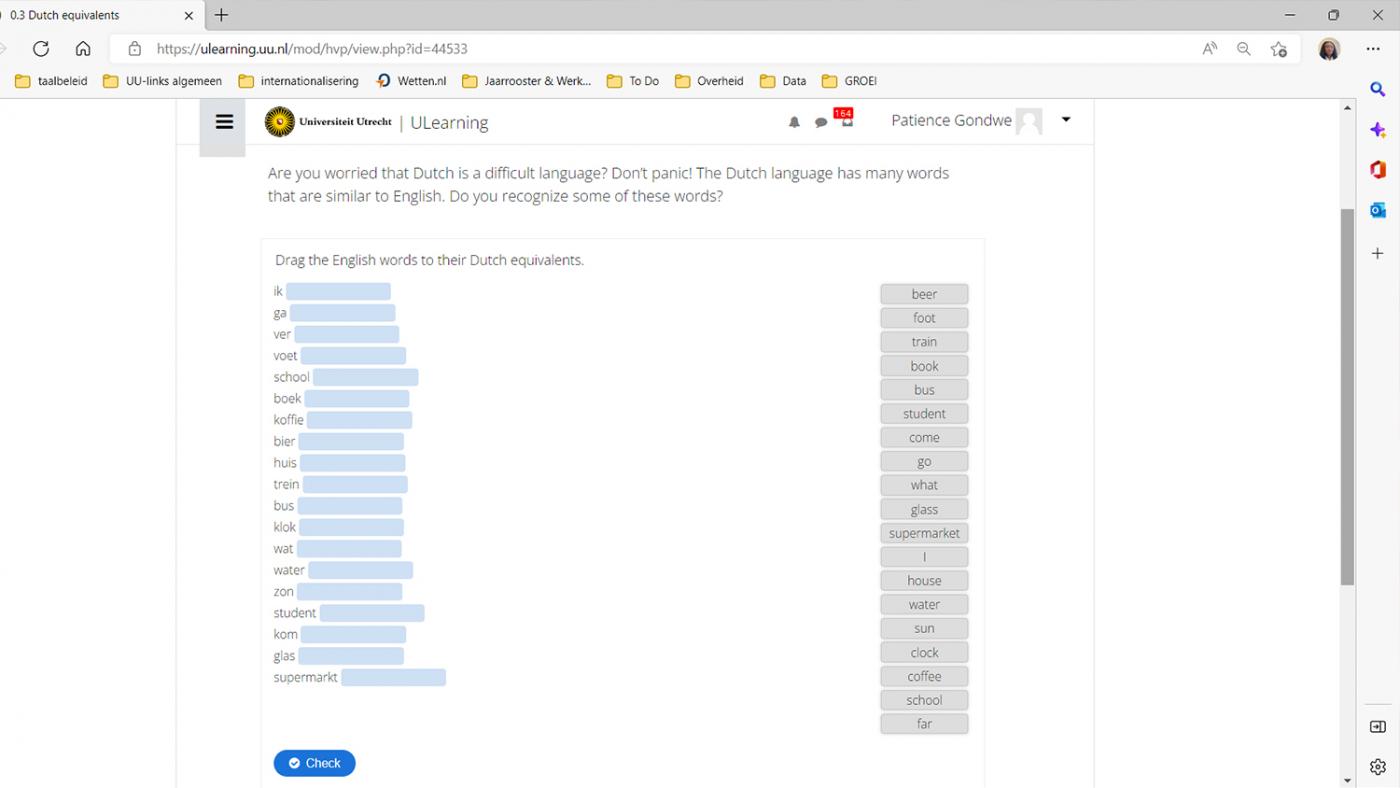 Staying on track
The moderator of Shamar's group was Tara Seyedi, a Swedish Iranian Bachelor's student working as a student assistant for the Warm Welcome team. She says that the groups that did have a weekly Teams call with the moderator were much more motivated and likely to stay on track.

Tara is not proficient in Dutch but she could count on the help of the other two moderators, who were Dutch. "Each moderator had two to three groups to take care of, each group consisting of twenty to thirty students who were arranged according to time zone", she explains. "Initially, the structure of the course was supposed to be different. There would be two moderators, a Dutch one for language and an international one to talk about practical matters. But there were so many sign-ups that we ended up splitting up the groups this way." Tara's sessions on Teams focused on fun facts about the university and the resources it has, while the other two moderators would talk more about vocabulary and useful expressions. "But we would share our quizzes with each other all the time, so I've used material they had prepared and vice-versa," says Tara.
As a Bachelor's student, she was rather intimidated to be teaching groups of Master's students. "I'd never taught anyone before, let alone people older than me", she says. But that feeling went away quickly. After a couple of sessions, she started figuring out what the students wanted to know and how to make sure she was meeting their needs. And that's exactly what the pilot was all about. At the end of the course, the participants were asked to give feedback about their experience – which will be used to improve the course in the future – and indicate whether they'd be interested in learning Dutch any further. 
First step
Shamar was one of the 41 students who said "yes" to that last question. What started as just a means to get acquainted with his new city ended up sparking a much deeper curiosity about the Dutch language. When he finally moved to the Netherlands, in September, he was eager to practice, even though using the little Dutch he'd learned took some guts. "Initially, I was a bit hesitant to speak Dutch because I felt like I was butchering the language, especially in terms of pronunciation. But it feels good when I'm able to figure out what people are talking about or when people tell me they appreciate my effort." The information on Dutch society and culture came in handy as well: "I saw a statue of Miffy (also known as Nijntje) and I immediately recognised it because I'd seen it in the course. In some ways, I kind of knew what to expect."
Internationalisation Coordinator Patience Gondwe is pleased to hear that. That was exactly what the university had in mind when coming up with the course, which was financed by the Internationalisation Programme and facilitated by the Student & Academic Affairs Office. Gondwe would rather not say how much has been invested in the course. "We hoped first-year international students would already start feeling connected to their host country. We wanted them to not feel lost when they arrive here. The course is a first step in making them feel included and welcome."
She adds that UU is going to offer the moderated version of the pre-arrival course again for the students joining the university this coming winter, with the intention to turn it into a semiyearly affair – once in the summer and once in the winter. "Last summer it was only a pilot and we intend to improve the course based on the evaluation results," explains Gondwe.
As for Shamar, he says he would "definitely" like to continue learning Dutch, so much so that he's even taken a look at Babel's courses to see if any of them suits his needs. "The moderator said the university was working on courses at higher levels but, so far, there hasn't been any communication about that."
Gondwe confirms the information but says Shamar will have to wait a little bit longer. "We would like to improve the accessibility to Dutch courses. It is UU's duty to support international students, which is why the Department of Dutch within the Faculty of Humanities has been asked to develop A1, A2 and B1 level courses for the students interested in learning the Dutch language. These courses are expected to be launched next spring. The plan is to later add B2, C1 and C2 level courses as well so that we can offer Dutch language courses at all levels of proficiency."
It is not yet clear whether the courses at higher levels will be free of charge like the pre-arrival one or, if paid, how much they are going to cost. According to Gondwe, ideas in this regard are going to be discussed once the courses have been fully developed. The proposal will then be submitted to the Executive Board for approval.
In the meantime, Shamar keeps learning bits and pieces of the language around the city. Every now and then, he finds himself in a funny situation, like when a waiter handed him a beer at a pub, saying alsjeblieft, and Shamar was confused. He had learned that alsjeblieft means "please" and couldn't understand the waiter's choice of words. Afterwards, it dawned on him that it can also mean "please, take it" or "there you go".
Advertisement