New student association in Utrecht: 'We want to make veganism mainstream'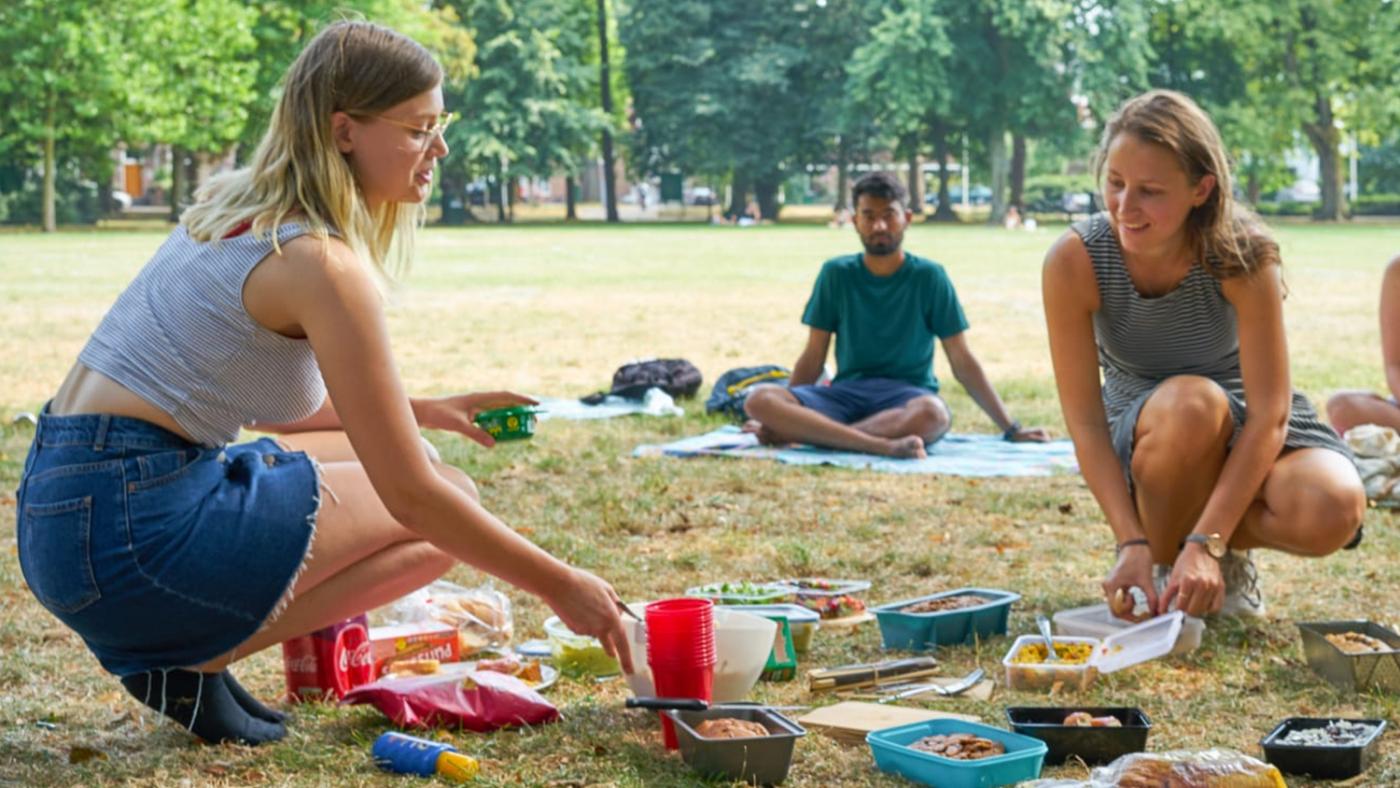 Photos: VSA
The idea for a Utrecht-based student association for vegans came from Graphic Design student Sandra (22). She moved to Utrecht last July to be closer to her internship and quickly noticed Utrecht didn't have a student association for vegans. She'd previously been a member of the Groningen Vegan Student Association.
Through her Groningen contacts, she found Sophie, who had also just moved to Utrecht. Sophie (22) then brought her friend Sara (22) who also studies medicine like Sophie, and Journalism student Kelly (21) found the others when she saw on Facebook that the girls were in the process of establishing a new student association. "I sent an email to ask if I could help out. About a week later, I was the secretary." That's how a four-person board was formed for the Vegan Student Association Utrecht (VSA Utrecht).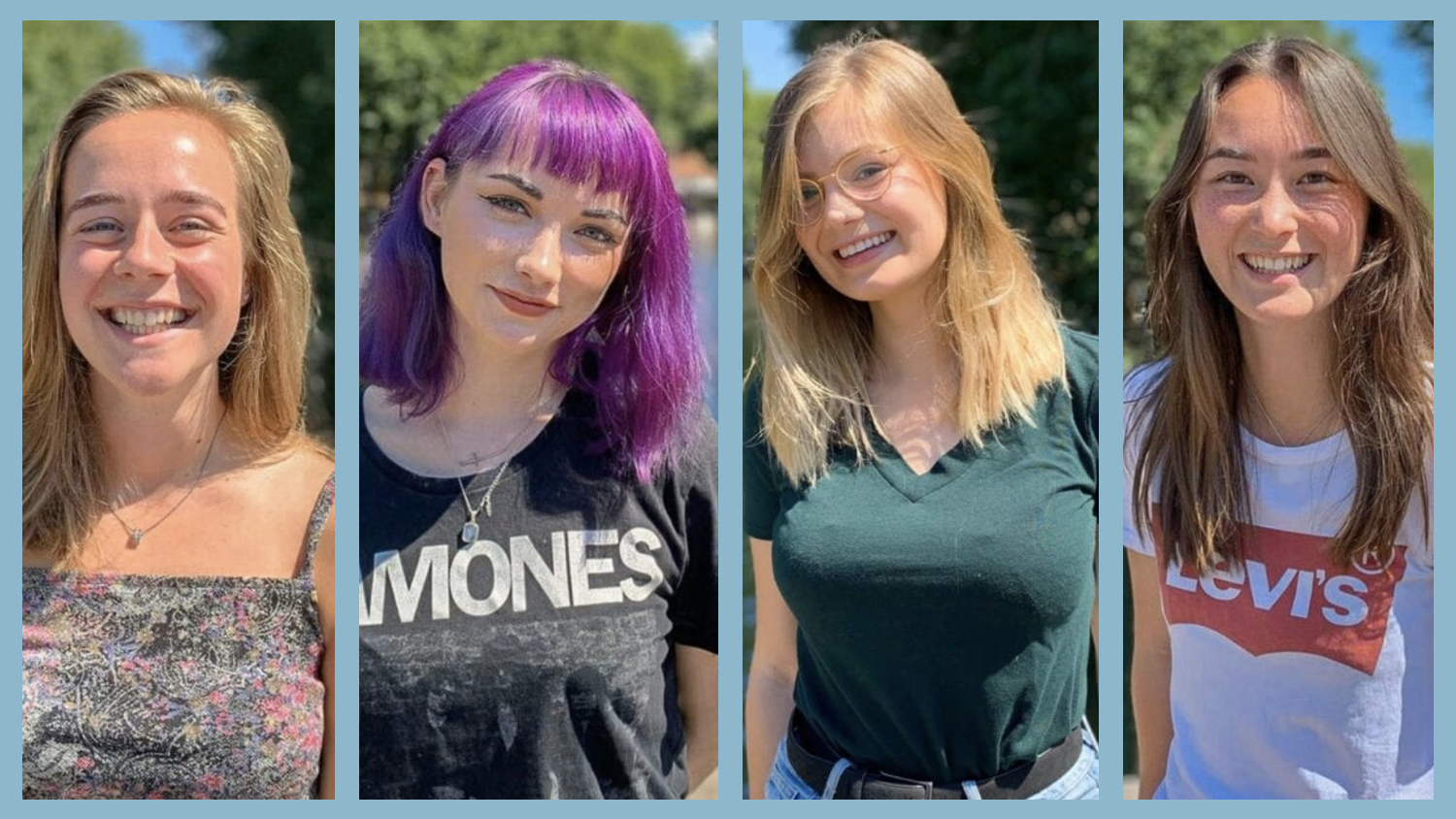 Sara, Kelly, Sophie, Sandra
The first activities took place a few weeks later, during the summer, when there were more possibilities for organising get togethers, albeit within the confinements of the corona regulations. They were lucky with their timing, as that was also the time when many international students arrived in Utrecht. "Veganism exists in all countries, so the chance of a vegan international ending up in Utrecht is pretty big", says founder Sandra, who is Swedish, so the association has been international from day one.
Since then, they've experienced how hard it is to keep organising activities, which they've managed to do every week from the start. This past November, they held a vegan challenge in which non-vegans had to eat vegan for a week. It was such a success that they intend to do it again in February. VSA Utrecht is, therefore, the living proof that it's not impossible to start an association amidst a pandemic. The board is looking forward to organising in-person activities once life goes back to normal, of course, including potlucks, field trips and trips.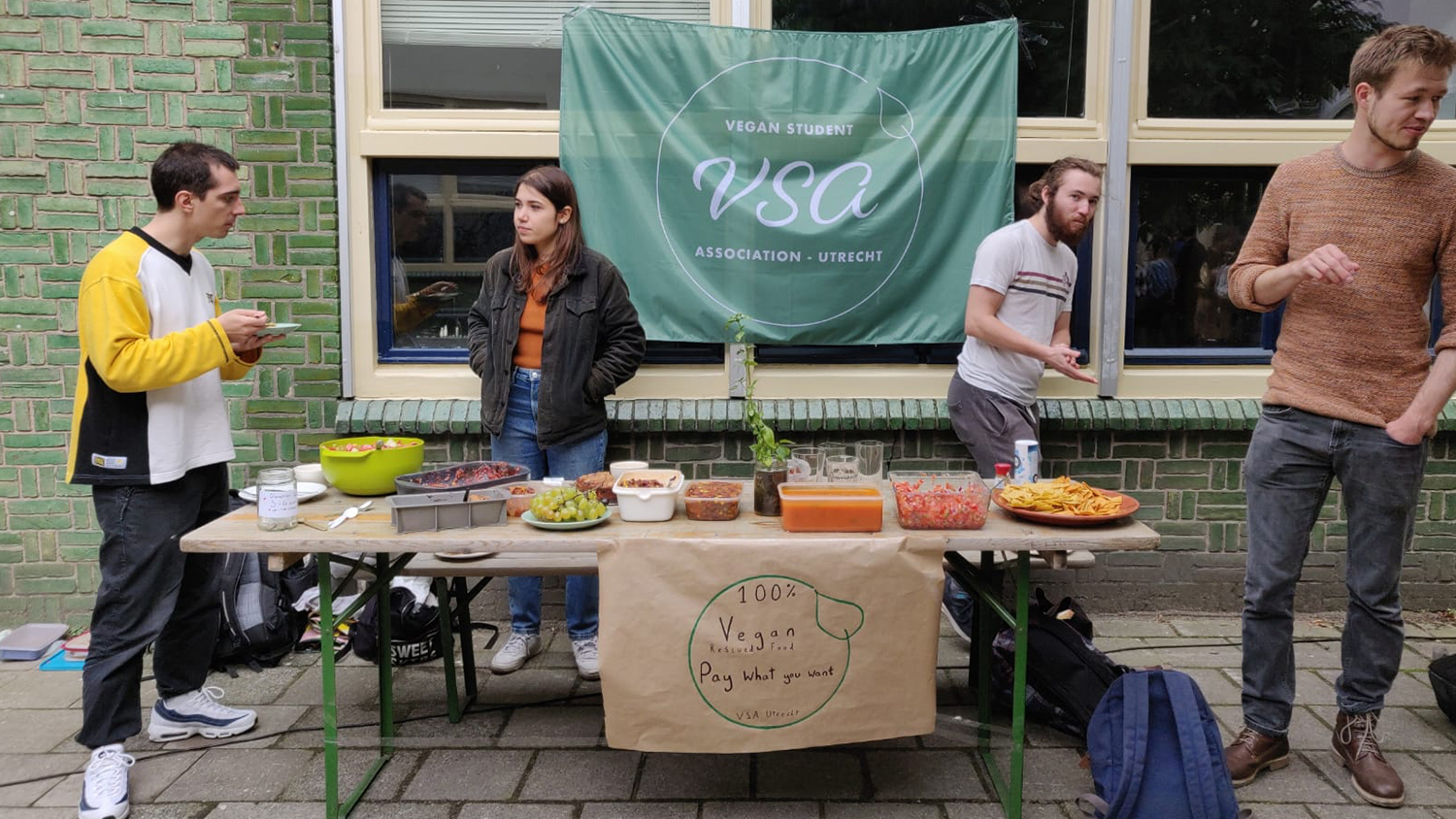 Rapid growth
Being a university city, Utrecht is very well-suited to housing a vegan student association, according to Kelly and Sandra. "There are so many options for vegans in Utrecht. You can see this in the number of companies we're working with, all of whom have an offer for us plant-based people". These companies offer discounts or vouchers to VSA members. The fact that it's relatively easy to be vegan in Utrecht was also named by the two students as one of the reasons for the association's rapid growth: they've gained around ninety members in just six months. Many others have joined their activities despite not being members (yet). "Around once a month, we've got a members-only activity, like Secret Santa or drinks. Other activities are open to everyone who's interested", explain the board members.
Contact with 'the outside world' is something they see as an important part of the association. That's why VSA Utrecht has an 'outreach committee', whose goal is raising awareness about veganism or related issues like climate change. "Many people are unaware of what's in their food or cosmetics. A little bit of information can make a huge difference."
The reason for focusing on students as target audience was not a conscious one. They just happen to be students themselves. The girls do, however, see the advantages of it. "Students are often looking for an active life in their city, so they join associations more easily." Besides, many vegans are also members of national associations related to their lifestyle.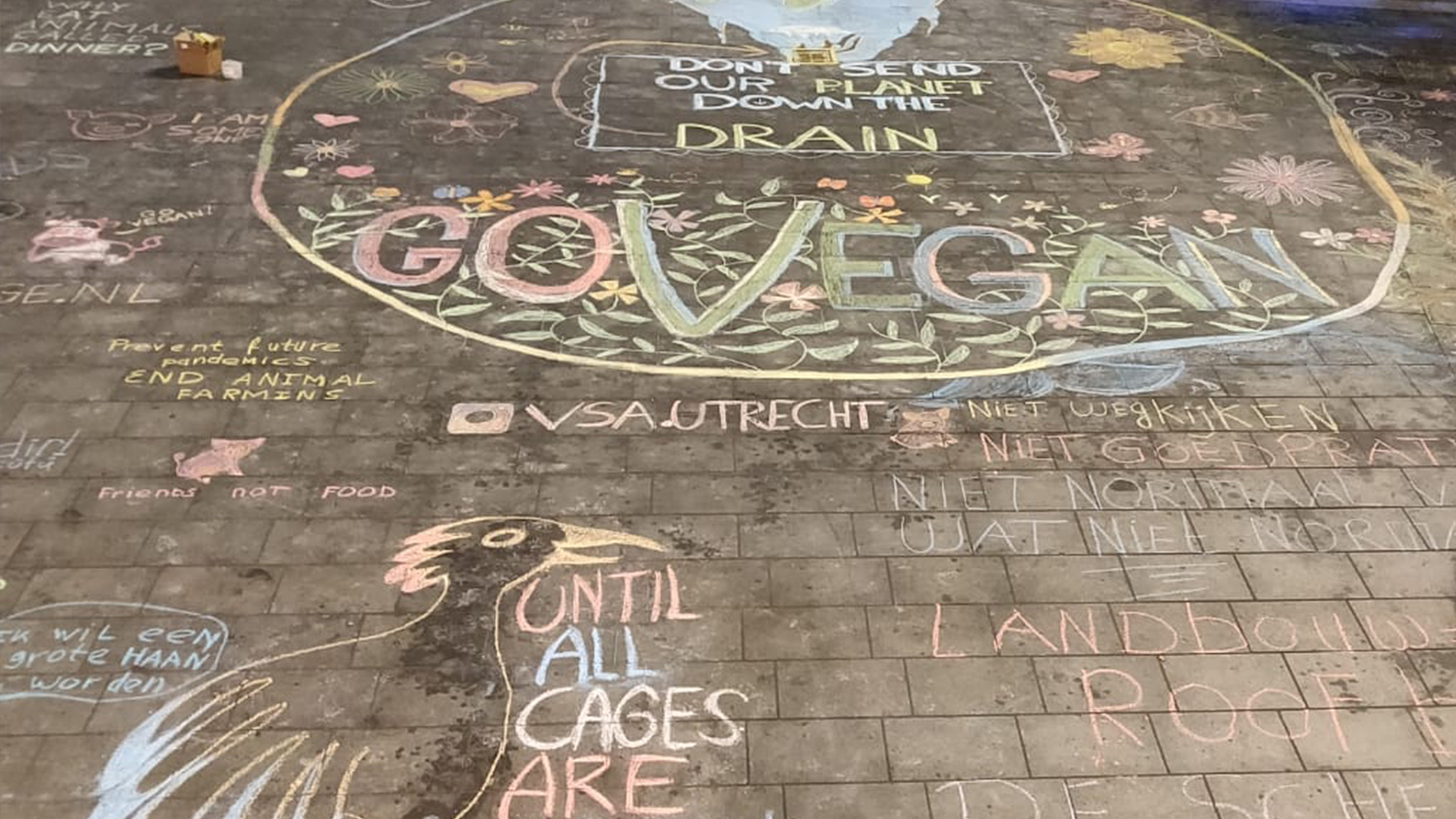 Masculinity and meat consumption
Most of the students joining VSA Utrecht are women. That doesn't mean VSA is a women-only association. "We didn't even think about that: there are no differences between men and women." Utrecht is a girls' city, of course – there are more female students than male ones – but the brand-new board says the higher percentage of female members relates to society's association of masculinity with meat consumption. "As if there's a rule that a man's supposed to love barbecue and meat. When my sister's boyfriend (they're both vegan) mentions his veganism in a restaurant, he often gets strange looks," says Kelly. It's clear they think this is a shame. Before I can ask another question, they start brainstorming about activities that address this subject.
As for the members' study programmes, there's a lot of diversity. Although environment-related study programmes such as Global Sustainability Science make up a large part of the association, other programmes from both the university and the universities of applied sciences in Utrecht are well-represented, according to the board. A remarkably high number of members study Artificial Intelligence and Graphic Design.
Non-vegans also welcome
It isn't always easy to be vegan. Especially when you're new to the lifestyle. That's why the association wants to help people getting started in veganism. Take Sara, for instance, who's been vegan for 3.5 years and only found out recently (through her fellow board members!) that not all wine is vegan: wine is traditionally filtered with fish. Thankfully, today there are other methods that do not require any animal products. "It's just a shame that you can't tell what technique was used by looking at the bottle: you need to check online to find out. But, fortunately, there are websites where you can do it" celebrates Kelly, who seems to have mastered the vegan lifestyle after a year. "There are people who voluntarily contact all wineries to check what they use and then they put that information online."
Because it's not always easy to see which products are vegan, the association never points a finger at people. Non-vegans are also welcome to join VSA Utrecht, and the association encourages its members to make each other excited about making new discoveries -- like the wines, for example, or cookies, ice cream, and hazelnut spread. Members have different reasons for being vegan, too. Some adopted the lifestyle after watching a documentary, while others were inspired by their herbivore pets.
'We don't want to intimidate'
Although most of the response to the new association is positive, VSA Utrecht has also received some negative remarks, especially online. "Well, congratulations on another instance of 'pillarisation' [dividing the society based on religion and lifestyle, Ed.]", said one of the messages under a recent interview. Another one said they hope VSA members won't eat the grass by the dyke in his neighbourhood – which only caused the board members to laugh. They jokingly mention considering initiation ceremonies in garden centres. "Whenever you do something that's outside the norm, you get nasty comments. Sometimes you have to make people angry before your message comes across, so I think we're doing something right. We want to make veganism mainstream. Hopefully, in about twenty years or so, it won't be necessary to share the message or have an association anymore."
Until then, the group is full of ideas for the future. An office of their own is high on their wish list. "If we had a place where we can get together, then we'd have something else to identify with", explains Sarah. "Our most important goal is to be accessible, we don't want to intimidate anyone with our lifestyle. If we could get big enough and do large-scale activities, that would help so much! Accessibility is truly the magic word," Sophie adds.