Is one of these student homes a good fit for you?
Anne-Fleur at home in the Unitas association house, photo's Mila Bertens
IBB: 'It's always a party around here' 
Willem Kalkman (20) is from The Hague
Is a fourth-year student of Physics and Maths
Has been living in a room at the Ina Boudier Bakkerlaan in the Abstede neighbourhood for 1.5 years
Has 14 housemates
The IBB is the largest student housing complex of student housing organisation SSH, with a total of 1,300 residents.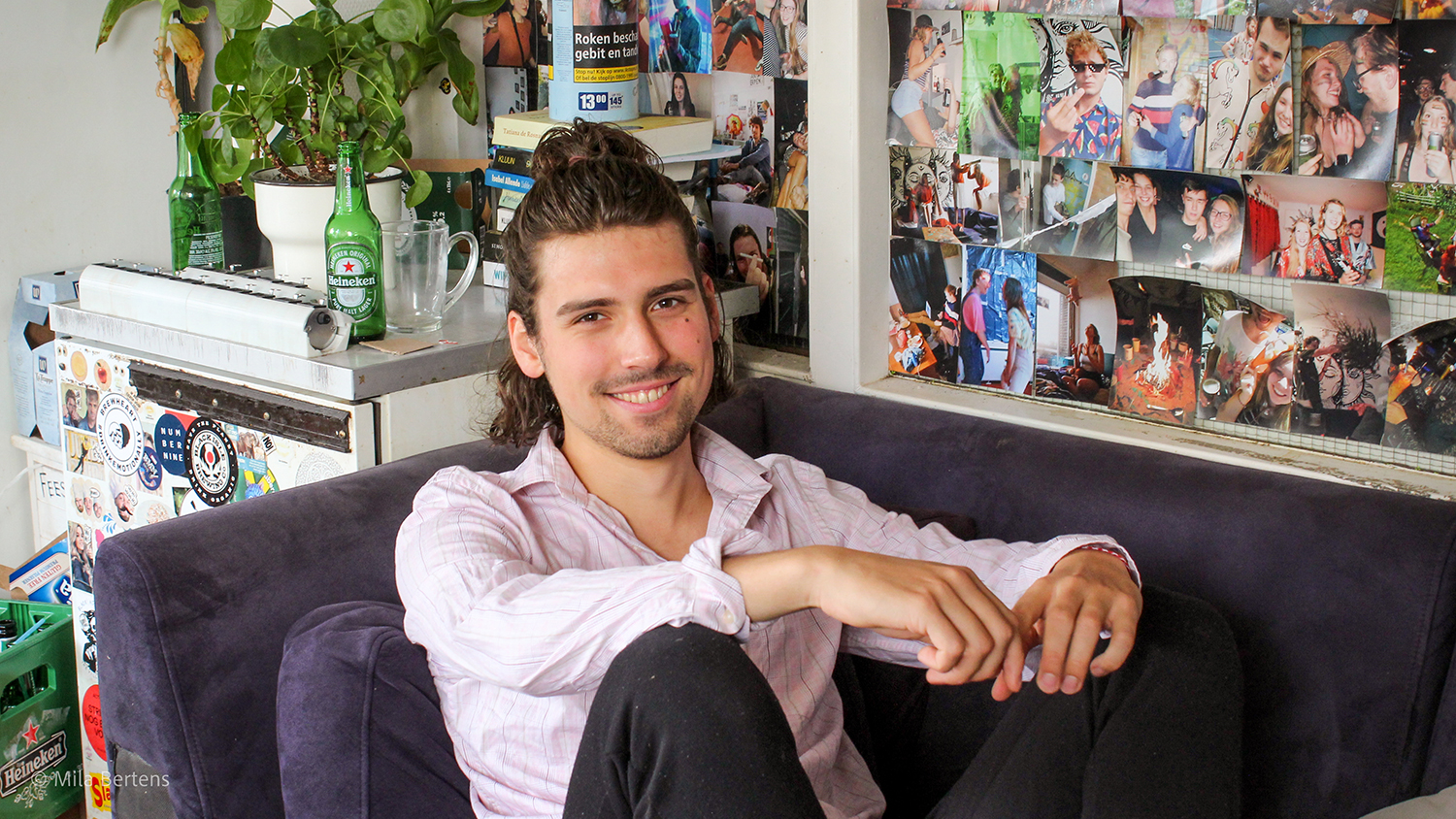 How did you end up here?
"I lived in other houses in Utrecht and Zeist first. Once I'd accumulated enough waiting time with the SSH, I went for an interview here, and got the room."
Why did you decide to live in student housing?
"When I started my studies, I immediately joined my study association's committees. When you have dinner together, and you're hanging out in the evenings, you don't want to have to take the train back to The Hague. In those moments, it's nice to have a place of your own in Utrecht."
How is it, living at the IBB?
"The great thing about the IBB is that there are tons of students who live here: it's always a party around here! Before I came to live here, I'd heard a lot of negative opinions about the IBB. Of course it can be messy at times, and you have a lot of roommates, but it's doable, and it's fun that there's always someone to hang out with. And you have your own room, so you can always retreat there if you want. It might not be for everyone, but I love it!"
Are there any downsides?
"In the summers and weekends, it's often very busy and fun outdoors. That can get annoying if you want to go to sleep early, but I've learnt to fall asleep even when there's a lot of noise. So you get used to that!"
Would you advise first-year students to find a place of their own?
"Definitely! Now, with corona, it might not be as necessary, but studying when you're living on your own, is a completely different experience, because you're really taking care of yourself."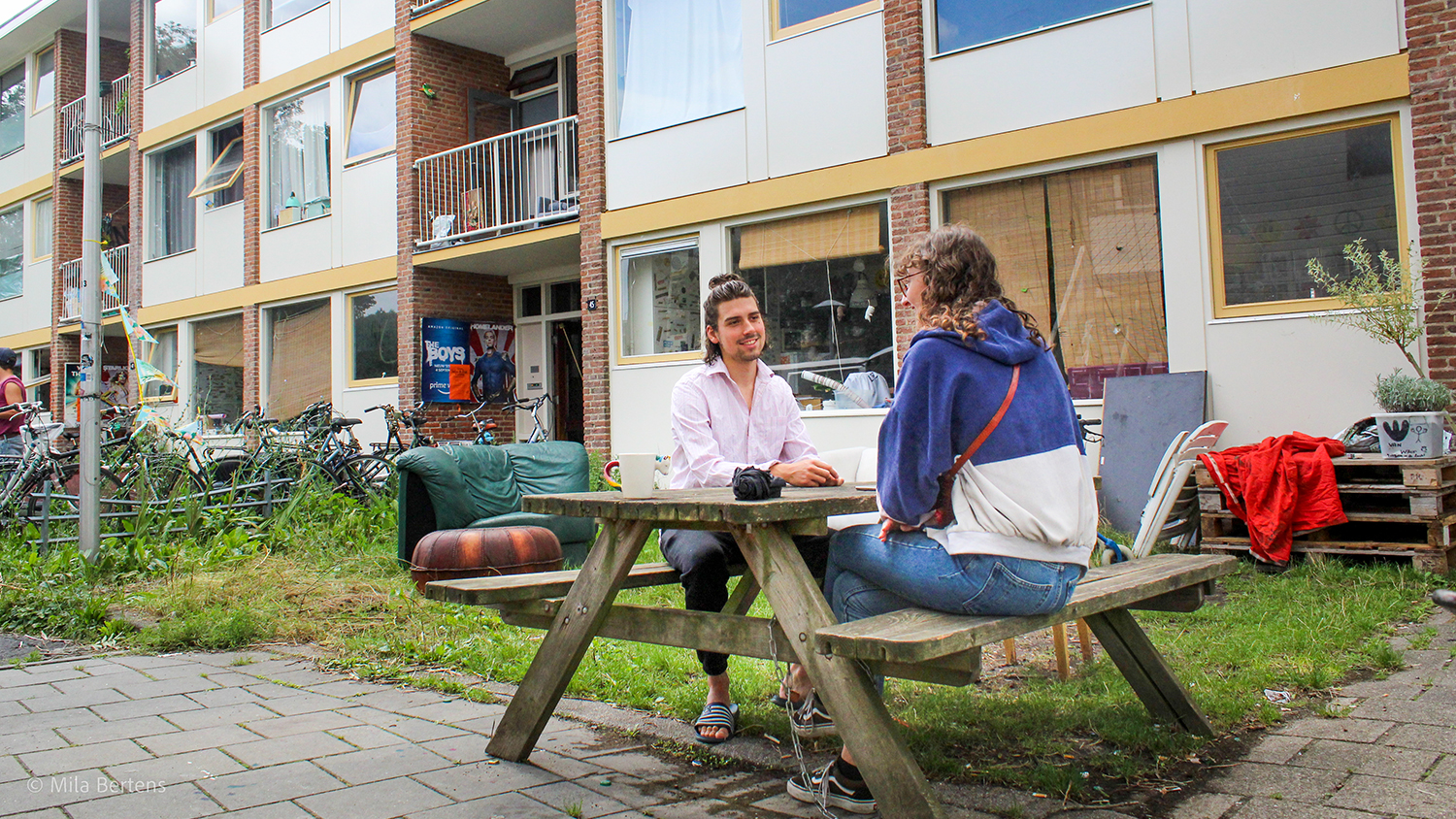 ---
LB9 : 'The youngest of the house have more tasks'
Anne Fleur Bus (19) is from Groningen
Is a first-year student of Law (previously studied LAS)
Has been living in Unitas association house LB9 for 1 year
Lives with 13 others (both boys and girls), dog Berry, and cat Beverly.
LB9 stands for Lucas Bolwerk 9, is owned by student association Unitas S.R. and is located in the city centre.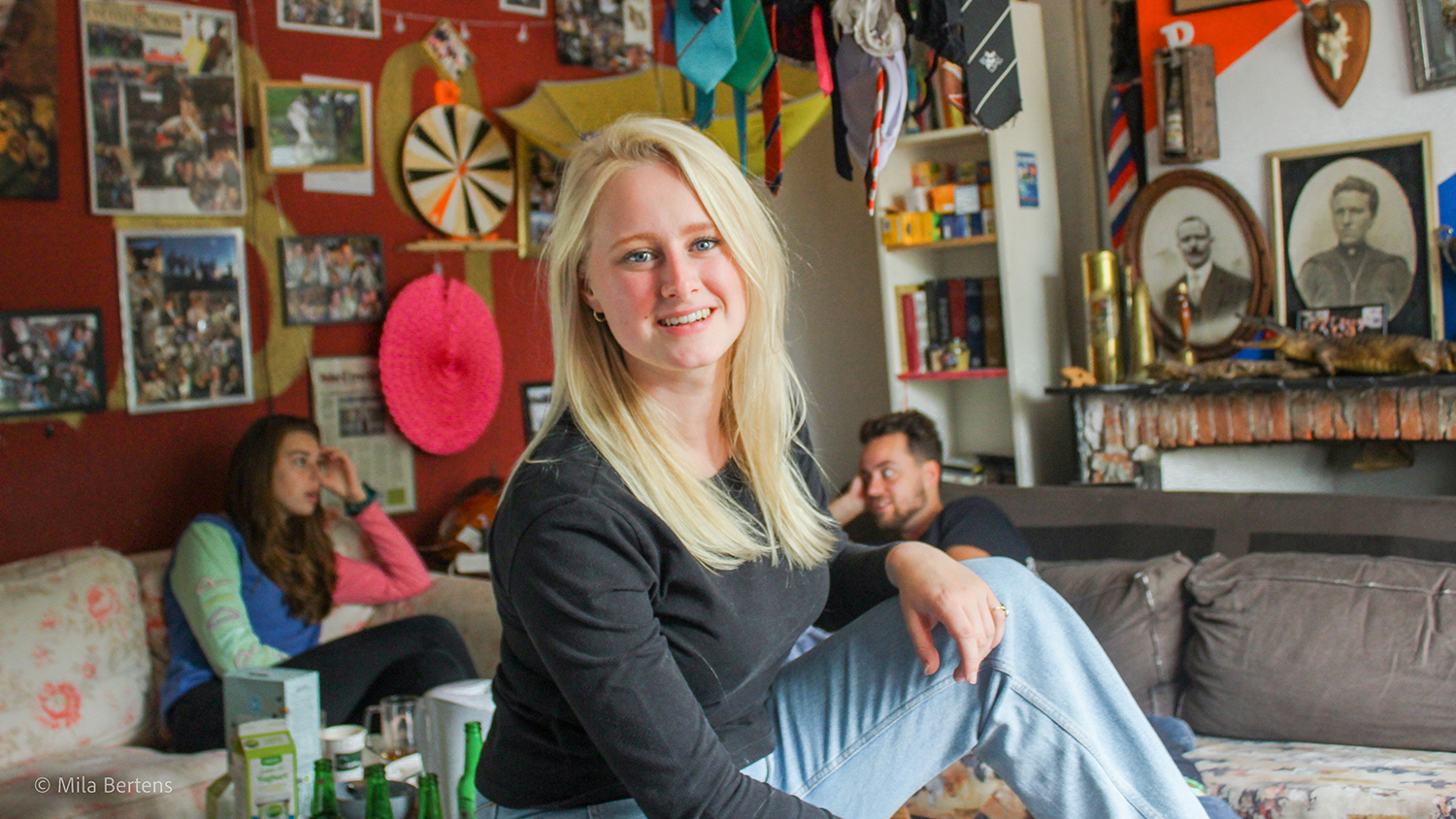 Why did you want to live in student housing?
"I'm from Groningen, so getting a place here made sense. I also wanted to make the most of my student days, and be completely independent. And I thought it'd be fun to live with other students."
How did you end up in his house?
"After I joined Unitas, I was asked to interview for a room in LB9, the association house next to the Unitas association house. I interviewed for a room with several other girls from my year. After having drinks with the people in the house, I was told the room was mine!"
What characterises LB9?
"The history of LB9 is extraordinary. Members of the association have been living here since 1992, and you can see and hear that everywhere. Every night at midnight, the Nobel song is played at Unitas. You can hear it through the walls. Nobel complained about the noise, and started multiple lawsuits against the association. When he died, Unitas bought the building and turned it into an association house. The song is just to mess with former neighbour Nobel."
What do you like most about your house?
"The house feels like a small family. We eat together every night, and talk about our day. We also do a lot together: a Christmas dinner every year, a house party, lots of great drinks. Those are often themed, and we dress up for them."
Is there anything you don't like?
"In the beginning, the hierarchy in the house took some getting used to. The so-called HJs (stands for Huisjongsten, the youngest of the house, ed.) have more tasks than people who've lived here longer. So you have to make an effort at first, but in later years, you gain a lot."
Would you advise first-year students to find a place of their own?
"Definitely! This year, I learnt so much more about myself and other people than in the five years before. You become more independent, more social, and it's great fun!"
---
Cambridgelaan : 'We're pretty private people'
Steijn Dubbink (21) is from Amersfoort
Is a third-year student of Physics and Chemistry
Has been living in SSH student housing complex Cambridgelaan in De Uithof, where 1,002 students live, for a year.
Has one housemate.
The Cambridgelaan housing complex is the oldest student housing building on the university campus.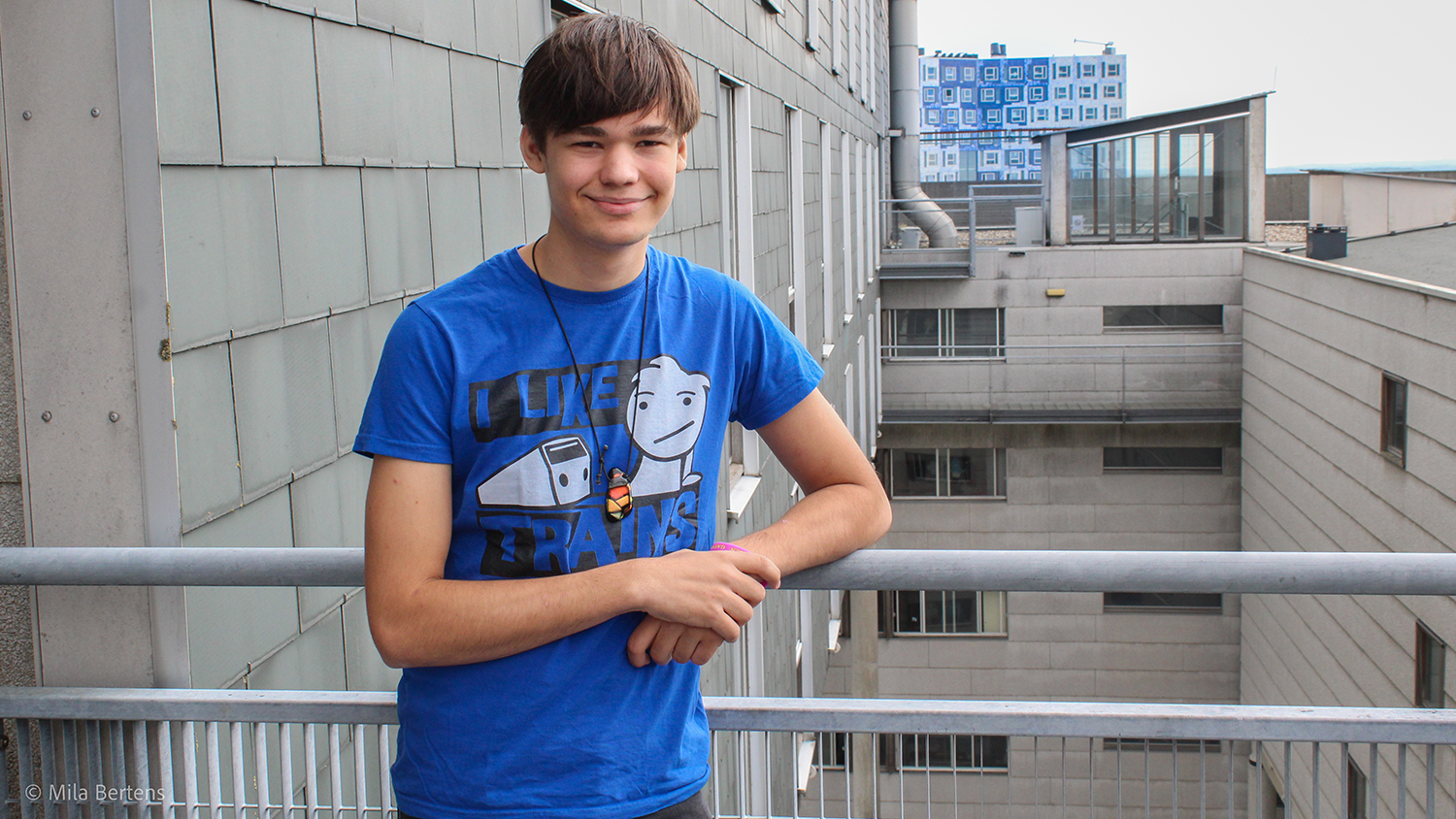 Why did you decide to live in student housing, and how did you end up here?
"I was looking for a room in Utrecht so I didn't always have to take the last train back. Through my study association, which is also located in De Uithof, I eventually found this room."
What characterises this house?
"I live with one other guy and we do our own thing. We share the kitchen and bathroom, but we tend to be pretty private people. We don't really have dinner together either, although we really should!"
What's fun about living in De Uithof?
"You're very close to the university, to sports complex Olympos, and several nature reserves. It's a little quieter than in the city centre, but you can always go and look for the fun. During the lockdown, for instance, a corona party was organised at the Cambridgelaan, where everyone opened their windows and the entire complex became a giant houseparty-at-a-distance."
What's less fun?
"The fact that the only supermarket in the area is the Spar. The Spar is expensive, and other grocery stores are a 15-minute bike ride away."
Would you advise first-year students to find a place of their own?
"If you don't have a long commute to university, and you don't have to spend a lot of time in Utrecht, you can stay with your parents. But if you're often in Utrecht for your social life or your studies, it's nice not to have to worry about catching the last train home."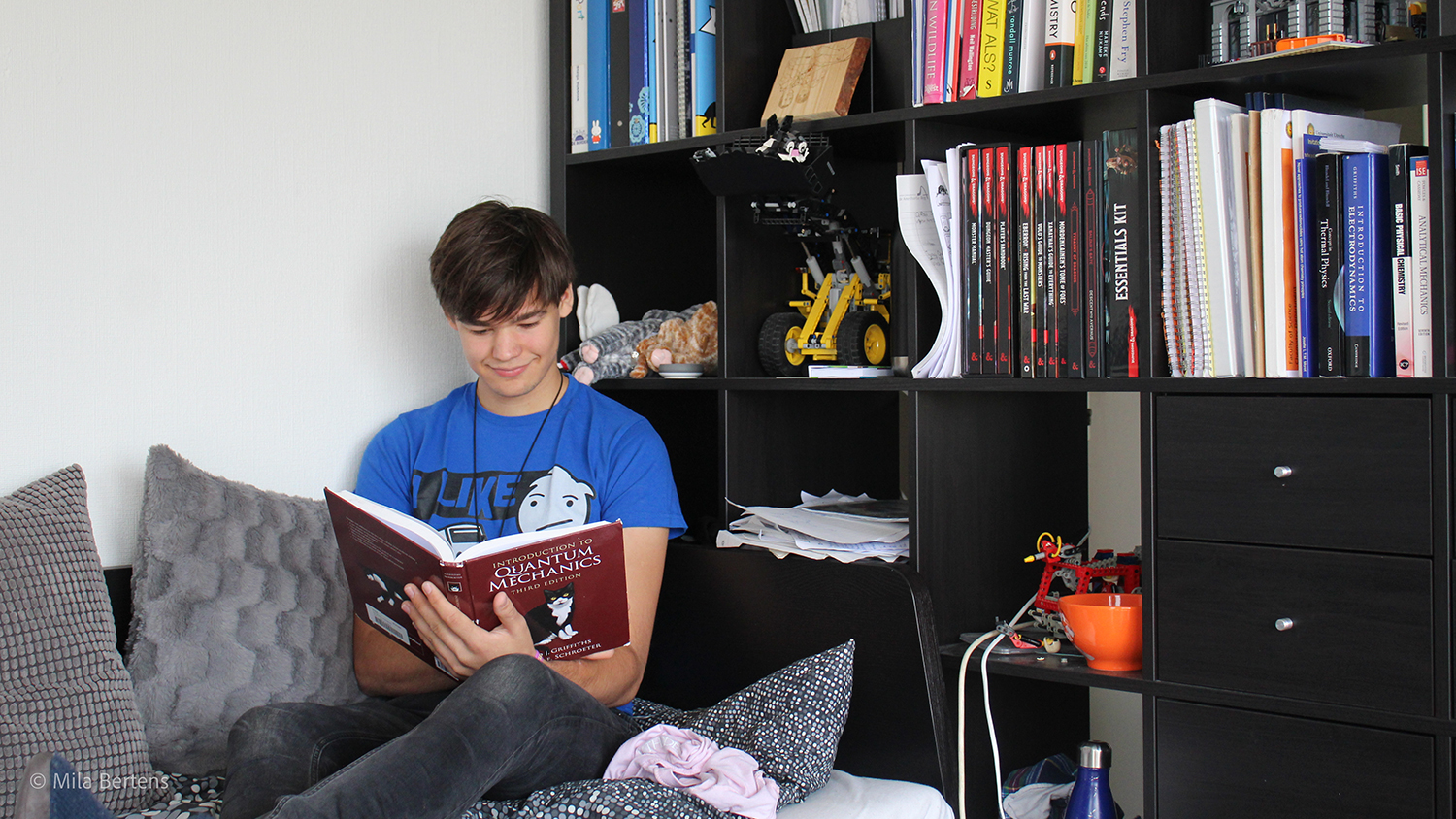 ---
Huize Willum 'You never get bored here'
Max Achterberg (23) is from Houten
Is a third-year Medicine student
Has been living in Huize Willum (Willum Home, ed.) for five years, with seven male housemates and dog Willum, in a privately-owned house in the east of Utrecht, near the Wilhelmina park.
The residents of Huize Willum are members of Unitas and the Utrechtsch Studenten Corps associations.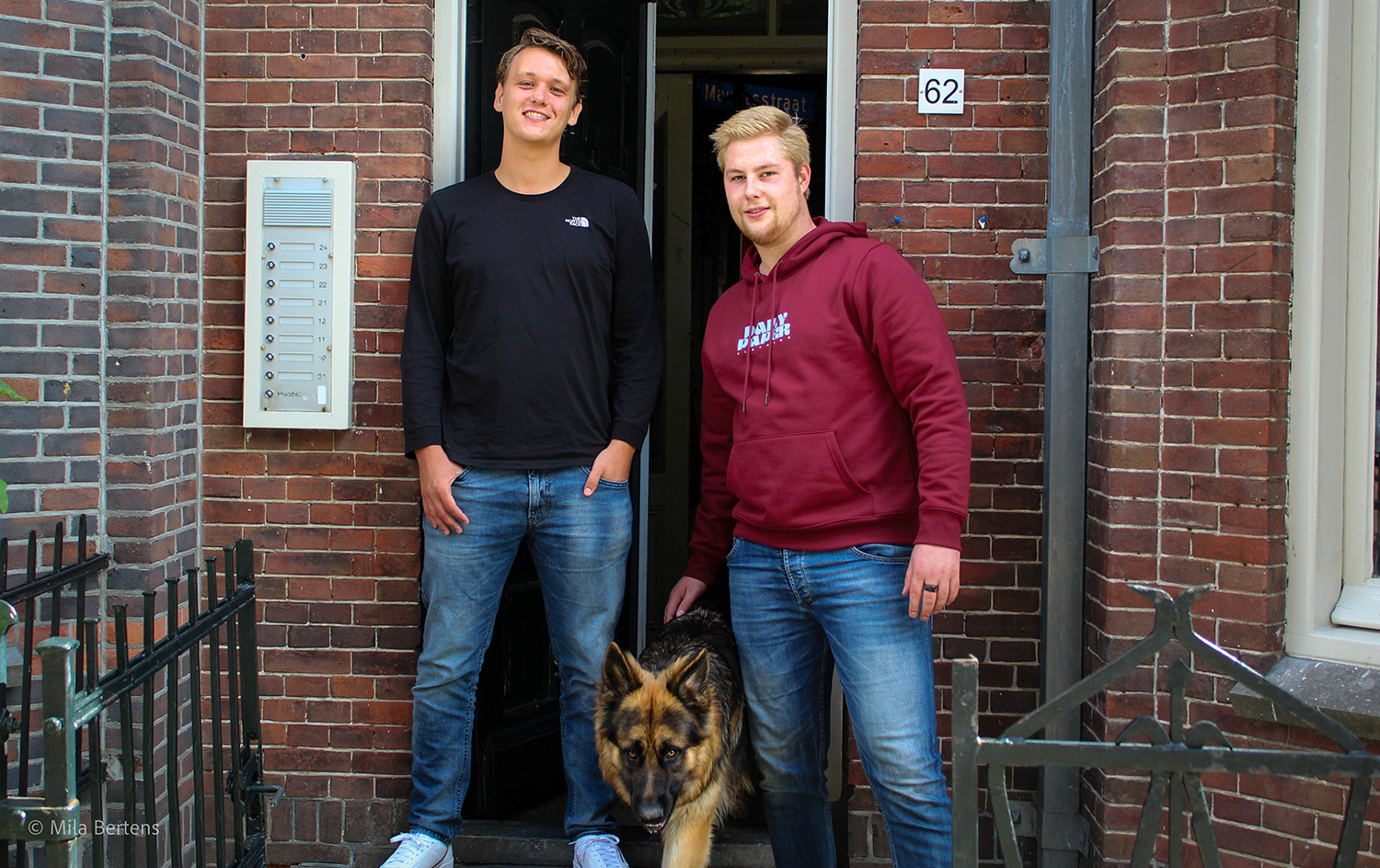 Why did you decide to live in student housing?
"I mainly wanted to get a place of my own, and the freedom to make my own decisions. I'd also gotten sick of commuting quite quickly: in the first three weeks, I'd already had two-hour delays twice, even though it's only fifteen minutes by train from my parents' house."
How did you end up here?
"My plan was to focus on my studies first, but after I'd joined Unitas, I was invited to come to an interview night. I was offered a room near the Wilhelmina Park. That kind of thing makes you stop and think."
What makes your house special?
"Our dog, Willum, and the dudes of course! Because of Willum, there's always someone at home, so you never get bored. There are eight dudes who live here, and we're often rude to each other, but we really love that dog!
Anthonie Meinema, who's been the HJ (youngest of the house, ed.) for a few months, joins us at the table, and adds: "People are sometimes surprised to see a dog in a student house, but you should see how he's treated. He goes on more walks than the average dog."
Is there anything you don't like?
"That's changed through the years. At first, everything was great fun, but now, if you want to attend a class at nine a.m. or make breakfast in a clean kitchen, it's quite different."
Would you advise first-year students to find a place of their own?
"Yes, absolutely! Some people want to focus on their studies first, but if you hate your studies and you prefer to drink beer, you're not going to make it from home either. So don't let that's top you. You learn a lot, and it's a lot of fun!"