Peak period for international student housing market in Utrecht (Video)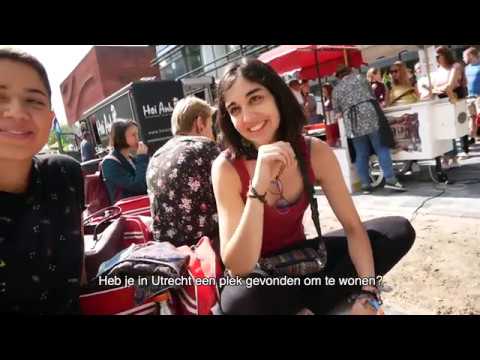 Peak period for international student housing market in Utrecht
Photo's taken from video DUB
This week, around 2,400 foreign students started their studies or exchange programmes in Utrecht. The university reserved a total of 790 rooms for these students. Most are in SSH housing facilities, but not all: a hundred studios recently became available in the new Holland2Stay facility at Rotsoord, Keramus.
After sending out an email to 1,600 students who were eligible for the reserved rooms, the UU received 650 responses in early August. Two thirds of students who responded stated they had still been unable to find housing. A large number of these students asked the university for help in the past few days. "At the moment, we're experiencing the peak to end all peaks, really," says Lenn Lamkin, policy advisor at the International Office.
The university has decided to offer temporary housing to approximately a hundred students, and has, for example, reserved 44 spots at bungalow park Het Grote Bos in Doorn. A twin room there costs 300 euros a month; 70 more for a single-person room. Twice a day, students can hop on a free shuttle bus to and from Utrecht.
There are also beds available at the StayOkay at the Neude, and at the Star Lodge Hotel at the Biltsestraatweg. The latter especially is quite pricey: students pay 35 euros a night for a room they have to share with a fellow student.
Acute problem
Lamkin acknowledges that there's an acute problem and that the university will have to pull out all the stops to help students. The situation is even trickier than it was last year, as the number of international students has increased by a quarter compared to last year: then, around 1,900 students came to Utrecht, 500 less than this year.
The university is finding it difficult to reserve more rooms for international students on the overheated housing market in Utrecht. This year, the UU access to 110 more rooms than it did last year, but the university would've liked to use even more.
Earlier, the UU had decided to ask international students to pay a contribution for using UU-reserved rooms. That income will then be used to obtain more rooms. Eventually, international students might be able to stay at new student housing facilities. One is currently being built near the Diakonessen hospital, and there are plans for the former Oudenrijn hospital in Kanaleneiland.
Sympathetic ear
Still, there's no need for those who are on the hunt for a room to despair, Lamkin says. Experience has taught her many students find solutions in the first few weeks of their studies. Last year, Lamkin says, far as she knows, not a single student had to abort his or her studies due to their housing situation.
The university has hired two temporary full-time aides to assist those students looking for rooms. Lamkin: "It's a great challenge, and we're often faced with desperate people. We offer them a sympathetic ear, and we try to provide them with advice. Our temporary rooms do free up regularly, so it's not completely stuck, and we often hear from landlords who want to help out."
Realistic information
The policy advisor says there's no total chaos in Utrecht yet, as the media have reported in other college cities. This is partially because the number of international students in Utrecht is relatively smaller – around 9 percent of all students are international.
But Lamkin also thinks it's helped a lot that the UU provided international students with factual, realistic information about the housing market in Utrecht. "There's barely a single student who's shocked at the housing shortage, or blames the university. They all understand the university can't offer ready-made solutions, and appreciate all the help we are able to offer."
Deplorable situation
Tijn Tas, speaking for student association Vidius, says it's "outrageous" that so many international students still haven't been able to find permanent housing. He blames the situation on the combination of the increase in international students as a result of the Englification at the university, and the immense shortage of rooms in Utrecht. "The situation is deplorable. We're hearing a lot of stories you just shouldn't want as a university."
Tas says Vidius would like to meet with the university and other involved parties to brainstorm on possible creative solutions, mentioning, among others, the SSH pilot in which students were given the option of having an international student as a housemate.
Given internationals' tenuous position on the housing market, Vidius and student associations ESN, Buddy Go Dutch, and Boks have decided to transform the current collaborative effort ISHA (International Student Housing Association) into an independent foundation, where students can ask questions about housing, rents, and landlords.
This spring, UU rector Anton Pijpers said in an interview with DUB that it's not the university's goal to recruit as many international students as possible. Still, their number is definitely increasing, and the university feels morally obligated to house that group of students, he said. "The question is where that responsibility ends. We try to offer as many rooms as possible, but the housing market in Utrecht is incredibly tough."