Read in Dutch
Tourists are enjoying the autumn sun at the Dom square as they listen to the guide tell a story about the Dom church. A little ways off, groups of dressed-up students and their families and friends wait their turn to receive their degrees. Today, Master's student of Pharmacy Shaghayegh Mohsenian (27) is one of those students.
I speak with Shaghayegh before she receives her diploma today. In her bag, she's carrying the dress and high heels she'll wear at the ceremony. "I want to tell my story, to show all refugees and all other people that it's possible to reach your goals. Because if I can do it, you can, too." It wasn't self-evident for her to go to college. Those who know her life story, know how determined she is, and how many obstacles she's had to overcome to chase her dream. "Sadly, it's not a matter of course that I'm here today," Shaghayegh says, a wry understatement.
I was a 15-year-old high school student, unaware of the dangers
Waves crash against the boat – filled with refugees – that's on its way from the Turkish city of Izmir to Mytilini, on the Greek island of Lesbos. On the boat is 15-year-old Shaghayegh. Together with her father, mother, and little sister, she's fled the Iranian city of Abadan with help of fake passports and people smugglers to escape the Iranian regime. Her father is in danger because of his political activities. The family's destination is Great Britain, where some of their family live. Like all the other refugees on the boat, Shaghayegh isn't wearing a life vest. The people smugglers have forbidden this, because the vests increase the refugees' visibility to the coast guards. When the engine stops working in the middle of the sea, a panic breaks out. "I was a 15-year-old high school student, not really aware of the dangers. It was only in 2015, when I saw those horrible images of the refugee crisis, that I realised it could've been my body that washed up on the shore."
From Greece, the family flee to Schiphol. There, they are arrested by military police and forced to apply for asylum in the Netherlands. This is the temporary end of an attempted escape that took a month and a half. For a teen-age Shaghayegh, it's the beginning of a battle that'll only end twelve years later. "I was instantly grown-up, because in the Netherlands, it was as if I had to re-invent how to live. I had to re-find my place in society. It's really hard to flee, but my parents, God, and perseverance got me through it."
Studying one page of history took me hours
In 2006, the Mohsenian family end up in an asylum centre in Friesland. Shaghayegh doesn't have a school diploma yet, and has to go to school. She, her father, and an interpreter talk to the school director of the Internationale Schakelklas (ISK) in Drachten. Shaghayegh says she wants to study something medical. The school director says that, as she doesn't even speak Dutch yet, she should decide to do something practical. "I told that woman I'd skip her school," Shaghayegh says. Practicing what she preaches, she spends months learning fifty new Dutch words a day from her dictionary. "I made my own sentences, learned the pronunciation." After the municipality intervened, Shaghayegh did end up going to the ISK, because it was the only way to move on to regular education.
Shahayegh proves the director she's right, and after four months of classes at the ISK, she ends up in the second year of a havo class in Drachten, midway through the school year. After half a year, her grades are so high she's allowed to go to the vwo. "I worked incredibly hard, because studying one page of history took me hours; I had to look up so many words in the dictionary. All in all, as a sixteen-year-old, I spent more than 60 hours a week keeping up with my homework."
The asylum centre is an unsafe space filled with tension
During her high school years, Shaghayegh lives in several different asylum centres around the country, including two in Friesland, one in Groningen, and one in Gelderland. "In one year, we moved eight times." The tough part for Shaghayegh is finding a quiet place to study. Studying isn't encouraged in the centre, she says. "The asylum centre is an unsafe space, filled with tension. There are people who are traumatised, who have mental illnesses. In Friesland, we lived in a unit with nine people from three different countries, with different cultural backgrounds and faiths."
Right when Shaghayegh has started to find her way at a high school in Friesland, the Mohsenian family is notified they'll have to move to Gelderland. "Switching schools, leaving behind everything you've built, is incredibly hard. I had to make new friends again." Shaghayegh receives a lot of support from her father, who worked as a welder in Iran. "He was my rock, and was behind me one hundred percent. My parents gave their all to let me achieve what I wanted."
Eventually, the family end up in Friesland, where Shaghayegh goes to the fifth year of vwo. Again, an obstacle arises that ensures she'll have to push herself to the limit. "We received an eviction notice, and had to move to the deportation centre in Ter Apel. That year, I missed a third of my classes, because I had to report to the aliens police every week. The idea that at any moment, we could be deported, took its toll on me. The status of the asylum procedure comes with great uncertainty. My neighbour was deported and the only thing I could think of was: will this happen to me tomorrow?"
Despite all insecurity and uncertainty, Shaghayegh manages to find enough discipline to keep studying. During her 5-vwo year, she turned eighteen, so she wasn't legally obligated to go to school anymore. "I ran away from the deportation centre then. I found a home with my biology teacher Daan van Weelie, who took me and my sister in with his family. Around Christmas, we were able to spend a few weeks in the house of my maths teacher Andree van der Veen. My parents came too, and so we were able to spend a few weeks together. My high school, het Drachtster Lyceum, and especially these two teachers, gave me so much support. They're people with huge hearts."
I failed a mandatory language test
It wasn't until Shaghayegh was in her senior year of high school that she heard she and her family were allowed to stay in the Netherlands. Shaghayegh takes her vwo exams, but fails her Dutch exam by one tenth of a point. "I was so incredibly disappointed, but I don't let anything stop me." Shaghayegh repeats her 6-vwo year, and passes her exam with a 7 for Dutch.
In 2012, Shaghayegh starts her Bachelor's in Pharmacy at Utrecht University. Both the studies and student life suit her well. But university comes with its own challenges. "I failed a mandatory language test for a course. It was because of the articles, I still don't really have feeling for those. But to pass that test, I just grabbed my dictionary again and started studying. I wrote down more than 1,000 words, studied hard, and eventually, I passed the test with a 9.2 for the articles part."
In her first year, Shaghayegh is granted more time for her tests because of her refugee status. In her second year, that ends. "I don't know why, but it would have helped if I had gotten that extra time. And it would've been great if there'd been a central point of contact for someone with a resident permit like mine. Because at one point, my resident permit expired and suddenly I had to pay 22,000 euros tuition. I didn't know how to solve this. Of course I'm aware that I was in an exceptional position. After I received my new residence permit, the problem was solved, but in the meantime, I had to pay those terms of tuition."
Now I'll celebrate this special, exciting day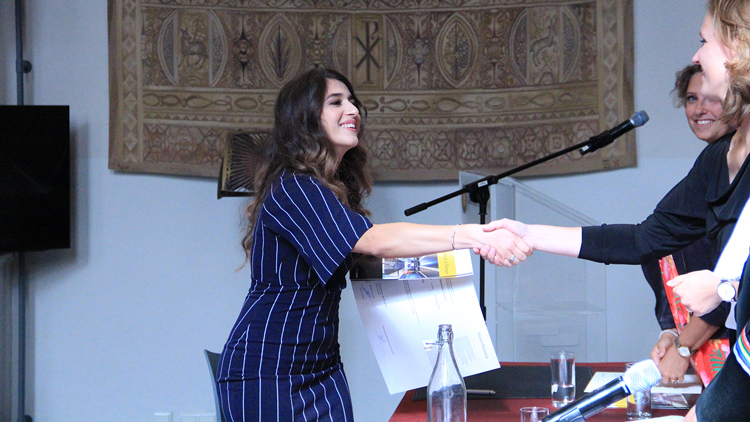 Shaghayegh, who now works as a project pharmacist, is looking at the future. "I have great coworkers at the RadboudUMC in Nijmegen, and I feel at home at the department. My ambition is to become a hospital pharmacist. As a pharmacist, I'll do my best to ensure better care for all patients."
When she's finished her story, she points at her purse and says it's time to get dressed. "Now, I'll celebrate this special, exciting day. All those years, I put everything second so I could achieve this." In front of the University Hall, she watches her little brother play on the stairs, and sees her visibly proud parents walk towards her. "Without their unconditional support, I would not have been here today."