'A PhD seemed like the next logical step, but…'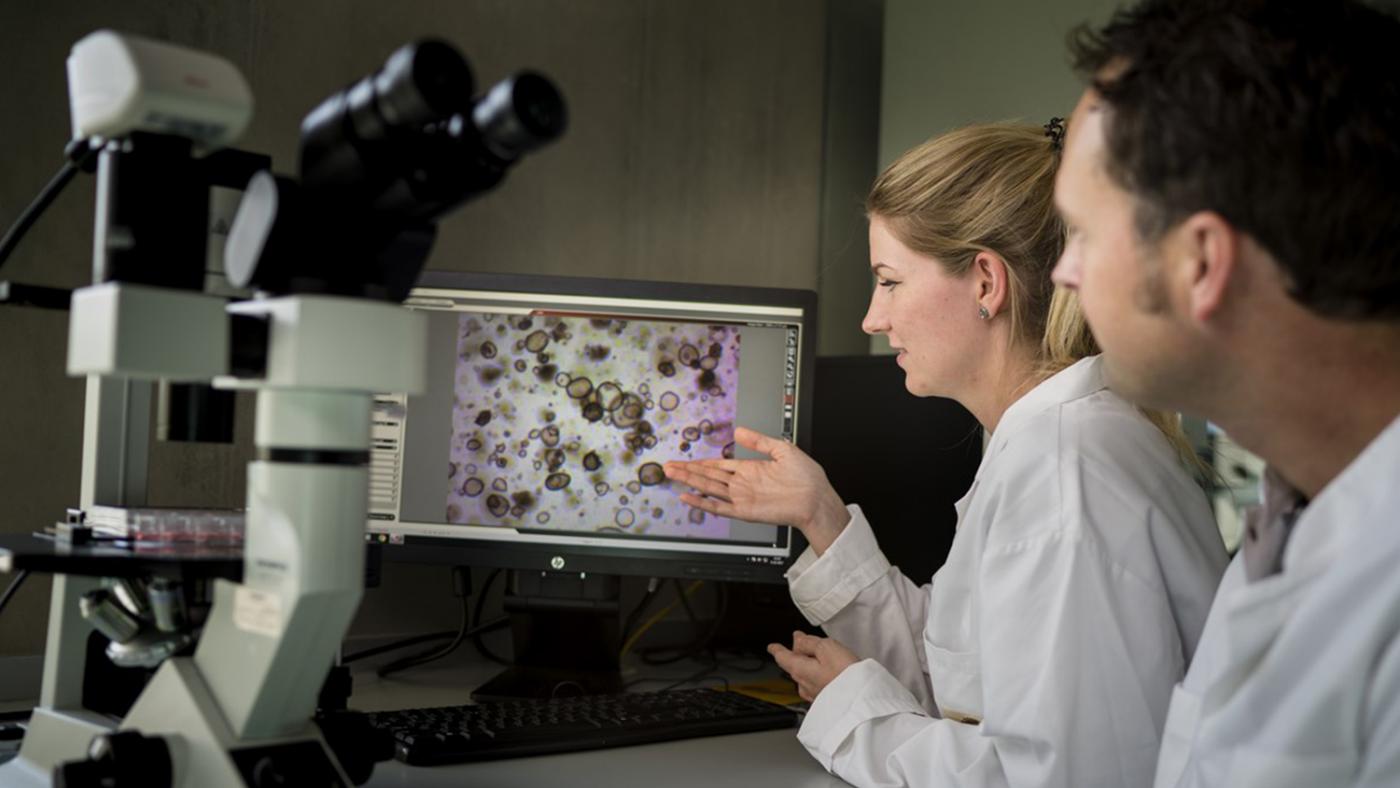 Photo: Ivar Pel
The numbers come from the National Monitor Female Professors. According to this annual study, the cause of the decline is that more often, new PhD candidates are men. The total number of PhDs increased at all universities in 2017, but only a small part of that increase consists of women, the monitor shows. Of the 129 new PhDs in 2017, only 29 were women.
Utrecht University's own data also shows the number of female PhD candidates is falling. If you compare the total number of PhDs in 2018 with the total number in 2013, the number of male PhDs has increased by 55, while the total number of female PhDs has decreased by six.
That change doesn't only have to be attributed to a difference in the influx of new PhDs; it can also be explained by, for instance, the idea that in the years in between, a relatively high number of women finished their dissertations or quit their research, says Janneke Plantenga, chairwoman of the Taskforce Diversity at the UU.
Article continues below the photo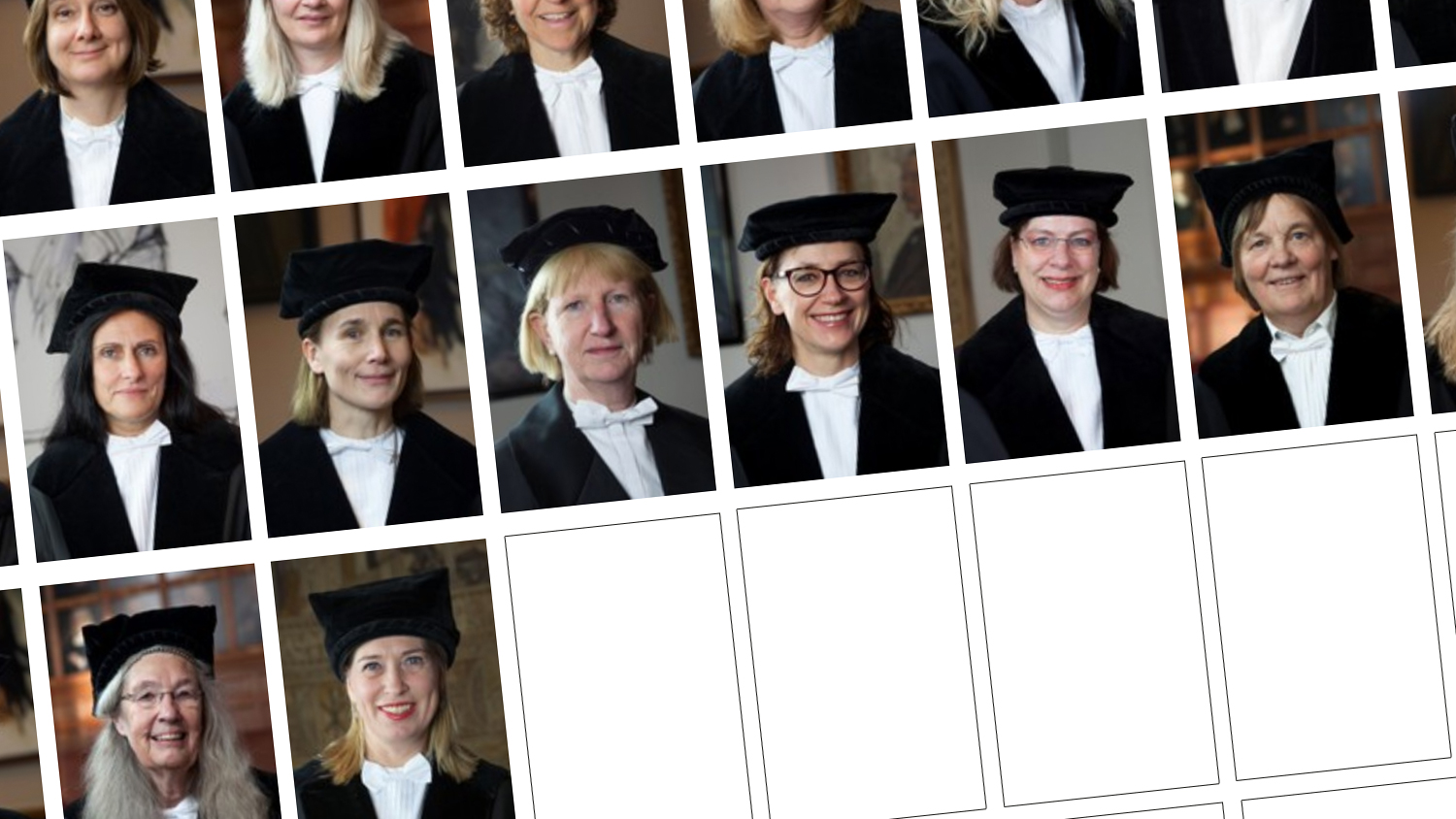 Despite the decrease, the monitor says that in 2017, about half of the UU's PhD candidates were women (46.8 percent). However, Plantenga feels the decrease of female PhD candidates is worrying. "The share of women among Master's graduates in Utrecht is around 65 percent, so it's not a good thing if that number is less than 50 percent amongst PhD candidates."
Anne de Vries, chairwoman of the PhD Network Netherlands (PNN), is also unhappy about the current male-to-female ratio amongst PhD candidates in Utrecht. "Women quit more often during their climbing of the academic ladder. If that loss already starts in the step from Master's programmes to PhDs, that will also eventually influence the share of female professors."
Looking at the ambition of universities, to increase the number of female professors, Lidwien Poorthuis of the National Network of Female Professors says it would make more sense if there were currently more female PhDs than male ones. "Eventually, of course, you want to have a situation in which the ratio is comparable to the ratio amongst students. But we're trying to catch up at the top now. It's okay for the male-to-female ratio to be a little skewed in favour of women, to keep up that process." Plantenga agrees: "PhD candidates are the future of our scientific staff. The decrease of the number of female PhDs must not continue for very long."
How can we explain the decrease of female PhDs?
There is no hard evidence to explain the decrease. The National Network Female Professors explains the trend mostly through the increase in the total number of PhDs in the Technology discipline – where most new PhDs are men. Janneke Plantenga sees some truth in that explanation. The UU's own data seem to support the theory: the number of male PhDs at the UU went up by 55 between 2013 and 2018. At the faculty of Science, 28 men started, and only 16 women. That doesn't change anything about the male-to-female ratio at the faculty, but because the faculty is growing in size, it does influence the ratio within the UU.
Still, Plantenga doesn't think the fact that there are mostly male new recruits at the Science faculty explains everything. At some faculties, after all, there is truly a decrease in the number of women. At the faculty of Social Science, for instance, the number of female PhDs dropped by 18.7 fte in the past five years, while the number of male PhDs in that same period increased by 4.4 fte. And at Geosciences, there were eleven fewer female PhDs than there were five years earlier, while there were 18 more men. Plantenga: "I'd like to know what's going on there."
It's a question Muriel, Lonneke Roelofs (23), Jana Cox (24), and Loes of the network Young Women of Geoscience (YWOG) would also like to see answered. The four are surprised that the percentage of female PhDs at their faculty dropped from 50.9 percent in 2013 to 38.7 percent in 2018. The four say there's no female-unfriendly culture at their faculty that could explain the decline. That's not to say that they don't have any ideas about what may explain the lower share of women.
They say the improving labour market, which started a few years ago, may have had more effect on women. Master's student Lonneke: "Nearly all female PhDs that I've met during my studies, didn't continue their careers at university after their PhD track. They've all entered the labour market, while the men became PostDocs." The network says it may be the case that this is due to women's character – that they may feel the need for security more than men do.
Janneke Plantenga of the Taskforce Diversity has also noticed that the decline in the number of female PhDs did indeed start when the economy started to grow again after the financial crisis. "Perhaps during the crisis, Master's students saw there weren't many jobs outside the university, and a four-year PhD track kept them employed for that time. Then after, they'd see the opportunity to continue their careers outside of science. And perhaps they choose to do so more often because at the start of your career, the university isn't always the most attractive employer, for example because of its temporary contracts." Plantenga says it would surprise her, however, if the economic development had more effect on women than on men. "You'd expect that it's harder to find PhDs overall, in that case."
Women wanting to start families find more job security on labour market
"But," PhD Muriel counters, "if I think about, say, starting a family as a female scientist, it worries me how I'll be able to combine this with my scientific career." Jana adds: "In a company, you know how to deal with wanting to have children. You have maternity leave, and then you can get back to your job, work fewer hours if you want. But I'm not sure whether there's a comparable system within the university." Lonneke: "I also feel that within our faculty, there aren't many examples of women combining careers and families."
"During my Master's, I first took a class taught by a female professor who had children," Lonneke continues. "Although I'm not thinking of having children of my own yet, that still came as a relief. It was the first time I saw a woman on the path that I may want to walk myself. A role model. That was an eye opener, because it let me see there is the possibility of being both scientist and mother in the future. I didn't know I needed that comfort, because I had faith in myself, but still, it was a weight off my shoulders. I did have that feeling that you needed to choose between science and motherhood. That image was further reinforced by the fact that I saw women finish their PhDs and then choose to work at a company, and then suddenly start families."
Anne de Vries, of the PhD Network Netherlands, also receives signs that there's a culture in academia that's not favourable to women wanting to start families. "I hear that within some disciplines, they say you can't have any delays in your dissertation if you get pregnant. Or PhDs being told that their 'dissertation will probably never be finished' when they announce their pregnancies. I hear colleagues look down on you if you have children, or if you want to work part-time because of your family. And that sometimes they even tell you that they expect you to delay starting a family until after your PhD is finished."
"This, despite the fact that PhDs are usually between 25 and 35 years old, and that's exactly when women often have children," De Vries continues. In 2017, almost 90 percent of PhD candidates at the UU was between 25 and 35 years old. The average age Dutch women have their first child is 29.8 years.
Article continues below the graph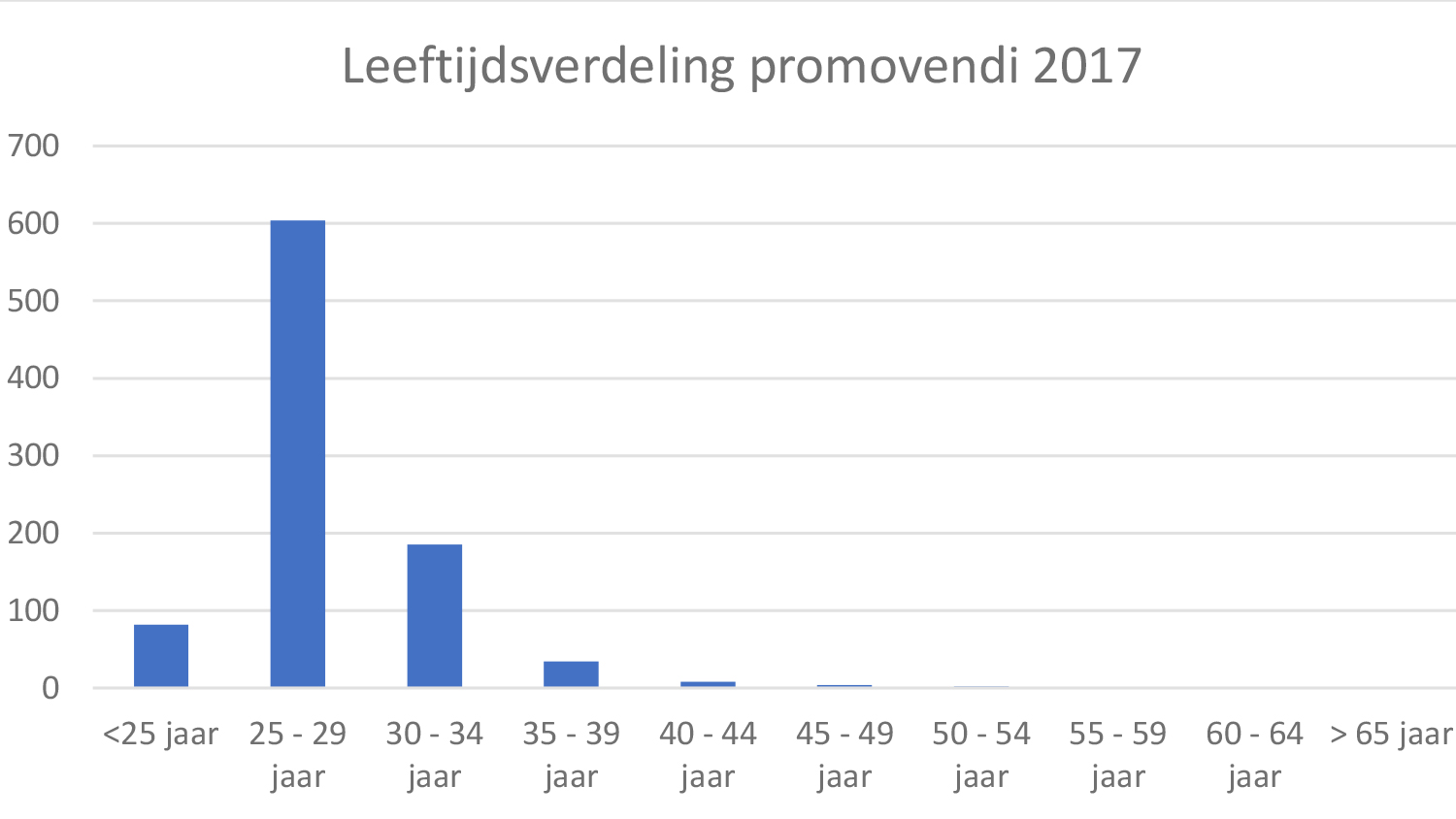 That's why De Vries lobbied to include in the collective labour agreement that parental leave will not cost PhDs their allotted research time. Since July 2018, this is done for all PhDs except those at academic hospitals. "Before that time, PNN frequently received complaints from female PhD candidates about the lack of parental leave. When a university employee heard I was working for this, I was asked why this was even necessary. 'Because a PhD only takes a few years, so you can just keep your legs together.' I thought it was a shocking remark, but it does tell you something about the sentiment. That science can scare women away if they want more from life than just a PhD." PhD candidate Loes: "I feel like getting pregnant during your PhD track has the same stigma as a teenage pregnancy does."
PhD candidate and University Council member Nico Naus hears similar sounds sometimes as well. "One story I hear a lot is that there are still professors who prefer male PhDs because with women, there's the possibility of pregnancy severely delaying the research." Anne de Vries: "For women, that comment is an additional barrier they need to cross to get accepted for a PhD position. They're judged for the fact that they want to start a family, because it's assumed it'll cause a delay, making them a less interesting option than men. They don't look at men that want to have children that way."
Although Janneke Plantenga of the Taskforce Diversity sees many women only start families after finishing their PhDs, she's not sure whether this is due to the culture in the PhD tracks.
'A PhD seemed like a logical next step after two cum laude Master's degrees'
For Annemarie (38), the knowledge that she wouldn't have much time for a life aside from work if she chose to pursue a PhD was a reason not to start a PhD track five years ago. "A PhD seemed like a logical next step after two cum laude Master's degrees and published theses. But I wondered whether it'd be possible to sufficiently separate life from work. In your head, a dissertation is never finished, is always buzzing around, and gnawing at you. I didn't want my life to be defined by my research. Other parts of my life were far too important for that. I had ambitions of being a mother, a wife, and a friend as well. I wanted time for sports, music, a social life, and relaxation. In other words, I wanted a job that offered a work-life balance. I didn't want to be a stressed-out person."
Jana, Loes, Lonneke, and Muriel all recognise this. Jana: "When we're talking about scientists in our society, we're usually talking about men. That makes you feel that as a woman, you need to work very hard and have a lot of luck, to be able to have a career in science. Everything that can go wrong is constantly going through your mind, which creates the feeling that you need to sacrifice other parts of your life. And it's hard to let go of your work."
Lidwien Poorthuis of the National Network Female Professors isn't surprised. "You hear these types of stories very often," she says. "The workloads, the stress, the burnouts amongst PhD candidates scare people off. That doesn't apply to women only, it applies to men as well. For them, too, science is a competitive world."
'Research on decrease needed'
De Vries of the PNN thinks the UU and other universities should study why the percentage of female PhDs is in decline. "Now, for instance, people feel like PhDs don't want to start families during their PhD tracks, but perhaps they wait because the academic culture doesn't allow them to take that step. If you hear often enough that the two can't be combined, it might make you afraid to get pregnant, that you quit after your pregnancy, or that women already start out thinking: I'll find a place outside of science."
Others also call for further research. The network Young Women in Geoscience would like to see research on whether there's a relation between the gender of the supervisor and the gender of the PhD candidate. Do female professors hire female PhDs more often, and the other way around as well? Based on their own experience, they're also curious how female PhDs get their PhD positions. Were they invited to apply, or did they respond to a vacancy? Their expectation is that women are more often modest when applying and therefore will be more likely to start a PhD track if they're actively asked to apply for a position.
Minister Ingrid van Engelshoven won't support a national study on the decline of the share of PhDs unless the decline continues. Janneke Plantenga of the Taskforce acknowledges the worry, but also agrees with the minister's hesitancy: "First, we need to figure out the cause of the decline. Naturally, we as Taskforce will carefully watch the number of PhDs in the near future."
Table: Percentage of female PhD candidates
The table below lists the percentage of female PhD candidates per university. The data comes from the National Monitor Female Professors. The universities are ranked from biggest increase compared to 2011 (in percentages) to biggest decline. The University of Amsterdam is the only university where the decline is bigger than at the UU – the share of female PhD candidates dropped by 8.1 percentage points.
At the UU, 46.8 percent of PhD candidates was female. Only five universities had a lower share of female PhD candidates: Leiden University, University of Groningen, Delft University of Technology, Eindhoven University of Technology, and University of Twente. 
| | | | |
| --- | --- | --- | --- |
|   | 2011 | 2014 | 2017 |
| Open Universiteit | 51,6 | 45 | 60,3 |
| Erasmus Universiteit Rotterdam | 43,9 | 50,6 | 51,3 |
| Universiteit Maastricht | 52,1 | 53,3 | 57,4 |
| Universiteit van Tilburg | 54,2 | 52 | 55,5 |
| Technische Universiteit Eindhoven | 26,6 | 27,3 | 27,3 |
| Universiteit Leiden | 45,9 | 45,8 | 46,3 |
| Universiteit Twente | 32,8 | 32 | 32,2 |
| Radboud Universiteit Nijmegen | 51,7 | 50,7 | 51 |
| Technische Universiteit Delft | 28 | 29,3 | 26,8 |
| Rijksuniversiteit Groningen | 48,6 | 45,7 | 46,7 |
| Wageningen Universiteit | 55,8 | 55,7 | 52,8 |
| Vrije Universiteit Amsterdam | 53,1 | 48,3 | 49,8 |
| Universiteit Utrecht | 52 | 48,4 | 46,8 |
| Universiteit van Amsterdam | 56,5 | 49,1 | 48,4 |
The annual analyses in the National Monitor Female Professors are based on VSNU WOPI data. The WOPI files – WOPI stands for Scientific Education Staff Information (Wetenschappelijke Onderwijs Personeelsinformatie in Dutch) contain data from staff employed by universities. The data used in this article therefore say something about the decline or increase of the PhD candidates employed. Other types of PhD candidates, such as scholarship PhDs and external PhD candidates are not included in the data. The data provided by the UU only includes information on PhD candidates employed by the university, too.
For this article, we requested information from Utrecht University on how many male and female PhD candidates there are at each faculty, and what that ratio is at each faculty for Master's degrees. Not all data was received before this article was published.