Mixed feelings about new evaluation system
Recognition and Rewards system barely noticed by young scientists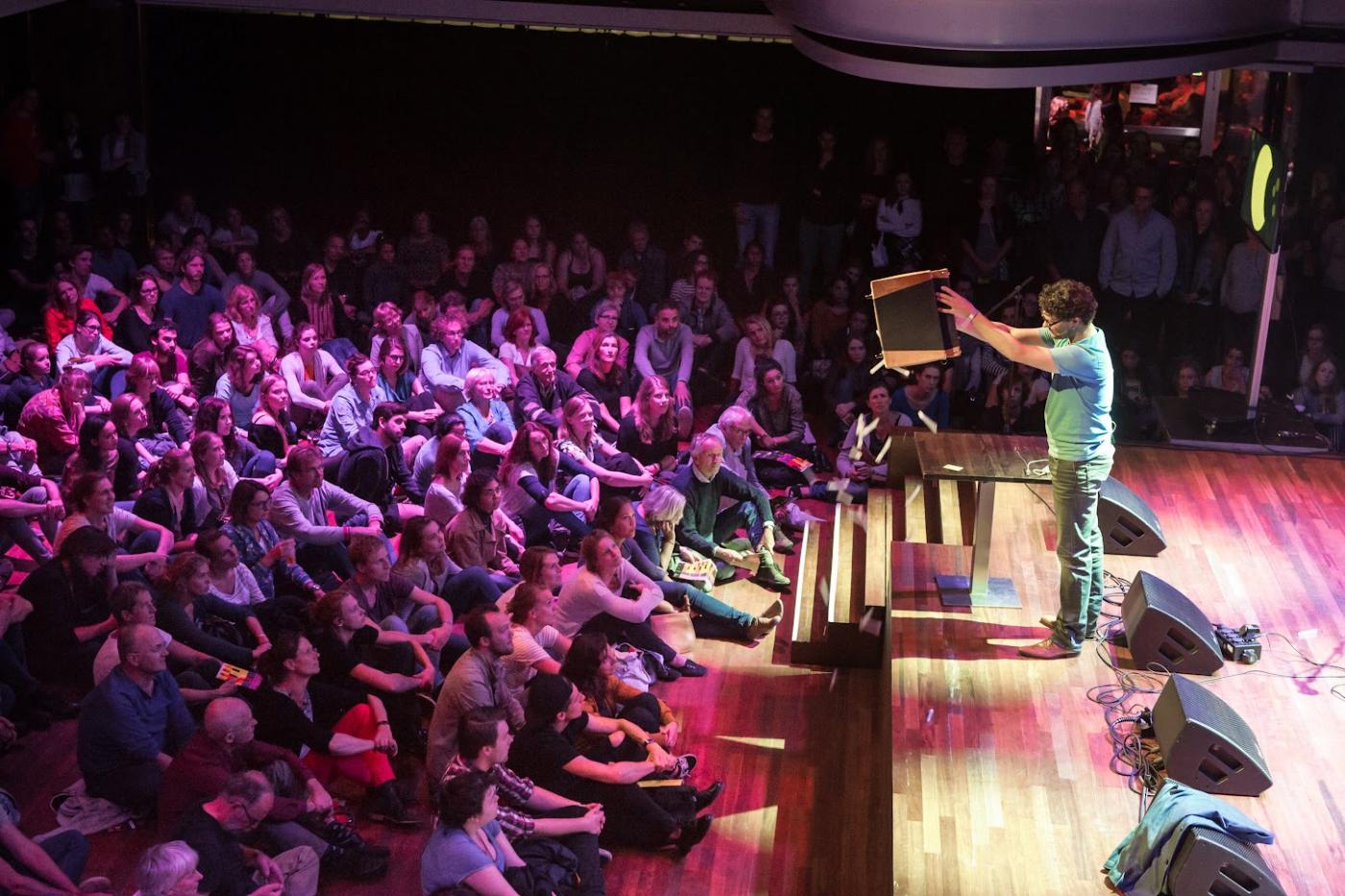 Public engagement activities are still seen as a hobby by most. Photo: Betweter Festival, 2016
This has emerged thanks to the Bachelor's thesis of a Management & Organisation student, Femke van de Glind. She spoke with fourteen scientists at the start of their careers at UU, as part of an internship at the Teaching Academy of Utrecht University (TAUU), the community of UU teachers.
The young researchers seem to have a paradoxical attitude toward UU's new Recognition and Reward model. Many of the interviewees praise the university for the new evaluation system that should end the all-pervading focus on research achievements. At the same time, doubt and cynicism prevail.
The reality is that the primary focus still lies on someone's scientific results. Many managers are also clueless as to how to measure and assess the work of an employee when it comes to public engagement activities.
Almost excellent
In her thesis, the student writes that many of the respondents can relate to the principles of UU's Triple-model (Teams, Research, Impact, Professional Performance, Leadership, Education) which has been in place at UU for a while. They agree with the creators of the model that "a good academic" isn't necessarily "an excellent researcher" and that other qualities should be evaluated as well.
However, when the respondents are questioned about whether what's written on paper is actually going to lead to concrete changes in the workplace, scepticism abounds. According to some, the policy has been conceived by those higher up the hierarchy, meaning it is disconnected from practice.
"Me and my colleagues, we all think that this is something that has been conceived at the top and we don't understand all of it. But we'll see. Another manager has been appointed to carry this out, so that's become a running joke among us," says one of the people interviewed by van de Glind.
Considering the personal experiences they shared in the interviews, their suspicions are quite understandable. For example, when they talk to their managers about growth opportunities, the first response is often related to research achievements. The same goes for application procedures, where research is simply the "highway" toward a successful academic career, as worded by a young scientist.
A teacher who consistently gets good evaluations from students, not to mention great results obtained through teamwork, once heard the feedback that her performance was "almost excellent". To her, "the predicate 'excellent' is only given to people who bring in a bag of money. So, I had to focus more on publications and scholarships."
"If you have an amazing publishing record, it still weighs much more than the other categories supposedly valued by the new recognition and reward system," says a young UU academic who was interviewed for an associate professor position.
Passion projects
The Bachelor's thesis also shows that the extent to which a scientist is able to advance in another area is strongly dependent on whether the manager is favourable to the Triple model. 
But, in most cases, educational achievements are considered something of less importance. "Teaching is still deemed as an unwanted child or a burden," according to an international teacher.
And that's not even mentioning other components of the Triple model. Media appearances and social activities are quickly labelled as "passion projects", as evidenced by the following quote: "I am very actively involved outside the walls of the university, in the media. However, I have the feeling that this doesn't count at all during the job interview procedure. There is no space for that, apart from putting it on your resume yourself. I have the idea that the Recognition & Reward system is still in a bit of a hollow phrase."
Young scientists with the ambition of following an academic career path still prioritise research, according to Van de Glind's thesis. The running thought is that a scientist can only explore other branches of the Triple model once they obtain a permanent contract. 
Jack of all trades
Although UU's strategy documents emphasise that scientists should be able to specialise more and that their role within a team should be appreciated, many young academics think what happens in practice is the opposite: they often feel as though they must be a Jack of all trades to have a career in academia.
Some of them even consider leaving academia because of that. "If I take into consideration the fact that they ask too much from me (…) which forces me to make choices in life that I don't want to make, then I guess academia is not the right place for me."
Other respondents decided to stay at UU a bit longer because of the proposed change in how scientists are assessed. "I've got the feeling that UU is the place to be because that's where it's all happening, that's where the debate is going on. (…) I think that, by having these conversations, we have an impact on the way science is perceived."
More role models
When asked how this cultural change could be sped up, the respondents came up with two suggestions: having more role models and prioritising teamwork. These are also the recommendations Van de Glind makes for policymakers at the end of her thesis.
She notes, however, that young scientists have mixed feelings about these two suggestions too. To some of the respondents, UU does present any examples of "good practices", which is why they are often regarded as exceptions. "Of course, we have a Professor that focuses on education! There is one! And then nothing else for the next 30 years," one respondent says cynically.
Furthermore, there is also something to be said about the results expected from working in teams: "So far, the perception — and the reality — is that only one person in the team can grow. And the way to increase your career opportunities is by scoring an individual grant."
Femke van de Glind now studies in Oslo. She's presented the conclusions of her thesis in several places, such as UU's Strengthen your Education Week. This is allowing her to engage in conversation with other young researchers, managers and policymakers. She also spoke with members of UU's Open Science Team, as well as the initiators of the Recognition and Reward programme. The latter acknowledge the paradoxes described in the thesis, saying that the work is a source of inspiration to improve the Recognition and Reward system. "I hope that my findings will find their way into UU's policy and that the perspective of young scientists will be incorporated." 
Advertisement