Elite sports coordinator Anne Hamburger quits after 20 years
'Sports have become part of UU's DNA'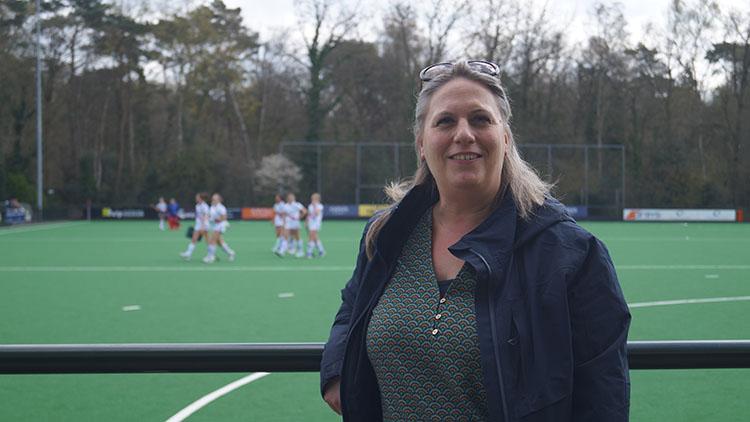 Anne Hamburger used to play hockey with SCHC, in Bilthoven. Photo: DUB
"Are you interested in sports?" Anne Hamburger asks me after we've found a spot in the Parnassos café. Not as much as I should, I admit. Sometimes I go for a run. Whether Hamburger is interested in sports herself is a question I don't have to ask, considering she's spent almost two decades working as an elite sports coordinator.
In this role, she was the first point of contact for students who are also athletes, a group that needs a lot of guidance given their many training days and multi-day competitions. In her years as an elite sports coordinator, Hamburger verified whether students were really qualified to be top athletes and subsequently made necessary arrangements for them, such as providing a monthly compensation of 425 euros for a maximum of one year for those whose graduation would have to be delayed. Another thing she did was talk to athletes when UU turned out not to be the most suited institution for them.
Before Hamburger started her Bachelor's in General Literature and Law in 1995, she played hockey at a "reasonably high level" herself. At university, she rowed with U.S.R. Triton as well. "But I was on a team with a girl who was 1.90 metres tall and another girl who was 1.60 metres tall. If you know a little bit about rowing, you'll understand that that doesn't work," she says with a smile. In 2012, she founded the UU corporate hockey team alongside a colleague.
When she was asked to take on the role of elite sports coordinator in 2003, saying yes was a no-brainer. Twenty years later, this phase of her life is soon to end. "Since 2021, I've also been working as a project manager for the National Education Programme (Dutch acronym: NPO). I'm part of several teams as well. It's better to stop now to make sure all athletes get the attention they deserve."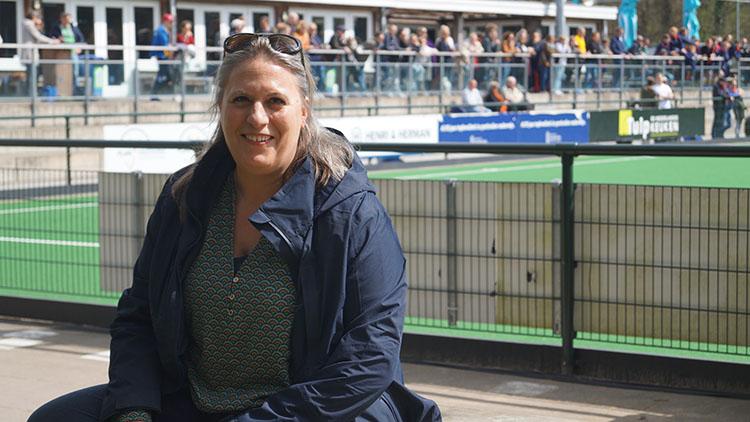 Bleeding ears
A logical question to ask Hamburger is when someone can be considered a top athlete. Isn't that highly subjective? "Back when I started, the premise was: if you participate in a National Championship, European Championship, or World Championship, you are a top athlete. In practice, this proved to be too broad a concept. For example, there is a World Marble Championship." Not every sport could be taken into consideration by UU.
"In my early years, I advised someone who practised free diving, which is diving without any tools. At some point, I was watching a documentary about that sport that showed people coming back up to the surface with bleeding ears. A world champion even died while diving. Then I asked myself whether the university should facilitate that kind of sport. That's why we moved away from it."
Today, UU follows the criteria set by the national sports federation (NOC-NSF). "It's nice that things are arranged much more professionally nowadays. NOC-NSF has clear frameworks for the concept of 'top athlete.' Among the criteria used is the number of people that practice a certain sport and how the Netherlands fares on it. Additionally, the person has to be a member of a national team. That free diver simply would not be eligible today, end of story."
Top models
However, nothing keeps the university from ditching these guidelines. "I've always tried to be as objective as possible, though. Otherwise you start taking such decisions as an individual, based on gut feeling. It can be tricky when you have a case like the free diver." Every now and then, a programme may decide for itself to provide support at the faculty level to an athlete who does not fall within the NOC-NSF criteria.
Besides, the "objective" guidelines do not solve all problems, especially when the top athletes is a student from abroad. That required a lot of work, says Hamburger. Imagine someone practicing a sport that practically doesn't exist in the Netherlands but is huge thing in their home country. Is this person considered a top athlete then? There's no easy answer to that. In such a case, the elite sports coordinator should examine things like how well the country is performing at that particular sport internationally.
There are less complicated cases too. "I've seen quite a lot of top models during my consultation hours. Sometimes, I thought: 'do I really have to explain to you why you fall outside this arrangement?' Being a model is just a job. They usually make enough money with it but, if you go that route, should we start supporting supermarket managers that work fulltime as well? Moreover, we don't have any arrangements for top athletes who are already making enough money thanks to their sport. That's why adult football players are not eligible to our policy either."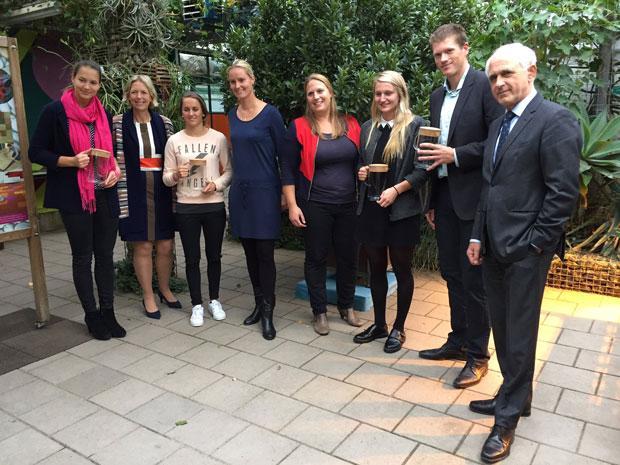 Honouring University and College Athletes in the Botanical Gardens after the Rio 2016 Olympics. From left to right: Monica Lanz; the director of the Utrecht University of Applied Sciences, Tineke Zweed; Lilian de Geus; Lenneke de Jeu and Anne Hamburger, the top sports coordinators of UU and the Utrecht University of Applied Sciences; Laurien Leurink, Kaj Hendriks and then UU Rector Bert van der Zwaan. Photo: UU.
Elite sports DNA
According to Hamburger, when it comes to elite sports policy, UU is an example for other institutions, which she attributes to its many years of experience. "These days, we are connected to the Dutch network of Universities for Elite Athletes. Some institutions appear to have never had a student who was a top athlete. We, on the other hand, have had an elite sports policy for 35 years."
The university simply had to, as top athletes have always been attracted to the university — largely because of its location, she reckons. "There used to be many National Talent Centres for athletes in this area. So, suddenly, an entire water polo team would come here to study." Today, word of mouth plays a role as well. "Athletes hear from each other that things are well organised here."
That does not mean that every top athlete can study at UU. Another topic Hamburger can discuss at length with other institutions is whether elite athletes can take all courses. Personally, she doesn't think it's possible. "If someone practices a sport, for which they are by definition absent several weeks a month, you can't follow a study that's entirely practical. You cannot learn how to perform surgery on a horse from a screen. Ultimately, we have a certain educational vision in which students actively participate in class."
Other educational institutions are more flexible about this, according to her. That's why it's important for top athletes to approach the elite sports coordinator before they even apply. "Then we can tell them if things will be difficult with us but maybe we can refer them to another institution. Even within our university, there are faculties  that are more flexible than others."
Asked to comment on the abrupt interruption of the flex studying scheme, Hamburger says it's a shame. But the consequences are relatively small. "The pilot was conducted with study programmes that didn't have as many top athletes. But I heard it was the perfect solution for the few elite athletes they did have."
In any case, Hamburger is proud of the evolution of UU's elite sports policy over the past 20 years. "Everything is much clearer and more professional now. Also, top athletes know where to find us much better now. Sport has really become part of this university's DNA. Student advisers are much more aware of what we can offer, we are now more in touch with them than we used to. Our communication has improved tremendously. I really think we've created something beautiful."
Trophy cabinet
Combining a top sports career with  is rarely an easy thing to do. "But top athletes often have capacities that other people don't have: time management, perseverance, discipline… They're incredibly motivated people, which makes them good students as well. So, most of them do succeed."
Nevertheless, sometimes Hamburger has to advises people to put their studies on hold for a while. This is advisable when they're training for the Olympics, for example. "Preparing for such a competition involves so much pressure... You don't really want to study for exams amidst all that. It's such an automatism that we have to get a university degree immediately after high school but we don't have to do that at all."
There is no one-size-fits-all solution to all elite athletes. First of all, they are in all types of courses. Secondly, each sport requires a different kind of guidance. "We have a lot of rowers, for example. They often train in the morning or evening, so studying usually goes well for them. There are also many skaters, who can also handle the combination quite well, since it's an individual sport. They still have some control over their training schedule. But team sports are harder. We have a lot of hockey players, a sport that is so professional that they sometimes have to spend days at the national sports centre, Papendal. It is usually not possible for them to take the work group schedules of the entire team into account."
One last question: does Hamburger feel proud when one of "her" athletes wins a medal somewhere? "Definitely. But also when they manage to graduate. I talk to some athletes more than others, as you can imagine. With some, I really kept in touch. I even got a painting once, gifted by the mother of one of the athletes. I am also sent photos or even medals." Since Hamburger no longer has her own office at the Utrecht Science Park, those medals are lying in a trophy cabinet at her home, she says, laughing. "You don't throw something like that away, of course!"
Advertisement