Students celebrate King's Day just like the good old days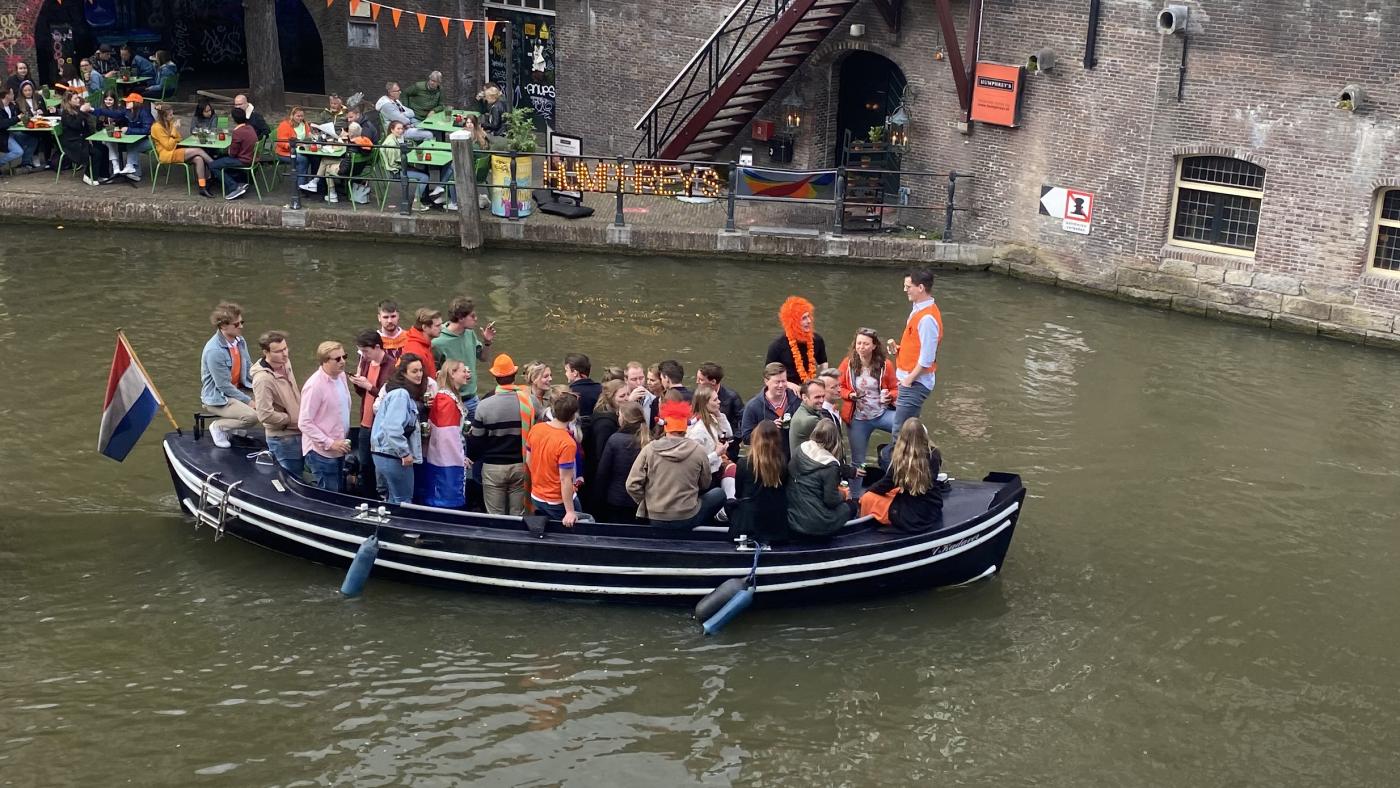 Going on a boat ride in the canals of Utrecht, a popular activity on King's Day. Photo: DUB/Anaïs Banzira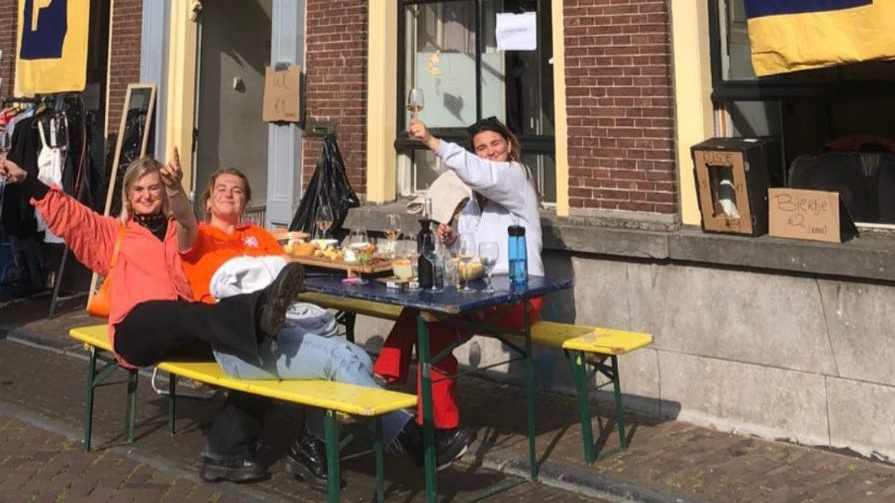 A kiss for a euro
Student house Plompverloren, the home to nine Dutch girls, is known for celebrating King's Day in style and this year was no different. The residents came up with several activities to raise money in a playful way: one euro could get you a kiss from one of the girls or the chance to pet their dog or a visit to their restroom. They also sold beer and clothes. The girls say they had fun and attracted a lot of attention. "We've been doing this for years, it's become a King's Day tradition", explains Britt. "This year, there were fewer people than usual, but we managed to have a nice time anyway". They can't complain about the 400 euros they've raised, either.
---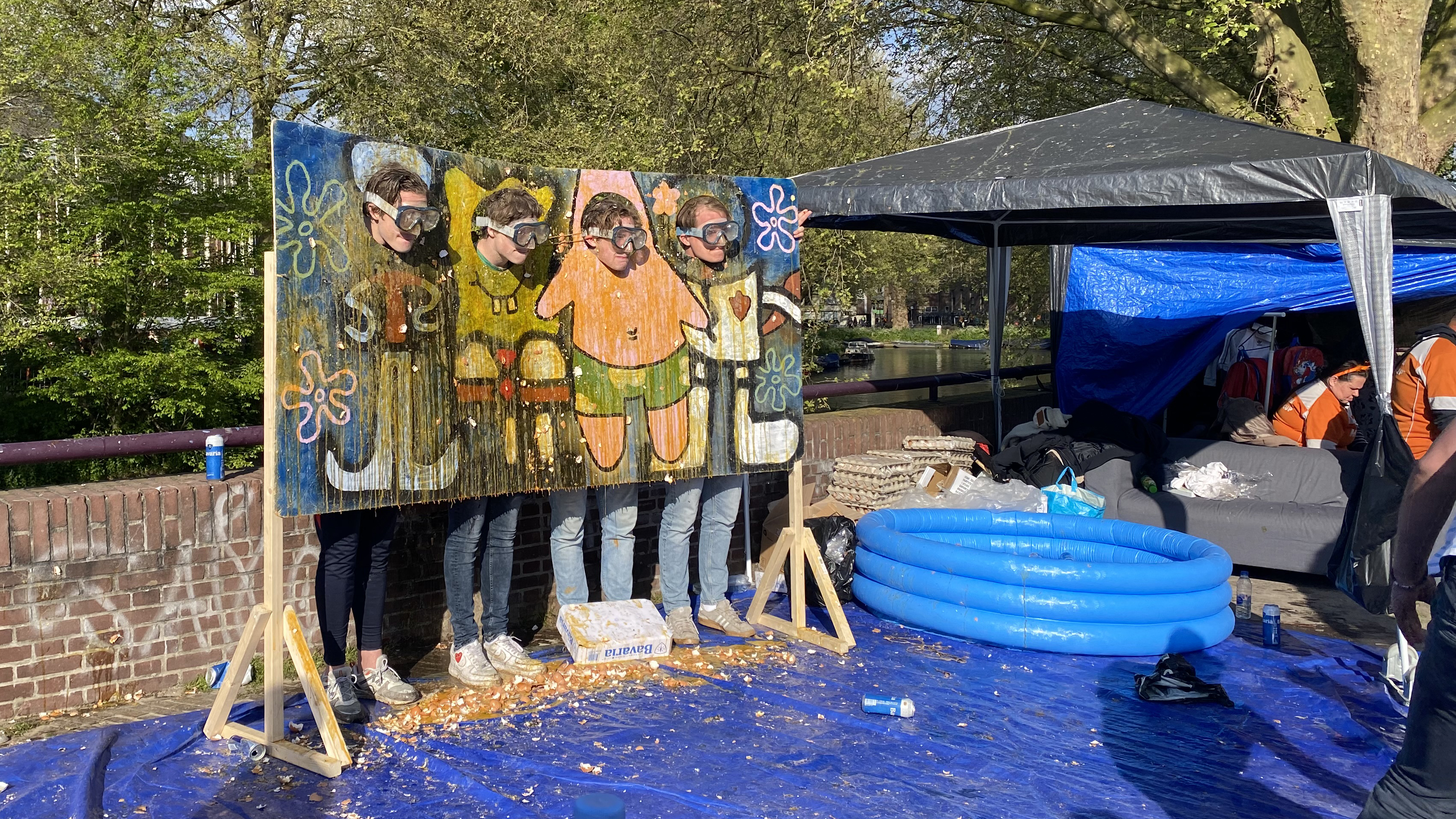 From Groningen to Utrecht to be pelted with eggs
On Van Asch van Wijckskade, there was a huge face-in-the-hole board with characters from Spongebob SquarePants. The heads of four students were sticking out of it. Beside them, another board announced: "Throw an egg for a euro!" All students were wearing swimming goggles to protect their eyes from the raw eggs being thrown at them. They were freshmen from a Groningen-based fraternity, whose name they prefer not to reveal.  
This is actually an old tradition. "Every year, a new batch of students goes to Utrecht on King's Day", which does cost quite a lot of money, the students explain. "First we have to make and paint the face-in-a-hole board, then arrange from some benches and, of course, buy lots of beer. The money we raise today is going to cover these costs, first and foremost. If there's anything left after that, we'll see what to do with it." 
---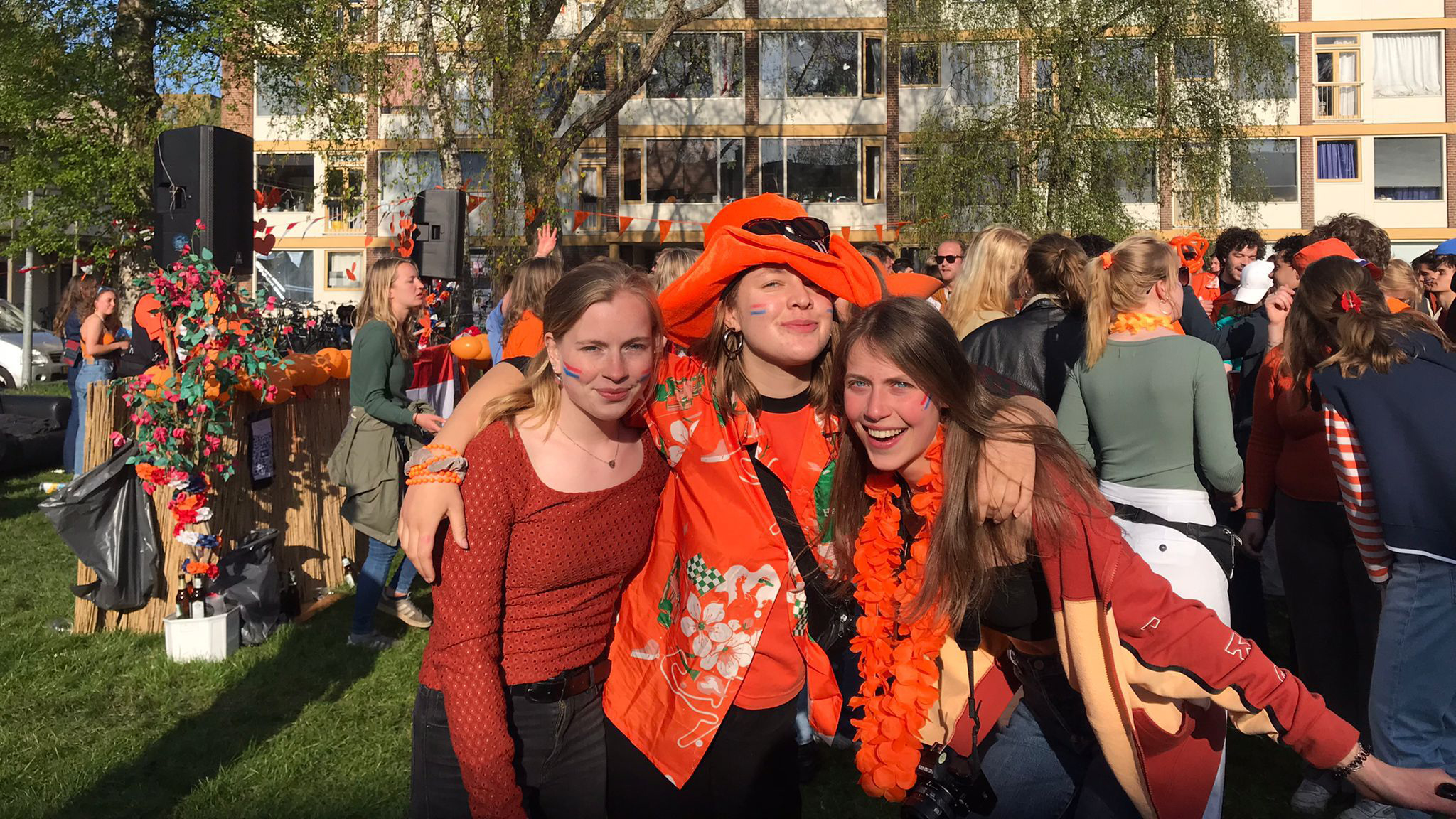 Partying all night long at IBB
It all started with a house party on King's Night. "That was a lot of fun, many people came", says Joy-Eline. The following day, students kept on partying in the backyard of the lowest building. The music was pumping from huge speakers and the students amused themselves with games like flunky ball and beer pong. By evening, the backyard was packed. "Everyone was dancing by the DJ booth", Joy-Eline goes on. And they got even more excited when a huge fire was lit. "Some students literally partied all night long. Well, King's Day only happens once a year."
---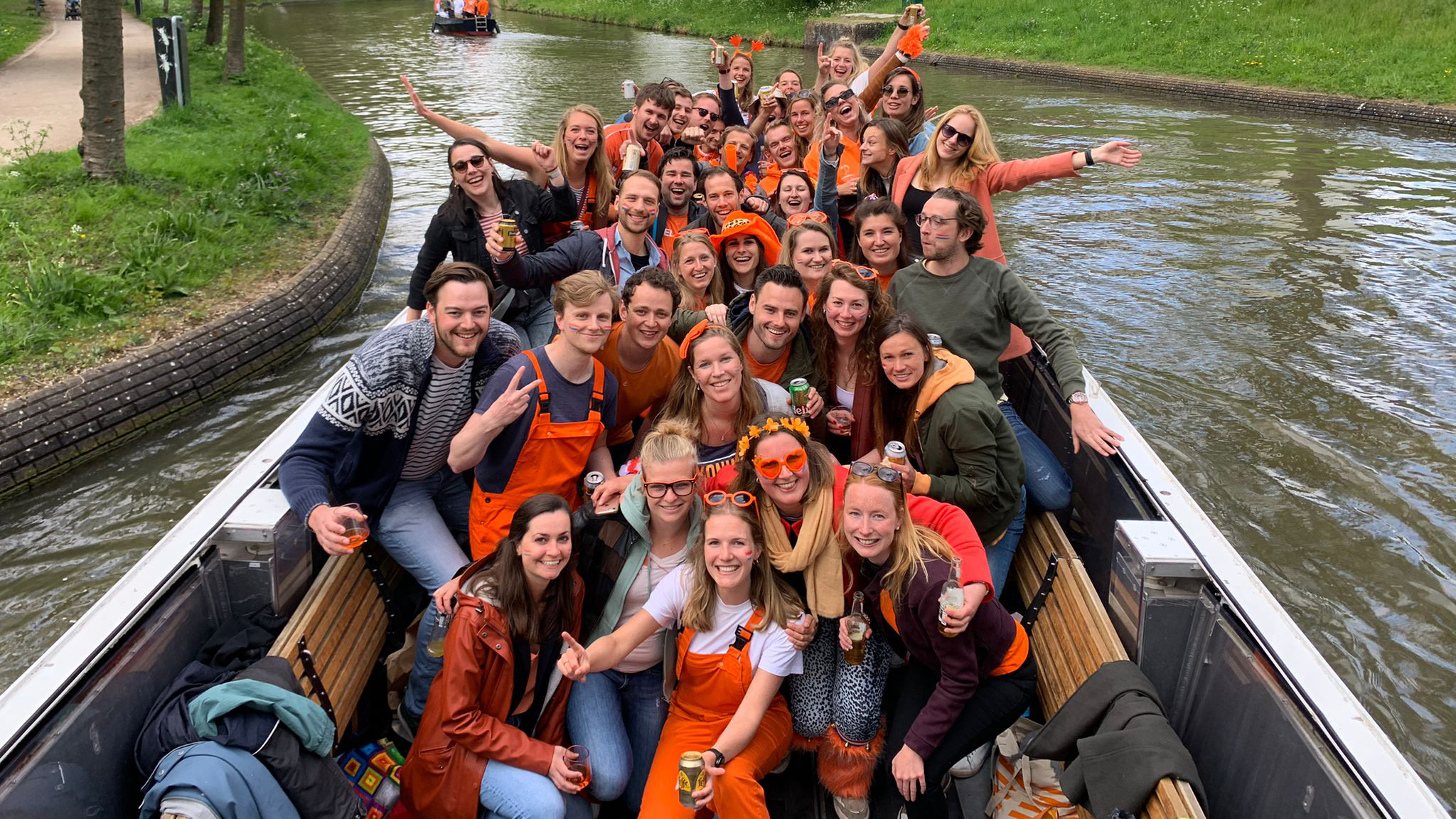 On a boat with the tennis association
Tennis association TC De Uithof picked things up right where they'd left them two years ago. Many of its members celebrated King's Day with a boat ride in Utrecht's canals. They were so excited to do so that they even needed three boats. After the boat was moored, the students went into town in search of fun street parties.
---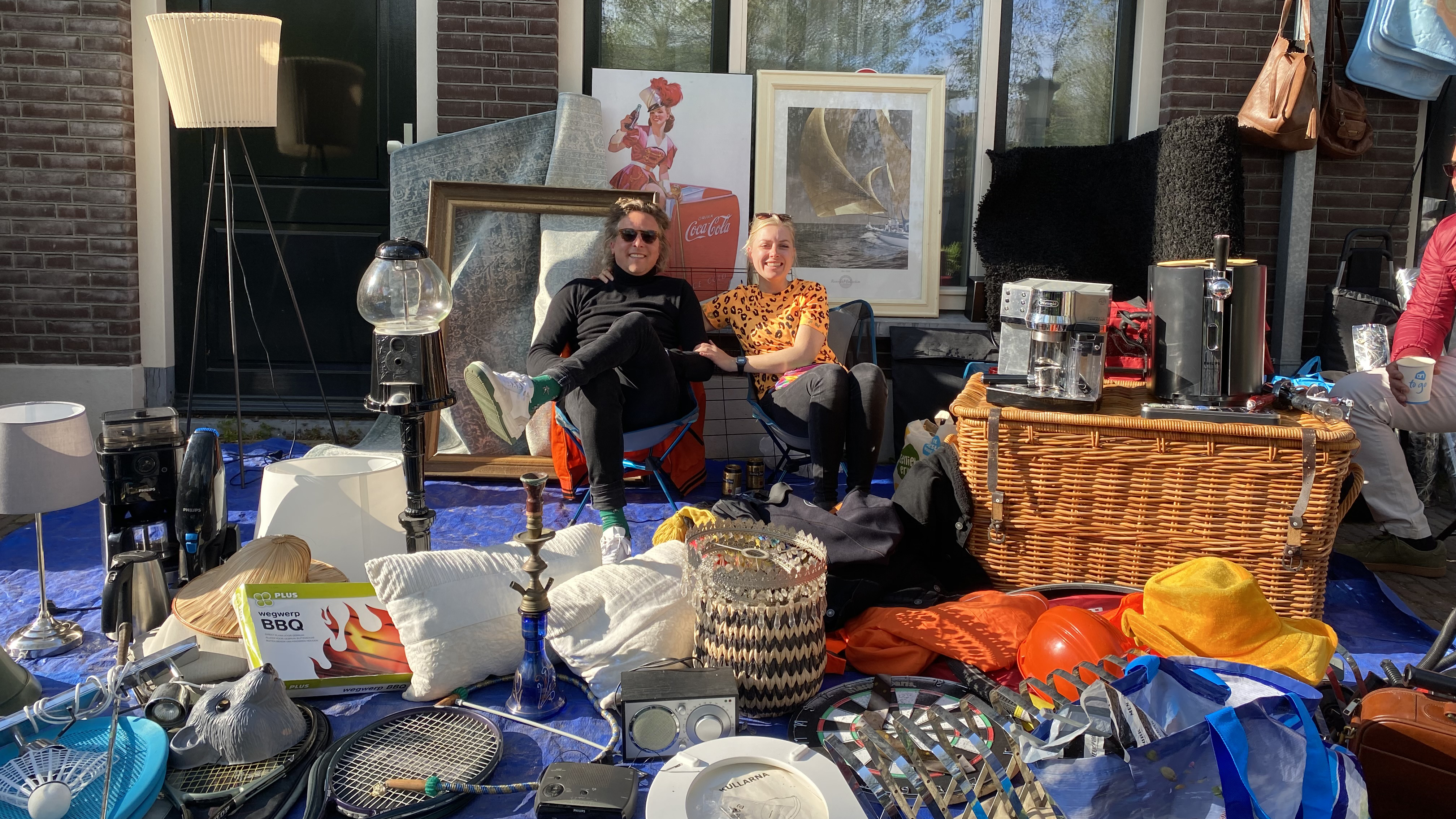 Jelle and Laura say goodbye to their student days
We found Jelle and Laura sitting on Weerdsingel Oostzijde. Both alumni from UU, they graduated some time ago. Although everyone was dressed in orange, as is the tradition on King's Day, Jelle was covered in black from head to toe. That's because that was a sad day for him. "After living here for fourteen years, we sold the house and we're about to move. Everything you see here on the pavement came from our attic, which is about sixty square metres in size". Laura explains that they cannot take those objects to their new home, so the flea market on King's Day seemed like a good way to get rid of them. They hope the stuff can be useful to a new generation of students. 
---
Advertisement