Students prioritised in new classrooms with an eye on the future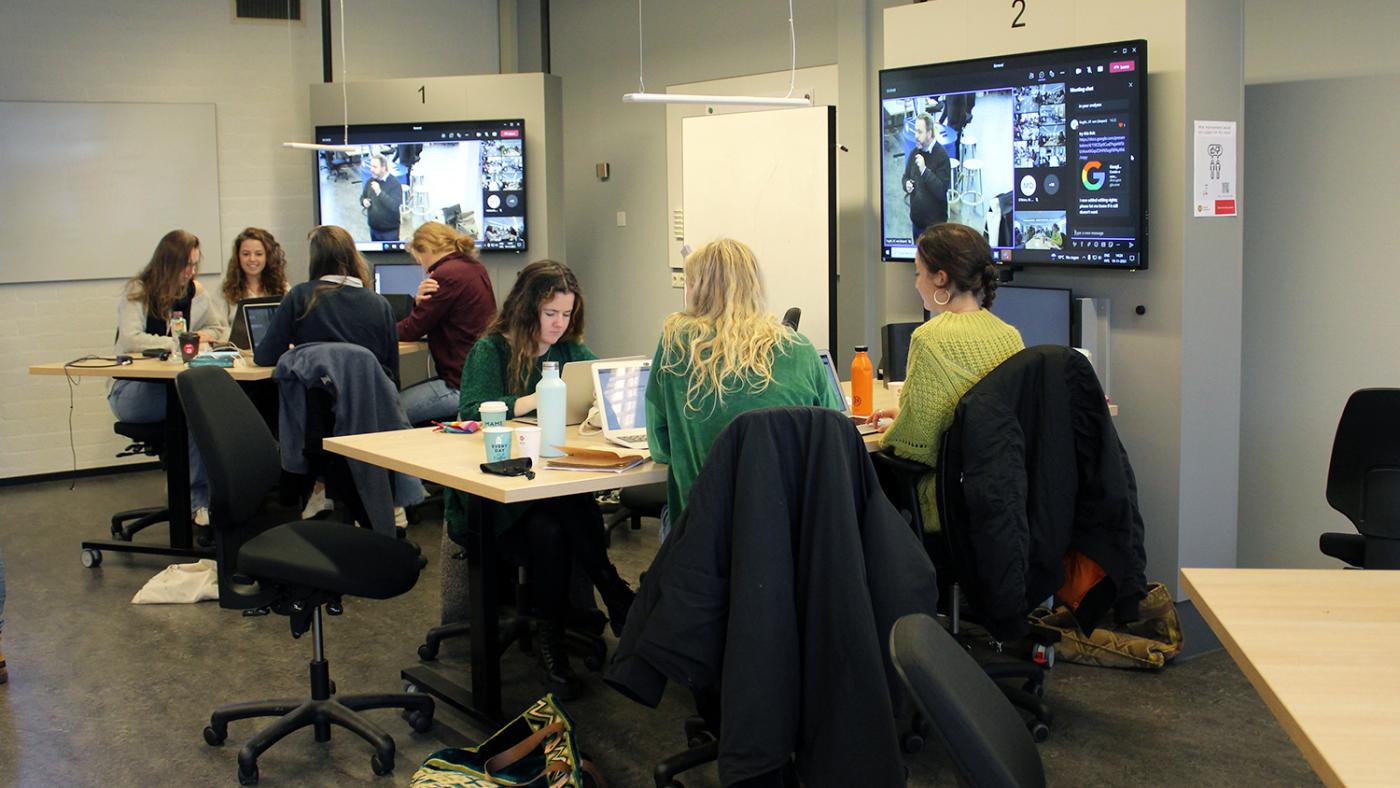 Charm EU students in the Hybrid Active Learning Classroom. Photos: DUB
Most classes had to take place online during the Covid-19 pandemic, but that didn't stop Educate-It's idea generators from keeping their eyes open and the stream of on-site teaching innovations going. Their aim is to activate students in their learning process, as education is not a one-way street from teacher to student. There must be room to instruct, work independently, and collaborate in groups. One should not forget the digital component, of course, like meeting online or sharing information through screens. The classic way of providing education, with a teacher talking in front of a classroom, should be shaken up thanks to the different furnishings in the lecture halls.
Available for everyone
These new concepts have been in development for a while. This academic year, a few lecture halls were turned into designated Future Learning Spaces. "Everyone at UU is now able to book these rooms. It is not an experimental laboratory – it can be used for teaching."
"Lecturers are supported by a multidisciplinary team and there is also an intake interview to clarify the particular nature of these halls", says Jasper van Winden from the Centre of Academic Teaching, who supervised the project.
Teacher in the middle of the room
The Hybrid Active Learning Classroom, located at the Bolognalaan, was officially opened last Friday, as part of the Autumn Festival of the Teaching & Learning Lab. Although the classroom already existed for a while, new hybrid functionalities have been recently added.
A couple of days earlier, the space was filled with Master's students from Charm EU, the international collaboration on sustainability comprising five European universities. DUB was welcome to join them.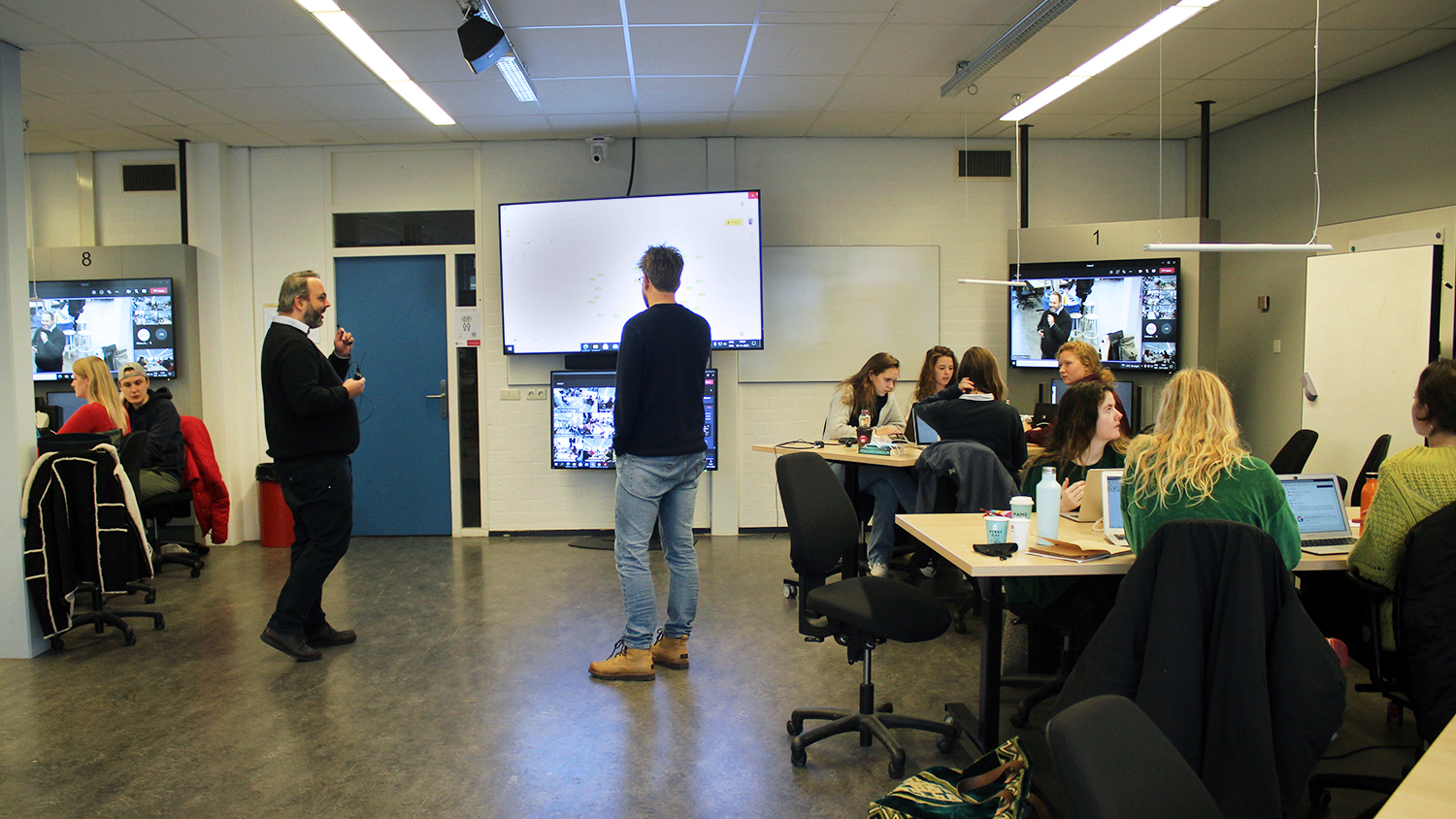 Teacher walks around in the Hybrid Active Learning Classroom. Photo: DUB
The hall is spacious. The students worked at eight tables attached to a huge screen. The lecturer was in the middle of the room, with their own computer, from where they could send instruction materials to the students' screens.
Another massive screen is located at the entrance of the room. Currently, it displays a Google Docs document on which students can enter data independently after working on their assignments, so that it's visible to everyone else. That day, this screen also provided live connections to classrooms at other universities participating in the European Master's programme, namely Dublin, Barcelona, Budapest and Montpellier.
"This is a beautiful room to work in", compliments lecturer Jasper van Vught. "We can make the most of the digital possibilities of today, while still offering a good space for students to collaborate."
Hall can be reorganised every day
DUB also took a look at the Teaching & Learning Lab (TLL) located in the Buys Ballot building. Comprising two classrooms and a studio, TLL isn't new either: it was inaugurated in 2016 (link in Dutch) and, up until now, was mainly being used as an experimental space to explore how teaching can be innovated in secondary and higher education. Now, it's been designated as a Future Learning Space so that more UU courses can use it.
In the educational test rooms, occupants can determine the layout of the space, instead of the teacher being forced to work a certain way because of how the room is arranged and furnished. Tables and chairs, standing desks, or no furniture at all: the space can be reorganised at one's own discretion. It also provides modern technologies that can be implemented in the teaching sessions, such as digital whiteboards, an interactive wall for mind mapping and brainstorming sessions, and observational cameras for research into teaching methodology.
Two teachers from the educational programme Living Pasts were preparing for their students' final presentations when DUB visited. Living Past students are expected to collaborate on a project to visualise part of Utrecht's history. The lecturers were preparing a teaching session on Teams in which both their students and their societal partners would take part. "Five minutes till we go live", one of them remarks.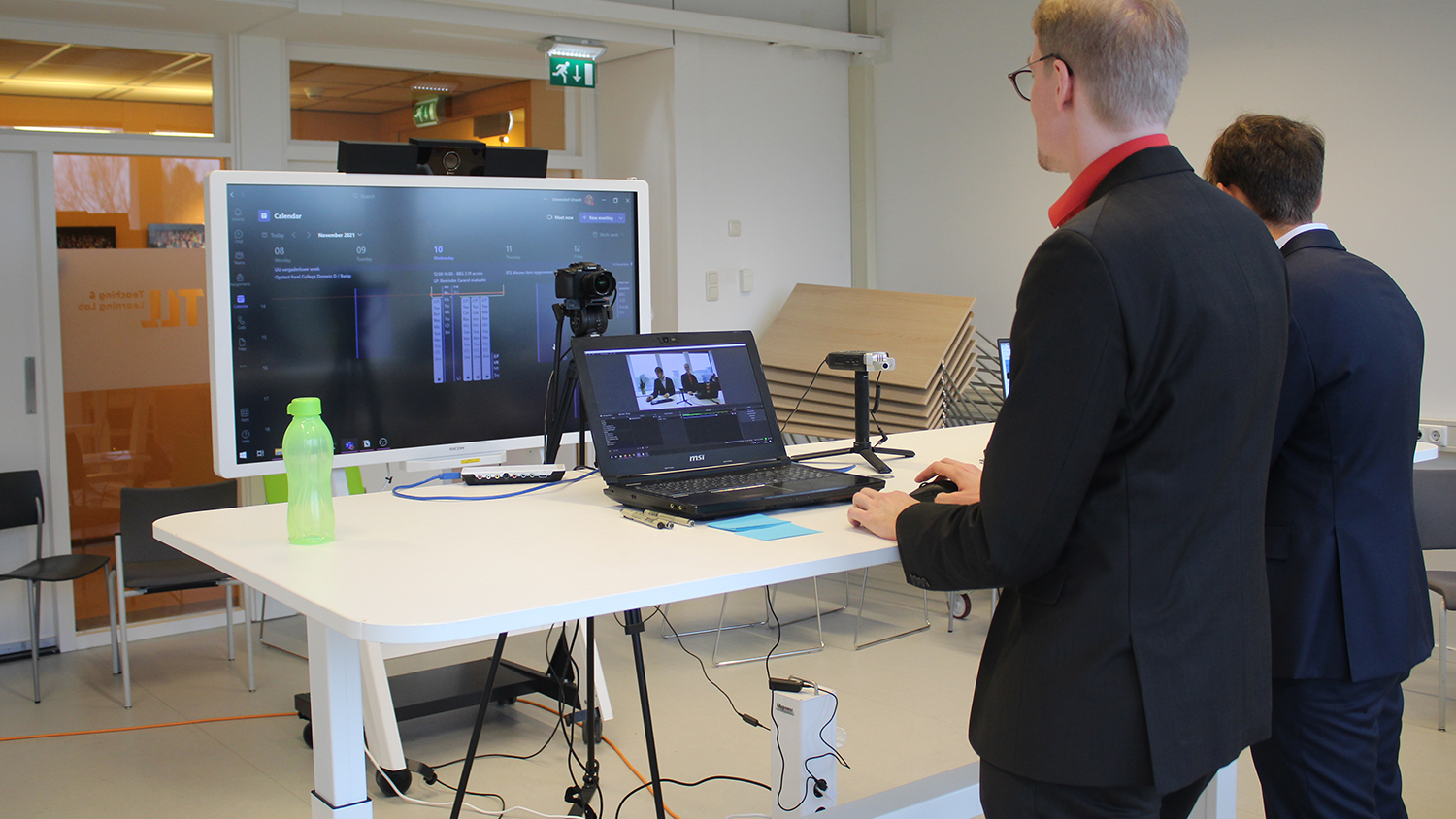 Teaching & Learning Lab Foto: DUB
This time the meeting is online, but during the course they met students in one of the TLL's hall, where they used the reorganisation possibilities according to what was going to be taught that day. "You can choose the furniture you need. The tables can be adjusted to height. Sometimes, standing places are a better fit as they allow students to move from one table to the next. But there are other times when they should be able to sit at the desks to work together in groups."
Online lectures feel like an in-person meeting
The Virtual Classroom in the Ruppert building has been designated as a Future Learning Space as well. This room is smaller than the others, and to enter it you must go through a set of black curtains. A wooden desk looking out on six large screens is in the middle of the room. The Virtual Classroom has been designed to make digital meetings feel like meetings in person: the lecturer stands in front of the screens, which display six students a piece, life-size. This allows the lecturer to maintain eye-contact and direct communication with up to 36 students. A seventh screen allows for PowerPoint presentations or interactive quizzes. This space is meant for small-scale interactive online education, not for big lectures.
"We're still looking for ways to improve how classrooms are organised", says Jasper van Winden. "Utrecht's educational model prioritizes active learning, but this is hard to achieve in many of the existing learning spaces. We're working on the development of educational spaces that can stimulate active learning."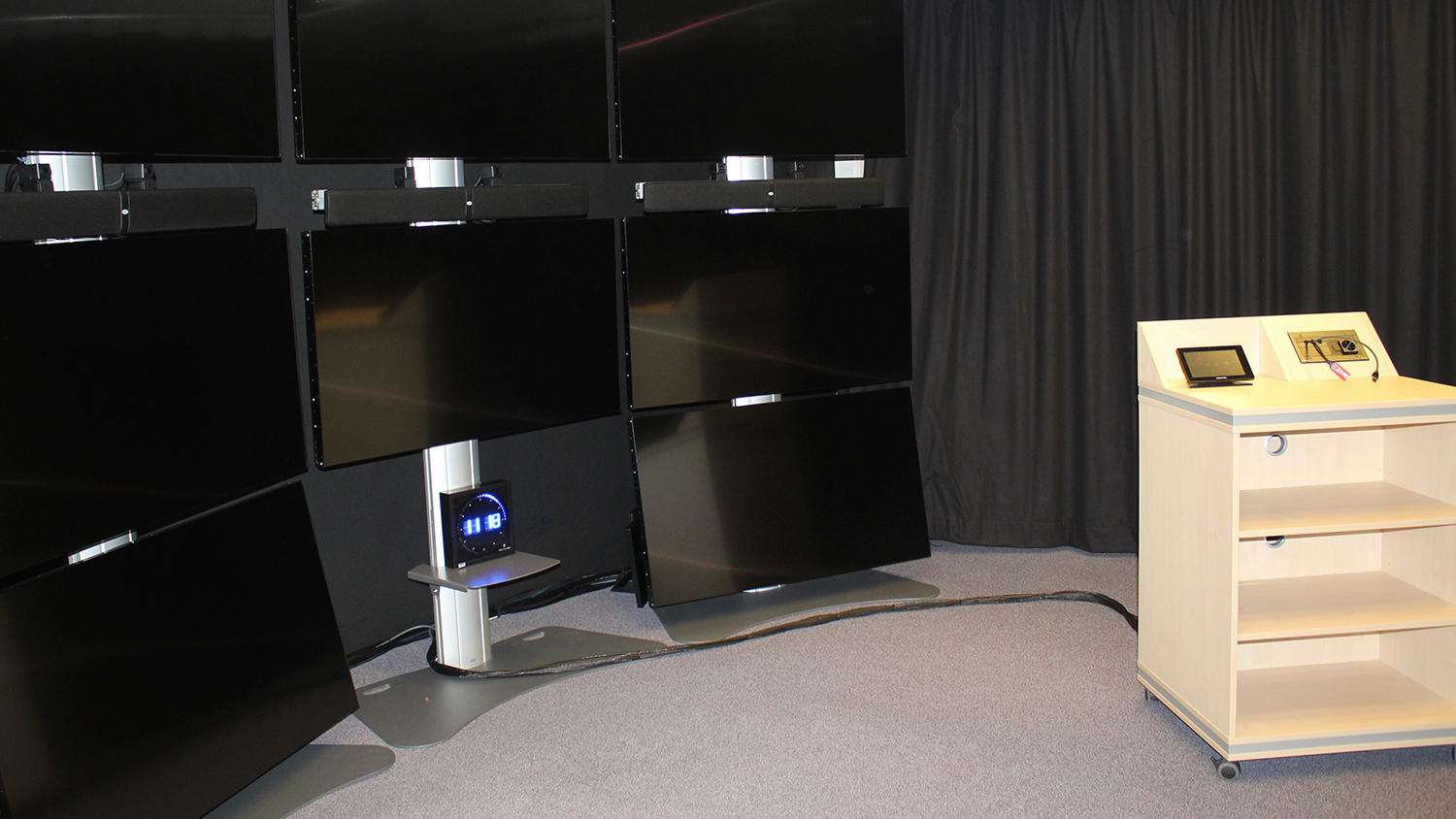 Virtual Classroom. Photo: DUB
Small adjustment, big effect
The working group Co-Creation Community Learning Spaces, in which lecturers, students and policy staff participate, is looking for ways to realise this mission. They meet monthly to discuss innovations. At their last meeting, held at the end of September, students and lecturers shared what they liked about the new classrooms and what they felt can still be improved. "That's of enormous use to us", explains van Winden. "A small adjustment informed by practical experiences can have a big effect. For example, students and teachers indicated that the chairs in the Active Learning Classroom should have wheels because the teacher is in the middle of the space and fellow students are sitting next to you. This means they need to be able to change their line of vision." Chairs with wheels were introduced shortly afterwards.
Lectures with group work
Some new ideas were presented in that meeting as well, such as the Learning Plaza, a space where formal and informal ways of contact co-exist. There would be areas for lecturers to teach and for students to collaborate, but also informal meeting spaces. This project is still in the orientation phase.
There were also ideas for a collaborative lecture hall, characterised by alternating rows of tables of varying depth. In the case of a sloped hall, there are two rows per step. Students sitting at the tables that are less deep can simply turn around and form a group with the students sitting behind them. Every group is accessible for the lecturer, and has their own whiteboard. "That way you can create a lecture hall that allows students to collaborate", Van Winden explains.
A special version of this collaborative lecture hall would be fully round, inspired by the lecture halls at Oregon State University, but aimed more at active learning. At UU, this idea is still in a developmental phase.