Students should bring their own laptops, fewer and fewer computer rooms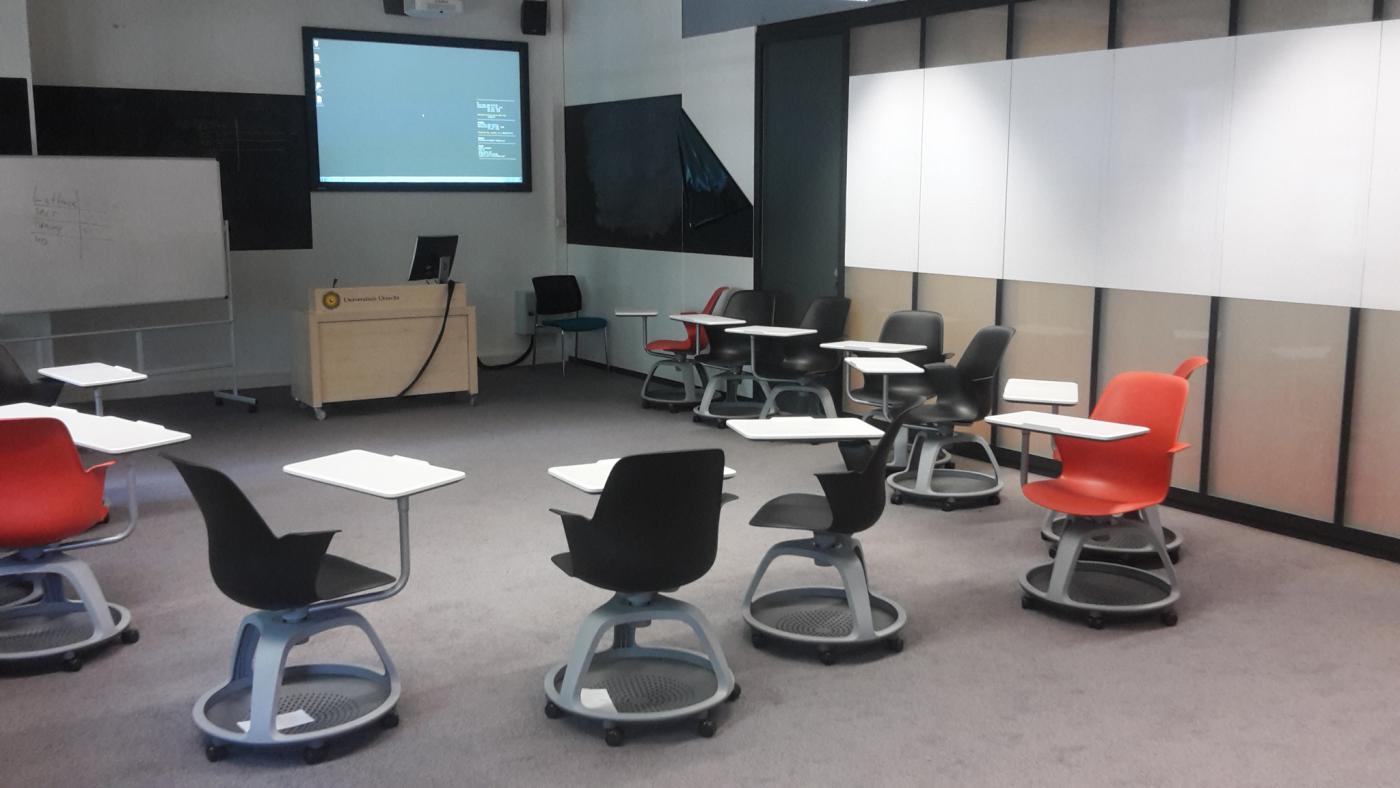 A flex room in the Kruyt building Foto DUB
For a statistics work group, a psychology student has to go to a computer room, with PCs with SPSS or other software on them. Starting the next academic year, that won't be necessary anymore. Starting September, students of Social Sciences and Geosciences will work on their own laptops for most practical sessions, using online software through the university system Myworkplace.
The measure was accelerated due to the closure of the Van Unnik building, in early 2019. The university had to choose between investing in replacing the seven computer rooms, including computers, or a new way of working, in which students bring their own laptops, and use online software. The last option was preferable.
Chris Phielix, manager of IT & Education at Social Sciences, says students especially are happy with this decision. "We've found that 90 percent of students already have their own laptops, and often take it with them. So that's barely even an issue anymore. Students think it's important that they'll be able to work with this software at home, or in other places. They're mostly thinking: finally."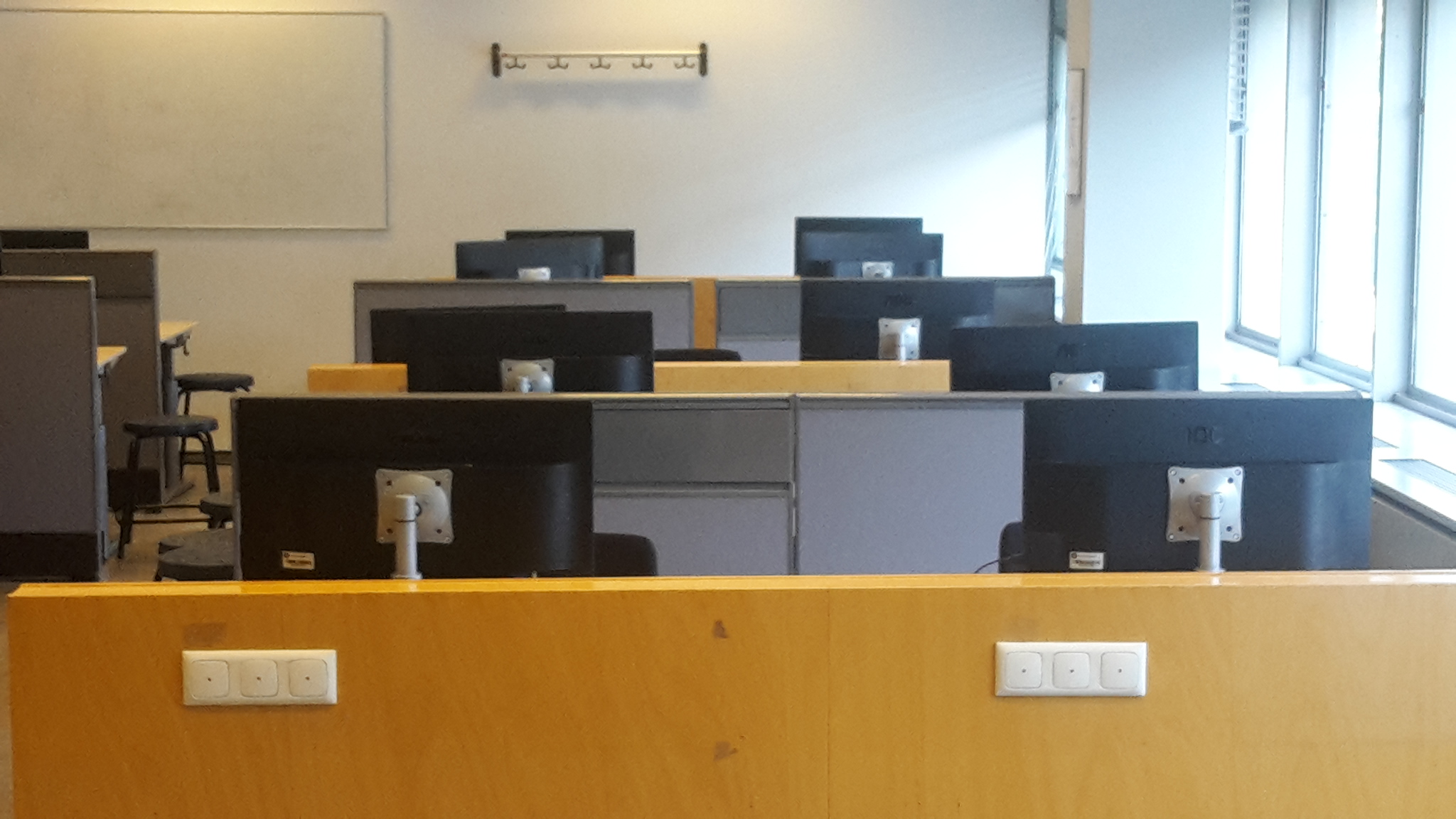 A computer room in the Van Unnik building that's set to disappear
Pizza delivery service
At the faculties of Social Sciences and Geosciences, all students will now be advised to bring their own laptops to De Uithof; Bring Your Own Device (BYOD, pronounced 'bee-yod') is the new policy. Although Phielix hasn't heard many complaints, he stresses it won't be mandatory for students to purchase a laptop. That wouldn't even be allowed according to government regulations. Universities are technically not allowed to charge students for additional things aside from tuition.
Students who show up at a practical session without a laptop, can borrow one at a counter or reserve one online, the IT manager says. And perhaps the laptop will even be delivered where it's required. "So a Chromebook will come to you, like a pizza delivery service." 
Phielix says all teachers have been informed extensively about the new way of working. Teachers were also asked to indicate which software they'd like to be included in Myworkplace. Pilots at various study programs were positive. "We recommended all teachers to test it this spring. But there's still some suspence over whether teachers will actually know they can't use a computer room anymore this September."
New flex rooms with movable furniture
For the new-style practical sessions, eight 'flex rooms' will be furnished at first. They're rooms equipped with sufficient sockets and good WiFi and climate control: things that are necessary to be able to work comfortably with laptops.
The rooms will be located in the Ruppert building, the De Wied building, the Kruyt building and the Buys Ballot building, and should be ready this summer. The intention is that the rooms can also be used for new or experimental forms of education, or collaborative assignments. For that reason, the rooms will be equipped with movable furniture and extra whiteboards.
Students of the Faculty of Science will also use the new 'flex rooms'. But at the Science faculty, Bring Your Own Device has been par for the course for the past three years. There, too, the online software at Myworkplace will be used more often.
Students very positive
In order to use Myworkplace, all students will also have to install a so-called Citrix receiver. Phielix: "That'll have to be done well, or there'll be a risk of not being able to use certain functions. For the first classes they'll teach using Myworkplace, teachers will receive support from one of our staff. If that goes well, students won't have to do anything else." 
Om Myworkplace te kunnen gebruiken moeten alle studenten eenmalig een zogenaamde Citrix-receiver installeren op hun laptop. Phielix: "Dat moet even goed gebeuren anders is er een risico dat je bepaalde functionaliteiten niet kunt gebruiken. Docenten kunnen de eerste keer dat ze in een college met hun studenten Myworkplace gebruiken ondersteuning krijgen van een van onze mensen. Als dat goed gaat, hoeven studenten verder niets meer te doen."
For the use of Myworkplace it does not matter whether students work with a Windows or an Apple computer. However, it can occur that a teacher wishes to work with software that has to be installed on students' laptops. Probably this will be Windows software. In that case Apple users will have to ensure that they can run Windows applications on their laptop. This can be done by installing additional software, for example.
The students in the faculty council are very positive about this approach, says council member Amber Dings. One condition is that the advantages of Bring Your Own Device are actually used to the fullest. "We have to keep thinking about how this can improve education. It shouldn't be the case that a teacher expects you to print articles if they're on your laptop too, for example."
Capacity expansion
The working method of the three faculties isn't new. The faculty of Veterinary Science, for example, has already been working with Bring Your Own Device and Myworkplace for longer. Phielix says the intention is that other study programs will follow.
It does have to be investigated whether that massive use of Myworkplace won't lead to capacity problems in the system. Phielix: "This is monitored closely every day. If necessary, it can be scaled up. The capacity can also be expanded when necessary, but this is very expensive, and will not happen until the use is near a critical boundary."
Fewer PCs in Library as well 
In the two University Library locations, quite a lot of computers will also disappear soon. The library says visitors more and more need places where they can use their own laptops, instead of desks with PCs on them.
Arjan Grooters, department head of communication, says that the large majority of visitors bring their own laptops when they visit the library, hence why the library is investing in workplaces with good WiFi and a socket, and not in replacing the PCs. "We try to facilitate the visitor as much as possible."
Eventually, both locations will have 50 PCs. At the moment, there are 190 PCs in De Uithof and 128 in the city centre. To be on the safe side, the library is pointing out to visitors that they'll soon find fewer PCs in the library, and that bringing your own laptop is recommended. For UU students and employees, there's also the option of borrowing a laptop.