The new student association in Utrecht
U-Pad Gaming, an association for students who love to play games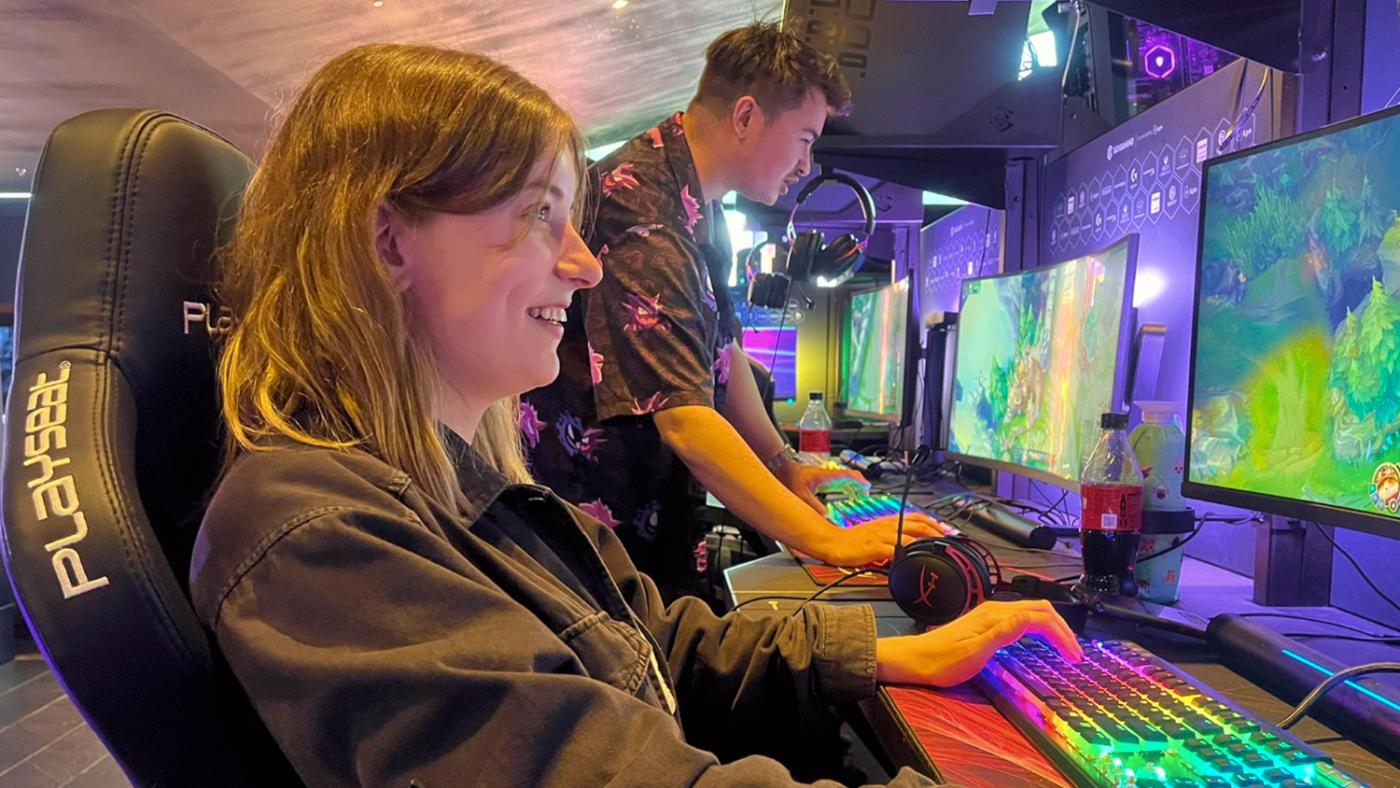 Lisa Groen and Arend van Berkel, from U-Pad. Photos: courtesy of U-Pad
We are at GO!Gaming in Leidsche Rijn, where a diverse crowd is gaming in a monthly LAN party. They're playing shooters and light-hearted games on neon-lit computers with even more colourful keyboards. There are also Switches, Playstations and Playseats with almost every game you can imagine. One cannot help but notice the amount of chatter. Jokes, conversations and laughter dominate the ambience, which is not what you would expect from a LAN party. But that is exactly what drives the brand new student association, created in June, according to its chair, Lisa Groen (24, unsurprisingly studying Game & Media Technology).
As a woman, Lisa is well acquainted with the toxic culture that pervades online gaming. "When people find out you're a woman, they start taking you less seriously," she says, observing that the same goes for other minorities. She hopes that U-Pad will help bring about a cultural change by bringing a diverse group of students together to play games.
The boys will come anyway
The main goal of U-Pad's first board is to attract a diverse group of students in order to ensure a pleasant atmosphere. Hence the association's decision to primarily target women. "After all, the boys will come anyway," explains Lisa, adding that the strategy has been paying off so far. "I just played with a team comprised only of women for the first time," she celebrates. But that's not all: U-Pad also strives to attend to their members' every need, which is why they have set up a player room in collaboration with GO!Gaming.
It's hard to control members' behaviour, of course. Lisa acknowledges that "there can always be a rotten apple among them." Although a joke here and there is part of gaming, the association has a zero-tolerance policy for anything that crosses the line. So far, nothing has happened yet, but then again, the association is pretty young. "In case something does happen, the board will look at everything on a case-by-case basis and act accordingly," affirms Lisa.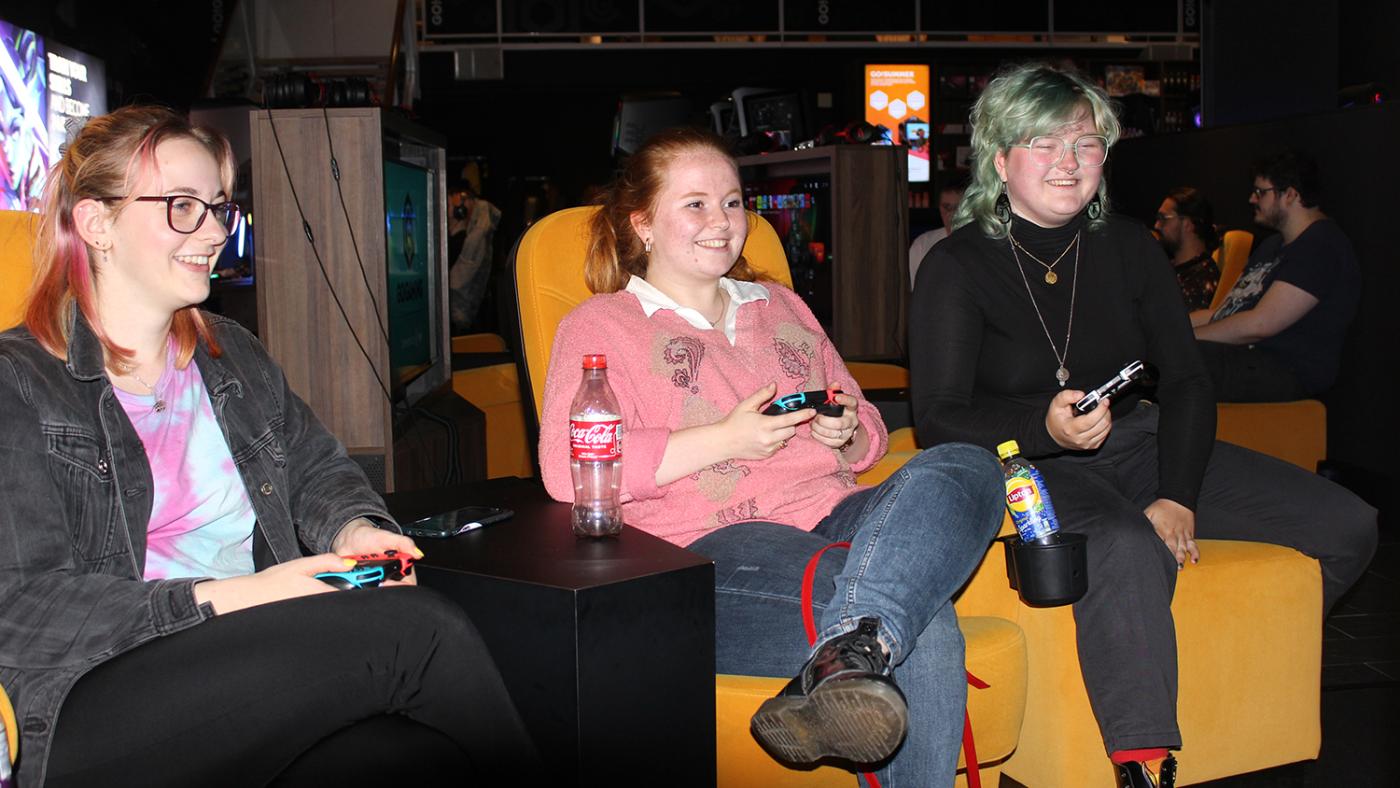 A shared passion
The first game mentioned on the association's website is Mario Kart, a choice that is not coincidental. By doing this, U-Pad is signalling that it is interested not only in a diverse set of members but also in a diverse set of games. They can play anything, from Mario Kart to Call of Duty. "As long as you have a passion for gaming, you can join our association. Facebook moms who play Candy Crush are gamers, too!" says Lisa, laughing. As long as they are students, they are welcome to join.
Board games and tabletop roleplaying games like Dungeons & Dragons also have a place at U-Pad, although Lisa says that is more of "a bonus" for now. The association is planning to organise board game nights at the pub De Bastaard. As for D&D, they will hold so-called one-shots, a format especially suited for getting players to mingle. 
Asked whether U-Pad could be compared to a sports association or a more social association, Lisa replies that it is "somewhere in between." At the LAN-Parties and on board game nights, "people do drink a few beers but they are seriously gaming." Parties and get-togethers are a different story, however. There, gaming is merely a topic of conversation. "What better way to start a good conversation than to talk about your favourite game and how many times you have played it?", reads the association's website.
Latecomers
It was pretty unusual that Utrecht did not have a student association focused on gaming until recently, as such associations can be found all over the Netherlands. "Whenever I gamed with people from another city, I first had to spend fifteen whole minutes explaining why there was no gaming association in Utrecht," says co-founder and vice-president Arend van Berkel (26), who studies New Media & Digital Culture. He met the other co-founders through the student association ViaKunst. Arend also knew people in Utrecht who tried to start a gaming fraternity or association but failed. In his opinion, the reason why U-Pad is working is the amount of time the board is putting into it. "We just put our lives on pause!" adds another co-founder, Jorn, laughing.
About 32 people turned up to U-Pad's second LAN Party, out of the 40-ish members they have gathered so far. They're off to a good start but that may soon cause problems too. "We only have room for about fifty people here," says Lisa. If the association continues to grow this way, they will have to start looking for solutions, "but that's a problem for later."
Gaming together is exactly what members were looking for. "I wouldn't have joined the club without live gaming," says one of them, Rem. Another member, Didian, agrees, although she's also joined to meet like-minded girls. "I don't know that many girls in Utrecht yet," she says, hoping that U-Pad can help her with that.
For the ambitious ones
What's more, the association wants to raise the bar even higher and support members interested in taking gaming to a professional level. According to Arend, they can't do that all by themselves, which is why U-Pad will "refer ambitious members to partners"such as ECV Esports, who can connect them to a wider network. Arend himself has been gaming at a high level for a long time, so he knows a lot of people in professional gaming. Asked whether members need to have a top-notch Gaming PC, PlayStation or XBox to join, the answer is a resounding no. "You can always drop by to see if the association suits you," Arend says.
Advertisement