Utrecht: city of students and graduates, city of housing shortages and young women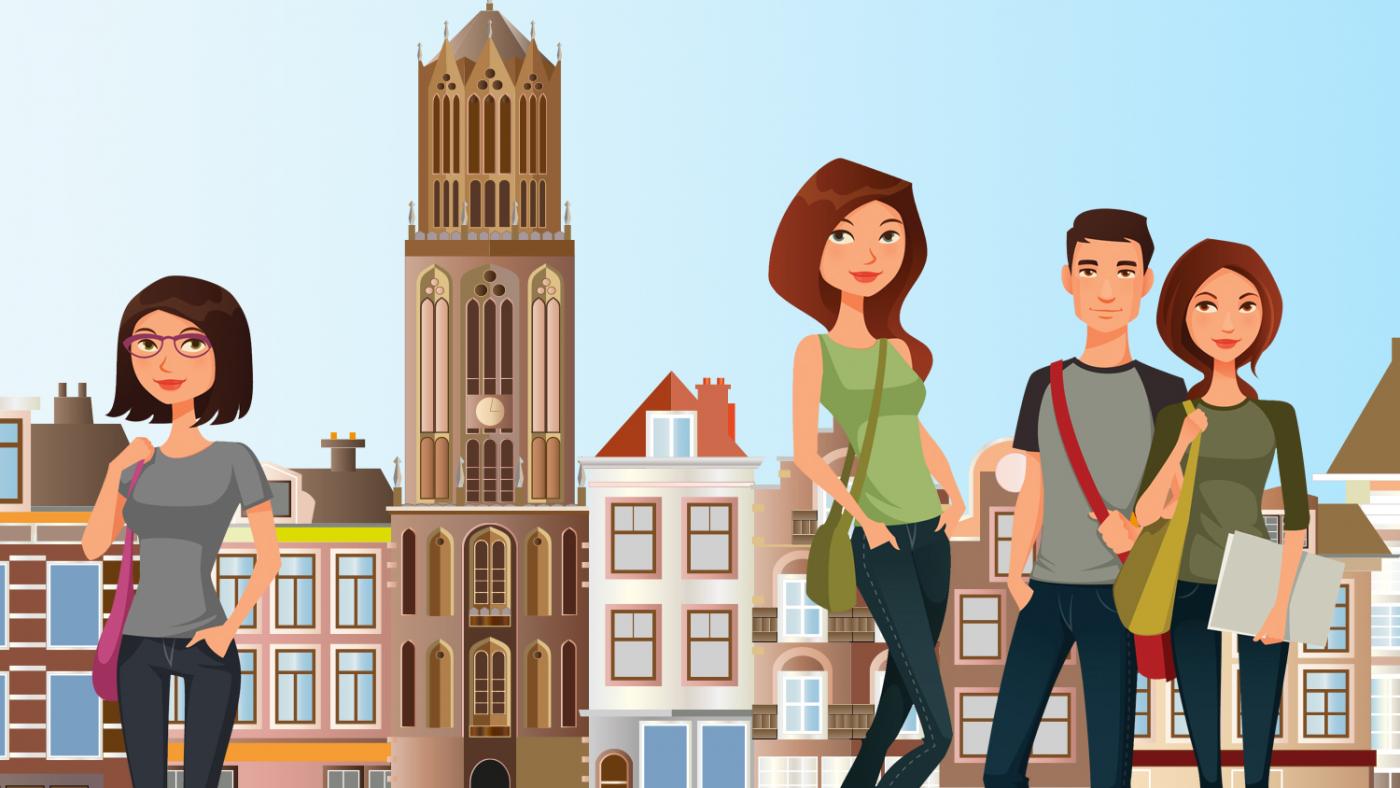 Illustrations: Helga Wellink
The fact that Utrecht has a university and a university of applied sciences is something you can see reflected in the crowds in the streets. Nearly one in four Utrechters is between 20 and 30 years old. This means that in Utrecht, relatively speaking, there are twice as many people in their twenties as there are in the rest of the Netherlands. Throughout the nation, 13 percent of Dutch nationals is between 20 and 30 years old. There's no real aging population trend in Utrecht either; it has a relatively lower number of 50+-aged people than the rest of the country. Whereas nearly 40 percent of Dutch nationals is 50 years or over, that number is at only 25 percent in Utrecht. Utrecht can truly call itself a young city.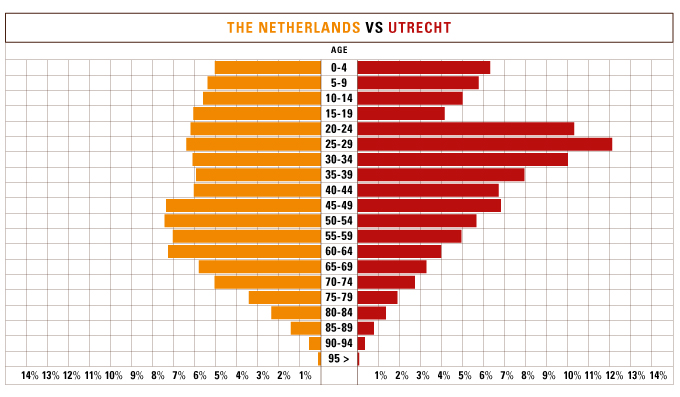 Highly educated city
Furthermore, Utrecht is the 'highest educated' city of the Netherlands. Nowhere else is the percentage of residents with a degree from university or university of applied sciences as high as in Utrecht. In 2018, 56 percent of residents has a higher education degree, while only one in three Dutch nationals has graduated from university or university of applied sciences. The chance of running into a highly-educated Utrechter is greatest in the Zeeheldenbuurt/Wittenvrouwen area. In that neighbourhood, no less than 85 percent of residents has had some form of higher education. One in five of them is still a student.
It's obvious in other spots in the city as well, Utrecht's highly-educated character. In the most recent municipality elections, for instance, nearly half of all 385 candidates had once studied at Utrecht University. Of the other half of the candidates, most had also studied at a university or university of applied sciences. The politicians that were elected were, without exception, highly educated.
Number of students is increasing
The number of students studying at Utrecht University has increased by 5 percent since 2013 – from a little over 30,000 to nearly 32,000. This is mostly due to the fact that more and more international students are choosing to come to Utrecht. The number of internationals has nearly doubled in these five years. The same trend is visible in other higher education institutions in Utrecht.  Last year, almost 6 percent of Utrecht students were internationals; this number was at only 3 percent in 2013.
Although it sounds like a large share of students in Utrecht isn't from the Netherlands, Utrecht still has the smallest percentage of international students of all the provinces with a university or university of applied sciences. Nationally, around 11.5 percent of students isn't from the Netherlands. Internationals mostly choose to go to universities, where two out of ten students are international; at universities of applied sciences, less than one out of ten students is from another country. At Utrecht University, 9 percent of the current student population is international. That makes the UU the 'least international' university of the Netherlands.
Most of the international students studying at the UU are from the European Union. Utrecht is most popular amongst students from Germany, the United Kingdom, and Italy; followed closely by Greece and Spain. That's remarkable: on the list of inflow of international students throughout the country, China is in third place as 'country of origin' – in Utrecht, it doesn't rank higher than seventh place. Dutch students going abroad for their studies (around 17,000 a year) most often choose to go to Belgium, the United Kingdom, and the United States. Students from Utrecht going abroad tend to choose the United States, the United Kingdom, and Australia.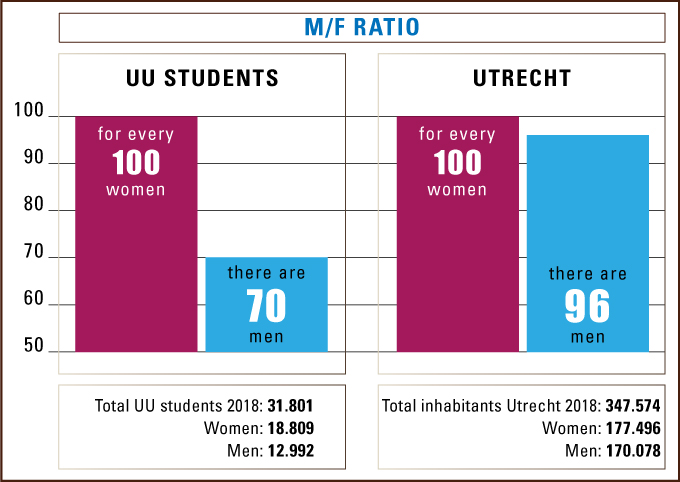 Housing market
Nearly 30,000 students live in Utrecht; almost 8.5 percent of its total population. Of these, 21,500 are UU and HU students living independently, 2,400 are HU and UU students who live with their parents, and 5,900 students live in Utrecht but are studying elsewhere. There are an alleged 8,000 students who want to move to Utrecht as well.
All this makes it difficult to find student housing. Obtaining one of the 13,000 rooms of student housing corporation SSH usually takes around 1.5 years on a waiting list. The construction and opening of new student housing the past few years didn't help decrease that waiting time; in fact, the time you had to be registered with the SSH before you'd get a room actually increased. The SSH suspects that the completion of the new rooms encourages more students to try to get an SSH room.
That means many students have to try their luck on the private sector to get a room. The shortage of student rooms means many landlords and landladies charge too much rent. Only one in four students in Utrecht pay a fair rent (no more than 20 euros over the maximum rent listed by the WoningWaarderingsStelsel calculations), according to research. 69 percent of students pays around 80 euros on average too much for their room every month; 40 percent overpay an average of 125 euros a month. The most expensive rooms have rents set at more than 300 euros over the fair price. All in all, the average rent for a room in Utrecht is 371 euros a month for a student room of 16 square metres.
Many students simply accept this, and don't go to the rental team to enforce lower rents. They're happy they've managed to obtain a room, and afraid they'd get into a mess with their landlord. Two students, for instance, took their case to court because they were being threatened after the rental team had decided their rents had to be lowered by 300 euros a month. It remained unclear whether it had been their landlord who'd sent some men to intimidate them, but a judge did feel the situation was suspicious and imposed a contact ban on the landlord.
Still, the situation in Utrecht has improved somewhat in the past few years. In 2008, 74 percent of students in Utrecht paid hundred euro on average too much for their rooms. So more students are paying less nowadays.
In September 2019 DUB publishes the magazine Studenten en Stad. With this magazine DUB celebrates fifty years of independent university journalism in Utrecht. The theme is the relationship between the Utrecht students, the city of Utrecht and the Utrechters. The magazine was published in Dutch. 
Here
 we present a collection of translated stories and features especially written for our site.