Utrecht nightlife goes back to life, but only for those who have time and patience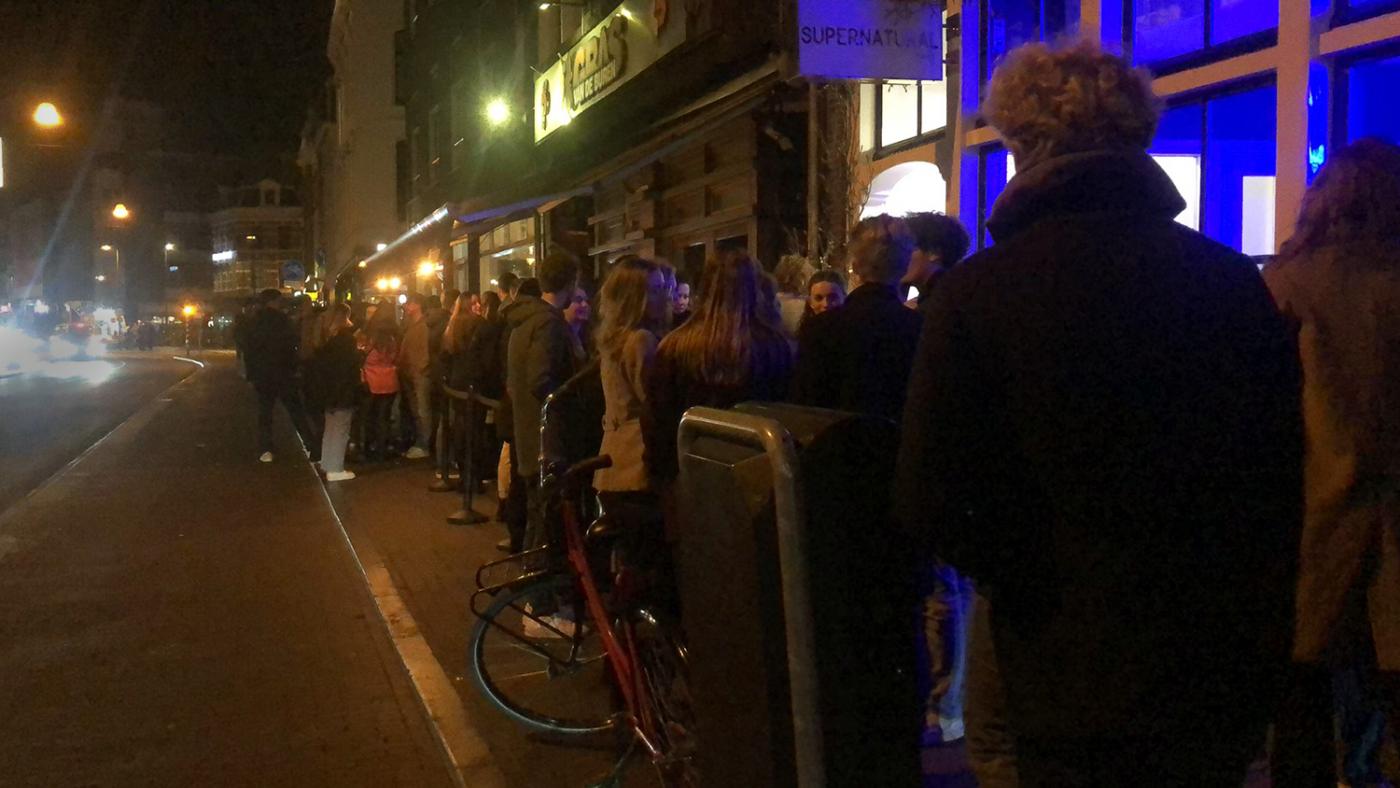 Photos: DUB
It's Friday night. The temperature's just above zero degrees Celsius and most students have taken all their exams. For many young people, that can only mean one thing: it's time to go out dancing. However, to do so in post-covid times, you must be on time and have a lot of patience, because the queues start to form as early as eleven o'clock at several Utrecht nightlife spots. At café De Beurs, the dinner tables are being stowed away to make room for a dancefloor. The humming bass of the music can already be heard by those queuing up outside, which makes them visibly excited, but also impatient to get in.
With their ID in hand - one must be 18 years or older to enter nightclubs in Utrecht – people wait for the doors to open. As soon as that happens, De Beurs is packed in no time. If you were to come an hour later, the bouncer wouldn't allow you to get in anymore. "That's the way it is nowadays," he says. "You may choose to wait until others leave the place, but then you'd be at the back of the queue. You better be on time next time!" Meanwhile, the line has doubled in size.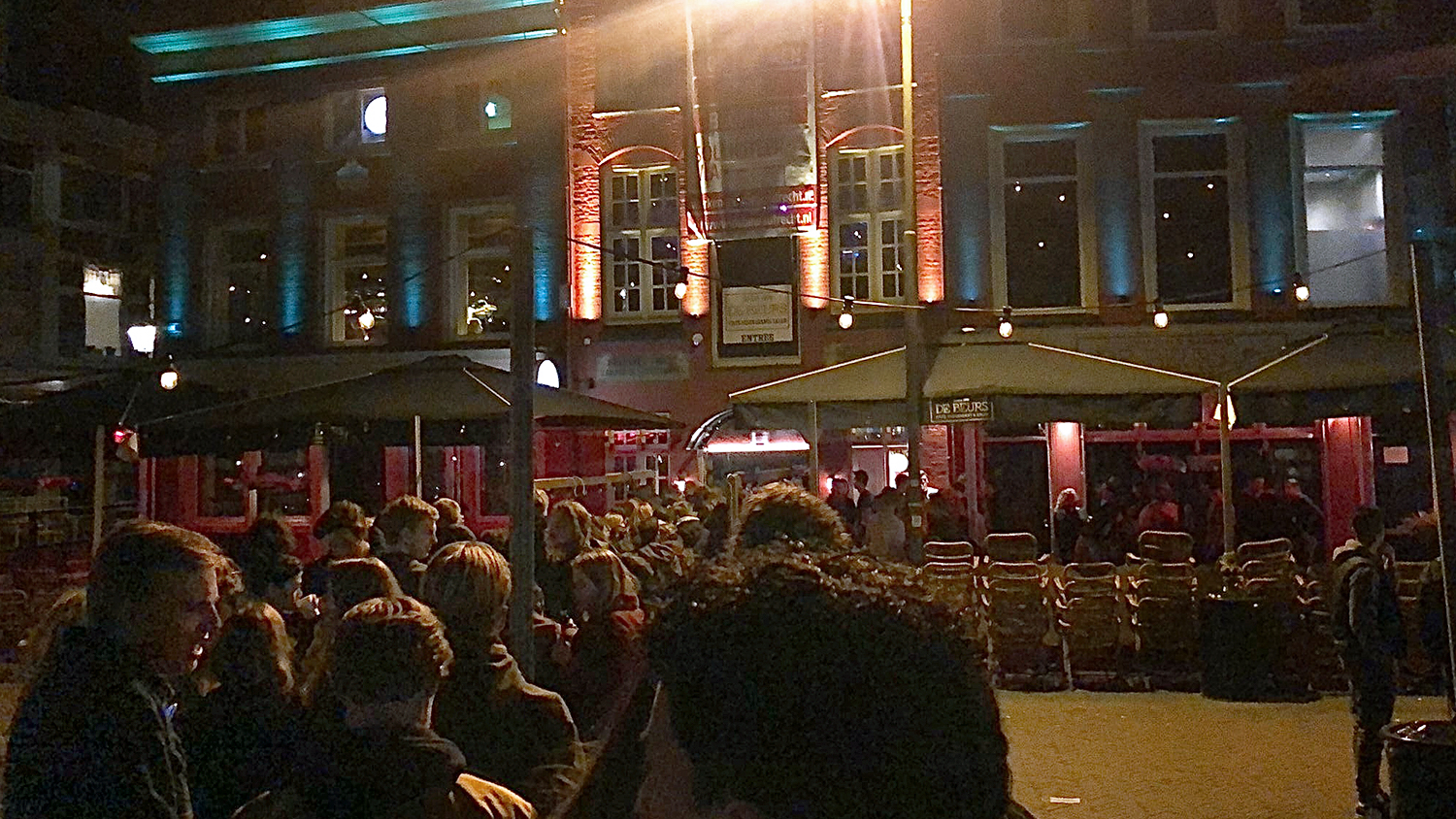 The queue in front of Café Beurs, at Neude.
Birthday boy
The people at the back of the queue tell us they've been in line for over 40 minutes. "It's not too cold, so it's fine. Some friends of ours have already queued up at Café Hofman. I think most of the people here have just turned 18, so if the queue goes faster at Hofman, I'd rather go there!" says a university student to whom the average person in the queue is a bit too young.
Indeed, many of those waiting in front of De Beurs turned 18 during the pandemic, according to a student who is celebrating his 19th birthday here tonight, with a large group of friends. Due to the lockdown, he and his friends haven't got a chance to get familiar with Utrecht's nightlife yet. And what better time to explore it than the weekend? De Beurs is not the only place where the audience is rather young. Some people in the queue have disapproving looks on their faces, seemingly bothered by the fact that there are so many youngsters. Or have the regulars simply grown "old"?
Enjoying freedom
District policeman Lars Maarsenveen, who patrols the bars and restaurants in the centre of Utrecht: "We are dealing with a new, very large group that is not used to going out in the city. People are enjoying their freedom again. More than rightly so, but they sometimes forget the rules." And it shows. While partygoers are on their way from one café to another, some people urinate, drink and shout in the street. The party crowd does not appreciate the warnings by the police, with many reacting defiantly. "I understand where that comes from," says Maarsenveen. "These past couple years, this audience got used to house parties, in a trusted circle where they were in control. So, when someone confronted them about their behaviour, that person was often from their social circle, which prompts a different response than when the police or a bar owner does it."
But Lars says that tonight is not that bad, compared to the first two weekends after nightclubs were given green light to reopen. "Those first weeks, people went full throttle, and you could clearly see that they no longer knew how to deal with that. We are now going back to the old normal. It seems like people are getting used to it more quickly than we thought and expected."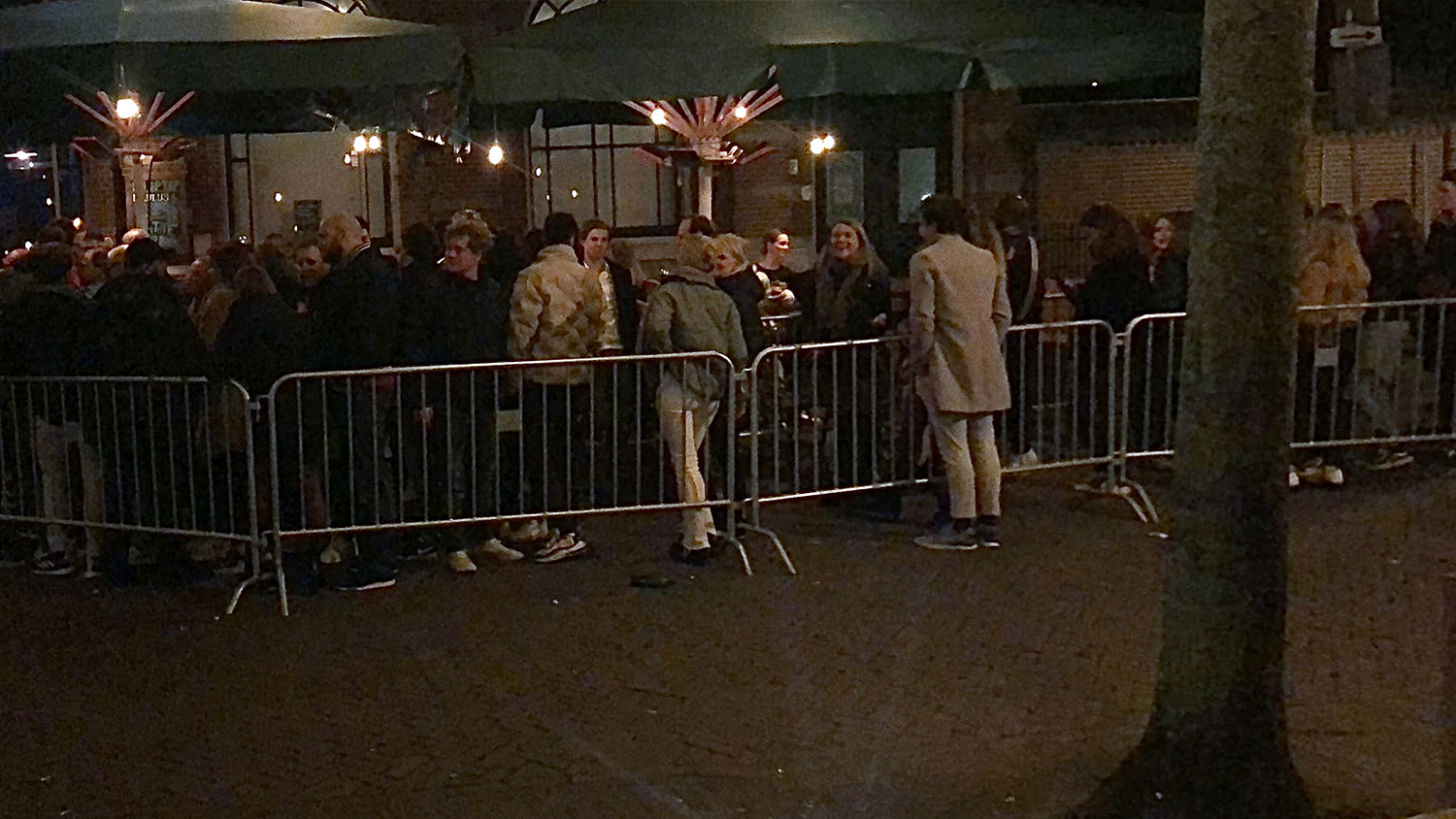 The queue in front of Café Hofman.
Hofman is a café located at Janskerkhof where you can grab a snack or a drink during the day, but the place is transformed into a nightclub every Friday and Saturday night. To get in, one must be at least 23 years old. Here, too, the queue is bursting at the seams. There are even crush barriers. It's a quarter to two and the partygoers who haven't yet seen the inside of the pub are running out of patience. They feel that the night is coming to an end, so some of them are pushing ahead, which inevitably irritates others. Fortunately, no one started an actual fight.
Once inside, the atmosphere is good. People who previously argued about pushing and shoving are now buying each other a beer. "There you go man, sorry about that." They toast and drink it up in one gulp. "It seems like they taste better now that they're a bit more expensive," they joke. Another recurring topic of the evening: the high prices charged for drinks.
Wine
The women's toilet is constantly busy and full of chatter, as usual. Groups of girls compliment each other on their outfits and chit-chat while waiting for their turn. On their phones, they check their bank accounts and the expenses made this evening. "We would have been better off getting a bottle of wine with the four of us. That would have been much cheaper!" But the increased prices don't manage to kill the joy of going out again.
Every night comes to an end, and so does this one. Hofman closes its doors at four o'clock, but before the partygoers take their bicycles and go home, they talk loudly about how the evening went over plenty of cigarettes, so that the neighbours can also enjoy the many debriefings. "It was short, but we had a good laugh! Next time we will come a little earlier, then the evening will last a little longer."
Advertisement