Students make suggestions
UU should start a conversation about its slavery past through art and walking tours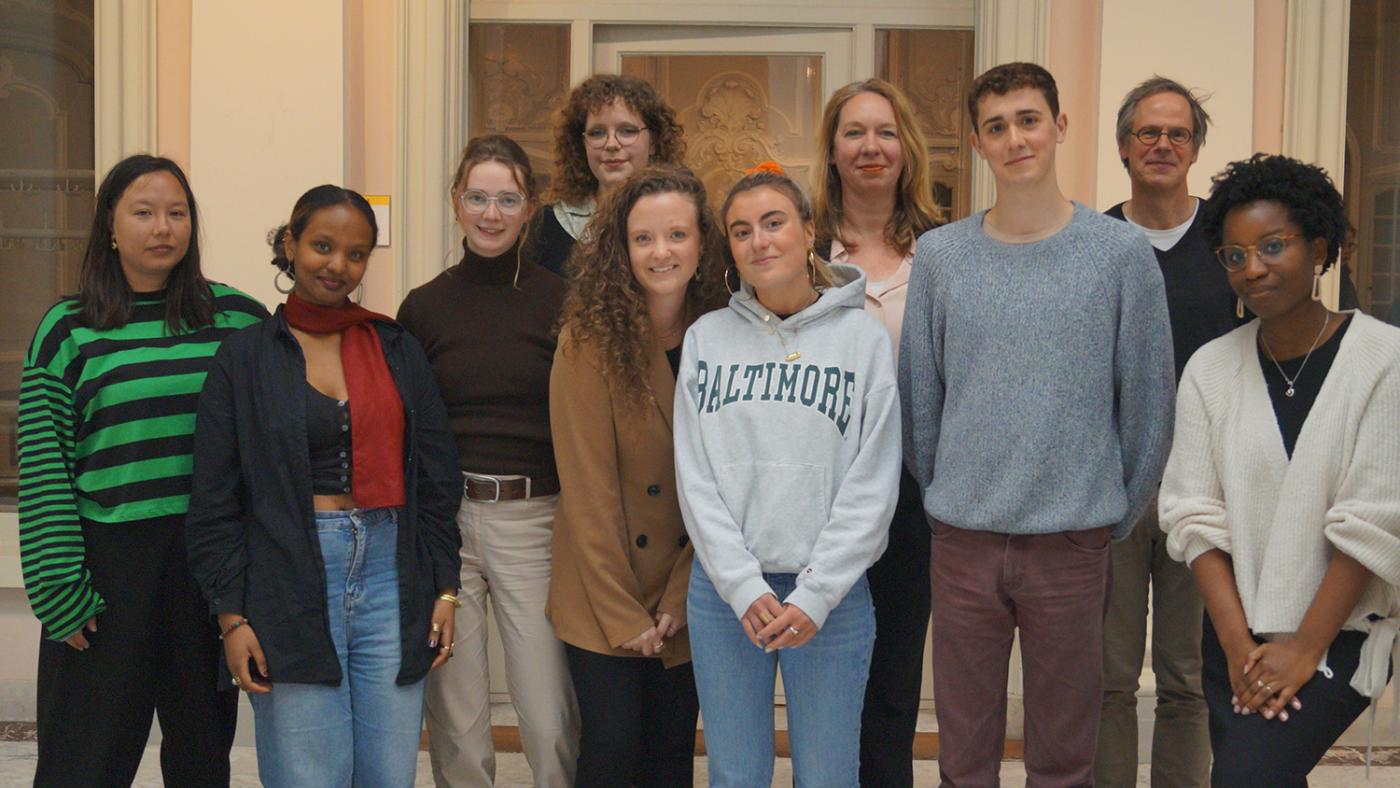 The students involved with the report: Ying Que, Rahel, Luna, Merel, Danthe, Sarah, Miranda, Alberto, Remco and Migaisa. Photos: DUB
Some of the students in the University Library on Drift may know that the building used to belong to the French king Louis Napoleon. Tours of the library mention that sometimes. But the story of another previous resident will most certainly be unfamiliar to them.
Sitie was gifted to the governor of Makassar and Ceylon, Joan Gideon Loten, at the end of the 18th century, courtesy of the king of Bone. Bone was located in present-day South Sulawesi, Indonesia. For a long time, the woman belonged to his household in the building on the Drift.
For the Language & Culture student Merel Hermans and the History student Danthe Franken, this is a striking example of the ignorance that prevails in the university community, even though Utrecht's slavery past is pretty much on the doorstep.
Danthe: "That was an eye-opener even for me. We are Humanities students who are very interested in this kind of thing. But we too had no idea about what happened in the buildings in which we walk around and spend many hours every day."
University benefited from slavery
Last year, the university decided that all faculties should conduct research on UU's connections with slavery and colonial history. That decision was made after a report about slavery in Utrecht mentioned that the university and its professors also benefited from the exploitation of humans.
Along with three other students (Alberto Simarro Correa, Luna Verbaas and Sarah Guest), Merel and Danthe signed up for a project in which they spent ten weeks researching how the Faculty of Humanities should take responsibility for its own history with slavery and how it can make its students more aware of that past. Last Monday, the students presented their recommendations (pdf) in one of the buildings on the Drift.
Knowledge exchange through walking tours
One of the suggestions – to organise walking tours for students and staff around the university buildings on Drift and Janskerkhof – seems the most tangible. The walking tours on slavery organised elsewhere in the city by the Utrecht-based cultural historian Nancy Jouwen and the project Traces of Slavery can serve as an example.
Merel: "It feels like an accessible way to make students aware of that history, during open days or introductory activities, for example. The idea is that both the guide and the walkers will tell their stories, so there's mutual participation. Since you're doing something together, a walk like that can be a great conversation starter. That way, there's an exchange that goes beyond the history of the buildings themselves."
The walking tours could be accompanied by QR codes in the buildings or books providing information. The students also suggest further studies to verify whether artworks or video installations in places like the university library hall or the bicycle shed could shed more light onto UU's history of slavery.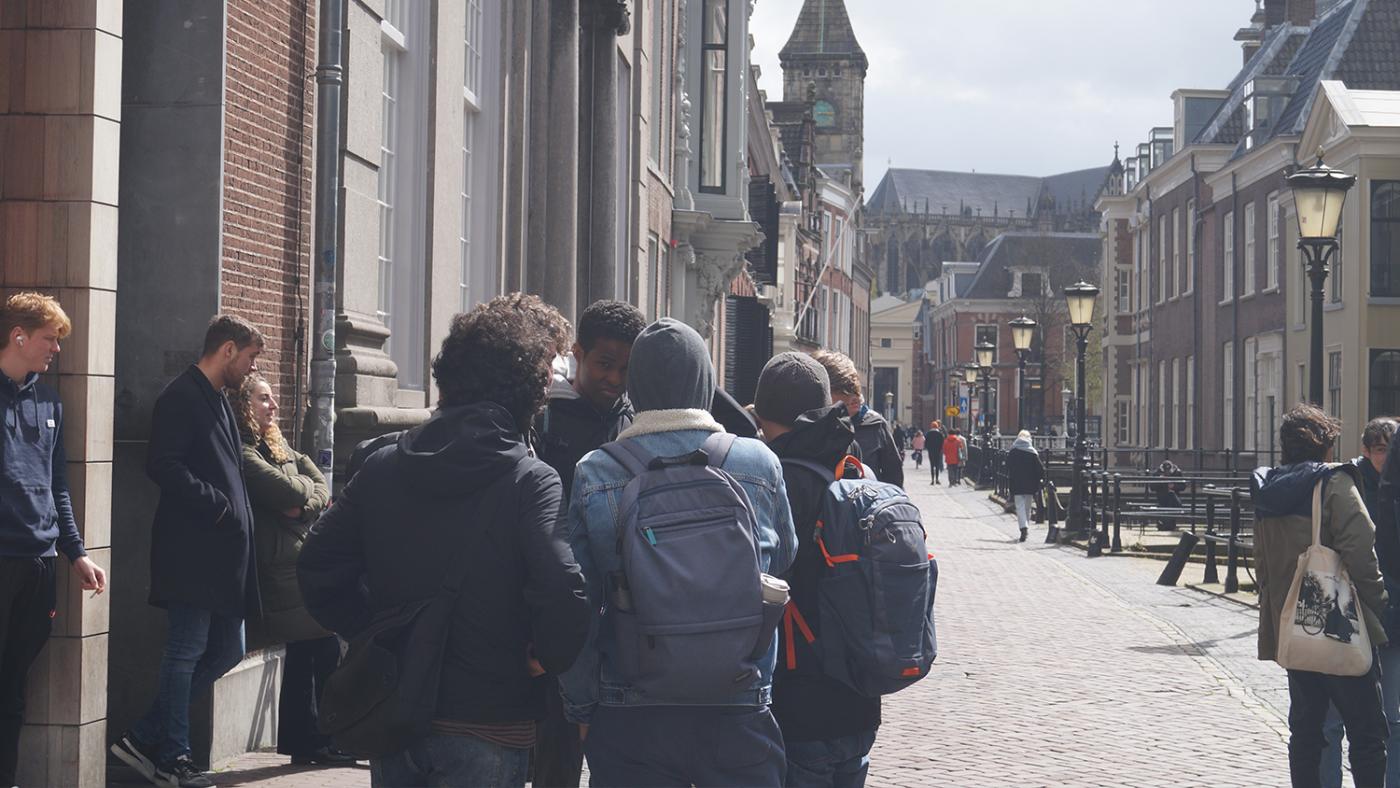 A Keti Koti table on Drift
Another initiative that seems likely to be successful is the so-called Keti Koti table on Drift or Janskerkhof. The students have been in touch with multiple organisations. The idea is to put a long table on Drift on July 1st, the day the Netherlands celebrates the abolition of slavery. A hundred people would be able to share a meal together and talk about a certain topic. A choir would sing songs that enslaved people used to sing together, as well as several other rituals. 
To increase students' and employees' awareness of the history of slavery, the five students also hope that student associations and organisations will organise activities in that regard. The study association UHSK, from the History programme, has already indicated their interest. They already organise an annual Holocaust Memorial Day.
Danthe: "We noticed that many students and employees are interested in what we're doing. So there is a lot of interest in the topic. Hopefully, more associations will be willing to do something similar."
Need for thorough changes
But, according to the five students, the university, shouldn't only be informing people and connecting them to the history of slavery. It should also do something about the inequality that many descendants of enslaved people still face today. To that end, they suggest creating scholarships specifically for this group.
UU should also work more actively to remove the barriers that this group experiences in primary and secondary education. Ideas include more instruction on what a university is and does. The university curriculum should also pay more attention to courses that include reflections on the university's own history of slavery. A UU workgroup has already started working on this.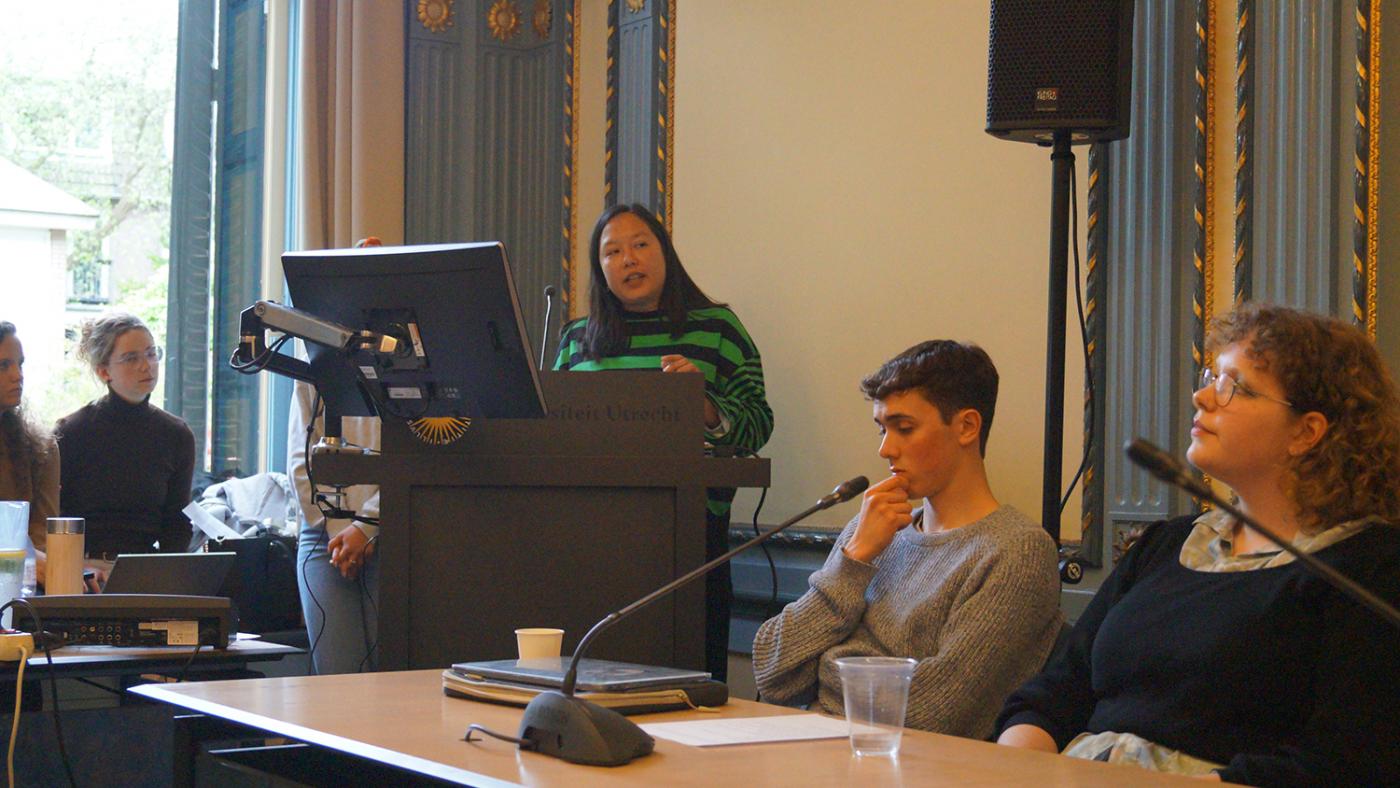 Safe spaces
The group emphasises in their report that the changes should not remain superficial and cosmetic. Instead, there should be structural changes to the university's system and culture. The students would like to see a committee that would supervise the university's actions in that regard. There should also be safe spaces where students who call for drastic changes feel welcome to speak out.
The question, then, is what these safe spaces will look like. In academic circles, the concept is a controversial one, as some say that criticising and receiving criticism is simply part of the academic debate.
Reacting to that, the two students say: "We'll leave the details to the people who need these spaces. We'd rather not speak for them."
In addition, the five students think it's a shame that they're all white and that none of the students participating in the project came from a family that had to deal with colonial exploitation. For that reason, they have let themselves be led, for a large part, by their conversations with representatives of the numerous interest groups from the Afro-Caribbean and South-East Asian communities in Utrecht. That fits right in with the set-up of the Community Engaged Learning project – a fairly new form of education in which students work on issues social organisations and companies deal with.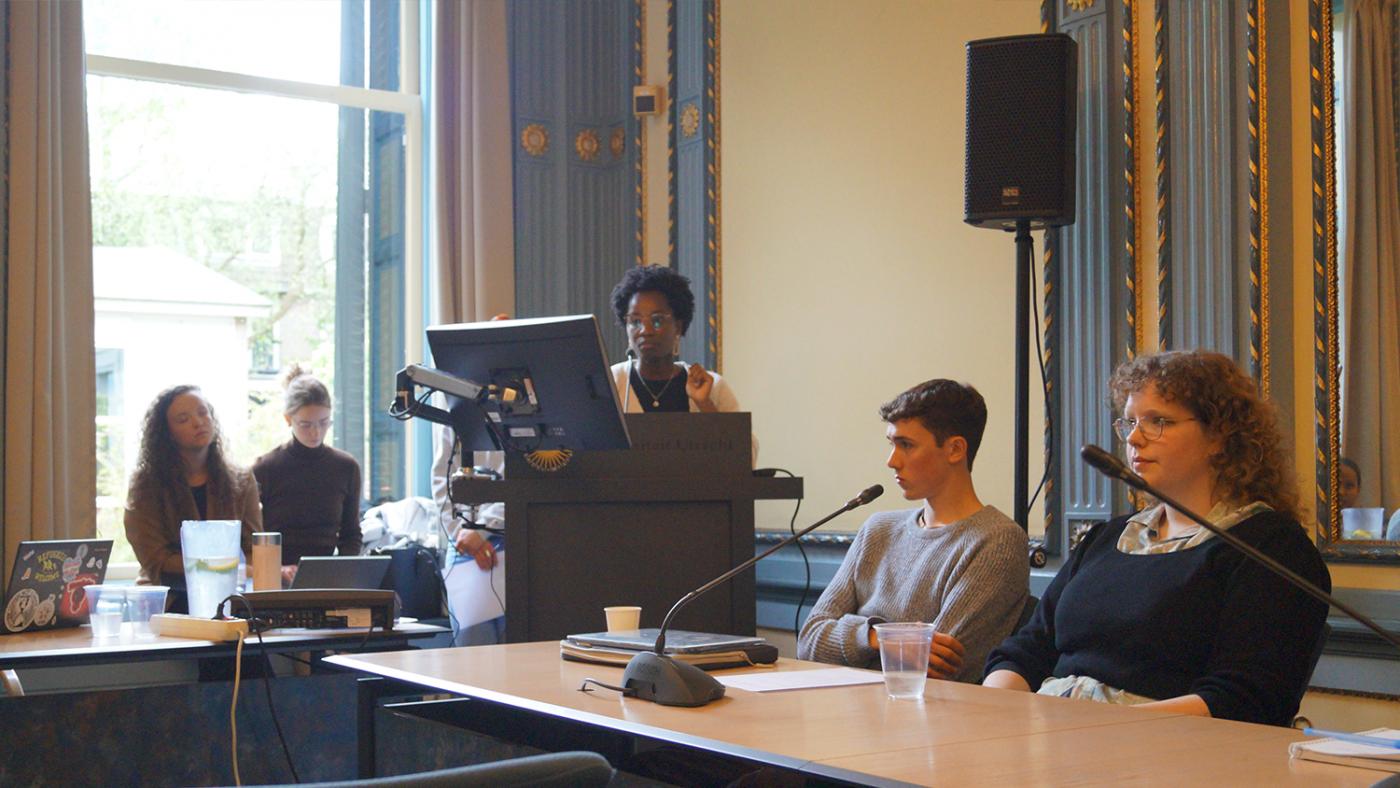 A white university
Representatives of the organisations involved were present in the presentation of the report, which took place this past Monday in the Sweelinck room at Drift 21. They were satisfied with the students' proposals.
"These students came to us for information. Usually, we're the ones knocking on the doors of municipal institutions, like Tivoli or the Stadsschouwburg, to talk about colonialism and making that history visible," says Migaisa Poketi from Keti Koti Utrecht. She called for the university to take more responsibility and really organise activities in line with the students' suggestions.
Utrecht University is a white university, more so than other universities in the Netherlands — that was said multiple times during the meeting. Poeketi also mentioned that it's important to create safe spaces for students. For her, these are places where one can be together as black students, without constantly having to explain how tricky and threatening some experiences can be.
UCU student Rafaella Abraham, from the African and Caribbean Heritage Network, acknowledges that need. She also notes that discussions about racism are currently usually initiated by the black community when, in fact, "they need to be broader, with everyone."
Poeketi often hears that "working at the university as a black employee is exhausting." Since there are very few people of colour who work at UU, they are often asked for input about activities, meetings and committees. But when they do address issues, there isn't much empathy. A discussion about institutional racism, for instance, requires a lot of patience. "It's hard to really achieve something."
Ming Yi, from the project Traces of Slavery, pointed out that many structures from the time of slavery are still in place. She praised the students for wanting to make that information visible. Herself, she has been organising walking tours through the city that show these traces. "But we also talk about the black people who lived in Utrecht at the time and the influence they had. We also mention that there was a relatively large movement of people who opposed slavery."
From pillar to post
Danthe and Merel have since realised that ten weeks is a very short time to really get something off the ground, especially at the university. Danthe: "It was already hard to get an overview of what was already happening at the university on this topic. It's quite strange that nobody seems to have that information, which also made us feel like we were being sent from pillar to post. For example, you can't talk to the faculty director about educational change, you have to approach the dean for that."
Hence their hope that there will be a next step to this project. Other students will have to ensure their recommendations will actually be implemented. Merel: "One lecturer suggested starting a minor in Community Engaged Learning, focusing on the theme of slavery. That sounds amazing to us. Our biggest concern now is that everyone is applauding now but then nothing happens later. We really want to prevent that."
Miranda Jansen, director of the Faculty of Humanities, told the students during the presentation that she was impressed with the work they had done. She said she would immediately put it on the agenda for a faculty board meeting. She, too, thinks that a new group of students will have to get started on realising the ideas for the walking tours, QR codes and artworks. "I've realised that the relationship between slavery and the university is stronger than I'd previously assumed. We really have to do something about it."
Historian Remco Raben, who supervised the students and also worked on the book that Nancy Jouwe wrote about the history of slavery in Utrecht, emphasised that those initiatives alone aren't enough. "We need radical change. We need more diversity in the student population, as well as among the staff. As white people, we'll really need to give up some privileges."
Belle van Zuylen chair
The five students also thought about a name for a rotating professorship that will be financed by the UU board: The Belle van Zuylen chair. The chair is named after an enlightened author who, in the 18th century, stood up for women's rights, but was also from a family that gained wealth through colonial capital.

Based on the conversations the five students had, they concluded that the name of the chair does not need to be changed. However, perhaps when a new professor starts, there could be more attention to the ties Belle van Zuylen had with slavery, to address the complexity and ambiguity of the theme, as clearly, profiting from slavery could go hand in hand with revolutionary ideas. 
Advertisement