UU-student and FC Utrecht player: 'I'd always been seen as a Moroccan'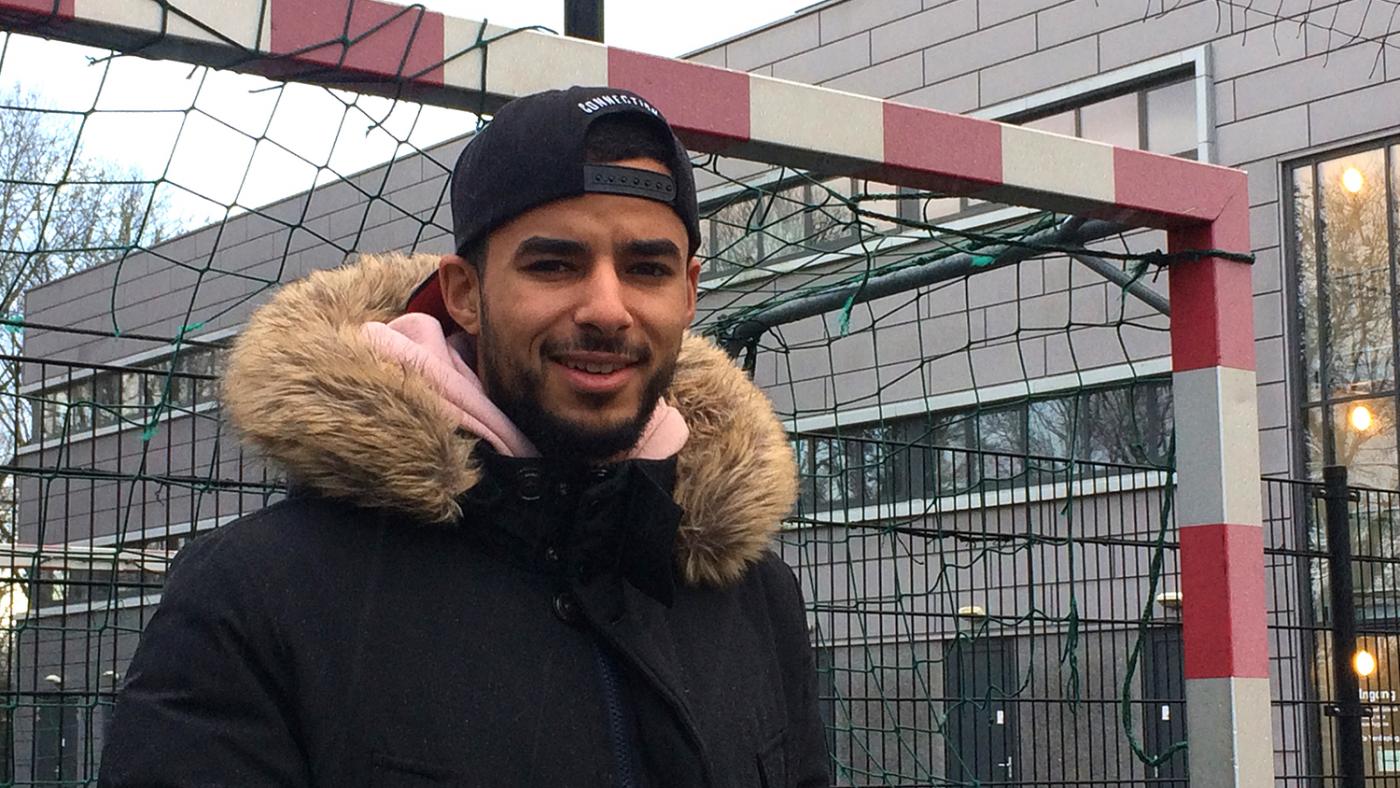 "Hey man, what's up?" It's obvious the sophomore governance student feels at home in the district Overvecht when we first meet. It's like he's meeting an old friend. Zencka cap on his head, jacket with fur collar, sweat pants, gray sneakers. One of the guys in northern Utrecht, really. Uses typical phrases – the Dutch equivalent of things like 'ya know', and 'for sure'. Until we start recording, that is, as he instantly turns into the picture of eloquence, one articulate and sometimes well-thought out sentence after another comes out of his mouth.
It was a surprise to everyone that Redouan El Yaakoubi got a near-perfect score (548 out of 550) on his Cito test in his last year of elementary school. It doesn't fit with the image people have of this tough kid who likes to fight. With the score, Redouan is eligible for the gymnasium, the country's highest level of high school education. Now what? His parents have no idea. Father came here as a so-called guest worker, mother takes care of the kids. The school recommends sending Redouan to the renowned Christian Gymnasium.
Classmates didn't understand my behavior
He feels as though he's thrown to the wolves in what he calls an elite school. "Classmates didn't understand my behavior. I got mad at others sometimes. They'd look at me like: why are you getting angry now? Can't you talk about it? I reacted in different ways than they were used to."
Of 160 freshmen, Reduan is the only male 'Dutch Moroccan', as he calls himself. "Students from the Oog in Al district, with two highly educated parents, were used to talking about everything, finding arguments for everything. I wasn't prepared for that. I felt I couldn't be myself."
He turns into a model student. His grammar improves, he becomes more and more flattened. In discussions, such as those about asylum seekers, he lies about his opinions. The enfant terrible turns into a model Moroccan. Still, he's not really, truly a part of the community. "I felt this with regards to love, as well. I liked a Dutch girl, but classmates wouldn't accept it. 'Are you crazy, you're not gonna go out with that Moroccan boy, are you?' Even though she may have wanted to. Nothing ever came of it."
I immediately felt pretty good
In his sixth year, he finally feels accepted. A knee surgery forces him to repeat his final year. In the new class, he's once again the odd one out. "They'd have group chats to talk about homework, and wouldn't add me." The moment he truly realized he was an outsider, came when he visited the ROC school in the Kanaleneiland district. "It was filled with kids with a foreign background. Strangely, I felt at home. Honestly. It was much easier for me to do my thing there, whereas at the Christian Gymnasium, I always had to think twice before I spoke or did anything. I don't blame anyone, and it definitely made me stronger, but I'm still sad that I never felt like I could just be myself."
He needs a time-out. Takes a year off from school. Afterwards, Utrecht University feels like being wrapped in a warm blanket. "I immediately felt pretty good. To start with, I'd grown up. This was partially due to that year off; I knew who I was, and what I wanted. I was 20, an adult. My fellow students were adults. I noticed that people were open to me, wanted to get to know me.
"I was also prepared a lot better for a future at the university, than I had been when I went to the gymnasium as a twelve-year-old. I had no idea what I was in for back then. In high school, teenagers wanted to act tough, but at the university, it's about your ideas, your studies.  People are open to other opinions. There's a world of difference. I dared to express myself much more.
"Another thing that helps: the school of governance is small-scale, you get to know everyone pretty quickly. The teachers, too. Even during lectures, with a maximum of 90 students, you can always just ask questions. Teachers are engaged. You can always come to them if there's something you want to know. Long story short: it was a nice start. As a new guy, as me.
We're seeing more and more highly educated Dutch Moroccans
"My current classmates don't know me as anything but that guy who was instantly himself. Whereas, during puberty, I still needed to find myself." And was still seen as a Moroccan. "Many Dutch Moroccans will share that feeling. It's a result of the area you live in, with many Moroccans around you, and the role your parents play." He thinks the feeling may fade out in time with future generations. "We're seeing more and more highly educated Dutch Moroccans, and I, for instance, will definitely ensure my own children will speak the language well."
Redouan notices a tunnel vision when talking about Dutch Moroccans. "When they're in the news for negative reasons, they're Moroccans. When they're in the news for something positive, they're suddenly Dutch. I do understand, because of course a society wants to show off what you're proud of." The entire country has an opinion when a Moroccan soccer player chooses to play in Morocco's national team. "People say: you grew up in the Netherlands, so you should choose our national team. I don't agree. It's your own free choice, one you should make intuitively."
He doesn't have to choose yet. Last November, he signed a professional contract with Utrecht. Before that, he'd played in amateur teams. If offered the opportunity, which country would he choose? "It would be a very difficult decision, one I wouldn't be able to make until the time comes." It's a feeling he's struggling to explain. Still, bits and pieces come out. "I've always grown up as a Moroccan, and been seen as one, even though I'm happy in the Netherlands."
There's more. "No Dutch big league clubs ever noticed me, and then suddenly I'd have to choose the national team?" He feels he hasn't been acknowledged enough. As a soccer player, as a fellow Dutchman. His environment also influences possible future choices. Friends, who semi-jokingly say he'll choose Morocco. And a sense of reality: as a defensive player, does he even have a shot at the Dutch national team? "In my preferred position, there are a lot more possibilities in the Moroccan team."
I can't and won't give up studying
He's mostly aiming at continuing his soccer career. The volunteer work he's doing for JoU Utrecht, like remedial teaching and talking with kids, is paused for now. With the university, he's worked out a deal so he's able to do the bare minimum. "But I can't and won't give up studying." Because he needs a Plan B if his soccer career ends, and for life after soccer. "With my studies, I could, for instance, organize activities for kids. And if I earn a lot of money with soccer, a lot of my earnings will go straight to charity things. In Overvecht, for example."
Relaxing at 34 after having cashed, isn't gonna happen. "I'd like to be assistant trainer. With my studies, you can also do a master's in sports. That seems interesting. Youth work appeals to me, too. In social work, I'm seeing too many people who can't actually do it. You need to connect with these kids, speak their language. I think I can do that. I've been through a lot, I have a story. I can get through to these kids, inspire them. And contribute to society in my way."
Translation: Indra Spronk