Contracts of food trucks at the USP about to expire
Vote for your favourite food truck
Imagine it's April 2023. You're just leaving a class at the Science Park and it's time for lunch. You were in a rush this morning, so you didn't have time to pack your own lunch at home. The perfect scenario for a run to a food truck, right? But which one will you go to? What kind of food are you craving? On January 9, Utrecht University will be asking everyone who studies or works on campus to fill out a digital survey with this scenario in mind.
That's because the contracts of the food trucks currently operating on campus are set to expire in March 2023. The university asked entrepreneurs to send in original, sustainable, and healthy food truck ideas. The owners of the current food trucks were also allowed to participate.
The proposals will be assessed by a team of employees and students based on the following criteria: sustainability, ease, innovation, and healthiness. The eight best-rated food trucks will be submitted to the judgment of UU's community through a survey, after which the four candidates with the most votes will get a spot at the Science Park from April 1 on.
'My dream spot'
Several food trucks have graced the Utrecht Science Park since the first food truck experiment, in 2015.  Today, the so-called 'Food truck Carrousel' consists of the döner truck Mo & Sons, the sandwich shop Broodje Ben, the Falafel & Halloumi truck, and the French fry place Tour de la Frite. These four businesses rotate past four locations: one near Heidelberglaan Avenue, two next to the University Library, and one at Padualaan Avenue. Maybe we'll be seeing four entirely different food trucks on campus in April.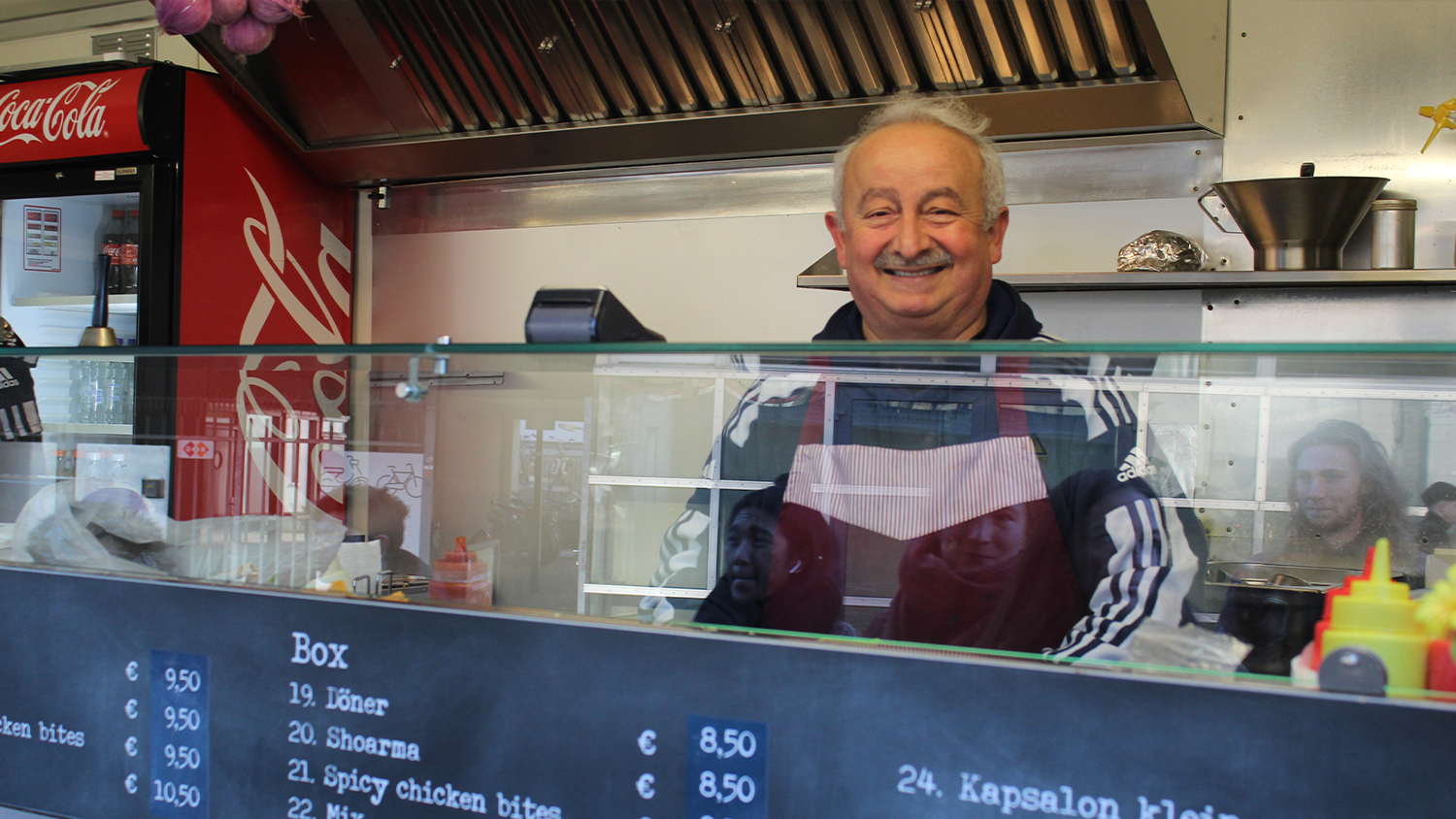 Mo Korkmaz, owner of Mo & Sons. Photo: DUB
If it were up to Mo Korkmaz, who runs Mo & Sons, he will keep his spot. He's been operating at the Science Park since 2002, long before the other food trucks arrived. He says there's nowhere else he'd rather be. "The Science Park is my dream spot. All kinds of people come here, it's such a great international hub. It's amazing that I can earn a living doing this. I really turned my hobby into my profession." As to be expected, Mo did send an application for the next round and he has faith in his chances of getting through both the selection procedure and the people's choice.
Eid Alhadad, the owner of Falafel & Halloumi, hopes to stay put as well. He's been at the Science Park for three years. "Such fun and special times, despite the pandemic," he says. "It's nice to provide students and employees with a nicer lunch thanks to our products. I hope to be able to keep doing that for two more years." According to Alhadad, his falafel is really popular because it's always fresh.
'To be honest, I really just want a cheaper option'
Earth Science students Jelmer and Patrick are standing in line for Mo's food truck. They both think the food trucks on campus are quite expensive. "It is super tasty, though. So it's kind of worth it." They buy lunch at one of the food trucks about twice a week.
Their favourite is Mo's because of its kapsalon with döner, even if it's more expensive than a sandwich at Broodje Ben. "At least Mo chats with you. At Broodje Ben, everyone is always in a hurry. The French fry truck is pretty good, too, and friendly!" When asked whether there's anything they're missing, they take some time to think. All of a sudden, Patrick's eyes light up. "Mexican food! Tacos and tortillas!"
Krijn, a lecturer in Biomedical Sciences, never went to Mo's. He prefers Falafel & Halloumi, where DUB finds him standing in line. "Falafel and halloumi are a such great combination". He is a regular food truck customer who has only positive things to say about everything he's tried so far. Still, he would appreciate an Asian option on campus. Ties, a student in Global Sustainability Studies, agrees. "But, to be honest, I really just want a cheaper option," he laughs.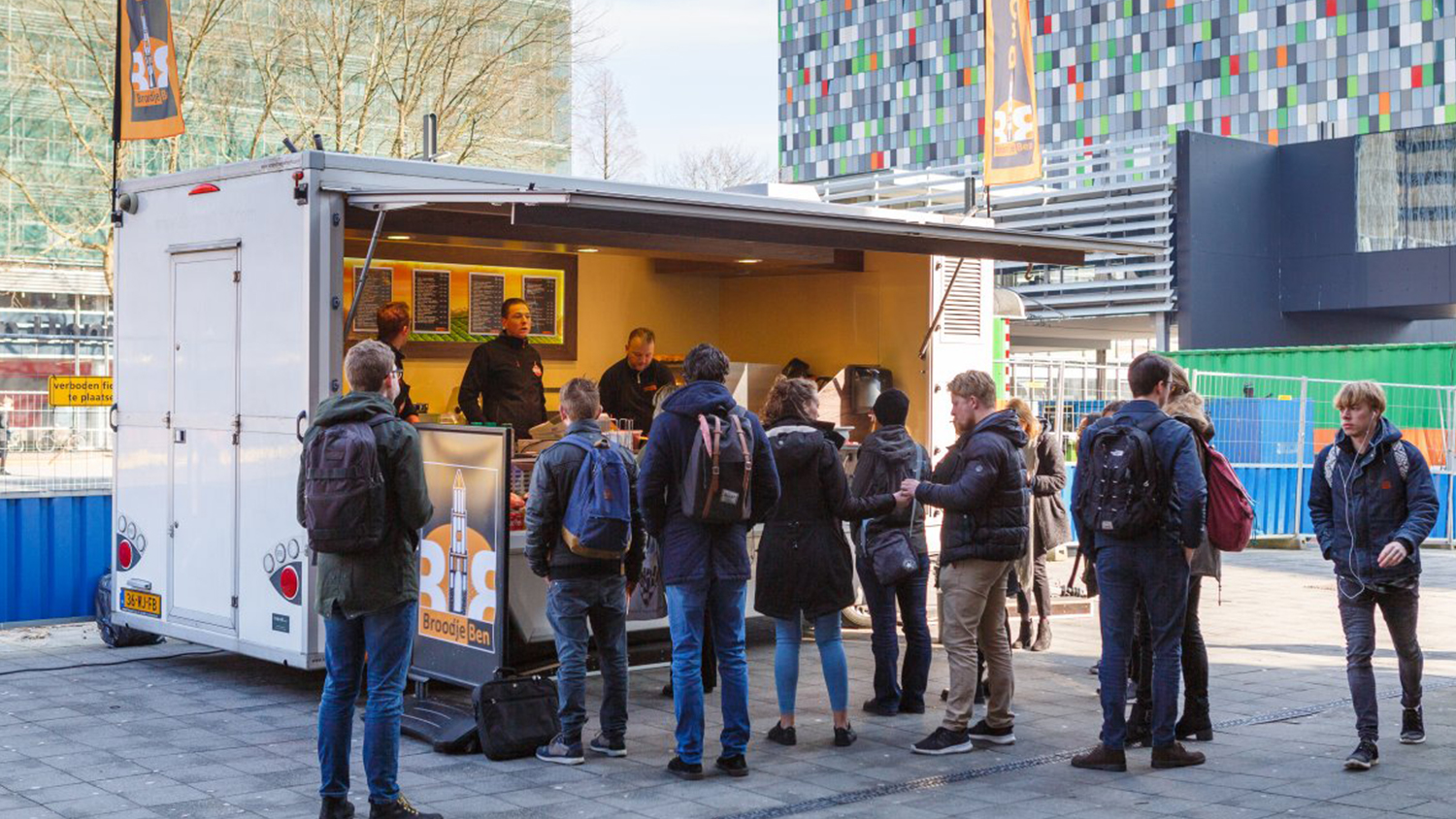 Broodje Ben. Photo: DUB
Most people seem to have a clear favourite. Two employees say they practically only go to Broodje Ben for lunch, once or twice a week. "At least there we can feel as though we're eating healthy food," one of them says. "A food truck with burgers would be a nice addition but that's less healthy, of course," he ponders, smiling.
HR officer Reinout is another customer faithful to Broodje Ben. He explains that the sandwiches are fresh and inexpensive, not to mention there are many options to choose from. He admits, however, that the fact that the sandwich shop is well-known elsewhere in the city also helps. "It feels familiar. I've been coming to Broodje Ben for years, including the one at the city centre." He's not that interested in taking part in a survey about food trucks. "As long as Broodje Ben stays, I don't really care."
Advertisement