Flex studying suddenly comes to a halt
'Vulnerable students will be particularly affected in their earnings'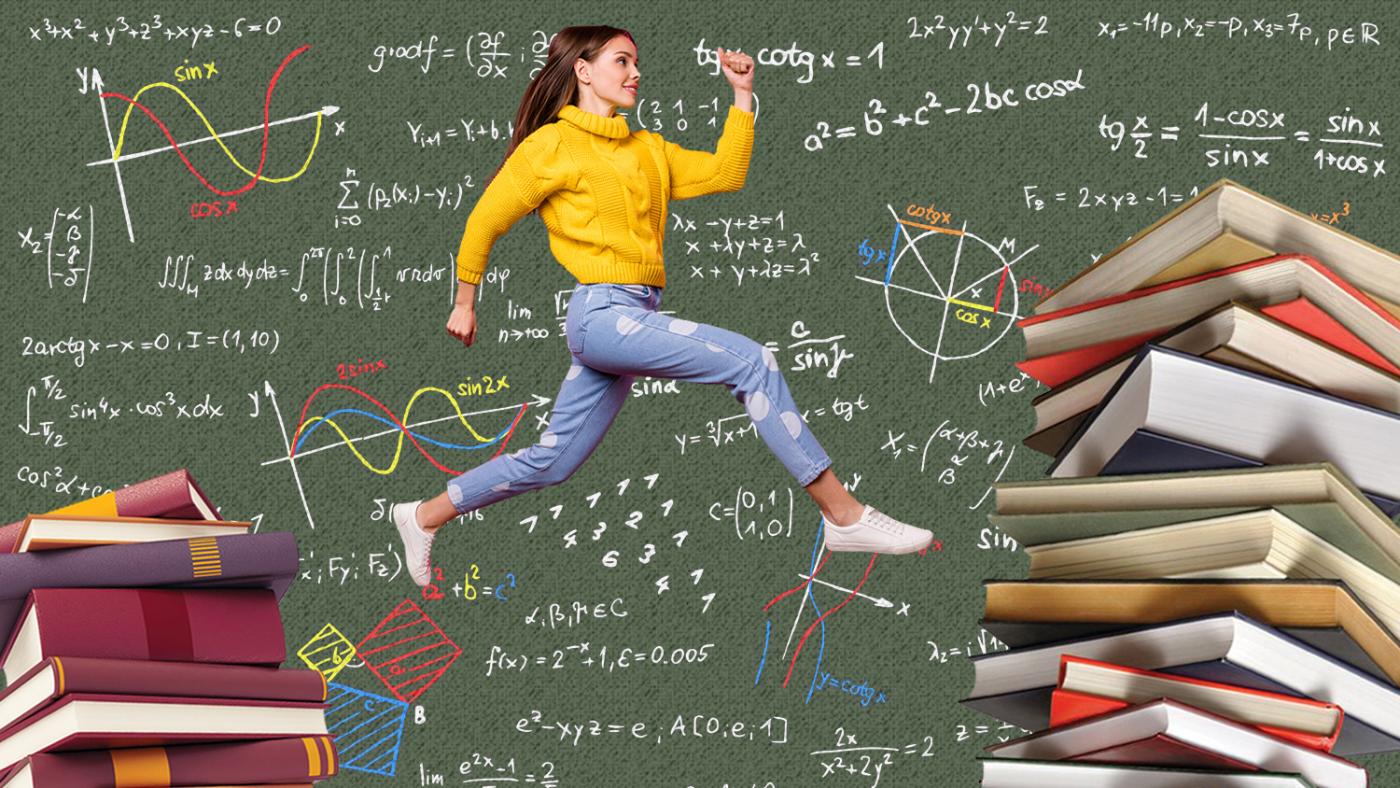 Photo: Shutterstock, 123rf. Illustration: DUB
Without flex studying, it would have been difficult for short track-champion Selma Poutsma to combine her busy training schedule, which comprises two training sessions a day, with her Liberal Arts & Science degree. She's calling DUB from Dresden, Germany, where she's staying for the World Cup. This is the middle of the skating season, so she is not following any courses this block. "It would be hard to also be stressed out about my studies right now."
Selma is disappointed in the decision to end the flex studying experiment, recently announced by the Dutch Minister of Education, Robbert Dijkgraaf. According to her, this is a good way to support top athletes while still enabling them to follow an academic programme.
After all, flex studying takes away a lot of Selma's "financial stress." She is allowed to follow fewer courses because she doesn't have to pay the full two thousand euros in tuition fees.
As a result, she feels that it's "okay" to study at her own pace. "Flex studying gives me more peace of mind. Otherwise, I'd think: 'Isn't it a waste that I'm not following that many courses while paying this huge amount of money?'"
Studying at one's own speed
Selma is one of the approximately one hundred flex students enrolled in UU, a small group that benefits from an adjusted annual schedule. They are not only top athletes but also people taking care of family members, dealing with a chronic disease, and people with disabilities. Those serving as student assessors, student supervisors or members of the University Council can also make use of the flex studying scheme.
It was, however, just an experiment. UU joined it in 2019, following in the footsteps of three research universities (Tilburg, Nijmegen and the University of Amsterdam) and two universities of applied sciences (Utrecht and Windesheim).
In addition, it is not available to all UU students. Only a few of UU's programmes offer students the option of studying in a flexible way, including the Master's in Sport Policy and Sport Management and a number of teacher training programmes, which combine studying with working. At the Faculty of Humanities, two Bachelor's programmes (namely, Liberal Arts & Sciences and Language & Culture Studies) are taking part, as well as four Master's programmes.
The experiment was met with enthusiasm in The Hague, at UU and by flex students themselves. UU graded the arrangement a 7.9, according to the evaluation (link only accessible to those with a Solis ID, Ed.) conducted in May 2022.
Unexpected
For quite some time, the plan was to lay down flex studying in the law. However, at the end of January, the ministry informed all participating educational institutions that this would not be happening any time soon.
Therefore, the flex studying experiment will be coming to an end in September. It remains uncertain whether current flex students will have to start paying the full amount of tuition fees next academic year; part of them will only need to follow a single course. It isn't clear either why the minister decided to take such a U-turn. In March 2022, he said he still supported the plans of his predecessor, Ingrid van Engelshoven.
"The ministry's message came 'completely out of the blue'. A bit sloppy and a bit bureaucratic as well," says Anton van den Hoeven, from UU's Legal Affairs department.
The letter from the minister explaining the exact reasons is yet to be received. "But we've already notified the students about next year's plans, we've told them it will no longer be possible to study in a flexible way. It's a setback that we find disappointing."
The end of flex studying will "not make that much of a difference" for current student supervisors, student board members and student assessors, according to Van den Hoeven, since most of them will stop working for the board next year, so they will be going back to their regular studying schedule. "But for other groups of students, it makes a world of difference."
"Vulnerable students will be particularly affected in their earnings. Is that desirable in times like these? Not to mention there's a psychological element to 'studying according to schedule'."
To Van den Hoeven, it is "not a good thing" that flex students will be forced to register as full-time students again and pay 2,000 euros in tuition fees next year. "We also think this is hard to explain, as the Ministry of Education had stated time and again that flex studying would continue. The final evaluation of the experiment was brought forward by the minister precisely in order to anchor flex studying legally in time."
Study delay
Calls for flexibilisation have been heard in the higher education sector for quite some time, partly due to a changing student population and projects such as Lifelong Learning. However, opponents feared that education would become too commercial and the curriculum,  too non-committal curriculum, with students getting less and less attached to their studies.
Although the experiment is called 'flex studying', it's mainly a financial arrangement, Van den Hoeven explains. "In essence, it's narrower than the topic of 'flexible education'. It's really just about paying per course. Perhaps the term itself has led to all sorts of principled discussions and confusion."
The essence of flex studying is that students "pay less if they can do less." Removing a financial barrier among this group of students is therefore the biggest benefit of flex studying.
Van den Hoeven: "Another thing one can't ignore: if these students enrol full-time, they will feel like they're always behind in their studies. Once flex students schedule which courses they can do, and then only pay for these courses, they feel like they are running on schedule. This psychological aspect matters."
Results from the evaluation suggest that flex studying even has a positive effect on study success, with 20 per cent of students indicating after one year that without the experiment they would probably have stopped studying. The results should be interpreted with some caution, due to the small number of flex students at UU.
Teaching as a student
About one-third of UU's flex students are doing a teacher's programme – this year those programmes had a total of 27 flex students. The masters have a strong focus on gathering work experience in education.
Marijn Smeets, education manager at the Graduate School of Teaching, sees ever more students already standing in front of a class during their teacher's studies, a trend that she also expects to continue due to the increasing shortage of teachers. In addition there are students who are already a teacher, who work at a school two or three days a week and follow the study programme alongside.
Flex studying is a perfect solution for these students. 'The majority of our flex students is at the end of a two-year teacher's programme. They sometimes tend to take longer to complete their master's thesis, because being a teacher requires a lot of time and attention. Students choose to spread out the programme over a longer period, say three or four years."
False expectations
That these students will probably have to pay full tuition fees again next year, Smeets finds "very unfortunate". "Especially for students who have to make financial considerations. We don't know yet whether students are going to say, 'I can't study anymore that way'."
"I do suspect that students assumed they could take a bit longer to study because they pay per credit. Many students may have chosen to do it in two years for that very reason, instead of 'going ahead' and planning everything in one year."
"That does bother me a little bit: students have been promised that they can flex-study. We assumed it would be there for a while because all signs were green for a change in the law. It's very unfortunate that students now have to deal with this."
Co-determination
The fact that the message from The Hague came unexpectedly for everyone also shows the fact that student board members of the PvdUS had just finished writing a note about the expansion of flex studying.
The student party has been campaigning for flex studying for years, and student members of the University Council are often flex students themselves. This year, about half of them, says Maud Duurkens, group chair of the PvdUS.
Maud is pleased with flex studying. Indeed, it's one of the reasons she took up a council year, she says. "If I hadn't been able to flex study, I probably wouldn't have done this. Presumably, I would have thought differently: 'If I'm paying full tuition fees anyway, I want to get everything out of it and not study half',"
Difficult search
Maud fears that the extra costs to enter the co-determination will raise the threshold. While due to dwindling enthusiasm for co-determination, the University Council is already having great difficulty finding successors. Maud expects this problem to only get worse.
"It becomes more difficult when you say, 'In the board year you are going to put in 28 hours a week, you have to be enrolled in your study - for which you pay 2,000 euros in tuition fees - but you can't follow it all the way, so you're bound to get study delays'. That makes co-determination unattractive, and we foresee problems with this."
"Suppose it really stops, I hope the university will want to financially accommodate students who do something for the university," says Maud. "There are other arrangements within the university, but it's quite confusing now."
The educational institutions are still talking to the Ministry of Education to change the minister's mind. But according to Van den Hoeven it's not looking as if the plan to stop is going to be withdrawn.