UU study into growing up in a rapidly changing world
'We have to figure out what being an adult means to us'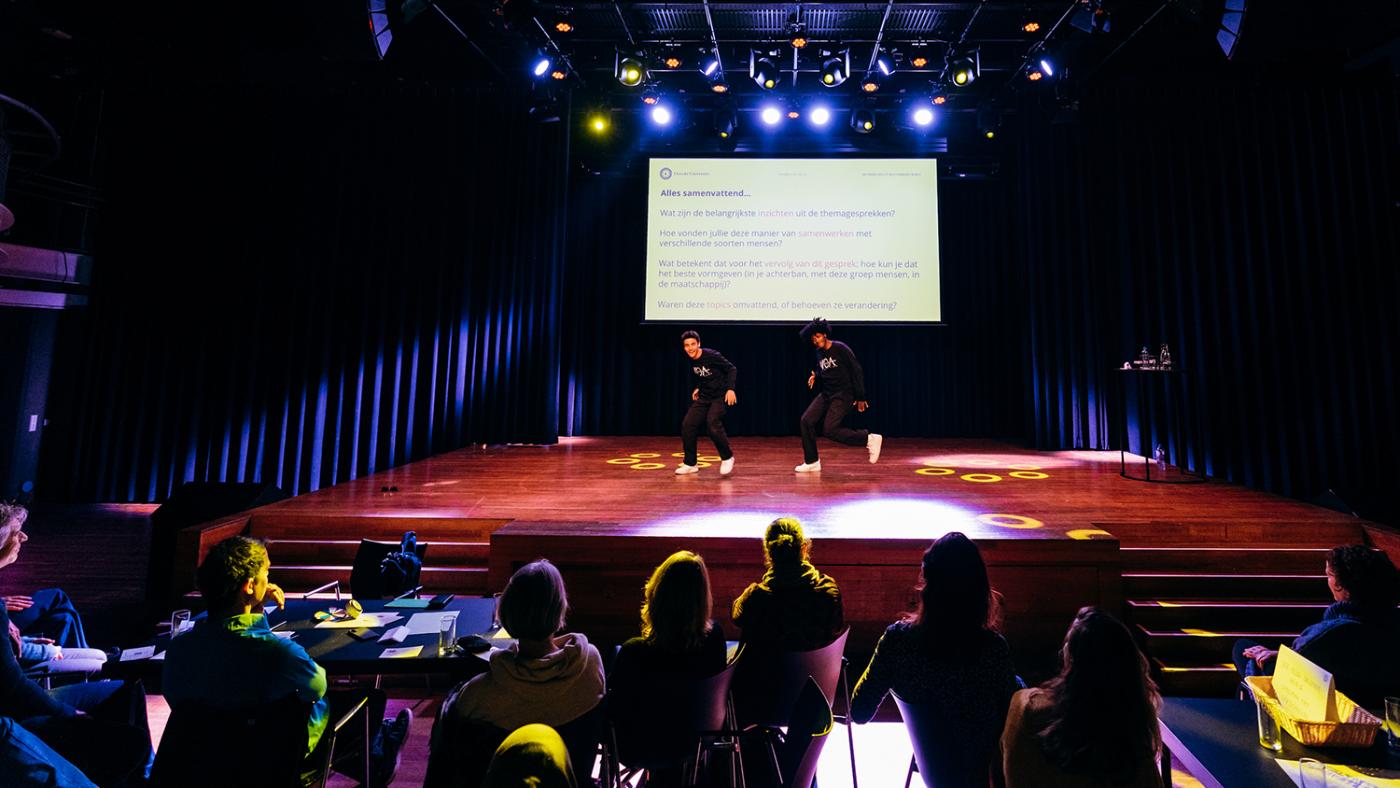 Snapshot from the event 'Becoming Adults' at TivoliVredenburg. Photo: Femke de Wit
There is a lot to consider about the process of growing up. After graduating from high school, most young people in the Netherlands chose to continue studying and taking the first steps towards their future careers. This is also the phase when they develop their own identity, discovering how they relate to gender, medical, religious and cultural elements, things that make them unique but also connect them to others. Lastly, becoming an adult means experimenting with relationships, be they romantic or not.
Scientists from UU have set up a research group to examine this topic from several angles, as part of the strategic theme Dynamics of Youth. The group has been divided into four communities, one of them titled Becoming Adults in a Changing World.
The research conducted by this community is interdisciplinary, meaning that it involves social scientists, remedial teachers, climatologists etc. This way, the university aims to connect all the disciplines already looking into teenagers and young adults in the hopes that new research projects will yield new insights about this demographic.
Young people think tank
One of the ways through which they hope to achieve these new insights is the so-called Future Think Tank, which will consist of approximately thirty participants between the ages of 12 and 24. They will meet regularly to discuss a range of topics, share their perspectives on growing up and provide input for the researchers. "That's how we, the research team, will learn about their lives," explains the chair of the think tank, Marije van Braak. "We hope that young people will be actively involved in this research for a long time".
In addition to listening to the participants, the scientists will also ask experienced players and practitioners, such as child protective services and youth organisations, for input. "They are the link between young people and society, which makes them equipped to provide a practical translation of the research results," says Van Braak. To facilitate this contact, the community will organise activities gathering young people, researchers and other stakeholders.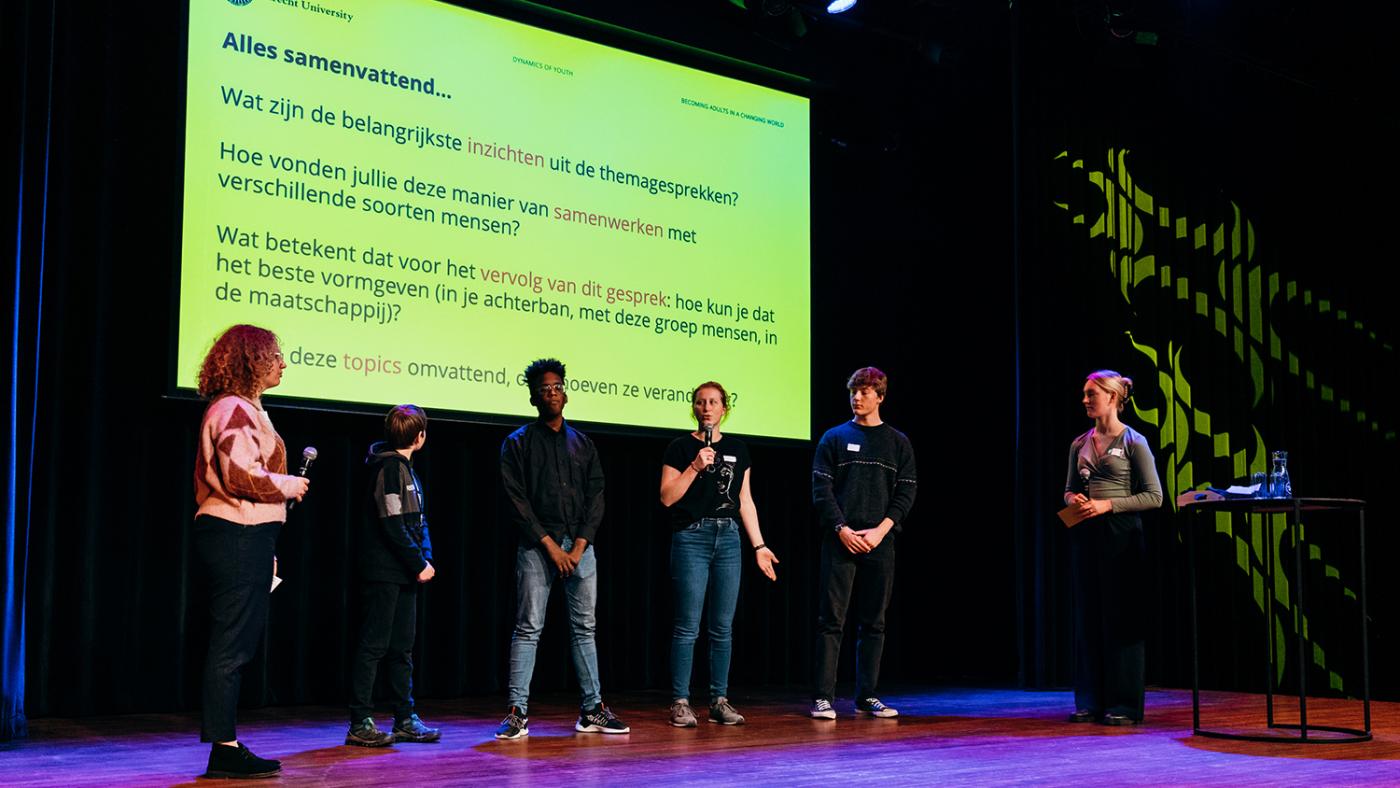 Community building
A preview of such a meeting was held last December at TivoliVredenburg. To officially kickstart the research, UU put teenagers, professionals, parents, researchers and policymakers in the same room. Jaap Denissen, a Professor in Developmental Psychology who also serves as a chair for the community, set the event's tone by getting onstage and emphatically taking off his toga. That was a symbolic gesture to show that scientists should step out of their bubbles and get in touch with teenagers and youth care professionals to get an accurate picture of their problems.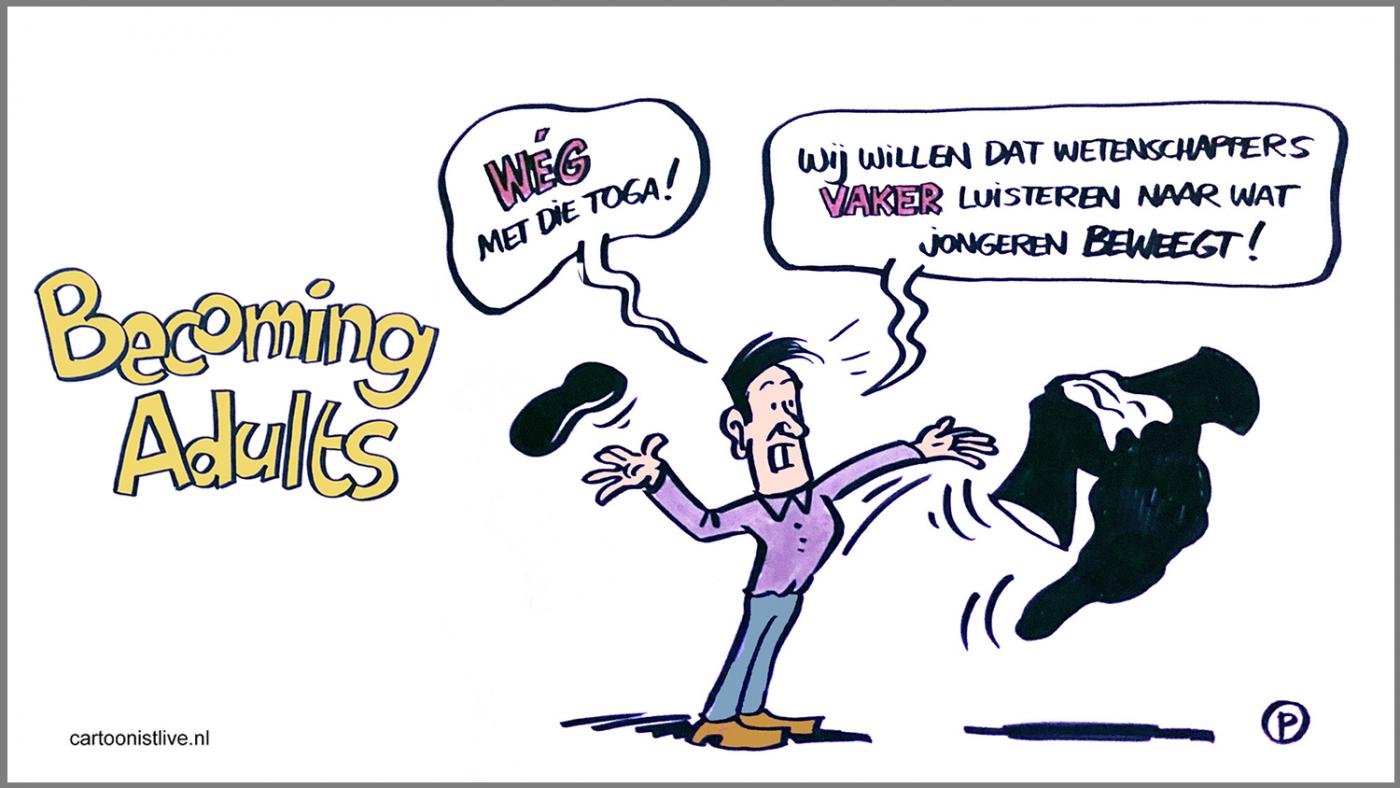 "Down with the toga! We want scientists to listen to teenagers about what makes them tick!"
During the event, dance performances and short plays were interspersed with discussions between young people, researchers, social workers and policymakers. One of the takeaways from those talks is that young people are under a lot of pressure to make the right choices, such as finding the perfect degree that will fulfil them and give them a promising career. As a result, they are often stressed out about the future. Factors such as socioeconomic uncertainty, the housing crisis and climate change only increase the pressure. One of the youth professionals at the event said she notices this tension daily: "Young people often ask me about debt, for example. They're worried about student loans and rising energy bills. I work in Overvecht, where that's a common problem."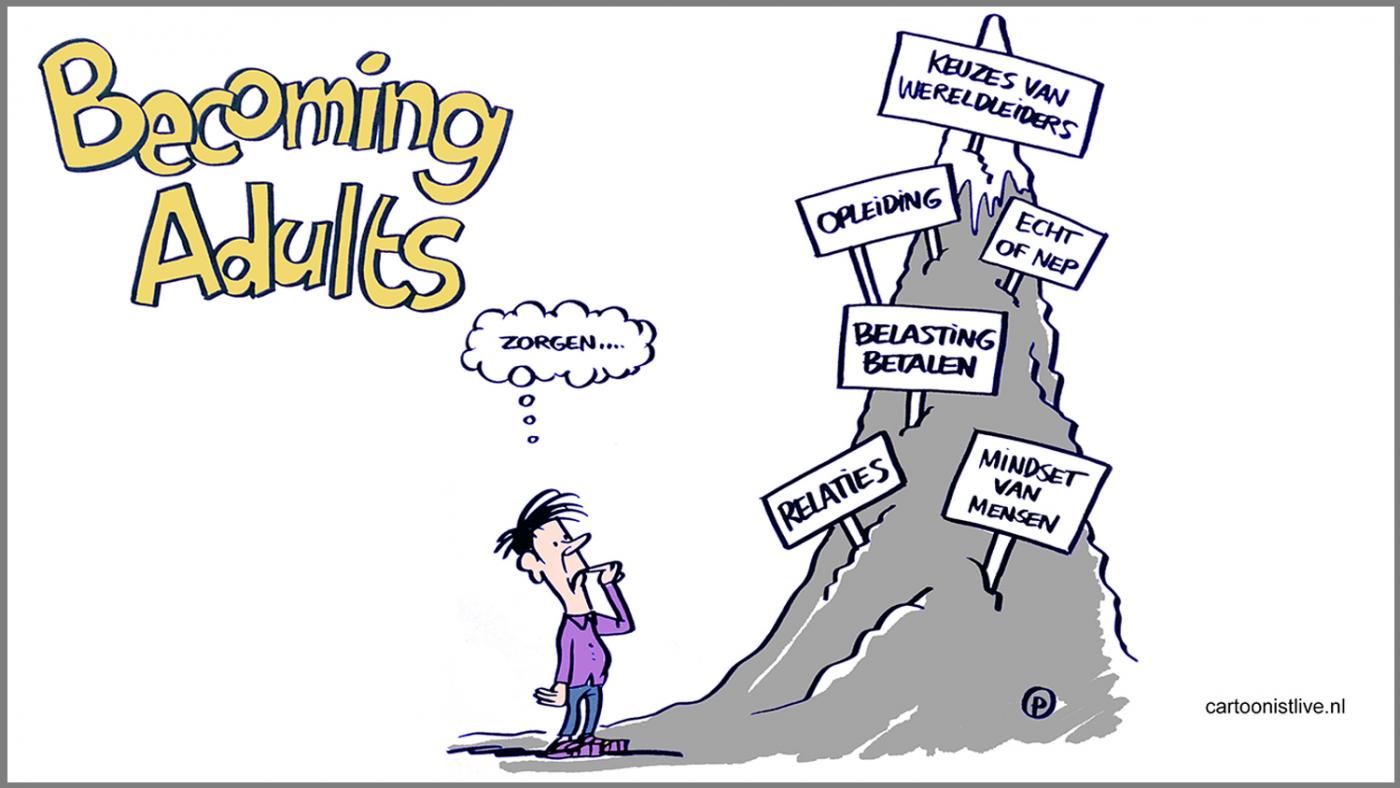 Worries... Education, relationships, other people's mindset, taxes, world leaders' choices, real vs. fake.
Laura (16) is a high school student from Leidsche Rijn and a member of the Future Think Tank. She can relate to many of the issues discussed at Tivoli. "The pressure that comes with growing up is so high that I'm not looking forward to the responsibilities that go along with it," she sighs. Climate change influences how she feels as well. "I don't want to live in a world that is being destroyed little by little but, at the same time, it's hard to live sustainably when everything is getting more and more expensive."
Then, now, later
Laura adds that she lacks role models due to the fact that the world is changing so fast. "We can't look up to our parents. We must figure out ourselves what being an adult means to us."
Braak concurs that growing up today is different from how it used to be: "The basic stuff is the same: back in the day, young people also needed to find their voice, form their identities and start relationships. It's the challenges that are relatively new."
The think tank is still under construction but the purpose of the Becoming Adults community is evident. Van Braak: "Eventually, we want to generate more understanding of young people's lives and suggest solutions".
If you're 12 to 24 years old and would like to participate in the think tank, you can register here.