Wellbeing Week is a big hit among students looking to work on themselves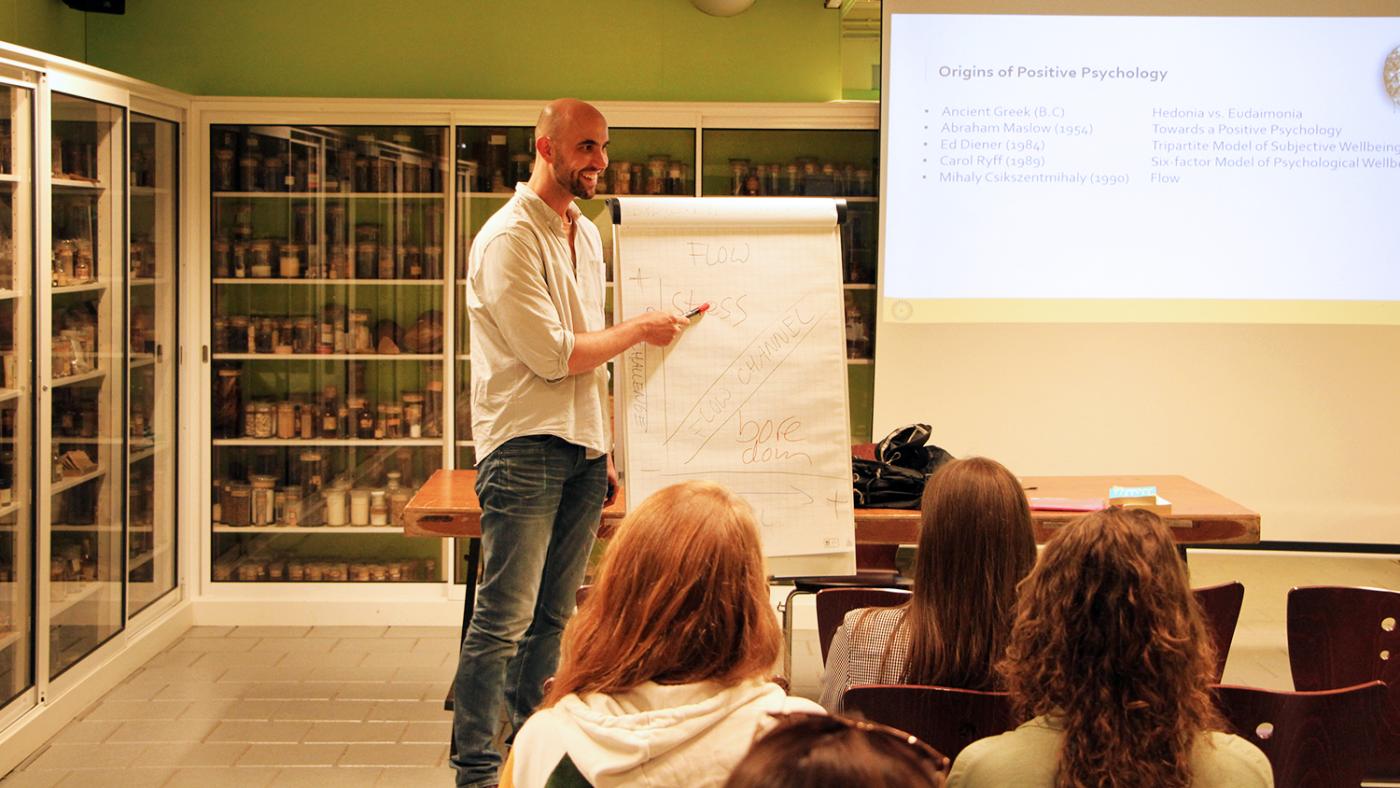 Photos: DUB
This week, Utrecht University organised various activities across the city centre and the Utrecht Science Park with the aim to encourage UU students to have an open conversation about vitality and wellbeing. The Wellbeing Week started on Monday and today is its last day. The activities focused not only on mental, physical, and spiritual aspects but also on financial, sustainable, intellectual, occupational and social wellbeing, as stated by the event's website.
According to the organisers, students were most attracted to the sporting and creative activities, such as the Morning Yoga, the ice bath on Friday, Stand Up Paddling, Self Defense and workshops like Burlesque and Botanical Illustration. These activities are largely intended to relax and reduce stress, but they also mean to support students with mental health issues. "Unfortunately, a significant part of the students struggled with mental illness these past few years, partly due to the Covid-19 pandemic", says Hannah Koster, from the Wellbeing Week team. "The Wellbeing Week is there to help these people, but it's also open to those who just want to let go of all day-to-day problems and enjoy the activities."
On Wednesday, two thought-provoking events took place in the Botanical Gardens. In the morning, Wachendorff Hall, located at the back of the tropical greenhouses, hosted an interactive lecture on the principles of positive psychology and its main differences with regard to traditional psychology.  Traditional psychology is much more focused on using scientifically-tested methods to deal with "disease" and control symptoms, whereas positive psychology aims to teach people how to have an assertive attitude so they can embrace the nice things in life as well as the things they are good at, which can lead to personal growth.
Everyone's personal growth journey is different, which makes it difficult to generalise, states Rutger Jan Scholtens, former lecturer in Cultural Anthropology at UU, now serving as a coach at UU's Career Services. He wants to reach people who are "intrinsically motivated", people who want to make time to work on themselves alongside their busy study life. "Positive psychology is not about treating symptoms. Rather, you can consider it a method to prevent symptoms. A method to get the best out of yourself." He adds that many students are interested in it and that he receives a lot of positive reactions from them.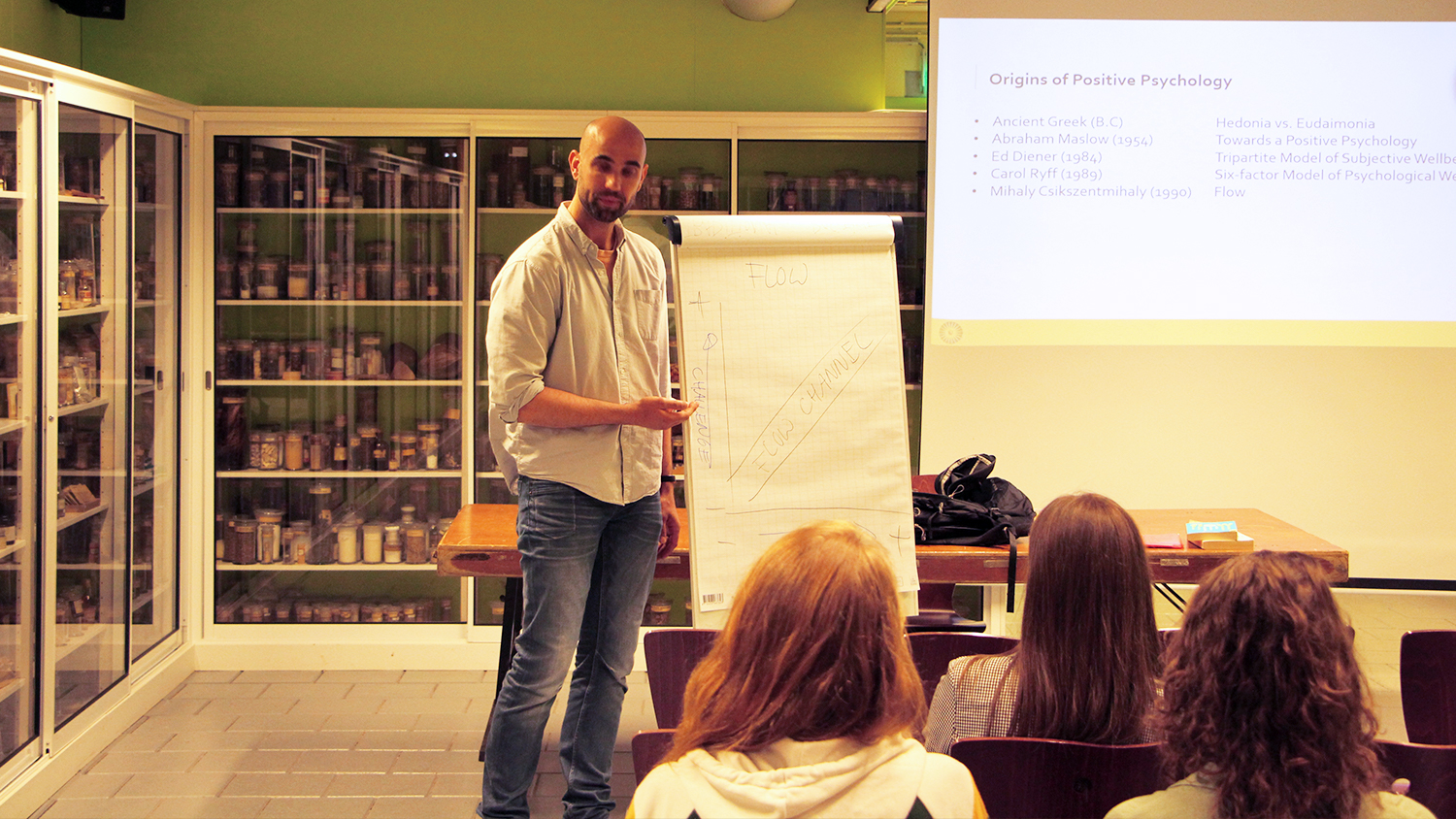 While the lecture was being held, a monument in honour of "forgotten people" was set up in the outdoor living room in the botanical gardens. There, students could play an online game in which they explored a city full of stories of "forgotten people". The goal of the game was to unlock these stories and, if the main character managed to do that, they would find something dark hidden beneath the city. But does such a game fit in a week that is focused on making people feel better?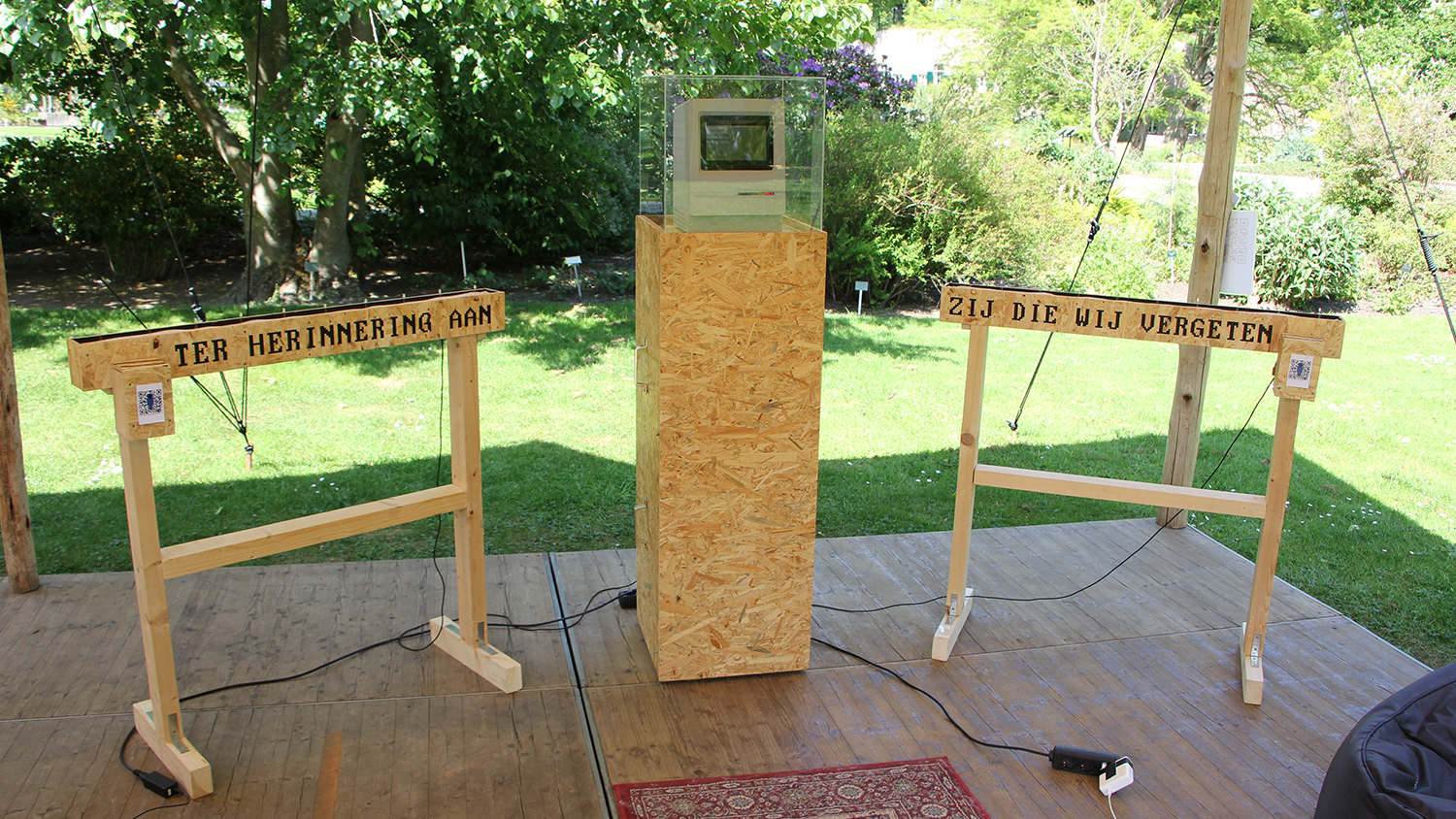 Samuel Bom, Jelle Stiphout and Lindsay Zwaan think it does. They developed the game during the Covid-19 pandemic when they had a lot of spare time. They experienced first-hand that some people in our society are very lonely: for instance, the game includes many stories of lonely students who Samuel met back when he was a UU student himself. When Jelle's neighbour died, he only found out about it three months later. He adds that, in the Netherlands, every week a young person under the age of 20 commits suicide. By telling the stories of lonely people through the game, the founders hope that they will never be forgotten. They also aim to make tough topics such as suicidal thoughts less of a taboo, which is why they believe that a game like this should be an essential part of the Wellbeing Week.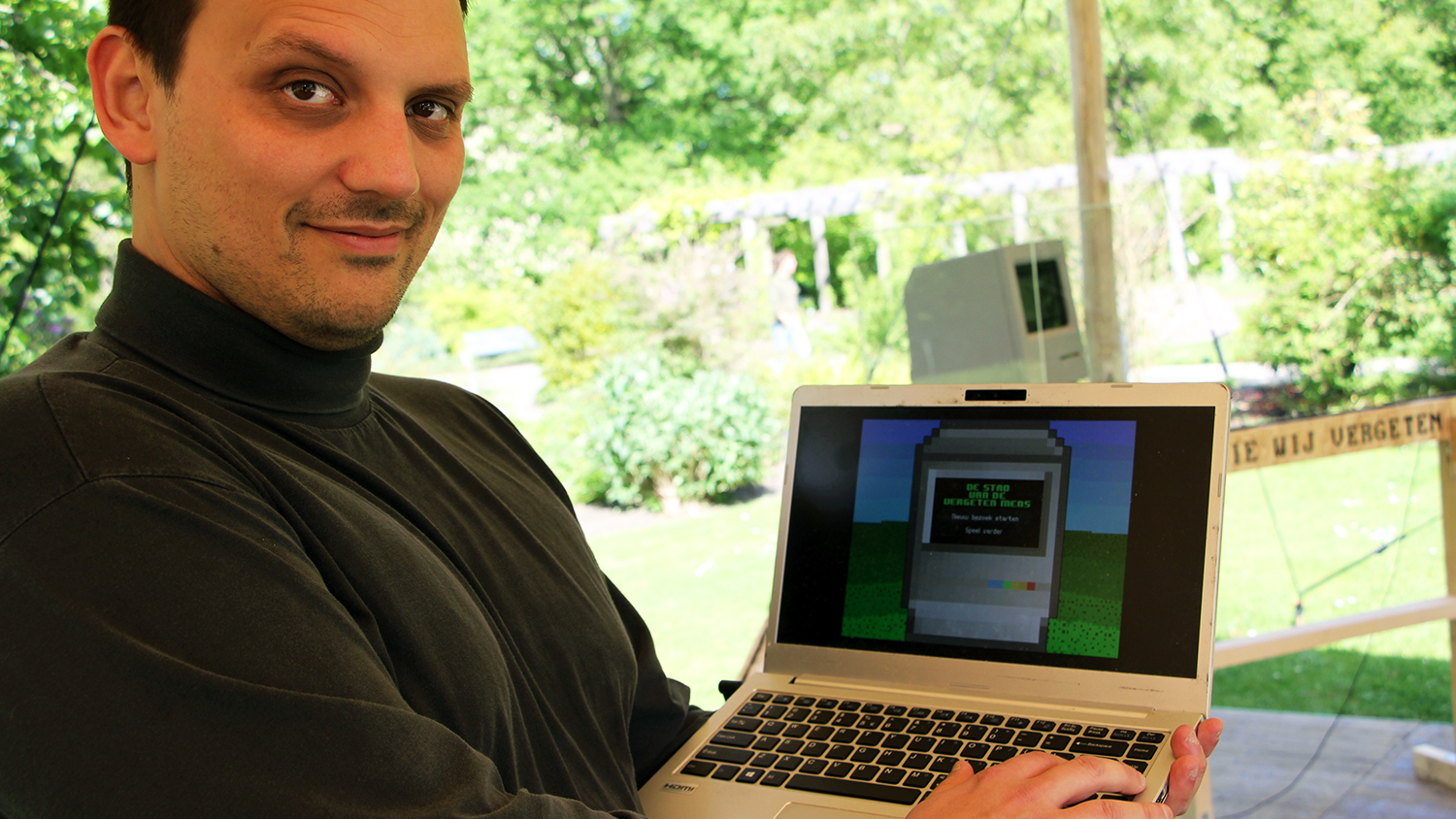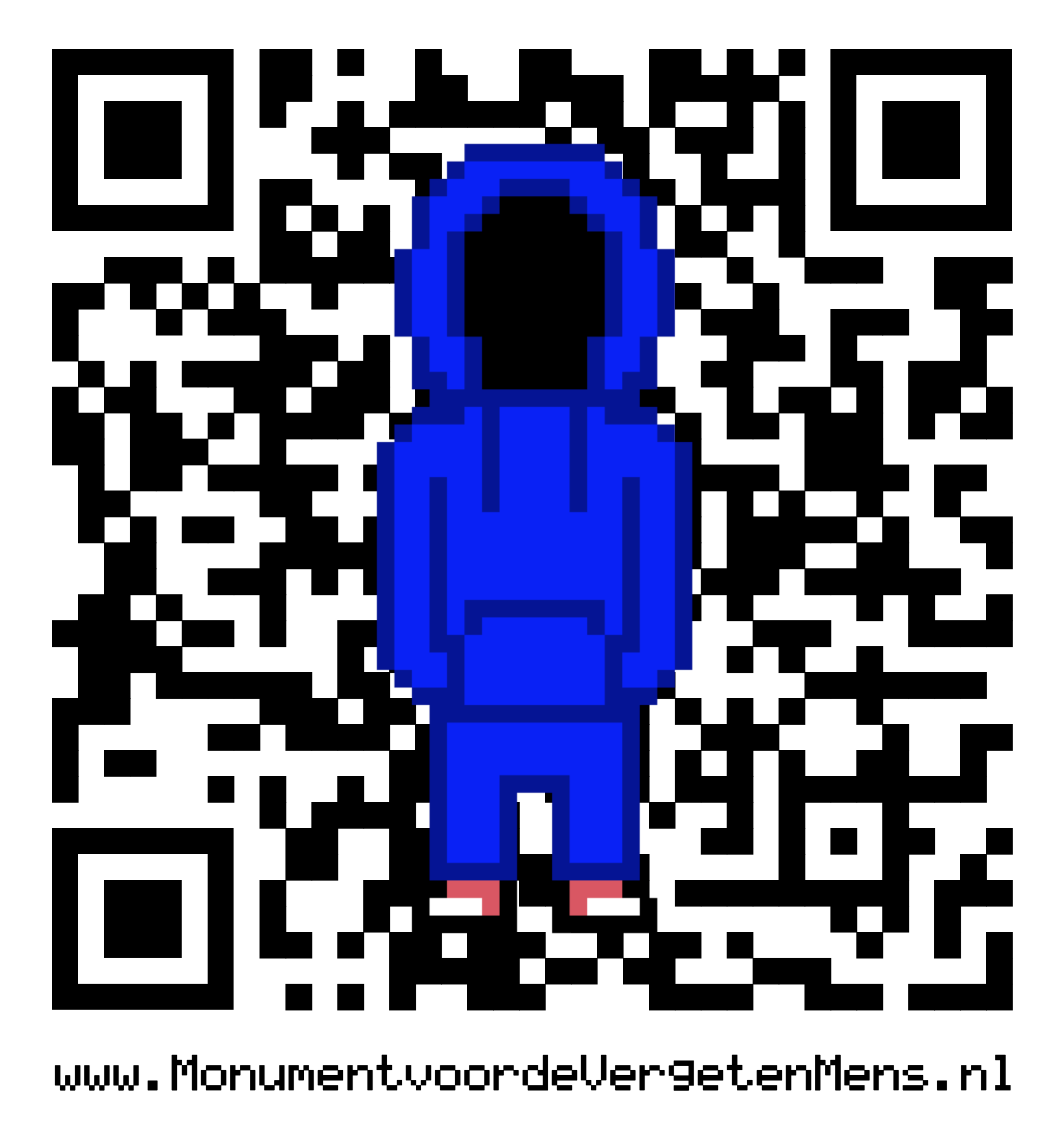 According to Jelle, the game's target audience consists of people aged 15 to 30. To participate, all you need to do is scan a QR code on your phone. Unfortunately, only a handful of people showed up to the walk-in event, so not many people have played the game. In contrast, the lecture on positive psychology, for which participants had to register beforehand, attracted about forty visitors. Part of the difference in success might be explained by the registration requirement, but it also goes to show what most students seem to be looking for in a wellbeing week: relaxation and tools for self-development.
Most of the participants say that they feel reasonably optimistic about life, that they are enjoying the beautiful weather, and that they do not suffer from major mental health problems. Laura, who attended the lecture, has just finished her Master's degree in Physics and is now figuring out what she wants to do with her life. She says that she has moments of struggle and insecurity like anybody else, but she would not describe herself as someone with mental health problems. Her main reason for attending the Wellbeing Week events is to work on herself. That's why she was mainly interested in the fun and educational activities, such as Stand Up Paddleboarding, which she took later that day. Two other participants told DUB they have similar reasons for coming to the events. Marieke, who is studying to become a Psychiatrist, decided to participate out of interest in her field and because she is also engaged in self-development. Chelsea, a PhD student from China, sometimes feels uncomfortable around other people and inhibited in conversations. She hopes the Wellbeing Week will teach her things that can help her make connections more easily.
Another participant, Anne, says upon leaving the lecture: "I am curious whether the university actually reaches the people for whom they organise these events. If you feel really bad, you probably don't have the energy to open your e-mails, let alone sign up and participate. I've experienced that myself. It is so hard to reach depressed people because they tend to be very withdrawn. People have to be willing to ask for help before someone can actually help them." Her friend Ola adds that these events do help people who feel very bad, albeit indirectly, by raising awareness about mental health. This way, more people will be able to recognise when someone around them is depressed, thus reaching out to them or sounding the alarm. 
Anne came to this lecture because she likes to be more practically involved with psychology. She reads a lot about it, but she is not yet able to apply the theory in her life, so she was hoping that the lecture would help her with that. Although she already knew many of the concepts discussed and expected something more active than a standard lecture with time for a few questions, she had fun anyway and doesn't regret going. She was also looking forward to the Learning to Love course, later that afternoon.
Elisabeth and Nick, two students who dared to play The City of the Forgotten People, argue that it's valuable to take up the heavier topics instead of just looking for fun and self-development. Even though neither of them has any experience with mental health issues, they are both familiar with the subject because of the people around them. For example, many of Elisabeth's acquaintances knew a UU student who jumped in front of a train last week. "Apparently, he had been depressed for a long time, but nobody knew about it. He was even part of a group of friends that are all engaged in self-development. But there will probably always be people whose story is so intense that they'll never dare to share it."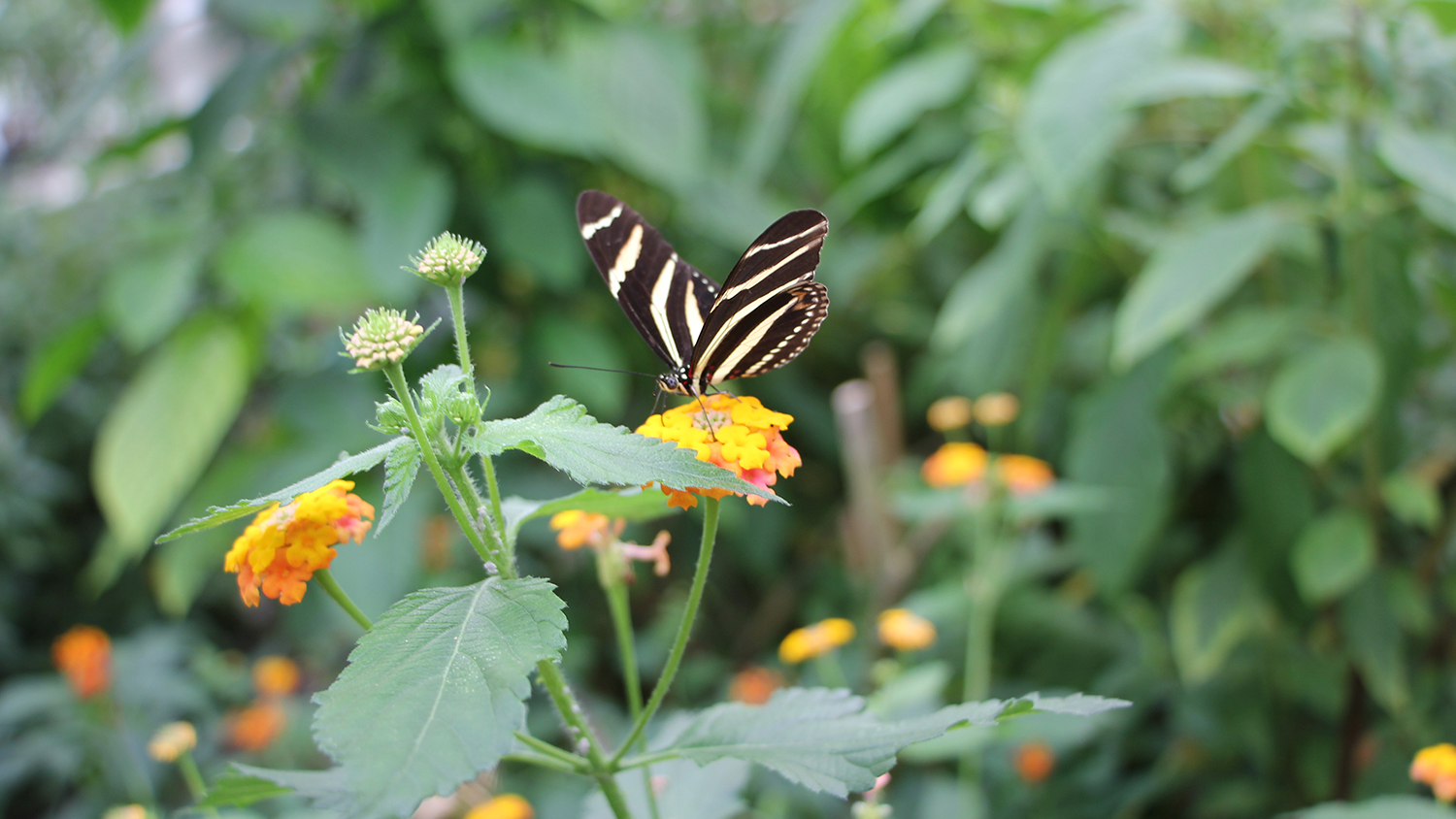 That's why she finds stories about loneliness so gripping. Nick agrees and ponders that the game is a very nice way to address the 'tougher subjects' in an accessible way. They both state that this active way of storytelling is likely to leave a big impression on the people who play the game. "But I do understand that this event is a bit more difficult to 'sell' to students than wellbeing activities with a more positive approach," Nick acknowledges. "Everything at UU and in your studies ultimately revolves around self-development, so it makes sense that people are more attracted by that. I think Covid has only reinforced this. During the pandemic, people were confronted with themselves and that's why they want to work on themselves now."
UU offers student wellbeing activities all year round. Interested? You can find more information
here
. Feedback about the Wellbeing Week or UU's general offer of student wellbeing activities can always be sent to
studentwellbeing@uu.nl
. 
Advertisement