Wheelchair basketball player Bo Kramer: 'If you really have a dream, you can make it happen'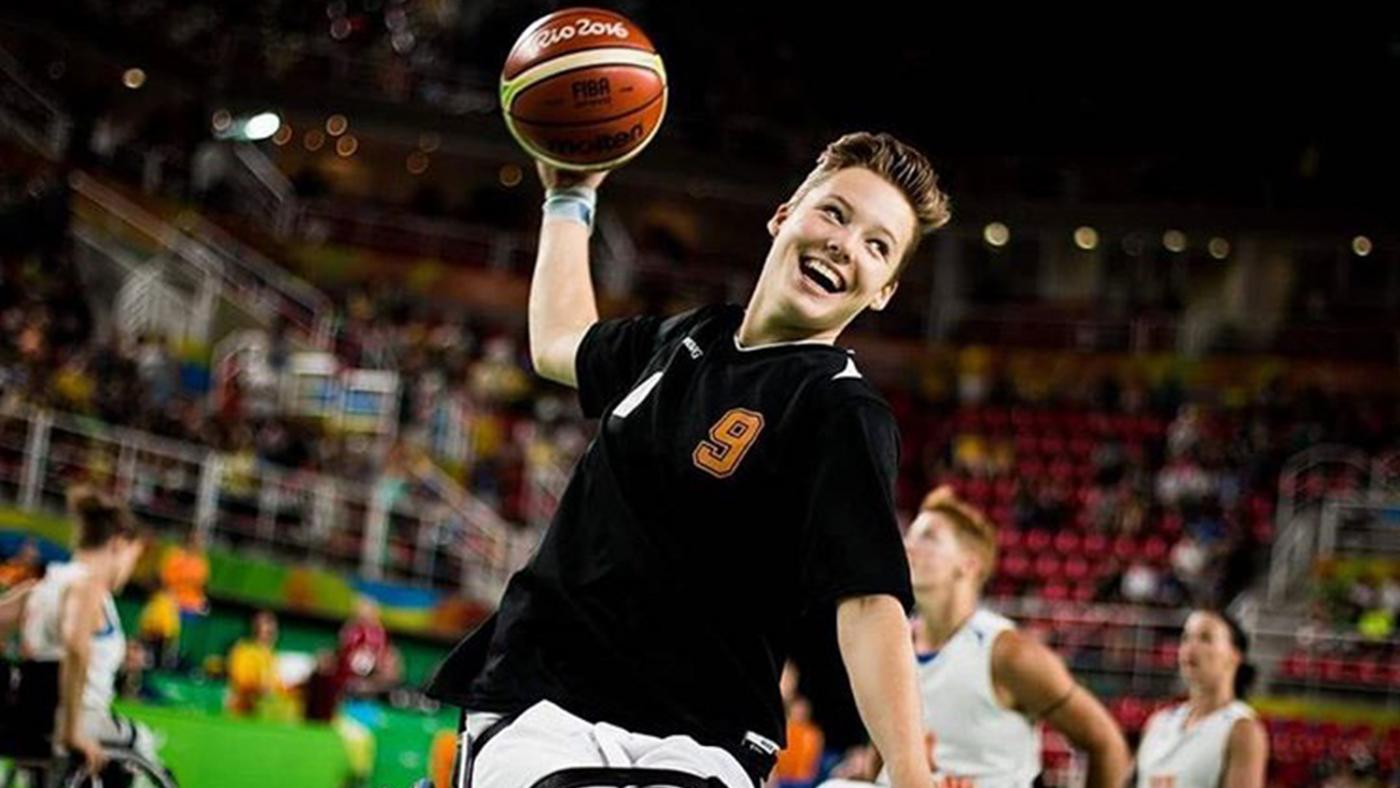 'I want to become the best player in the world'. Photo: private archive.
The thirst for action radiates off the screen when we interview Bo Kramer (22) through Microsoft Teams. She talks with confidence about the goals she's set for herself in sports, her studies, and her life.
Bo, who completed the pre-Master's programme in Clinical Health Sciences this year, plays for the Dutch wheelchair basketball team. As the current world champion, the Netherlands is one of the favourites to win the gold medal in the Paralympics, which start in Tokyo this week.
Five years ago, she was seventeen years old and acted as a reserve player for the team, which won bronze at the Rio Paralympics. "We're aiming for an upgrade now," she says. This time, Kramer is one of the leaders and builds the play as a guard. "If I don't perform well, we've got a problem. So I've got a different feeling heading to these games compared to the previous ones."
She doesn't seem like someone who breaks under pressure. Most of all, she's excited, and her enthusiasm is infectious. Even when she mentions her illness, she talks about the positive side of things. When she was eleven years old, Kramer was diagnosed with bone cancer, which meant her right tibia had to be replaced by her left fibula.
It comes as no surprise that she's since grown to be a well-respected ambassador of wheelchair basketball, and is even asked by large corporations to give presentations about how she experiences sport and life. Her motto is: 'you don't need a hero, make sure you become one yourself.'
After the Games, she'll complete her Bachelor's in Physical Therapy at the University of Applied Sciences in Arnhem and Nijmegen. After that, she might pursue a Master's degree at UU. Bo likes to challenge herself even in her studies.
Bo Kramer in a promotional video for BEN (Basketball Experience Netherlands). The interview continues below the video.

Where does that drive to excel come from?
"It's always been there. Probably genetic. My parents both played volleyball at a high level, and they know what professional sports are about. My father owned a sports hall in Almere, where they dropped me off every weekend. I was good at most sports, but I enjoyed playing football the most. I was certain I'd play for Ajax one day. I wanted to reach the highest level possible even then. 
"When I was no longer able to play football and I discovered wheelchair basketball, that became my passion. At the age of sixteen, I moved to Papendal to train with the Dutch team. Since then, I've got a dream I want to realise: to become the best wheelchair basketball player in the world."
So you think there's no connection between your competitive spirit and your illness?
"No, I never experienced my illness that way. I was lucky that the cancer was discovered accidentally and wasn't fully grown yet. I never felt like I was given a second chance or whatever. I was a child, uninhibited. Above anything, I thought it was super interesting that I could take the pins that had been in my leg home.
"At the same time, it's probably true that I matured faster because of it. When you're in a hospital at that age, you're just a patient dealing with tough news. I learned pretty quickly that we should go for what we really like. My parents taught me at the time that it's better to look at the bright side of the situation. There were children who lost their leg."
Do you experience it as a disability?
"Of course it was difficult to have to sit in a wheelchair and then learn how to walk again. I'd love to be able to play soccer again. But if I do kick around a ball with my girlfriend now, I have to be careful, because if I have to swerve or correct myself, so I can suddenly find myself down on the ground. I can't walk or stand for days on end, either.
"It might sound odd, but I've got the best of both worlds, really. I can still walk and with my wheelchair I can play sports without pain. If my legs had been much stronger than they are now, I wouldn't have been able to join the Paralympics, but I also wouldn't have been able to really play sports well. So it couldn't have been any better."
You actively propagate your motto. Why do you think that's important?
"Professional sports are such a selfish thing to do – everything has to adapt to you and you often have to choose yourself over others. Sometimes, that saddens me. Now that I'm an ambassador for the Basketball Experience Netherlands foundation, and I give presentations, I feel like I can mean something to others.
"I've since learnt that the way I look at life isn't self-evident. But I'm convinced that, if you've got a dream, and you keep focusing on that, no one can stop you. It's not going to be easy and you're going to encounter some setbacks, but it's still possible to achieve it. If only a handful of people would be inspired by my story, that would already be amazing.
"I've stood in front of very diverse groups of people about fifty times now – from children to corporate bigwigs. I went to Japan representing the NOCNSF, the Dutch Olympics committee, to promote the visibility of parasports. In Japane, it's still pretty common to put people in care homes that they can never leave. These are things I really love doing. But I also visited the Rabobank, for instance. One of the directors told me that, of the many presentations he'd seen in his life, my story was one of the best."
Continue reading below the photo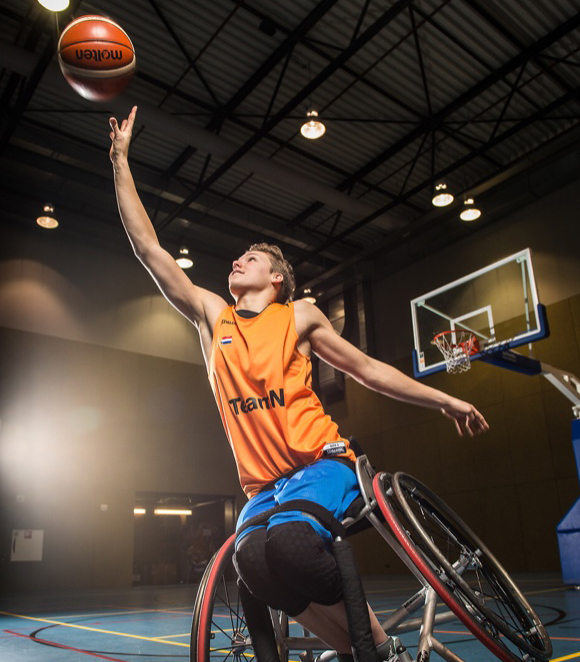 Photo: Marc Hollander
What are your ambitions regarding your studies?
"It's no coincidence that I've always been interested in the human body. That's linked to my time in the hospital, and that entire process from only being able to move my big toe to practicing every day and learning to walk again.
"Physical therapy is an amazing profession, but I'm someone who's always looking for challenges, who always wants more. During my practice research at the university of applied sciences – a course most students dislike – I encountered all sorts of things I didn't understand and had to figure out. I loved it. That's why I started investigating the possibility of pursuing a Master's.
"The pre-Master's in Clinical Health Sciences gives me access to several Research Master's programmes. And it was part-time, so I could combine it with my training schedule with the Dutch team. My interest in research has only grown this past year. That's another way you can really help improve people's lives.
"There's a course in the Biomedical Sciences Master's where you look at how illnesses start in the first year of life. If I could do that Master's, I'd sign up for it right now. But it would mean another three years of studying. I'm not sure I'll be able to do that, yet. I'll need to graduate from my Bachelor's, first."
Professional sports, a higher education degree, working as a speaker... You do so much. Do you ever reach your own limits?
"Definitely. My drive is also my pitfall. I want to give 100 percent in everything I do, including my studies. But you simply can't win gold at the Paralympics and train four hours a day, five days a week, and get high grades for all your courses. That's simply impossible.
"It's in my nature to constantly battle myself. Every once in a while, I'll find myself completely over-trained and bow out for a bit. Then I'm not even able to do any sort of physical activity whatsoever. That's something I need to learn to control.
"In that regard, Covid has given me so much peace. I used to spend my weekends playing in the German competition, in Essen, but that was put on hold. So, I suddenly found myself with two days off every could week, which enabled me to attend the drinks organised by a classmate. I'm not really used to any of those things. But my focus remained one and the same: gold in Tokyo."