After Covid, international students hope to meet new people at UIT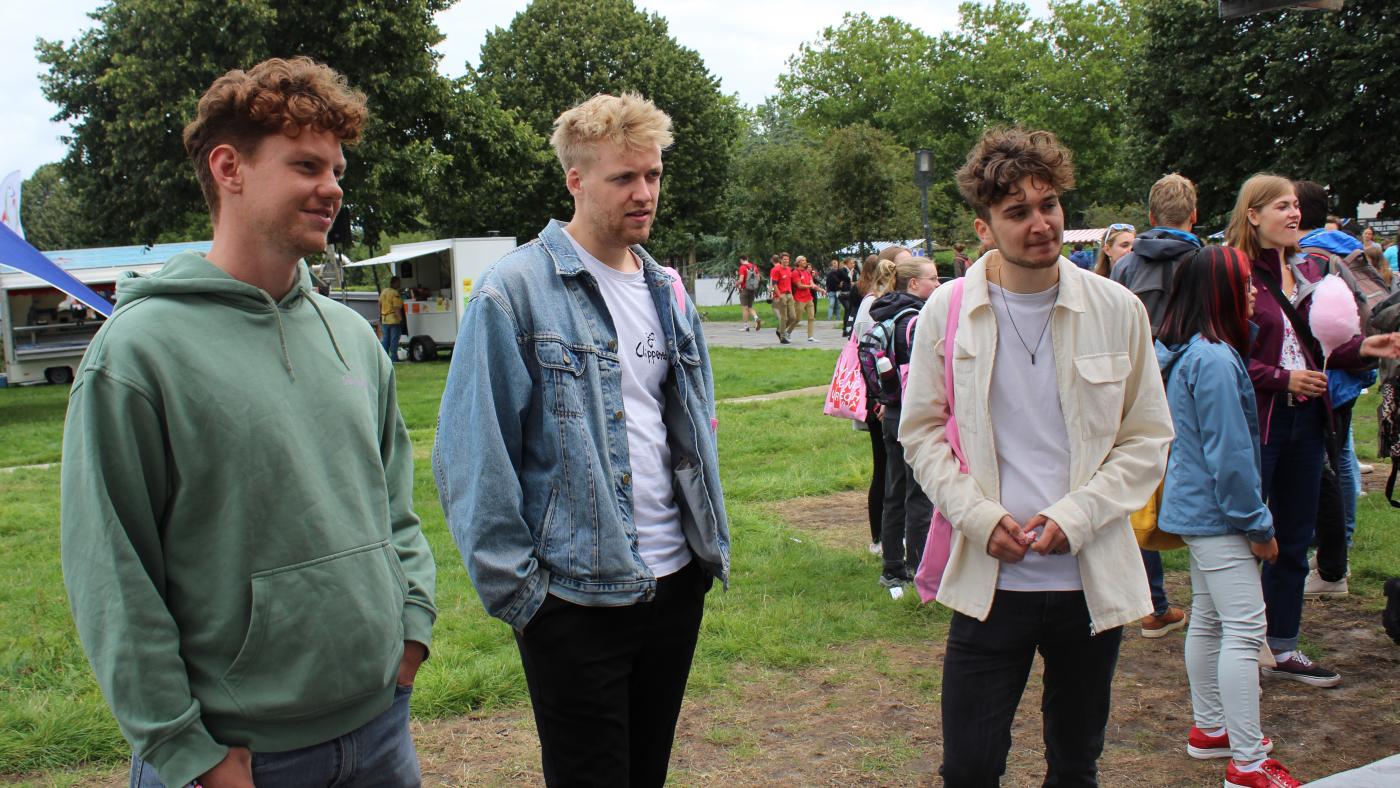 "Finally something physical." Konstantin and Feik from Germany choose to attend UIT
"One and a half metres, please!", shouted the volunteers in a megaphone as they walked back and forth. But most attendants of the information market held on Monday, August 16, had a hard time following that rule. First, because of the intermittent rain forcing them to take shelter under the tents from time to time. Secondly, it is safe to say they were longing for togetherness, after a long period of isolation caused by the Covid-19 pandemic.
When asked what brought them to UIT despite the fact that the programme is offered almost exclusively in Dutch, the  international students DUB encountered on the market were unanimous in mentioning the probability of meeting new people. The fact that international students would be grouped together was a big selling point, especially for students about to embark on the Master's in Clinical Psychology, most of them from Germany.
Discovering Utrecht
Konstantin (24) is one of them: "I thought this would be a nice chance to meet new people and have some fun. I haven't seen much yet, but I'm excited to see what's in store". He's also excited to discover Utrecht, after having completed his Bachelor's in another Dutch city, Nijmegen.
Feik, who met Konstantin in Nijmegen and is going to be his roommate in Utrecht, agrees: "Finally something physical. We can learn from all these stands, it's interesting", he said, mentioning his interest in the football association a few stands further down. He has high hopes for the introduction week, despite not having made any concrete plans yet. "We're hoping for spontaneous opportunities. We'll just go with the flow."
Part of community
A few minutes later, another group of internationals stops by DUB's stand. We speak with Rosa, who coincidentally is also German and a Clinical Psychology student. "I was just really excited to be around people again, do stuff again, just be part of the community".
Future classmate Miehle is hoping to meet Dutch students. "I don't really speak Dutch, but I understand quite a bit. I'd like to be able to speak more. If I don't make friends with Dutch students, I probably won't be speaking it at all." She excuses herself with a smile, as the rain begins to thicken. From a distance, the shouts calling for social distancing remain.