Work pressure increasing at UU
Are students genuinely in favour of the binding study advice?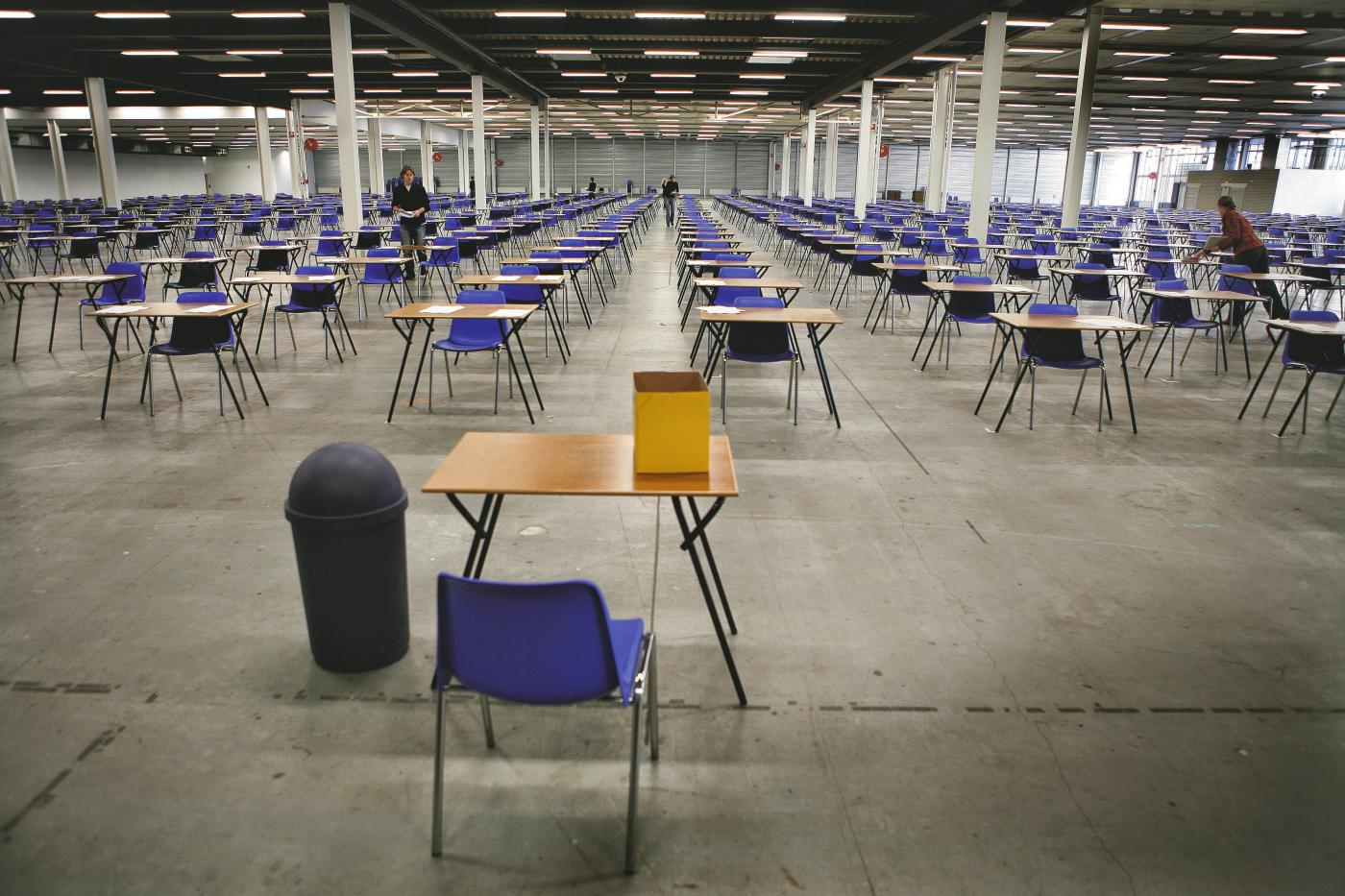 Exam hall. Photo: DUB
The Dutch Minister of Education, Robbert Dijkgraaf, would like to reduce the pressure on freshers. As far as he is concerned, the BSA should be reduced to no more than 30 credits in the first year and a further 30 points in the second year.
The universities of applied sciences are okay with that idea but universities are violently opposed to it (press statement in Dutch, Ed.). Last week, all the rectors from Dutch universities wrote an open letter to the minister on the daily newspaper De Telegraaf. The letter is co-signed by the protest group WOinActie and four student councils. 
"According to his own Monitor of Policy Measures, a vast majority of students (88 percent) view the BSA in a neutral or positive way", they write. "So, Dijkgraaf's proposal would defer students' stress rather than decreasing it."
What does the Monitor of Policy Measures say?
There are two graphs about the BSA. First-year students were asked whether their programme's BSA policy was seen as a pro or a con in their choice of programme. The higher the standard, the more the BSA is seen as a drawback.
What about after they start their studies?
They were also asked – and this is what the rectors base their views on – what influence the BSA has had on their study behaviour this academic year. At least 12 percent of the first-year university students say that it had a negative influence (and that percentage is a little higher if the BSA is stricter). Roughly one in three talk of a positive influence. The remainder are neutral or say the positive and negative influences are in balance.
Is the question about the influence of the BSA on their study behaviour the same as asking what their view on it is?
No, not entirely. You could also ask whether students are in favour of the BSA. That question wasn't asked. Because of the BSA, do they have less time to do other things alongside their study programme? That question wasn't asked either.
Do they regard the BSA as 'neutral or positive'?
We don't know that.
So why do the rectors say they do in their letter?
Because they are opposed to a relaxation of the BSA. One of the reasons is that a relaxation could result in weaker students moving on to the second year. "More students means more workload for instructors", the rectors say. "That's the last thing we want in a sector where the workload is already very high."
What is the BSA's benefit for students?
It helps them to know in good time where they stand. If they are not suited to a given study programme, they will find that out in a year and then look for an alternative. It also serves as an incentive for some students: figures provided by the universities show that some of them obtain precisely the number of points required for the BSA and thereafter can't be bothered to put in the effort. They only work harder if the standards are raised. Once you get behind with your studies, you can almost never catch up completely.
And what are its drawbacks?
There are all sorts of reasons why students have a hard time getting things going in their first year. Perhaps they are living on their own for the first time and they have to study more independently. Perhaps they have a lot on their mind. "Too much pressure has a paralysing effect and can cause a drop in performance, so it distorts the view of whether the student is suited to a particular study programme", Dijkgraaf says. Needless to say, that applies to some students but not all of them.
So, are students for or against the BSA?
It depends on who you ask. Only four student councils co-signed the rectors' letter. The national student organisations, ISO and LSVb, have a totally different opinion on it. They enthusiastically support Dijkgraaf's plans for a lower BSA.